Love Your Body Yoga Festival returns Sunday, June 12 to the Reston Town Center for a full day of yoga and health- and wellness-related activities for children and adults and dozens of vendor exhibits.

Presented by Beloved Yoga, the 8th annual event runs 10 a.m. to 5 p.m. and brings yogis together with businesses and organizations that support holistic healing and wellness. There are hands-on and experiential opportunities as well as learning opportunities. The morning kicks off at 10 a.m. with an opening flow yoga class by Beloved Yoga.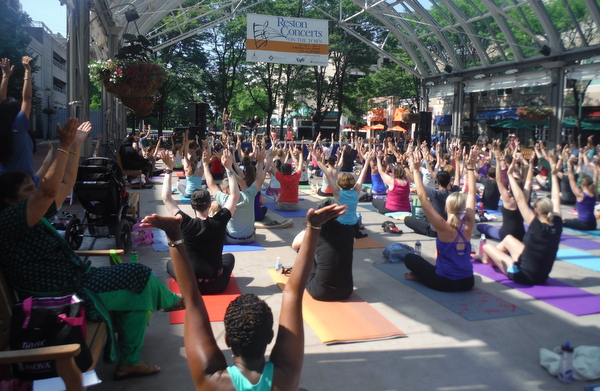 Of particular interest to families is the Kidasana are, which will offer classes and activities including face painting, henna art, and more. Sponsors of this area include Heart and Soul Yoga, Radiant Child Yoga, Creating Conscious Contact, and Whole Foods Reston.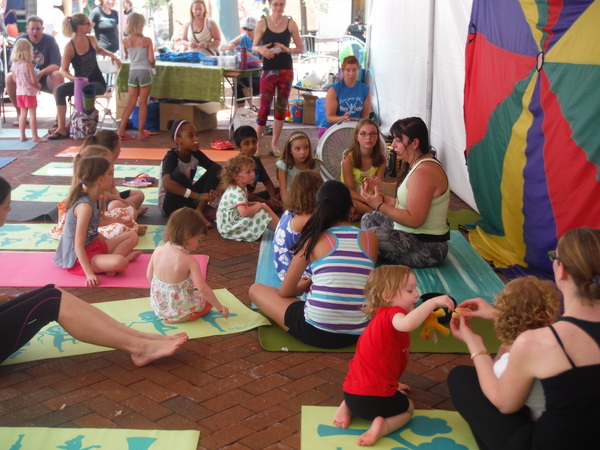 The current Kidasana 
schedule
(subject to change) includes the following 25-minute classes:
Story Yoga at 10:00 (ages 2-8)
Kids Yoga Flow at 10:30 (agest 5-10)
Adaptive Yoga at 11:00 (all ages)
Stress-Buster Yoga for Teens at 11:30
Family Yoga and Kirtan at 12:00
Kid's Kundalini Yoga Adventure at 12:30 (ages 3-10)
Partner Yoga at 1:00 (ages 4-10)
Garden Yoga at 1:30 (ages 4-10)
Dreams & Goals Class at 2:00 (ages 6-14)
Fun with YoKid at 2:30 (ages 5-10)
Art of Living at 3:00
Laughter Yoga Party at 3:30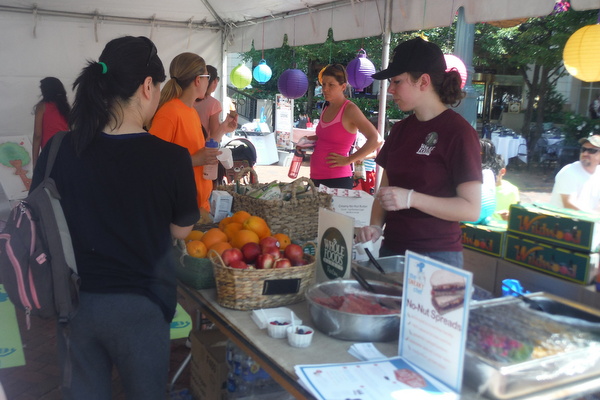 Click here for the most current schedule of Kidasana classes and other events throughout the day.
Also in the Kidasana tent will be a "Positivi-tree." Children will be able to write positive messages & affirmations on construction paper leaves and clothes they can pin, along with coffee filter flowers, to a 4-foot LED-lit potted tree that will then go to a Cornerstones facility. Formerly Reston Interfaith, Cornerstones is a nonprofit organization that promotes self-sufficiency by providing support and advocacy for those in need of food, shelter, affordable housing, quality childcare, and other human services. Cornerstones is the recipient of funds raised from this year's festival. Children can also create cards to use as thank you cards and note cards in the Kidasana tent.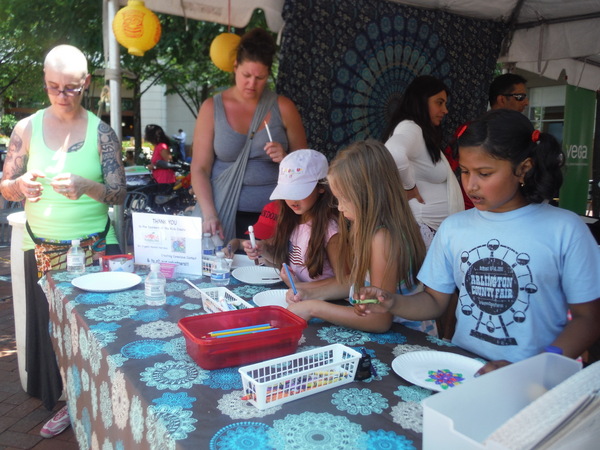 Parents might want to tag-team with partners to make the day an opportunity of self-care as well. See the full
schedule
for details.
Among the offerings for adults are:
large classes on the main stage under the pavilion
live music, kirtans, and bhajans in the Bhakti tent
exhibit tables by many local businesses and organizations
presentations on therapeutic healing practices such sound healing, Ayurveda, and gardening in the Speakeasy Sangha Tent
There will also be drawings for yoga classes, massages, health products, and other services.
A new offering this year is the Farm-to-Table tent sponsored by
Grow Your Health
. Vendors include:

Sunday's Love Your Body event kicks off Virginia Yoga Week in which studios around the state will offer free and discounted classes through June 19.
Mindful Healthy Life is proud to be a media sponsor of this year's Love Your Body Yoga Festival. Click here for our recap of the 2015 festival and here for our recap of the 2014 festival.
The website for Love Your Body is www.loveyourbodyyogafestival.com, and you can also follow the event and see updates on Facebook.

Jessica Claire Haney is the founder, publisher and editor of Mindful Healthy Life. She is a writer and editor and the founder of the Arlington/Alexandria chapter of Holistic Moms Network. Her personal blog is Crunchy-Chewy Mama and her writer's site is JessicaClaireHaney.com. See the Team Mindful Healthy Life page and Jessica's Mindful Healthy Life Q&A for more on Jessica.