Ease Yoga & Cafe in the Del Ray neighborhood of Alexandria is celebrating its one-year anniversary with a party on Saturday, June 4 at 7 p.m. The studio, founded and owned by mother of three Tara Casagrande, offers a variety of yoga classes and is also launching a four-week prenatal series on June 4.
Before the studio and cafe opened last year, I got to interview Tara for an early profile of Ease and its founder sharing her vision.  A year later, I have experienced many of the studio's offerings including terrific classes with Tara and several other teachers, a Wellness Wednesdays talk led by Alexandria mom and author Brigid Schulte, a delightful Sound Healing concert earlier this spring with the musicians Woven Green, and tasty juices and snacks from South Block Juice Co.
I asked Tara to catch me up on how things have been going with the studio since it launched a year ago.
Jessica of Mindful Healthy Life: In your recent interview with Del Ray Vibe, you said that you consider Ease to be more of a health and wellness space than just a studio. Tell us about the different offerings you have now and that you envision adding in the future.
Tara: What first comes to mind are the Wednesday Wellness workshops. It was always my dream to give people who were doing interesting healing work in the community a platform to share their work. Last night we had Adele Stuckey who does art therapy and led a group of us on the patio through a Zentangle, a meditative drawing. You don't get it until you do it. We've had everything from chiropractors to book authors to coaches. For only $10, you get a juice and an hour-long informative talk. Yogis attend, but these events are also good for people who might not be ready for yoga yet.
The South Block element has been phenomenal. I'm so thankful for them for coming into Ease and for running the café so beautifully. It's a very California idea, these acai bowls and fresh juices. Good healthy food is hard to find these days.
Just recently we added a My Power Supply fridge at Ease. Del Ray clientele can order vegetarian, paleo and mixitarian meals meals online and pick them up at Ease.
Another thing that I'm really excited about right now is that we're offering a discount to military members, first responders and teachers of 20% off. For the whole summer – June, July and August – they can have unlimited yoga for $240.
A new teacher to us, Melissa Weinberger, is helping us develop the yoga rope wall program and will be offering two workshops – one on June 25 and the other on June 26. She is a nurse as well as a chiropractor and is very excited to share her knowledge of this unique yoga practice with the community.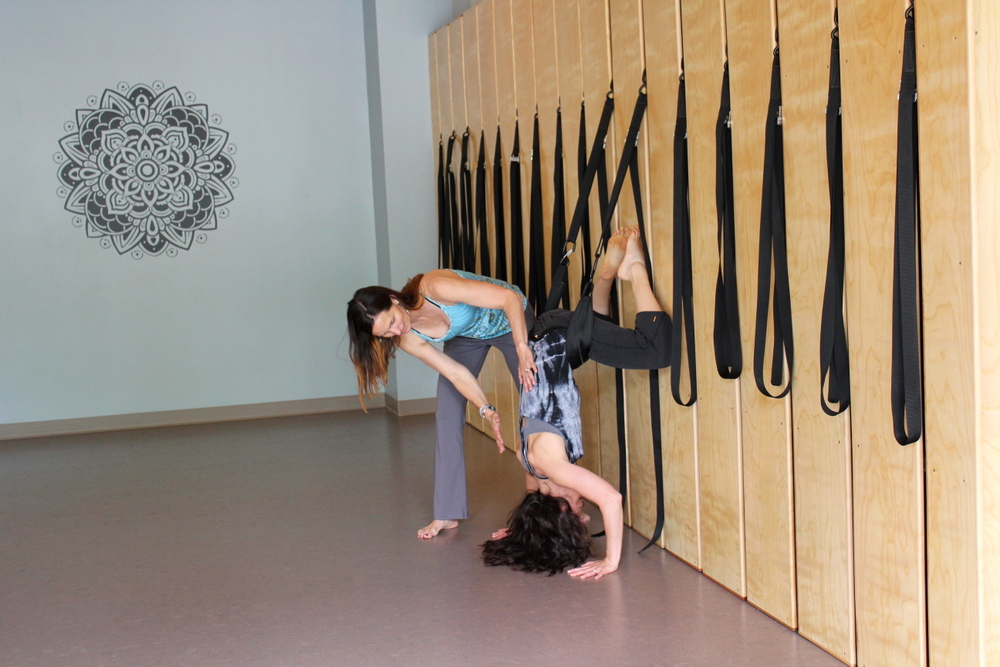 Our Sunday evening special classes have become very popular. Dates can be found on our class schedule and descriptions are available here. We offer Yoga Nidra, Yoga & Sound, Yoga and Essential Oils and Candlelight Yin Yoga.
On Saturday, June 18 Jeneen Piccuirro of Studio in the Woods will offer a unique workshop called Art & Sound. Register by June 13 so the teacher can order the necessary supplies.
Jessica: I see there is a new prenatal series starting June 4, and I know you offer a few children's classes. You also have a spacious and bright indoor seating area with a train table and a great outdoor patio. How much are families a part of the Ease community now, and how do you see Ease serving young families going forward?
For the next four Saturdays in June, Ease will be offering its first prenatal yoga series, taught by Mimi Vidaver-Davis, She's a mother of a young son and she's an amazing teacher. The class will run 2:00-3:15 p.m. It's a great way to get to know other pregnant moms and take care of yourself. Let us know if you can't make the first one and we'll slot you in if there's room for the remaining classes.
Two great classes offered for families at Ease are our Saturday morning 9:30 adult class in the room opposite our kids' class for 4-7-year-olds. Kids and adults can practice at the same time in different rooms. It has been a really popular class. Our Tuesday kids' class for 6-10-year-olds at 4:00 p.m. has also been really popular.
Cathy Burke of Evolve Beyond the Mat had been doing the Wednesday soft playroom (currently on hold) and is working on putting together a mini retreat staycation day for the kids that will incorporate yoga, art and nutrition and will include lunch from South Block. Look for more information on that to come. We are targeting Thursday, July 7, 11-3, for children aged 7-12. The cost will be $75.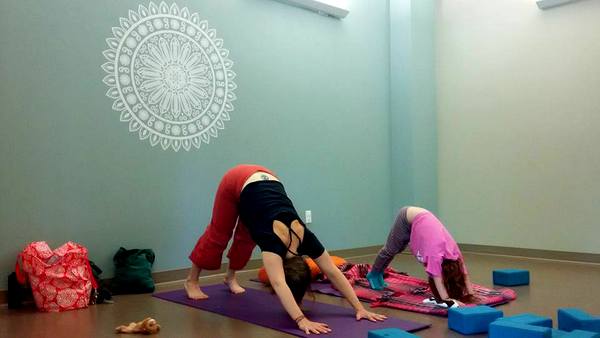 Jessica: On Del Ray Vibe, you spoke about your experience with cervical cancer while pregnant with your daughter Riley and shared some of the healing modalities you pursued during that time and after. You also said you recently amped up your self-care regimen when you noticed you were getting run-down earlier this spring. What does regular self-care look like for you, and what are some of the best self-care practices you would suggest to moms with young children?
Tara: When I started to get run-down recently, I happened to look at a diary where I had written a while back "One massage a month." That seems doable to me. Just book it.
I also went to more yoga classes. I started going not to the ones that tired me out but to the more gentle and restorative classes like yin or gentle.
Also, I'm connected with a woman who does craniosacral work and I got on the table and she said, "Your system is really tired." She laid me down and said,  "Your body is telling me how hard you've worked this year." And I started to well up. I think we all have these moments where we need that, a witness to all we've accomplished. She gave me a really beautiful acknowledgement of my efforts.
The other part of my in-a-perfect-world advice: get together with friends, make time for girlfriends.
Also, and I've not been as good at this lately, but I try to sit for 12 minutes a day in the morning on my meditation cushion. I just set my alarm 12 minutes earlier and simply sit. You don't need anything fancy or any special training. Just close your eyes and sit and be still.
Jessica: So maybe it's partly been because of this busy year as an entrepreneur that it's been harder to make the time to sit.  Let's talk about how you do this business. You are regularly present at a brick and mortar facility that people have come to associate with you. How do you find the space and time to be present for your children and your partner, and also for your clientele?
Tara: The first step was asking for support from my husband. We co-parent. He has more flexibility right now and so has taken on more than he had previously. He's on the text list; when someone wants a playdate, they text us both.
The other is letting go of stuff, knowing I can't do it all. I have real perfectionist tendencies. If I would come home in the evening and find the house messy, I used to get angry. Now I focus on the good things that did happen today, not the things that didn't. And sometimes I also pay for things I can't do myself.
Jessica: What do your kids think of the studio?
Tara: I always get this fear that my kids aren't going to like yoga because I'm always saying, "Bye! I'm going to teach yoga!" But I think they are proud. And now my son who's in high school sees how popular South Block is with the girls…
Yes, my kids get less time with me, but when we are together I'm more present and I'm happier. I do go through phases of guilt, but I'm living my dream and realizing that I'm modeling that for them.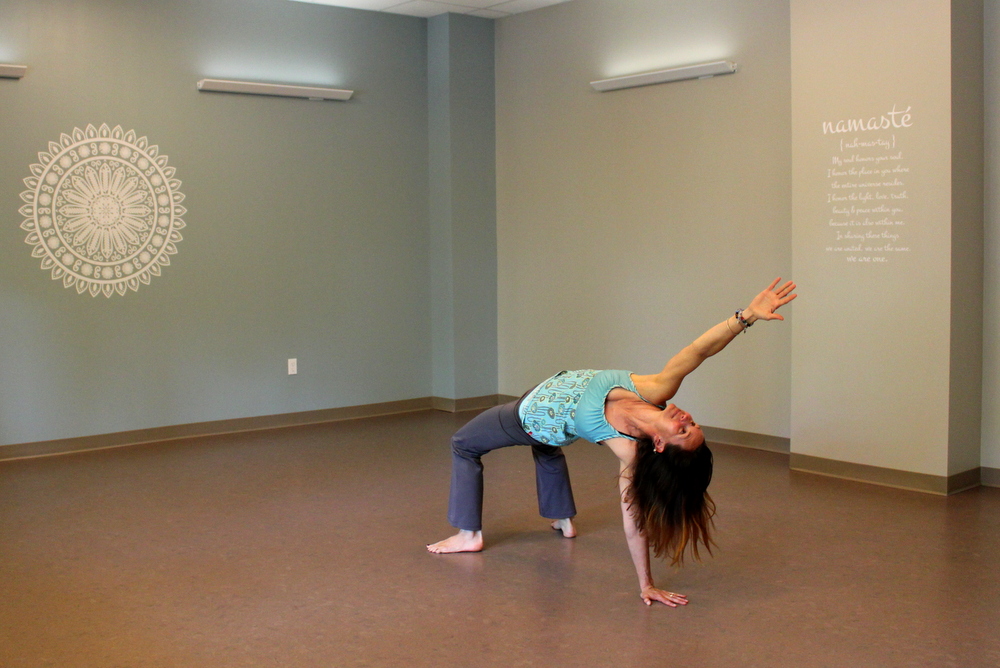 Jessica: Anything else you'd like to say?
Tara: One thing I didn't mention in the Del Ray Vibe interview was my tremendous gratitude for our teachers. There is so much they give of themselves and you get so much. Yoga teachers work hard. They create the space for growth and awareness. And when you come to yoga, you as the attendee are taking responsibility for your self-care. Once people can understand the emotional benefits of all that, they will prioritize it.

Thanks to Tara for dreaming up Ease and for sharing her vision with us! Ease is located at 3051 Mount Vernon Avenue near the intersection with Commonwealth Avenue in Del Ray Alexandria. Visit Ease online at easeyogacafe.com and follow Ease on Facebook, Instagram, and Twitter 
Help Ease celebrate its first birthday on Saturday, June 4 at 7:00 p.m. with cake, champagne and juice. Details here.

Jessica Claire Haney is the founder, publisher and editor of Mindful Healthy Life. She is a writer and editor and the founder of the Arlington/Alexandria chapter of Holistic Moms Network. Her personal blog is Crunchy-Chewy Mama and her writer's site is JessicaClaireHaney.com. See the Team Mindful Healthy Life page and Jessica's Mindful Healthy Life Q&A for more on Jessica.