This year, more women will develop a perinatal mood or anxiety disorder than will get diagnosed with breast cancer, and Climb Out of the Darkness – with four climbs this June in Virginia – aims to shed light on these maternal mental illnesses that can begin during pregnancy or after childbirth.
Maternal mental illnesses
These illnesses may take the form of depression, anxiety & OCD, PTSD, psychosis, and/or bipolar disorder. They illnesses are temporary and treatable with professional help, but only 15% of women will get help for them.
Pregnant moms. Moms of three-week-olds. Moms of 11-month-olds. Moms who just stopped nursing their 15-month-old. Moms who miscarried or whose babies were born sleeping. Rich moms. Underserved moms. Working moms. Stay-at-home-moms. Adoptive moms. No mom is immune to the number one complication of childbirth, yet stigma and a lack of resources prevent as many as 750,000 women from getting treatment.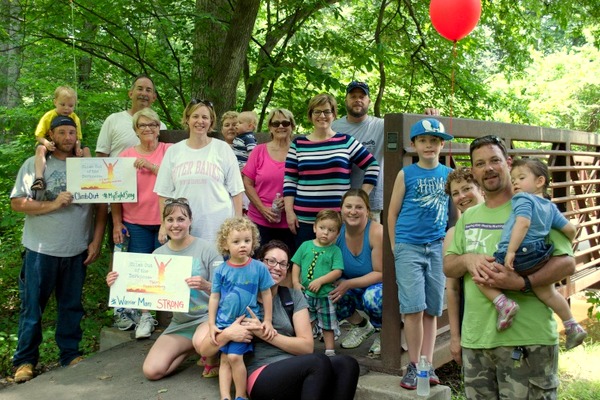 I knew from my experience with perinatal depression and anxiety with my first child that I needed more than a prescription for Zoloft to get me through the postpartum anxiety I developed when my second child was born. Having moved from Northern Virginia to Fredericksburg, I didn't know where to start looking. My midwife and son's pediatricians stressed the importance of getting help; however, none of them could point me to a therapist or support group in the area to talk with.
Getting help and raising awareness
When my searches for a local postpartum therapist or a support group came up empty, Postpartum Progress' online support forum gave me a place to ask questions about how I was feeling on my medication or be reminded I would get well again. Their award-winning blog postpartumprogress.com allowed me to read stories from mothers who had walked down a similar path as me.
Postpartum Progress is a nonprofit organization focused on increasing awareness and reducing stigma of maternal mental illnesses and providing peer support for women who suffer from them. The organization creates innovative programs that connect women to information and help and supports them through recovery.
To help stomp out the stigma, to give moms around the world a chance to share their stories, and to raise much-needed awareness surrounding maternal mental health, Postpartum Progress is holding its 4th Annual Climb Out of the Darkness event in June.
Climb Out of the Darkness® is the world's largest event raising awareness for maternal mental illnesses like postpartum depression. The event is held on or near the longest day of the year annually to help shine the most light on perinatal mood and anxiety disorders. It features mothers along with their family and friends joining together to climb mountains and hike trails to represent their symbolic rise out of the darkness of maternal mental illness and into the light of hope and recovery.
Virginia is home to four Climbs this year on Saturday, June 18 in Sterling, Alexandria, Fredericksburg, and Richmond. In Maryland, there is a climb in Hagerstown on June 11 and one in Baltimore on June 18. Climbs are family-friendly and free to register for. Fundraising is optional, although there are incentives!
If you're interested in joining a Climb near you, or just need a little more info, watch this video or visit: http://postpartumprogress.org/climb-out-of-the-darkness/find-a-climb/. There, you'll find information about your closest Climb Out of the Darkness event and contact information for your Climb Leader if you have more questions.
We hope to climb with you in June!

Emma Rinker is a two-time survivor of perinatal depression and anxiety. When she isn't chasing after her two boys, she likes to write about her life as a mother at Muddy Boots and Diamonds.