Love Your Body Day yoga festival in Reston Town Center brought out hundreds of adults and children to practice yoga, chant and dance, and connect with businesses that focus on health and wellness.
The event, now in its seventh year, kicked off Virginia Yoga Week June 14-21. Running from 10:00 a.m. to 5:00 p.m. on Sunday, June 8, the event opened with a group yoga session on the main stage and, in the Kidasana tent for younger yogis, Solar Publishing author Robyn Ringgold and illustrator Vidya Vasudevan reading from their "conscious content" children's books, including My Mom Does Yoga and My Mom Hugs Trees.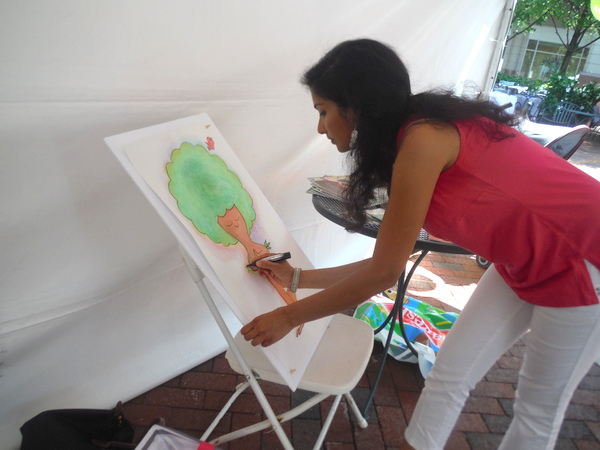 In the Kidasana tent, children's activities ran all day every half-hour with sessions led by studios around northern Virginia.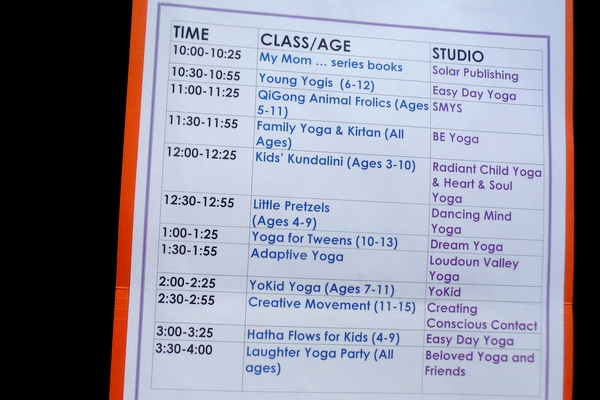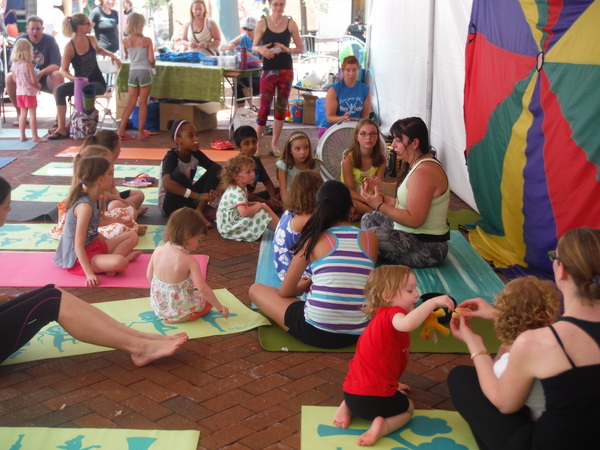 Sterling's BE Yoga led children in poses and in a family kirtan, or chanting.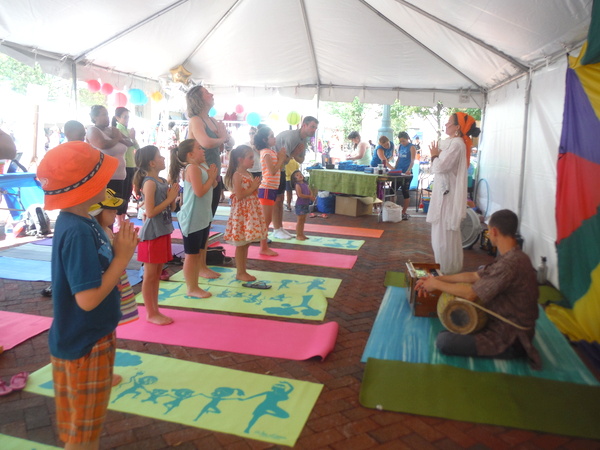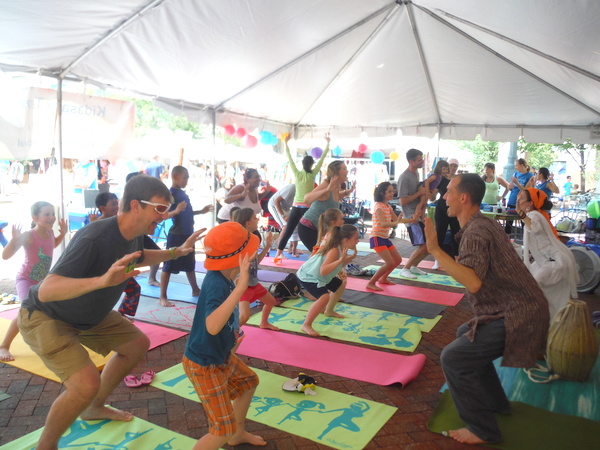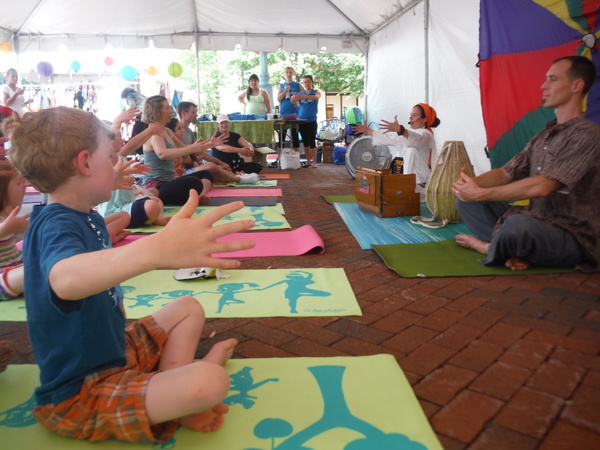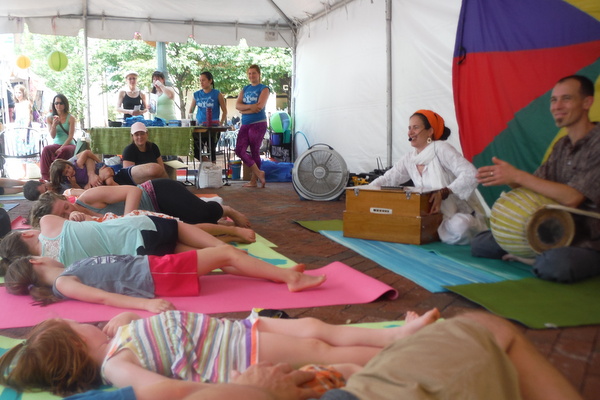 Outside the Kidasana tent was a trove of information about opportunities for children, including kids summer camp at Sun & Moon's Fairfax studio June 22-28, kids yoga camp at Beloved Yoga in Reston (multiple weeks) and Barefoot Boogie Family Jam on June 27 at Beloved Yoga, 6:00-7:30 p.m.
At the end of class, children were given a voucher for free bubbles or a Love Your Body day t-shirt.
Inside the Kidasana tent, Whole Foods Market Reston offered fruit and sampled a pumpkin-banana spread that used Sneaky Chef no-nut butter.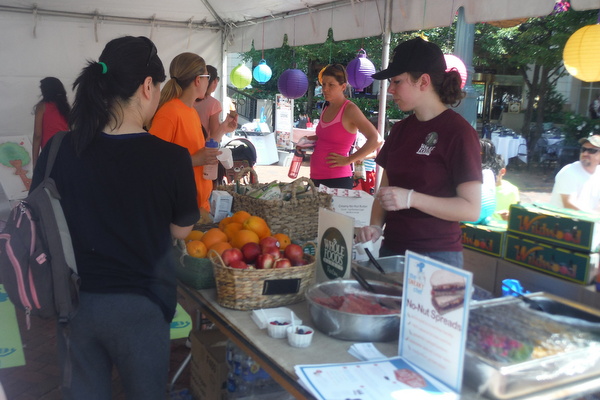 Nearby, Padma Jen Koch of Creating Conscious Contact helped children create a community mandala area.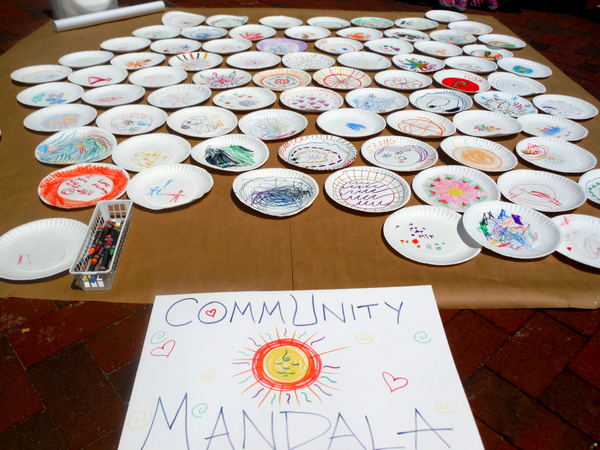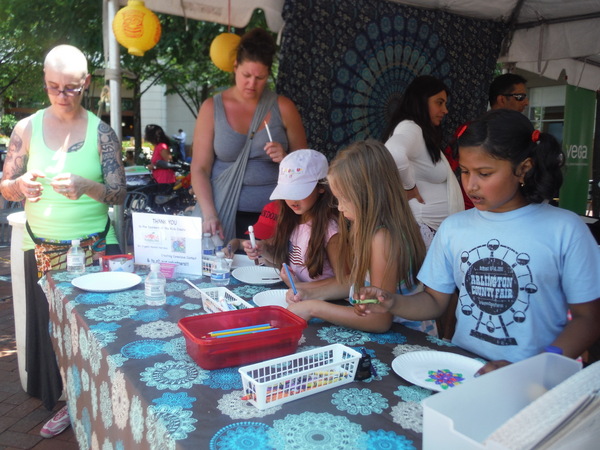 In between the mandala and Neck, Back and Beyond wellness center offering ear acupuncture and Amethyst Biomat sessions and selling MTO Kombucha, Whole Foods Reston sold fresh young coconut juice and let participants pedal-power a blender to make a Vega protein smoothie.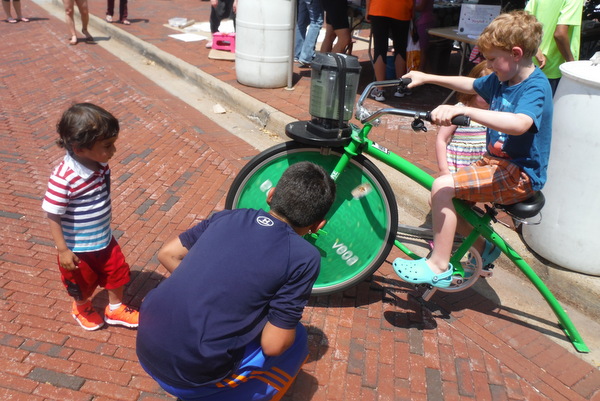 Group yoga classes were held on the festival pavilion throughout the day.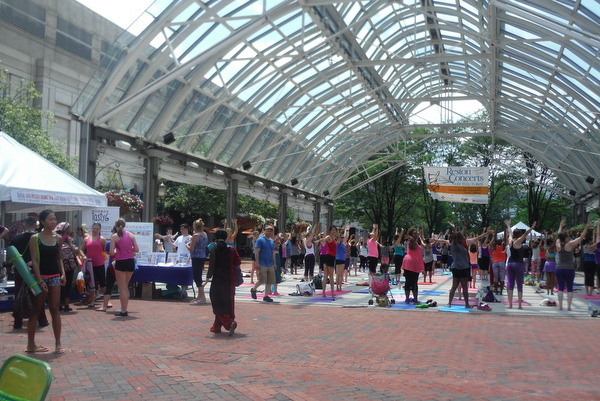 Kirtan and chanting went on in the bhakti tent, and the healing arts tent held talks on ayurveda and other yoga therapeutics. Exhibitors lined the street leading up to the pavilion and the area in front of it, sharing information on approaches to health and wellness.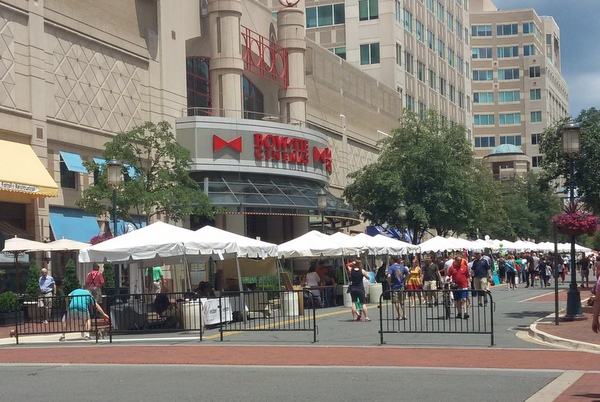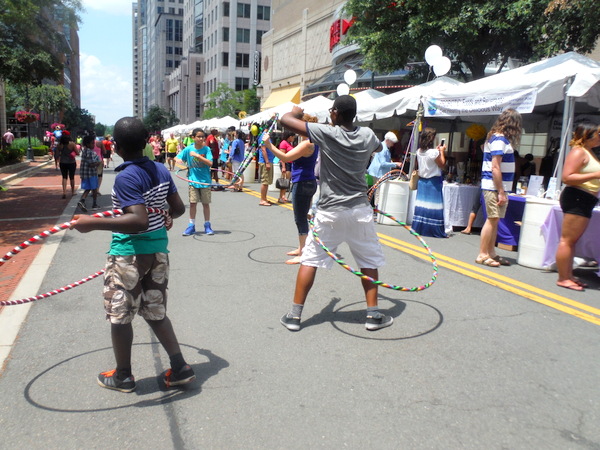 Founder Maryam Ovissi of Beloved Yoga has said one of the goals of Love Your Body is to release competition between studios and truly come together as a community. "Those of us who are committed to bring wellness, healing to the community need to see how we are serving together for the highest good." The festival intends to celebrate all the many different lineages and practices in the yoga and wellness community.
The event provides an opportunity for participants to learn about community resources for health and wellness. Some of the new businesses exhibiting this year were Tasty 6 cold-pressed organic juices that integrate 6 tastes based on Ayurvedic principles,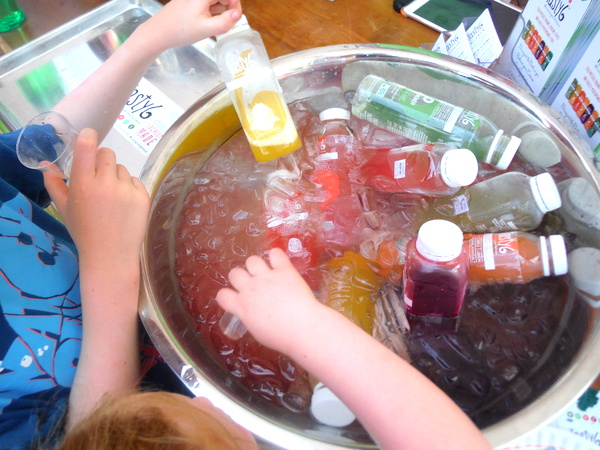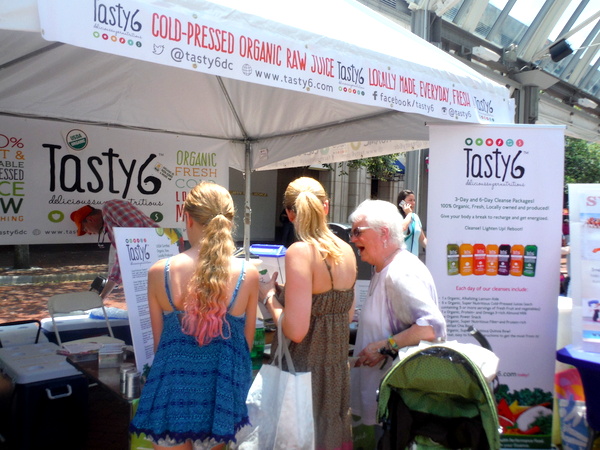 Vienna's new Women's Health and Holistic Wellness and Hands of Light Holistic Healing spa, Yogaletics wear, modeled here by with Easy Day Yoga teachers.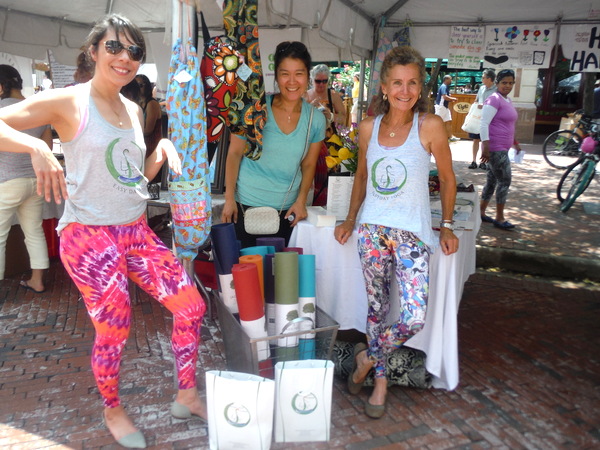 A full list of 2015 Love Your Body Day festival participants and sponsors can be found here.
Once again, Love Your Body Day brought together a tremendous array of resources to support healthy and mindful living. The event was free to attendees. Proceeds went to benefit Cornerstones (formerly Reston Interfaith) and The Brad Kaminsky Foundation.

For more on Virginia Yoga Week events, visit http://www.virginiayogaweek.org/