We were delighted when our friends from lil omm yoga studio, recently voted #1 best place for family fitness by Washingtonian Magazine, connected us with Jen Young of Spitfire Fitness Arts to tell Mindful Healthy Life about Belly Love Day, which takes place on Sunday, June 21.
Belly Love Day is primarily an online offering. It includes an activities packet that participants could use to create a local event, if they choose.  At 1:10 p.m. on Sunday, June 21, Jen will be on Google+ Hangouts to lead the belly love practice and a couple other activities. Participants can sign up for materials, including an mp3 of the belly love practice, activities and recipes.
I asked Jen to share a little more about the concept.
Mindful Healthy Life: What inspired you to start Belly Love Day?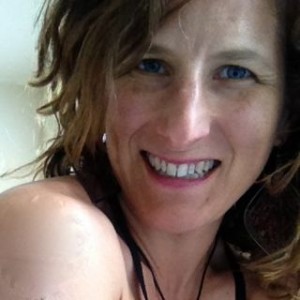 Jen Young: Belly Love Day was inspired by the amazing participants of the Belly Love 30 Day Challenge that took place in April.  So many people experienced transformation around how they see themselves and healing old wounds that it felt important to share Belly Love with more folks. Belly Love Day is also inspired by the Solstice and Father's Day. I think about the comfortable naps I took on my own father's belly. Dads need self-love too. Also, my connection to the Sun through my own belly prompted Belly Love in the first place so we are celebrating the Solstice too.
MHL: What are your goals for Belly Love Day? What do you hope will come out of it?
Jen: What I wish more than anything for Belly Love Day is that participants will experience, even for a moment, real Love for themselves. I believe once you know what self-love feels like it becomes easier and easier to come back to it and let go of self-doubt or loathing. I also want people to understand just how amazing bellies are.  Through your belly, you can connect to the Divine, your intuition, your second brain and your own super powers.
MHL: What are your top pieces of fitness and self-love advice for moms?
My number one advice to moms is to take a few deep breaths. By breathing deeply, you bring in more oxygen and life force which enlivens your body and mind.  It also reconnects you to the present moment. You really can't hold onto stressful thoughts while you are concentrating about breathing deeply. This simple practice is a way to love yourself and increase your vitality.
MHL: Tell us something about your personal body journey that isn't already on your website.
One of my greatest lessons about the body is that a strong yet flexible belly is a healthy belly.  For many years, as a gym rat then a personal trainer, I worked hard to get flat abs.  Not only did I do loads of ab exercises. I also kept my belly pulled in to look thinner. All that belly tension created a latent feeling of constant stress and affected my digestion. It became a real hindrance to my yoga practice. There were yoga poses I couldn't do because my belly wasn't flexible. Yoga has taught me that the belly, like the mind, needs to be able to both engage fully and relax completely.
MHL: What can you share with readers about parenting and balancing mama's body needs with children's needs?
Jen: I don't have children, but I've worked with many, many moms. I would tell moms that your wellness affects your family. When you take the time for self care, your family notices that you are healthier, happier and more present. When you can, include your kids in your activities. It's wonderful way to empower them and spend time together.  I have a former client that went from hating to run to having her kids run with her over the finish line of a half marathon. There is so much joy and triumph in that photo.
For more information, visit http://spitfirefitnessarts.com/belly-love-day/