What are you plans for summer? Here is the first attempt by Mindful Healthy Life to capture some of the great summer 2015 opportunities of special interest to natural-minded and mindfully-inclined parents in Metro DC, otherwise known as all the cool stuff I wanted to catch this summer or to remember to look for next year!
Please comment below or on the Mindful Healthy Life Facebook page with suggestions and we will add all we can!
All events are subject to change. Please follow the links and check the sponsoring websites for complete information and updates.
Saturday, June 20 – Healthy Living Day expo sponsored by Natural Awakenings, Rockville, MD, 9-2
Sunday, June 21 – Father's day and lots of yoga opportunities to commemorate the summer solstice. See http://www.virginiayogaweek.org/ for more information
Wednesday, June 24 – Sunday, June 28 – Smithsonian Folklife Festival on the National Mall
Saturday, June 27
Sunday, June 21-28 – Family HEART Camp West Virginia
Monday, June 29-Friday, July 3: Drop-in outdoors and arts camp with Christy and Amrita in Arlington, 9-1
Tuesday, June 30 – Thursday, July 2 – World Children's Festival of activities and performances with the International Child Art Foundation on The Ellipse next to the White House. Most days 10 a.m. to 7 p.m., Thursday 10-5, closing with a drumming ceremony. Day Themes: Tuesday: Environment & Health; Wednesday: Creativity and Imagination; Thursday: Peace & Leadership. Awards Banquet Friday, July 3.
Wednesday, July 1 – Waldorf Wonder-days at Potomac Crescent Waldorf School, 10 a.m. – 12 p.m. Alexandria, VA Repeats the following Wednesdays: July 15, July 29, August 12 
Wednesday, July 1 – Sunday, July 5 – Smithsonian Folklife Festival on the National Mall
Tuesday, July 7 – Play-In for Climate Action with Moms Clean Air Force, Upper Senate Park, 9:30 a.m. – 1:00 p.m.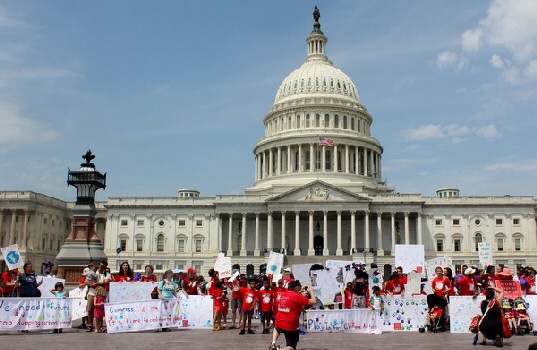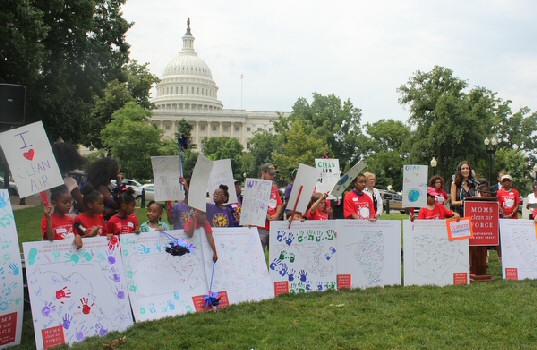 Friday, July 10 – first day of four-week Herb Camp for Kids at Centro Ashe Farm, Bryans Road, MD, 9 a.m.-12 p.m.
Saturday, July 11  – Lotus & Water Lily Festival at Kenilworth Aquatic Gardens, Washington, DC, 10 a.m. – 4 p.m.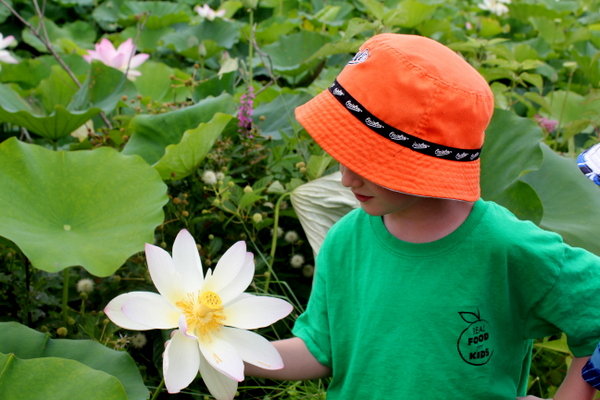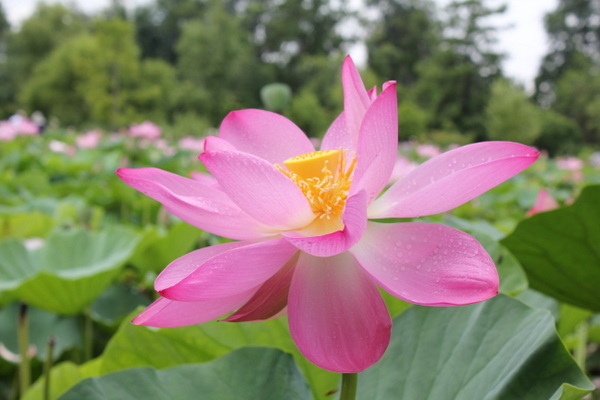 Saturday, July 25
Sunday, July 26  – The Powers Of Observation: A Special Program For Budding Naturalists Ages 6 To 10 Years Old (& Their Parents) at Meadowlark Botanical Gardens, Vienna, VA
Saturday, August 1 – Big Latch On, Cloverdale Park in Woodbridge (22192), 10:30 a.m.
Monday, August 3 – Family Yoga at Arlington County Library with Cathy Burke, 1:30 at Glencarlyn and 4:30 at Cherrydale. Repeats 8/4 at 4:00 at Shirlington, 8/5 at 4:00 at Westover and 8/6 at 4:00 at Aurora Hills and 7:00 at Central
Wednesday, August 5 – Summer Reading Puppet Show at Green Springs Garden Park, Alexandria, VA, 10 a.m.
Friday, August 7  – Hum Along with Hummingbirds Campfire at Long Branch Nature Center, Arlington, Virginia 7:00-8:00 p.m.
Saturday, August 15 – Family Fun: Wildlife Habitat at Green Springs Garden Park, 1 p.m., Alexandria, VA
Sunday, August 16 – Down South Paleo cookbook launch party with local mom Jennifer Robins of Predominantly Paleo blog, Bon Vivant Cafe + Farm Market, Alexandria, VA, 4:00-6:00 p.m.
Saturday, August 20 – MommyCon, DC Convention Center, 9-5
Saturday, August 22
Sunday, August 23 – Lubber Run Amphitheatre Interactive Family Concert with Levine School of Music, Arlington, VA, 4 p.m.
Thursday, August 27 – Summer Night Hike at Fort C.F. Smith in Arlington, 7:30-8:30 p.m.
Saturday, August 29 – Lubber Run Amphitheatre performance by Groovy Nate, Arlington, VA, 4 p.m.
More outdoors ideas:
Here are some quick links to more children's programs at a few locations
Regular all-ages events at Kenilworth Aquatic Gardens including Creature Feature and Garden Walks. Lilies and lotus are in bloom in July and into early to mid-August
Summer Camps and Family Programs at Audubon Naturalist Society in MD and VA
Gulf Branch Nature Center programs in Arlington County Library Summer Reading Program, July 20-23.
Campfires at Gulf Branch and Long Branch Nature Center, various Fridays and Saturdays, 7:00-8:00 p.m. See The Snag for dates and themes
Outdoor Entertainment
List of some area Virginia Nature Centers & interesting features of note
Jerome "Buddie" Ford Nature Center and Dora Kelley Park, Alexandria. Live animals and exhibits in center; closed Monday and Tuesday. Birding and wildlife trail.
Ellanor C. Lawrence Park, Fairfax. Animal exhibits, hiking trails (some with blackberries). Closed Tuesdays.
Gulf Branch Nature Center, Arlington (north). Animals, Native American exploration area, pollinator garden. Closed Mondays
Long Branch Nature Center, Arlington, VA (south). Trail to Glencarlyn Park and W&OD and Four Mile Run trails; children's book display on trail; creek and pond; center with small play house, books and activities; animals. Closed Mondays
Hidden Oaks, Annandale. Outdoor Nature Playce area, trails, indoor dress-up and play along with animals. Closed Tuesdays
Huntley Meadows Park, Alexandria. Trails including boardwalk over wetland area with bird viewing, nature center and gift shop. Visitor Center closed Tuesdays.
Riverbend Park, Great Falls. Trails with river views, Native American exhibits. Visitor Center closed Tuesdays.
Family & Kids Yoga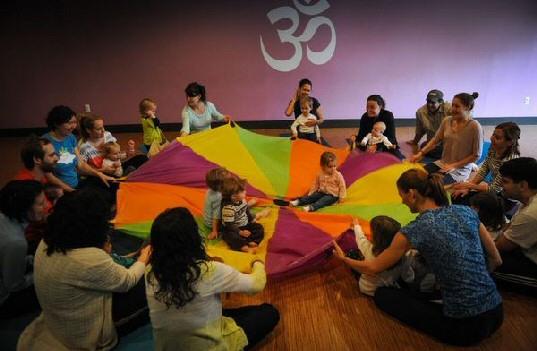 lil omm yoga studio in NW DC offers the following classes: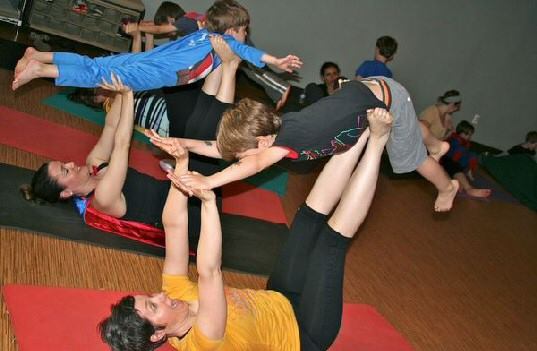 Friday Morning Playtime class at Yogi Underground in Falls Church, VA, 9:45-10:45 a.m.
"If your kid/s are home for the summer and you need a place to practice, this is for you. This practice is a bridge between gentle and vigorous yoga, and explores a variety of foundational poses (standing, seated, and on the floor) and breathing exercises. It provides low-key circulation, deep restoration, and your children are allowed in the room. You are responsible for your child/ren and may bring a toy/book/quiet game for them to play with, or they may practice with you!"
Summer Camps and Kids' Classes at Local Motion Studio in Alexandria, VA. There is also a childcare room for children ages 6 mos to 8 years for use during adult classes.
Summer Kids' Classes at Honest Soul Yoga in Alexandria, VA. Child-minding also available for ages 6 weeks to 10 years
Mommy & Me, Mommy & Movers and prenatal classes are offered at Mind the Mat in Alexandria.
Beloved Yoga in Reston is hosting a  Barefoot Boogie Family Jam on June 27 and several sessions of  kids yoga camp
Yoga offerings for children, tweens, teens and families available at Dream Yoga Studio & Wellness Center in McLean, VA
Sun & Moon Yoga offers Kids Yoga Camp in Arlington the week of July 20, a Teen Week in Arlington the week of July 13. Other offerings in the summer schedule include Moms & Babies and prenatal
Arlington Library Summer Reading Program Yoga in the Libraries, August 3-6.
Also see the Our Kids Guide to Yoga in/around DC
Yoga photos courtesy of lil omm yoga studio