Beloved Yoga's sixth Love Your Body Day on Sunday, June 8, was truly full of love. The outdoor yoga festival kicked off Virginia Yoga Week with several different classes of yoga outside in the main plaza of Reston Town Center complemented by vendor tents from businesses devoted to health and well-being.
The festival makes yoga accessible through its free classes and brings in dozens of vendors to support people in their healing and wellness journeys. Donations made at the free event go to Cornerstones, formerly Reston Interfaith, a nonprofit organization that promotes self-sufficiency by providing support and advocacy for those in need of food, shelter, affordable housing, quality childcare, and other human services.
When I asked Beloved Yoga owner Maryam Ovissi last year about her reasons for organizing the event, she said: "All Yoga festivals and events usually have one object to bring the commUNITY together to celebrate. However my underlying motivation for creating this event is to allow us (yoga studios/wellness studios) a way to release competition among ourselves. There is enough for everyone in this world and those of us who are committed to bring wellness, healing to the community need to see how we are serving together for the Highest Good. There is not just one way and therefore we have many different lineages and practices in the yoga and wellness community! We celebrate them ALL!"
Last year, I took my then two-year-old daughter to Love Your Body Day where we enjoyed participating in the children's yoga tent, which offers a full day of classes and activities.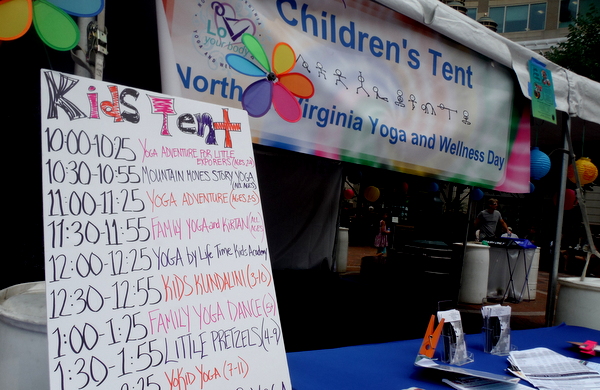 This year, I left both kids at home so I could enjoy a solo yoga practice, but I picked up several brochures about children's yoga, including the upcoming National Kids Yoga Conference in September co-organized by YoKid and lil omm.
Doing yoga in the open air with more than a hundred other people was a beautiful way to start a Sunday morning. Maryam began a great opening practice accompanied by David Newman's live music, including the song "Thinking of You" to which we all joined our voices in singing "Be bold, be free, be beautiful, believe, be love, be true to you." I felt the hum of everyone's energy when there are literal live vibrations coming from the stage, especially with the song's message that we are all connected and thinking of one another.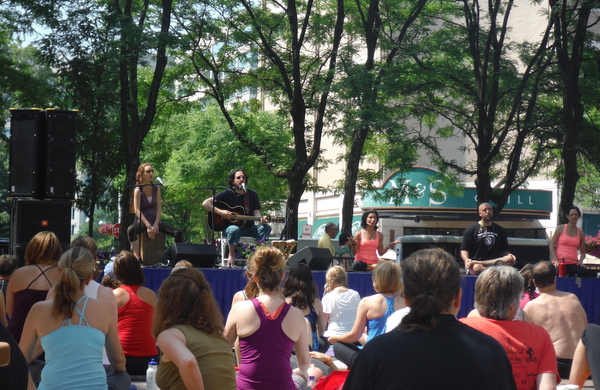 I hope we can go as a family next year so that my children and husband can be part of this group connection. Chanting with live music – in this opening class and also with the kirtan in the bhaki tent — changed my inner vibration and my outlook. I want my kids to see people this blissed out more often. I want to be this blissed out more often! Love Your Body Day reminded me that I have the power to get to a peaceful and connected place whenever I want.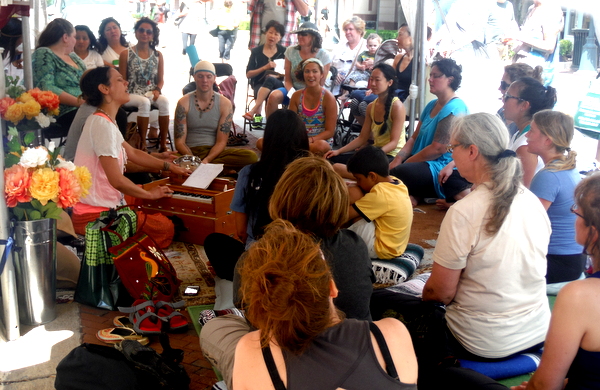 Want a piece of the bliss? There are $5 classes at studios around Northern Virginia through Sunday, June 15 and other related Virginia Yoga Week events. On Saturday, June 14 (rain date June 28) from 3:00 to 5:00 p.m. will be the free Yoga in the Fresh Air event in Old Town Alexandria's Montgomery Park, 2 Montgomery Street. Organized by River's Edge Yoga and presented in part by Yogis for Positive Change, the event will include outdoor yoga and a wine tasting and will kick off Be Well Virginia June 20-September 20. That solstice-to-equinox program will feature several free events, food drives (for people and for pets), and $5 classes to raise money for four charities: Carpenter's Shelter, Cornerstones, Smashing Walnuts and Yoga Gives Back.
Note: Due to soggy conditions this week, Yoga In the Fresh Air may be postponed to June 28. Check the Virginia Yoga Week Facebook page or call 571-218-2161 after 12 noon on June 14th for a recorded message about the status of the event.
Also on Saturday the 14th, at Sterling Library from 10:30 a.m. to 12:30 p.m. will be a free session of yoga, music and meditation as an introduction to the Happiness Program of The Art of Living Foundation. Space is limited for that one, so RSVP here or email kumblepradeep (at) gmail (d0t) com or call 480-332-2297. See the Virginia Yoga Week Facebook page for updates.
Looking ahead to 2015, expect another Love Your Baby Day around Mother's Day next year at Beloved Yoga. This year's inaugural event helped connect new and expectant parents with their inner wisdom and to groups and businesses that can support them in their parenting and holistic health journey.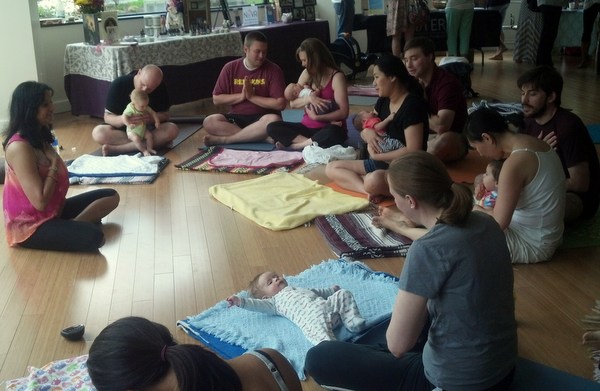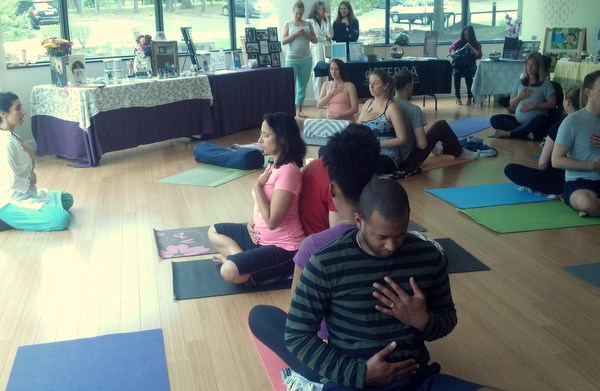 And in the more recent future, if you know of a yoga camp that still has space available this summer, please share it in the comments, email jessica (at) mindfulhealthylife (dot) com, or post it on our Facebook page and I'll include in a compilation posting next week.