That was one amazing weekend at the DC Green Festival! As I mentioned in this earlier post, 2014 marked the 10th year the Green Festival has been in DC. The vibe this time was as enthusiastic as ever. I met loads of wonderful people from great organizations and companies I hope to write about and work with in the future. Lots of them were new DC-based businesses that natural-minded families can feel great about supporting. We've tagged many of them on our Facebook page.
This year, the kids' area was staffed by the folks from Team Green World, who gave out free CDs and did live performances and presentations with eco themes. In between, adults comfortably lounged on — and kids gleefully climbed on — the coolest-ever giant bean bag pillow,  Yogibo. I'd go so far as to say it would be nearly impossible not to have fun when you're among these super-fun and colorful lounge pillows the size of a small couch.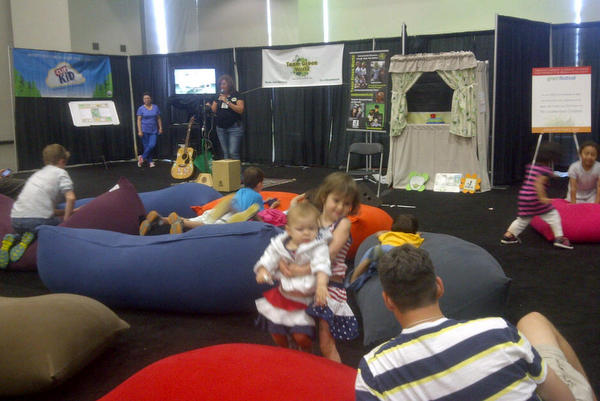 The family space was also staffed by Holistic Moms Network, a non-profit sponsor of the Green Festival. The Northern Virginia HMN chapter organized the comfort/nursing station and the children's play area and craft area where children enjoyed using supplies from Portland, Maine-based company eco-kids.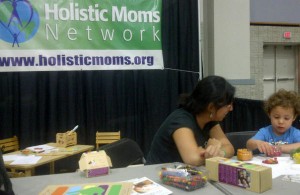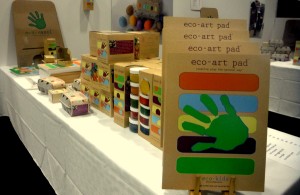 I spent a shift at the HMN table with my Arlington/Alexandria HMN chapter co-leader, Leigha, and got to talk to some great folks about natural living and parenting. It was a thrill to be part of the event as a volunteer.
But it was also great to go as media and get a chance to chat with new Green Festival president Dr. Corinna Basler, who came on board in February after moving from Germany. Corinna was so upbeat about the weekend and enthusiastic about the opportunity for parents to have fun with their children and show them that caring about the environment doesn't have to be boring.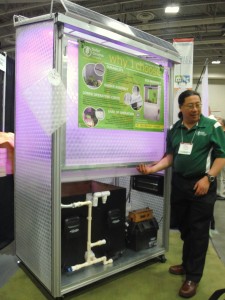 Indeed, when I brought my son on Sunday, he was fascinated with the new portable greenhouse out of the Solar Greens Company called My Terrace Farmer. Made with the cleanest materials the inventors could source, the solar-powered, rainwater-collecting automated greenhouse that can be controlled with a smartphone came to the Green Festival in a prototype to gain interest before the founder, Greg Ching, launches a Kickstarter campaign. Greg has a great demo video that shows the unit in action. Early adopters who field test the products will be able to purchase it for half price.
I can't wait to see how My Terrace Farmer transforms small-spaces into gardens, in homes, apartments, and even schools without much green space for traditional gardens.  The unit mixes rainwater with worm tea, something I'm anxious to try out in the bamboo basket I got from Greg.
And of course, the festival food was a big hit with my taste tester. In past years, we've enjoyed the DC Gluten-Free Expo, but we weren't able to be in two places at one time this year so missed the 2014 event in Bethesda but found plenty of gluten-free and dairy-free options at the Green Festival. In addition to all the restaurants serving meals, snacks and fresh juices, there were samples from so many local and national brands, including Daiya Foods, Michele's Granola, the Kit's Organic line from Clif Bar, EVER Bar, Life by Dallas popcorn, Coconut Bliss, and SuperSeedz pumpkin seeds, to name just a few. MOMs Organic Market even gave us an orange in a reuseable shopping bag (and snazzy turnip tattoos both my kids are now sporting on their arms)!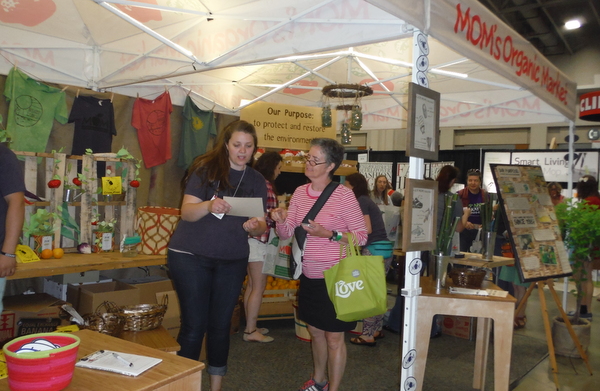 My son also enjoyed the samples from Charm School Chocolate, the winner of the Green Festival Brand Award. I'll never forget one of the booth representatives complimenting my son on the rainbow loom necklace he'd made for himself that morning, and I think my son will never forget the chocolate, which is dairy-free and soy-free. Brand Award judge Robin Fillmore, publisher of the DC edition of Natural Awakenings magazine, said of the company: "Each detail of Charm School Chocolate's production was done with care and respect for the environment and their employees." Another finalist for the Brand Award was Ardenne Farm, whose gluten-free sugar cookie my son loved.
What I love is when my son sees all this stuff I talk about all the time getting so much attention by other people, and at a huge venue like the DC Convention Center. We try to live sustainably and healthy every day, but it's great for him to see it's not just his kooky mom talking! When I stopped by the Moms Clean Air Force booth, my son recognized the same recycled notebook I'd gotten from the organization back at Blogalicious 2012. Since I'm on a new committee on asthma and environmental health in my school district and have recently been investigating school air quality, I was thrilled to find out that Moms Clean Air Force has a new Virginia organizer.
Last spring, my son went to a wonderful afternoon workshop at Arcadia Center for Sustainable Food and Agriculture in conjunction with the Arlington chapter of Jr. Navigators USA, a co-ed scouting group. He came home raving about the deliciousness of a kale salad with sunflower seeds and so was excited to see Arcadia's booth at the Green Festival. It's great when kids experience something in real life and then see that initiative in getting attention elsewhere. I think it helps children him feel like they are part of something bigger, which they most certainly are!
My son will be be excited to hear that Arcadia won the Green Festival's Community Award. Executive Director Pamela Hess said that the $5,000 grant would translate into "$10,000 of fresh, healthy, locally and sustainably grown food in Washington D.C.'s food desert." Arcadia's Mobile Market makes multiple stops each week in neighborhoods throughout DC, Maryland and Virginia that have low-access to fresh fruits and vegetables. This year's Farm Camp at Arcadia is full, but it's on my list for the future. As is the Green Festival when it returns to DC next spring!
***
Tell us what you've enjoyed at the Green Festival or tell us about other local events that we should be sure to check out!