The huge natural lifestyle expo that is the Green Festival is coming back to DC this weekend, May 31 and June 1, for its 10th year. Green Festival regulars will recall it usually comes through town in September or October, but that's shifting now that the event is a brand of Messe Stuttgart, a tradeshow organizer that has been a leader in sustainable-minded events in Europe. For more background on the Green Festival, and its partnership with Global Exchange and Green America, see its helpful About page.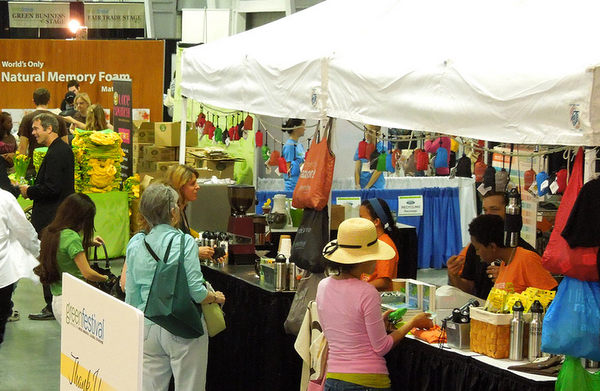 For those returning to the event, to be held 10 a.m. to 6 p.m. Saturday and Sunday at the Walter E. Washington Convention Center, expect the same wealth of classes, lectures and workshops with dozens of impressive speakers in addition to the huge array of vendors. Check out the DC Green Festival Schedule (including performances on the the Team Green World Family Fun Stage) and this list of over 300 vendors and exhibitors. I had the chance to meet a few of them at an exciting pre-festival launch party earlier this month at Busboys & Poets, which I wrote about more at TheDCMoms.com. (But I have to add that there is nothing better than getting a swag bag filled with things you actually had on your grocery list and want your children to eat, including SeaSnax!)
I learned at the party that the minds behind the festival are wanting to expand the reach of sustainable living tweeting @GreenFestival and using the hashtag #TheNewGreen in addition to #GreenFest. But the Green Festival remains true to its longtime values, and improved signage may be the biggest change to notice at this year's event. The Festival also now has several national and local sponsors, including Holistic Moms Network as well as additional non-profit allies.
First-time festival visitors may be interested to know that they can get free admission with a receipt for $25 or more from local grocery chain and Green Festival sponsor MOMs Organic Market. If you don't have a MOMs receipt, tickets are available through May 30 at http://greenfestivals.org/wdc/admission: $10 for a day and $20 for the weekend (more at the door). Children 18 and under get in free.

Even if you're not able to attend this year's event, you can participate by voting for the finalists in the Non-Profit Community Award,  Voting closes May 30, and the finalists are Arcadia Center for Sustainable Food & Agriculture, Capital Area Food Bank, Dreaming Out Loud, Microgreens, and the Washington Humane Society. You can also enter to win the Green Shopper prize of a gift bag of green goodies by voting (by 5pm Friday) for your favorite exhibitor to win the Green Festival Brand Award.
Portions of this article also appear at TheDCMoms.com.
I was given a press bag at the DC Green Festival launch party at Busboys & Poets but was not otherwise compensated for this post.