Indoor air quality is always important, but we need to pay close attention in the winter when we tend to leave our windows closed. Many items in our home contain toxins, and while it can take time to overhaul your home with an eye to health, there are lots of easy steps you can take that don't require lots of time or money.
I was asked by Good Morning Washington to share some insights related to this great "Detox Your Home" article from Mind Body Green.  Watch here for the video. We had time to discuss the "In the Kitchen" points covered below.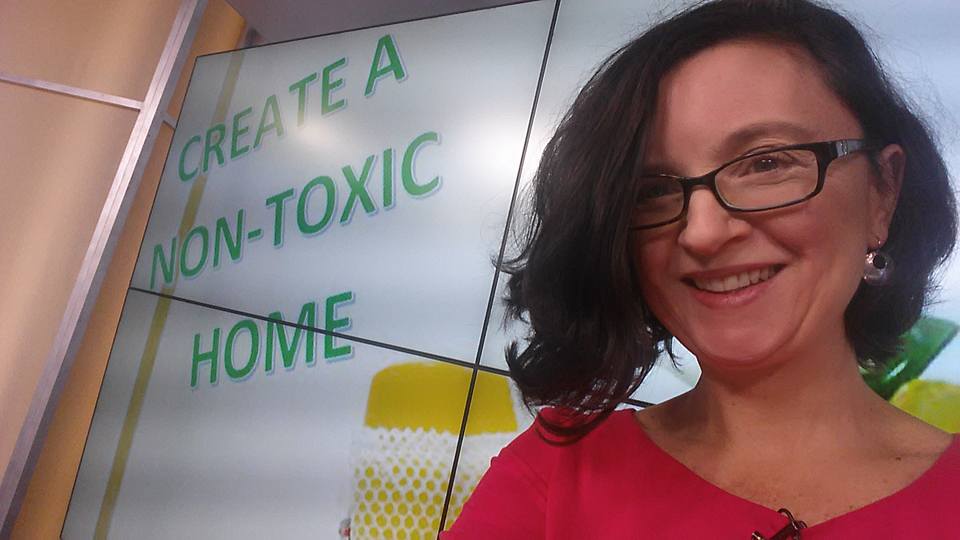 Why detox your home?
It's a different world now than it was when many of us were kids. In some respects, we know more and are safer, but our world also has a lot more toxins in the air, in the water, and in products we use every day. Babies are now born with over 200 chemicals in their umbilical cord blood, so it's really important for us to cut back on the daily exposure to toxins.
Start in the Kitchen
1. Cooking Accessories
For me, the most important place in a healthy home is the kitchen. The best thing you can do for your family is to cook meals with simple ingredients. Buy from the edges of the grocery store where you'll find fresh ingredients. As much as possible,  ditch packaged and processed foods that contain preservatives, additives, hydrogenated oils, and artificial flavors and colors.
But if you're going to make healthy food, you don't want to go adding in lots of chemicals during the cooking process!
So it's best to avoid synthetic surfaces and accessories. Get rid of Teflon or non-stick-coated pans, which are full of health hazards, in favor of cast iron and stainless steel. That can cost some money, but some cheaper kitchen swaps can help a lot, too.
First, get rid of plastic spatulas and spoons, which might have BPA or the newer substitutes like BPS, which might turn out to be just as bad, especially when they are heated. These chemicals can be harmful to brains and can disrupt hormones. For more on these two chemicals, see Safer Chemicals, Healthy Families and this article by Scientific American that says BPA-free plastic may be just as harmful as plastic that contains BPA.
Instead, use bamboo or wooden spoons and spatulas.

Some folks love silicone products. As long as they are food-grade and the source of their color or dye is not suspect, it appears that silicone accessories – baking dishes and mats – are safe at high heats and that they don't leach chemicals into food the way common plastics do.
See Mindful Momma's post on silicone and "12 Ways to Avoid Toxins in the Kitchen" from The Mighty Nest for more on healthy kitchens.
If you need to keep using your cookie sheets and bread pans for now, just cover them with unbleached parchment paper. This makes cleaning a lot easier, too!
2. Food Storage
It's important to avoid plastics, especially numbers 3, 6 and also 7. For details about each type, see "Know Your Plastics" from Healthy Child Healthy World. It's not just the BPA. They also have properties like xenoestrogens and other endocrine disruptors, which means they can affect your hormones. That's bad enough for adults, especially women who are trying to conceive and who be thwarted by estrogen dominance, but it's also really troubling when we think about our children's exposure to chemicals that can alter their hormones at young ages.
When you're storing food in the home, use glass. You can recycle jars for a cheap and easy storage solution, and there are also lots of great glass containers out there. If it has a plastic lid, be sure not to fill it up to the top or to close it up while the food is still hot. There are even some options that are silicone-coated to protect them from breakage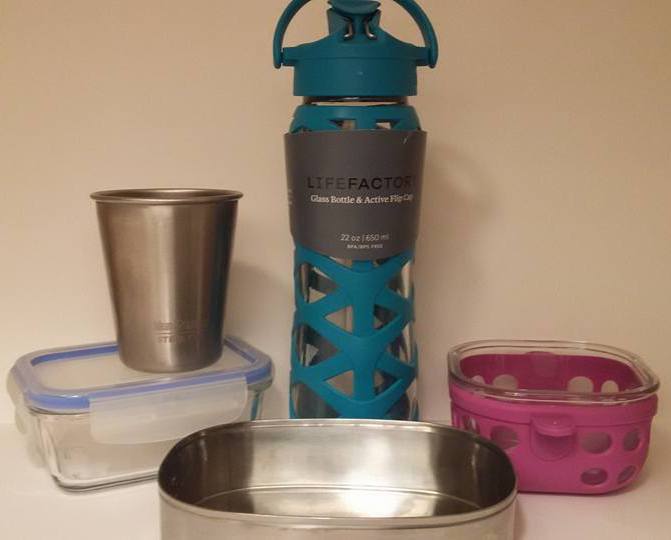 For food on the go, I love stainless steel. There are all sorts of shapes of food canisters. It's hard to find them in local stores, but you can find them and other reusable storage options on sites like reuseit.com and on Amazon.
Here are a few product links to check out:
And you can find other plastic-free reuseable wrap options, like lunchskins sandwich and snack wraps made by 3 Green Moms, a local business and Bee's Wrap. For the few times you truly need something disposable, try paper sandwich bags.

For drinks, stainless steel water bottles are everywhere now. Locally, MOM's Organic Market carries several water bottles and insulated mugs, including by Klean Kanteen. They have the traditional brushed steel and lots of fun colors, too, for adults and children!
If you like the idea of glass and being able to see what you're cleaning, especially if you enjoy thick drinks and smoothies, look into the along with silicone-coated glass bottles by Lifefactory.


Here are some product links to check out:
3. Produce – Know the Clean 15 and Dirty Dozen
Speaking of smoothies, fresh produce is an important part of a healthy diet. We all need live enzymes and the various vitamins and antioxidants we get from plants. There are some fruits and vegetables that are grown easily without a lot of pesticides or with inside fruit that is protected by a thick skin, as in the case of avocados, pineapples, some melons, and papaya.
The foods that are safer to eat not organic are called the Clean 15. According to the Environmental Working Group, these foods are the least laden with pesticides. That doesn't mean that the non-organic versions of them aren't also genetically modified, so you may still want to buy organic, but you don't have to for the pesticide issue alone.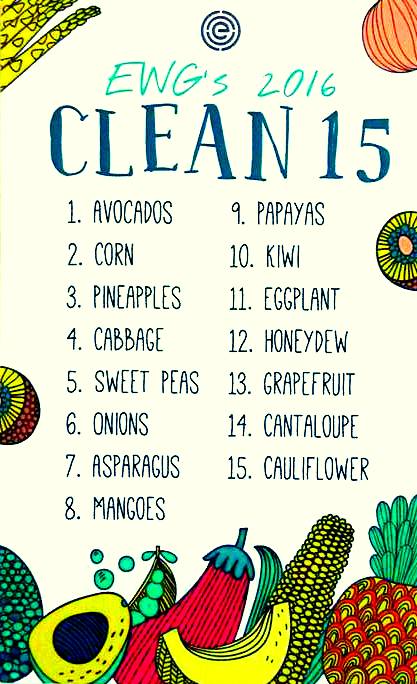 Then there are other fruits and vegetables that are loaded with pesticides and should only be consumed if organic. The Dirty Dozen list changes every year a little bit, but some of the worst foods for pesticides are apples, peppers, regular (not sweet) potatoes, strawberries, some stone fruits, spinach, celery, tomatoes and cucumbers.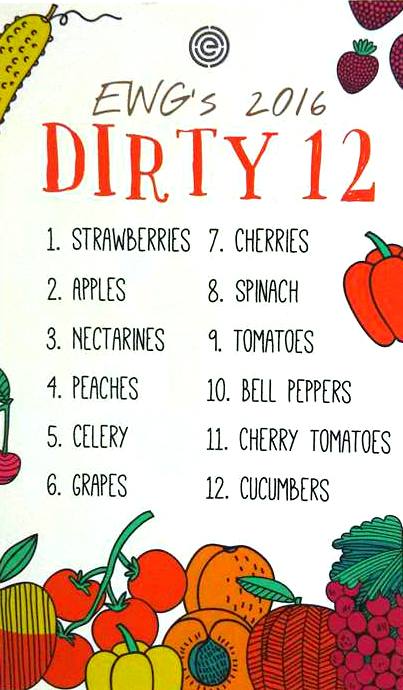 I love having this card in my wallet for reference. If you appreciate the work of the Environmental Working Group, make a $15 donation and get a shopping bag tag with these lists to remind you which foods call for extra caution and a few more cents to buy organic.
On the bulletin board near my kitchen, I have posted this nice postcard-sized visual when I ordered supplements from Natural Healthy Concepts. The more everyone in the house sees this information, the easier it will be to remember.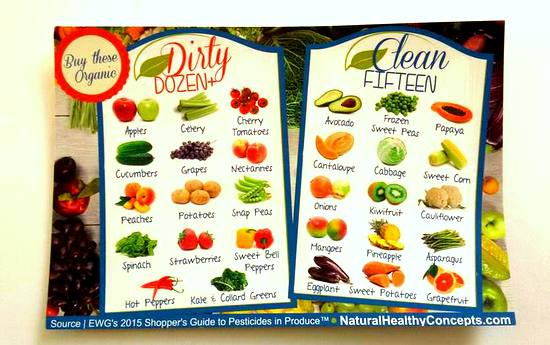 Throughout the Home
4. Cleaning Products
Now, we don't want chemicals on our food, so why should we use them on our counters and on our plate? The easiest and cheapest way to clean is with baking soda and vinegar. There are plenty of DIY recipes out there, but rest assured that a simple paste of baking soda and water is just about the easiest thing a person can make.
Use it in between the tiles of your shower or to the kitchen sink or bath. You can add some lemon essential oil or tea tree oil as a natural disinfectant. Lemon peel is also good, and vinegar added to baking soda causes a mild foaming reaction that can help dislodge scum.
A simple solution of vinegar and water can clean anything. You can buy a big jug of vinegar from any mainstream retailer for just a few dollars, but if you also like to use vinegar to rinse food, to help remove pesticide residue or to cut down on mold, use organic. Add in a small amount of lavender essential oil or another favorite oil for smell. Be sure your oils are pure plant oils and don't fillers or synthetic ingredients. Click here for more on the essential oils I recommend.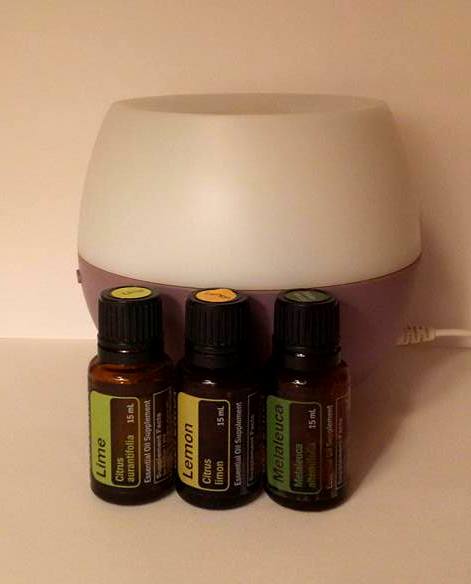 If you like scents, the purest way to get them is by growing your own flowers, buying flowers from a farm that doesn't spray, and diffusing pure essential oils. Essential oils used in a diffuser can also help disinfect the air and can create a cheery mood, as with citrus or mint oils, or a calm mood with lavender and other flower-based oils.
Never use synthetic plug-ins or aerosol air fresheners. Check out this additional information about the use of air fresheners, and see this Scientific American article on the link between phthalate exposure during pregnancy and children's risk of asthma.
5. Laundry
You also don't want synthetic chemicals on the clothes you wear. These perfumes can contain carcinogens and more endocrine disruptors. Clean doesn't have a smell! So always use fragrance-free laundry soap or soap that derives its fragrance only from essential oils, like this one that also contains an enzyme that helps break down odors.
If you wear mostly cotton and have wood floors, you probably don't have a lot of static with your clothing. However, in homes with synthetic carpet and with clothing made with synthetic fibers, you might want to use wool dryer balls, which you can buy preformed like Woolzies Wool Dryer Balls Natural Fabric Softener, 3 Count
or you can make your own.

Never use dryer sheets. They are filled with toxic chemicals that can penetrate your skin. See articles here and here for more details.
If you want to add essential oils to your dryer balls for a scent, that's fine, but be sure your oils are pure with no additives. I recommend these.
6. Skincare
Your makeup and personal care products also should not have a scent unless it comes from a plant source. Your skin is your body's largest organ. Whatever goes on it is getting into your body, so if you wouldn't want to eat it, don't slather it on!
There are lots of easy and natural DIY moisturizers, like shea butter and coconut oil.

There's also a terrific way to find out about the personal care products you buy. The Environmental Working Group's Skin Deep® Cosmetics database rates thousands of products on several safety measures. Throw out anything that gets a bad rating. This goes for soaps, lotions, hair care and yes, makeup!
An easy way to know you're safe is to buy from one of the companyies that participates in the EWG Verified program, which includes a rigorous testing system to ensure that the products are free of toxins. As we've previously written, Beautycounter was one of the founding companies of this program. Some of its products are now available at Target. Click here for more information on Beautycounter.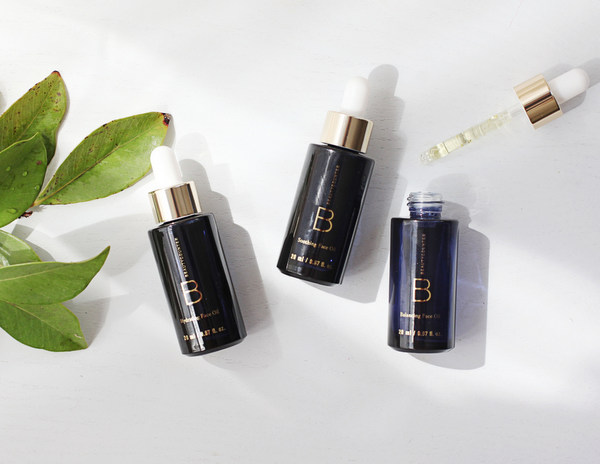 7. Ambiance
Finally, one thing that may be less necessary than kitchenware but that can make a home healthy and warm is ambiance.  As I mentioned above, essential oils can help shift the mood of a room; peppermint is refreshing, lavender is calming, citrus oils are peppy and bright. Diffusing oils can be a lovely way to create a feeling of calm or joy. But, unless your diffuser has a nice light, it may not affect the visual sphere.
Many love candles, especially in the winter. They give a great glow that is soft and warm. However, you don't want to have them spewing petrochemicals into your cozy home. So go with beeswax candles with cotton wicks. They smell naturally delicious and are clean burning. Locally, MOM's Organic Market sells Big Dipper Wax Works handcrafted votives and birthday candles all year round and decorative candles at special times of year. You can also sometimes find handcrafted candles at local fairs and bazaars like the Washington Waldorf School Fall Bazaar where Floyd, Virginia-based candlemaker Crystal Beeswax sells its wares.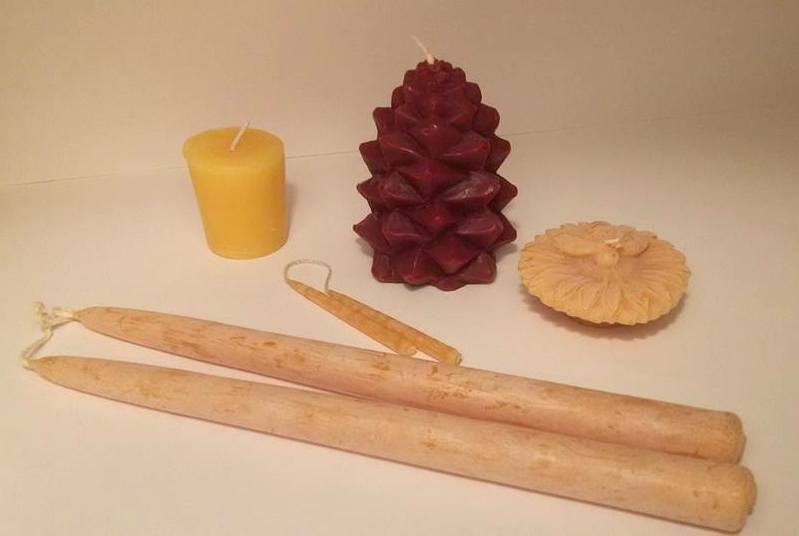 When can you be "done" detoxing your home?
Truth be told, this process never stops. Few of us have the funds and energy to overhaul everything at once, and even if we did, we'd continue to learn about new hazards as new research becomes available. And as new products come onto the market without adequate testing long-term studies! Just today I received an email with a link to a post on Naturally Savvy called "5 Household Items You Aren't Buying Organic But Should."
If your goal is to create a healthy home for you and your family and for you and your children to have a healthy future, researching and acting is just part of the deal. Don't get overwhelmed. Just get busy when you can and take breaths during all the other times!

A final note and a plug for a local mom's great work:
Another terrific source of information is the book Unprocessed Living: 3 Easy Steps to Transition Into Healthy Eating
by Northern Virginia mom Cindy Santa Ana of Unlock Better Health health coaching.

I've seen Cindy speak and she does a terrific job of going into detail about household items and so much more. Her book is a terrific guide for beginners but it also has some great advice and surprising information even for those of us who have been on the detox train for a while! And it makes a terrific gift for the people in your life who think you just making things up or that they can never clean up the way you have. To learn more about Cindy and the Real Food Camps for she holds for kids in the summer, see our summer 2016 Q&A with Cindy.
This page contains affiliate links.

Jessica Claire Haney is the founder, publisher and editor of Mindful Healthy Life. She is the founder of the Arlington/Alexandria Chapter of Holistic Moms Network. Jessica is a writer and editor who is working on her first novel. Find information about her writing and about the editing and business consulting services she offers atJessicaClaireHaney.com. Her personal blog is Crunchy-Chewy Mama, on Facebook at facebook.com/CrunchyChewyMama. For more information, see Jessica's Mindful Healthy Life Q&A.