If your family celebrates Valentine's Day with chocolate or sweets, be sure to stock up on versions you can feel good about. Among our favorites: eating EVOLVED primal dark chocolate.
When I first tried eating EVOLVED chocolate at the 2015 Natural Products Expo, I thought I had died and gone to heaven.  The products were delicious and made me feel so terrific! I had avoided chocolate for long time, and I was so excited to find that I could enjoy it again with no ill effects. The eating EVOLVED product line is so pure!
So I was super excited for Mindful Healthy Life to one of the founding members of the new eating EVOLVED affiliate program. If you're looking for delicious chocolate that will give you all the antioxidant glow with none of the headache or processed sweetener crash, give eating EVOLVED a try via our affiliate link and use our special code – "jessicahtmt" – to get the product of the month FREE! February's product of the month is  Mint Choco Chip Chocolate Spread.
I'm also offering free gifts for those who purchase in the month of February: a strawberries & cream coconut cup for orders over $35, or the cup plus a Signature Dark primal chocolate bar for orders over $100. Details are below. Tell your friends, and share the shortlink: bit.ly/EatingEVOLVED-MHL
Some important things to know about eating EVOLVED:
all of the ingredients it uses are organic except for Madagascar Ground Vanilla
it uses Fair Trade Certified cocoa and is a partner with Fair Trade USA
its products are sweetened with organic coconut sugar that is sustainable and does not contribute to deforestation
all products are vegan and contain no animal ingredients
its chocolates are made with gluten-free, dairy-free, and soy-free ingredients on equipment that is GF, DF, and SF
the company adheres to the principles of evolutionary nutrition, using natural, organic, and nutrient-dense ingredients; its products fit within the Paleo/Primal lifestyle
the company offers free shipping on orders over $35
the company's guiding principal is "Chocolate: It's Food, Not Candy"
Here's a quick tour of the products terrific company has to offer:
Primal Dark Chocolate
Primal Dark Chocolate bars are 2.5 ounces of pure deliciousness! A little goes a long way. You will be more satisfied after one small chunk of this bar than half of other bars of lesser quality. It's kind of like the difference between a shot of espresso and watery cup of coffee.
The Signature Dark bar has just three ingredients: Organic Cacao, Organic Coconut Sugar and Organic Coconut Butter. That's all!
It is my favorite chocolate bar of all time.
Other flavors include Almond Sea Salt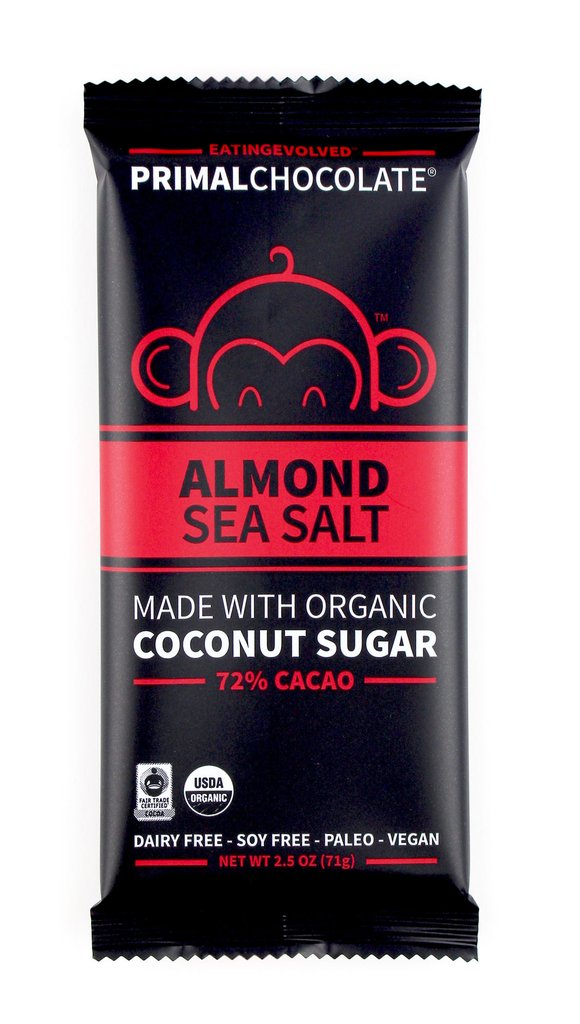 and Crunchy Caramel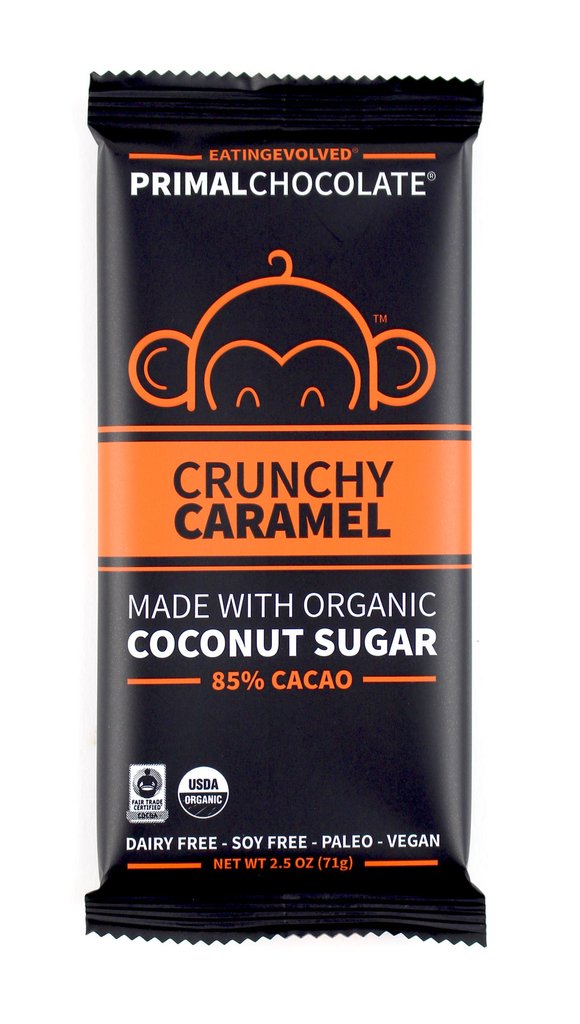 If you want to avoid all sweetener, try the Midnight Coconut bar. It has no sugar – just flakes of coconut. It's great for an antioxidant boost that is less bitter than straight-up cacao nibs or (perish the thought!) baking chocolate. It's really quite lovely. It weighs in slightly lighter than the other bars: 2.3 ounces.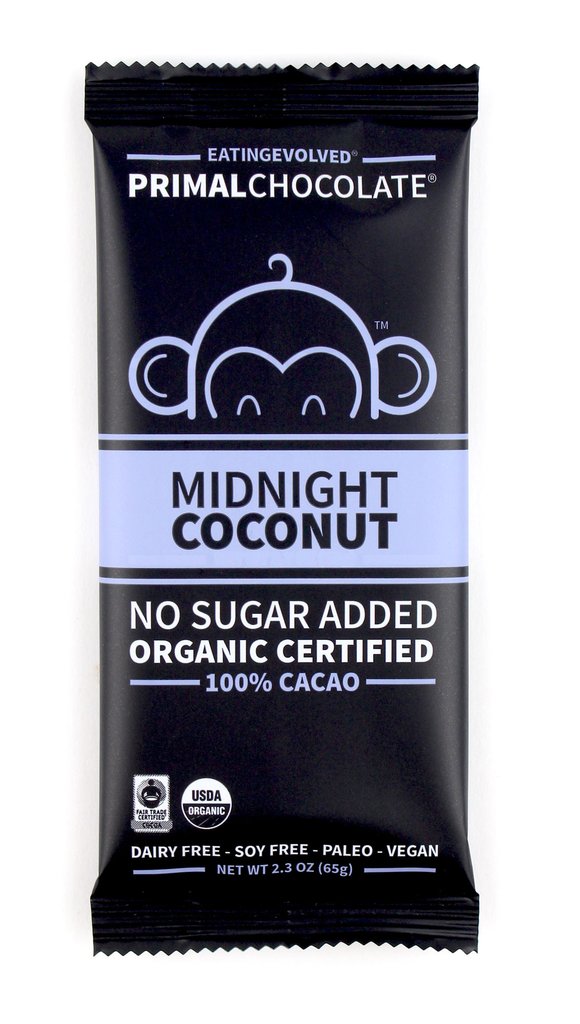 These bars are $4.99 each or just $4.49 if you order 12 at a time.
Coconut Butter Cups
When I first encountered the eating EVOLVED coconut butter cups, I felt like my dreams had come true. As a kid, I loved the combination of coconut and dark chocolate in candy bars (you know the ones!), but I hated how I felt after. Corn syrup is no friend! And of course those mainstream versions weren't made from organic ingredients, either. These are! And they are so good!
Imagine the shape of a typical peanut butter cup but with no nuts – just coconut butter. The ingredients in the Classic flavor are: Organic Coconut, Organic Cacao, Organic Coconut Sugar, Organic Cacao Butter, Himalayan Sea Salt, Organic Vanilla Extract.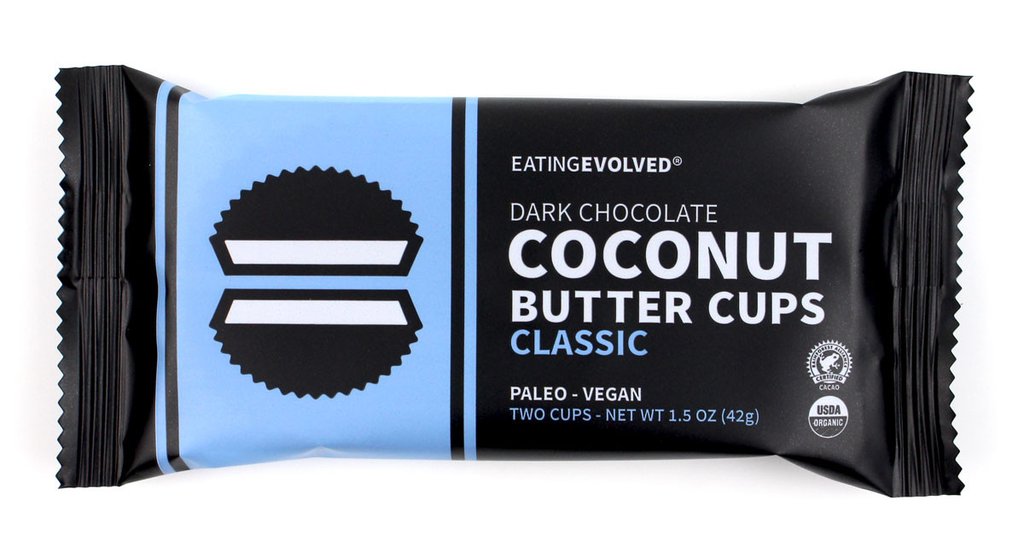 The coconut butter cups sell for just $2.99 for two cups totaling 1.5 ounces.  Each cup has just 4 grams of sugar, 1 gram of protein, and 11 grams of fat. Compare that to half of a popular high-protein candy bar, that by contrast, contains a whopping 15 grams of sugar, 2 grams of protein, and 7 grams of fat that come in part from peanuts, milkfat, and hydrogenated vegetable oil. None of that junk in eating EVOLVED!
The company motto is: "It's food, not candy." Truth. Your body can easily use the nutrients in eating EVOLVED products. No guilt! Just goodness. You can consider them a treat or but it's justifiable to simply call them a snack!
You may have seen the Classic, Mint Cream and Caramel Sea Salt flavors of these delightful cups at MOM's Organic Market, but buying in bulk online saves you money and gives you access to the Banana Cream flavor as well.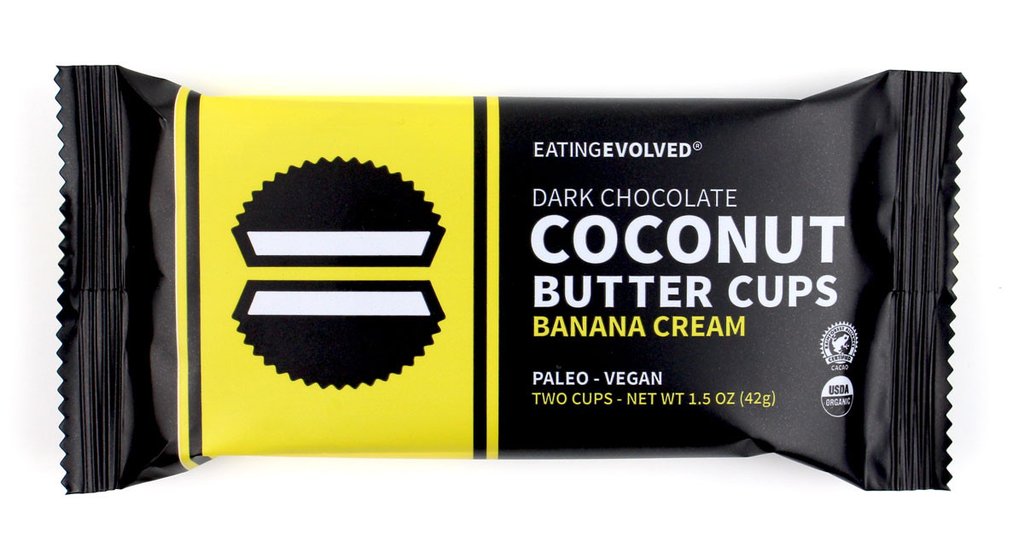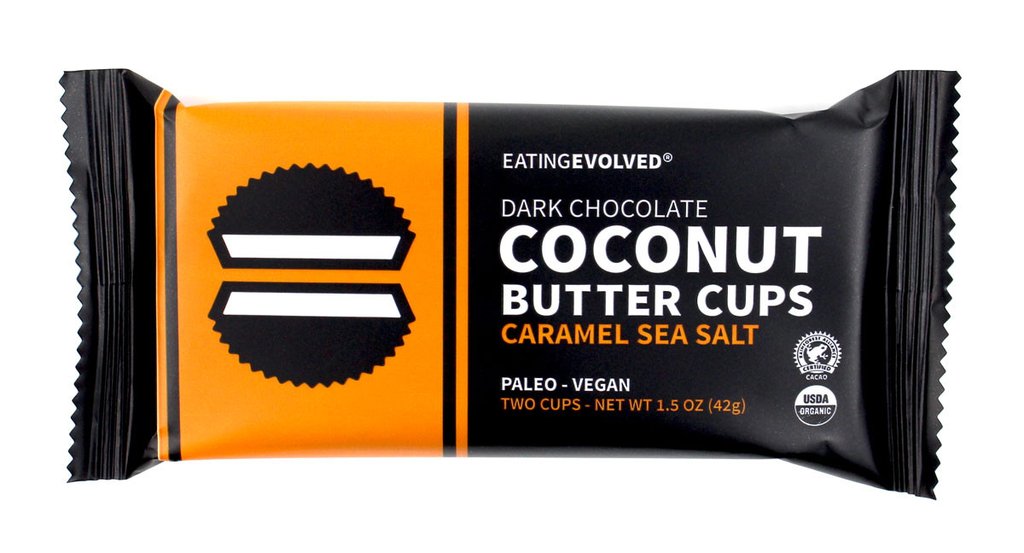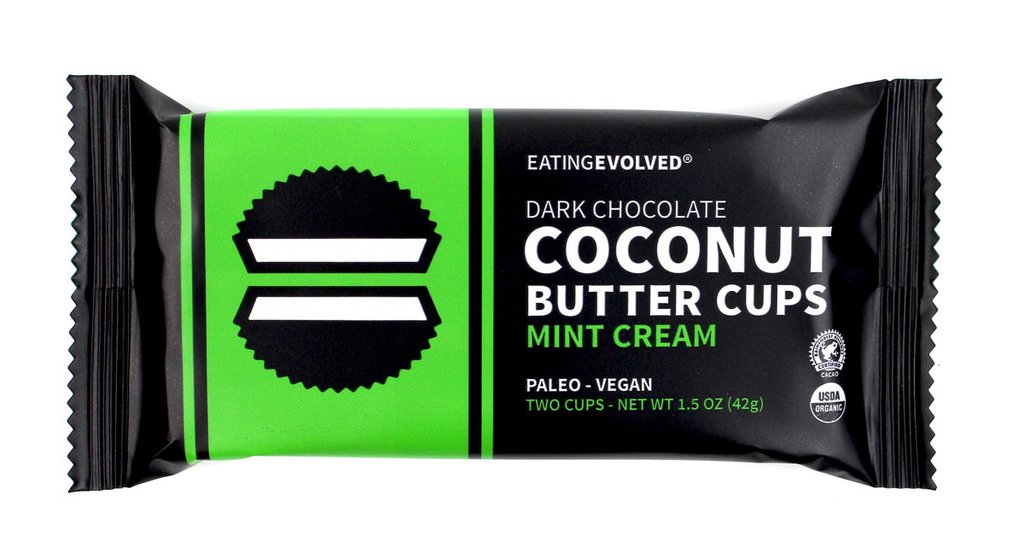 Also, for a limited time, the Strawberries & Cream flavor is available for $17.99 for 12 individually wrapped cups.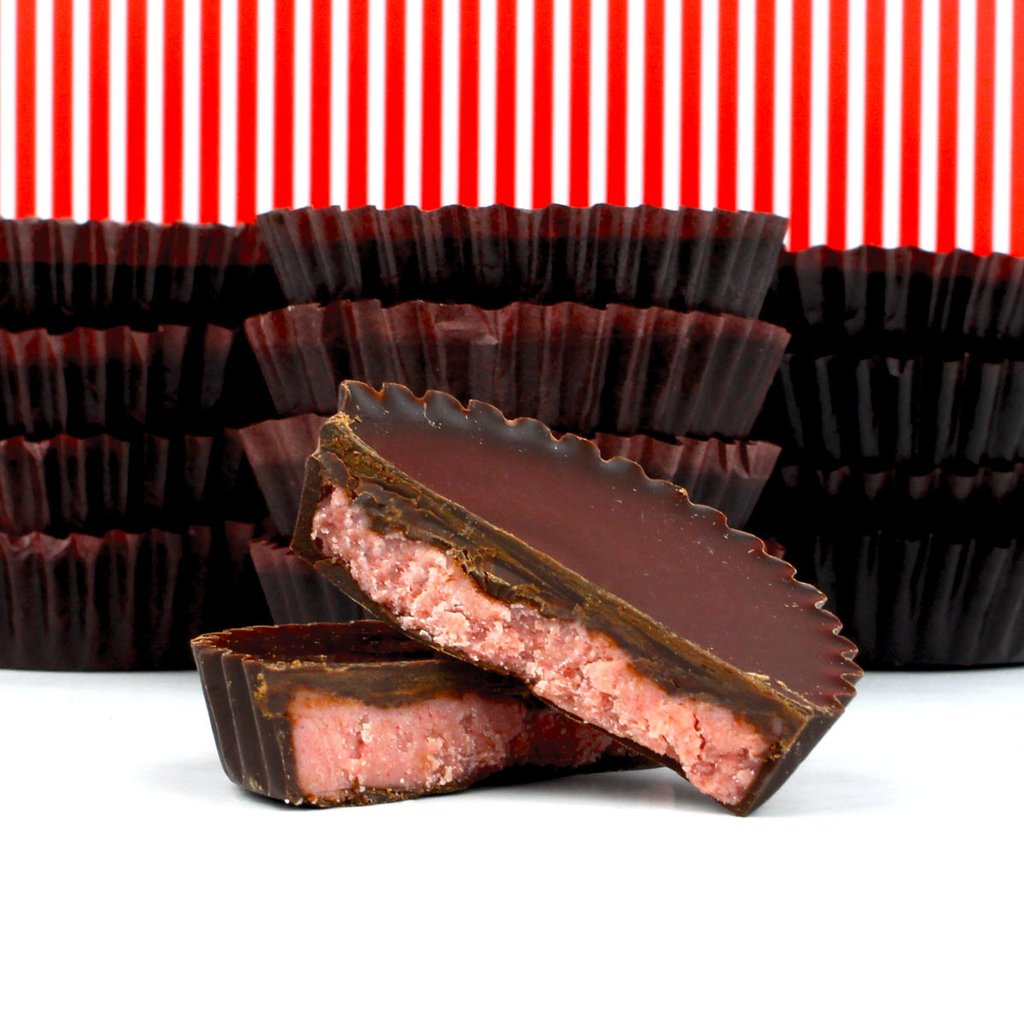 Special offer from me: I can't wait for you to try this chocolate, so I'm offering a free gift!
If you make an eating EVOLVED purchase of $35 or more before March 1, I will  send you a strawberry & cream coconut butter cup with a personalized note with one of my favorite inspiring quotes. Remember: Orders over $35 already get FREE shipping!
If you order over $100 of eating EVOLVED product this month, I'll add in a Signature Dark primal chocolate bar, too! In either case, just send me your mailing address with a forwarded copy of your order confirmation or, even better, with a photo of you smiling with your order in hand, to jessica (at) mindfulhealthylife (dot) com.
Hot Chocolate
Where else are you going to find hot chocolate with grassfed collagen in it? That's just one of the paleo and vegan friendly hot chocolate versions eating EVOLVED offers.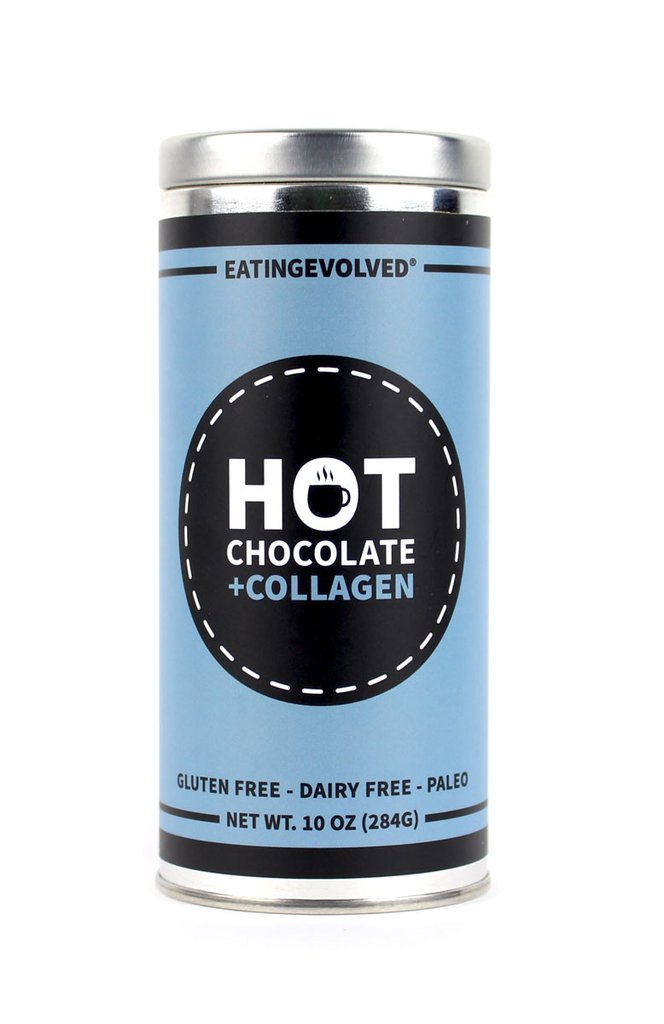 There's also a version with marshmallows and of course the Original Hot Chocolate. Ingredients in the Original are paleo and vegan friendly hot chocolate: organic cacao, organic coconut sugar, organic cacao powder, and organic cacao butter.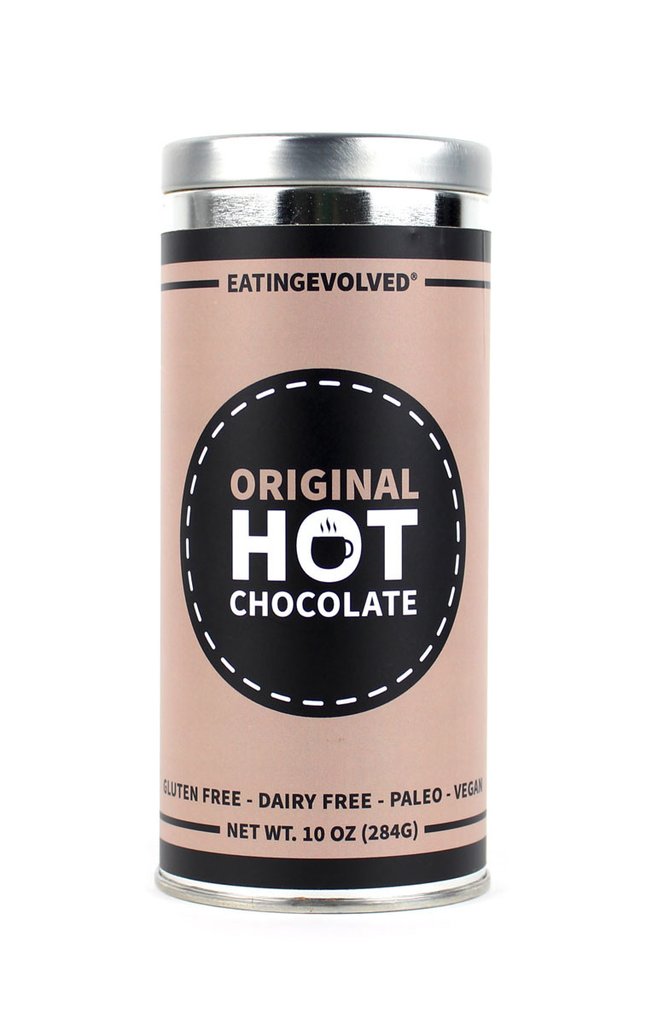 All varieties run $12.99 for 10 ounces and make about 10 servings of hot chocolate.
Chocolate Spreads
Who needs hazelnut when you have coconut? The Chocolate Spreads are so satisfyingly good, whether you spread them on a cassava tortilla, as I do, or use them in a pastry, or eat them by the spoon. The ingredients in the Original flavor are Organic Cacao, Organic Coconut Sugar, Organic Cacao Butter, Organic Coconut, Himalayan Sea Salt, Organic Vanilla Extract.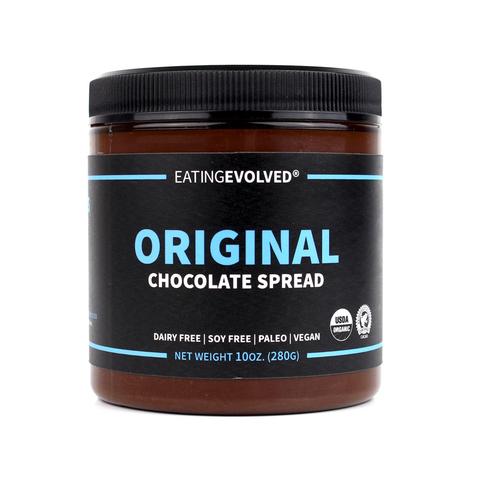 There's also a Toasted Coconut version.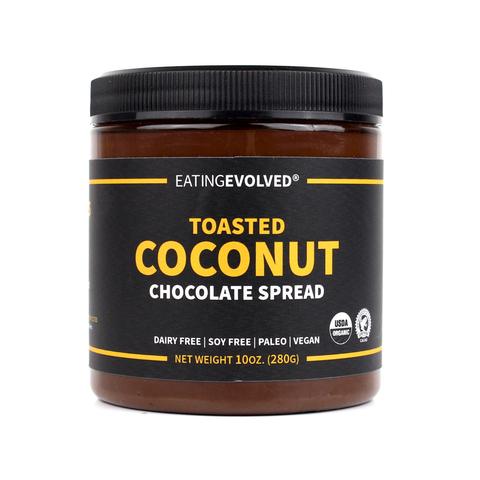 The Mint Choco Chip Chocolate Spread is February's product of the month, which you'll receive for free if you use our special code: "jessicahtmt"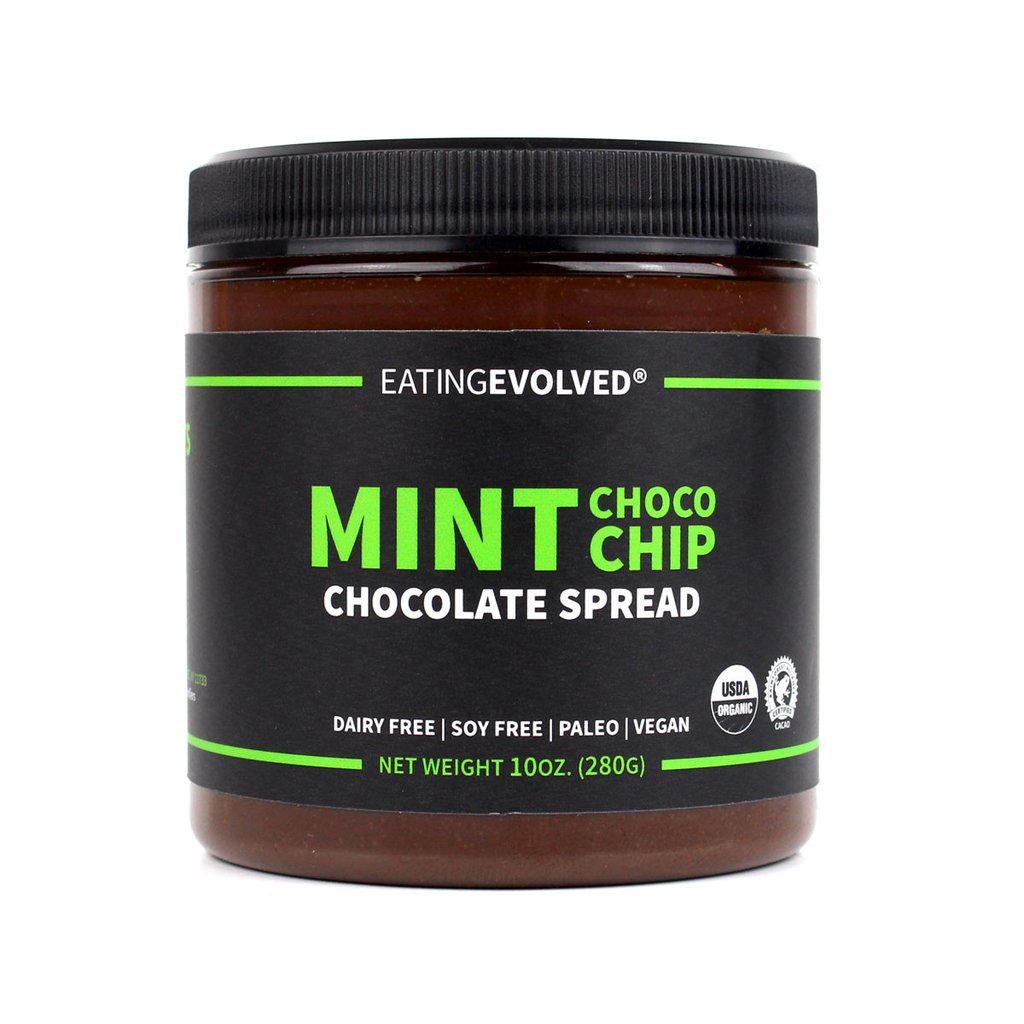 Coconut Spreads
Roasted Coconut Spreads are is one of the company's newer products. There's the Sweet & Salty version and the Unsweetened version. These are relatively new kids on the block. My first two jars are on their way now! I can't wait to try them.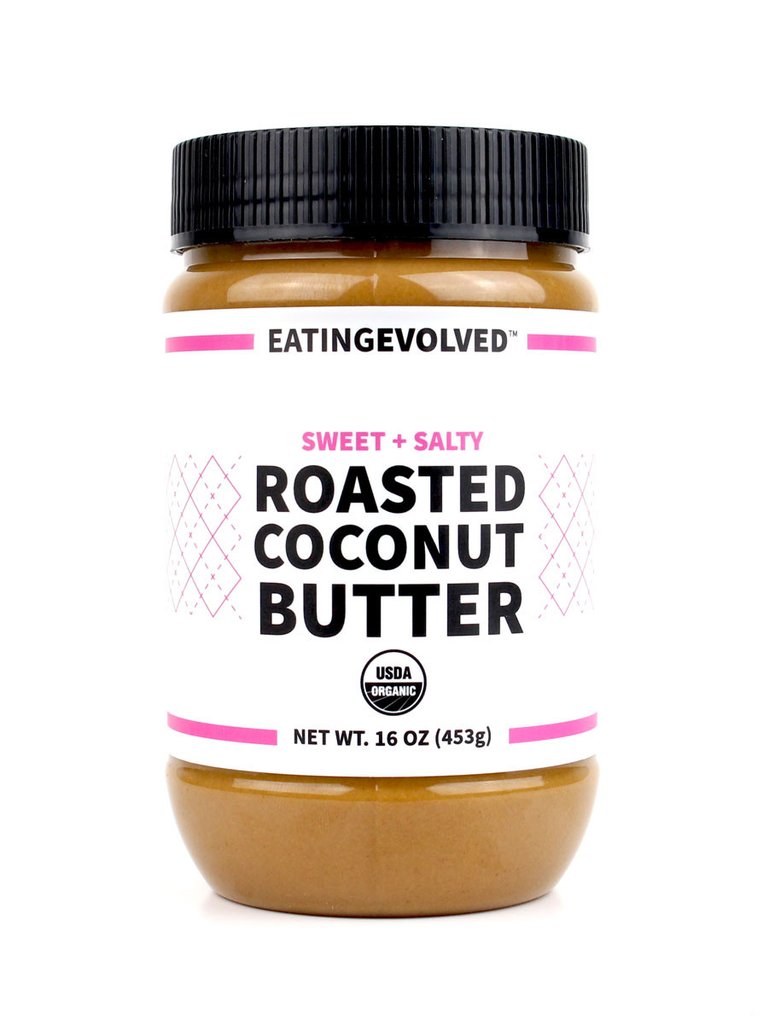 Gift Boxes
Need a special way to tell someone you want them to have a delicious life? Or ready to treat yourself? There are several eating EVOLVED Gift Sets. The special Valentine Gift Set contains 1 Sweet & Salty Roasted Coconut Butter, 2 Almond Sea Salt Primal Chocolate Bars and 6 individually wrapped Strawberries & Cream Coconut Butter Cups. The Valentine Gift Set sells for $27.99.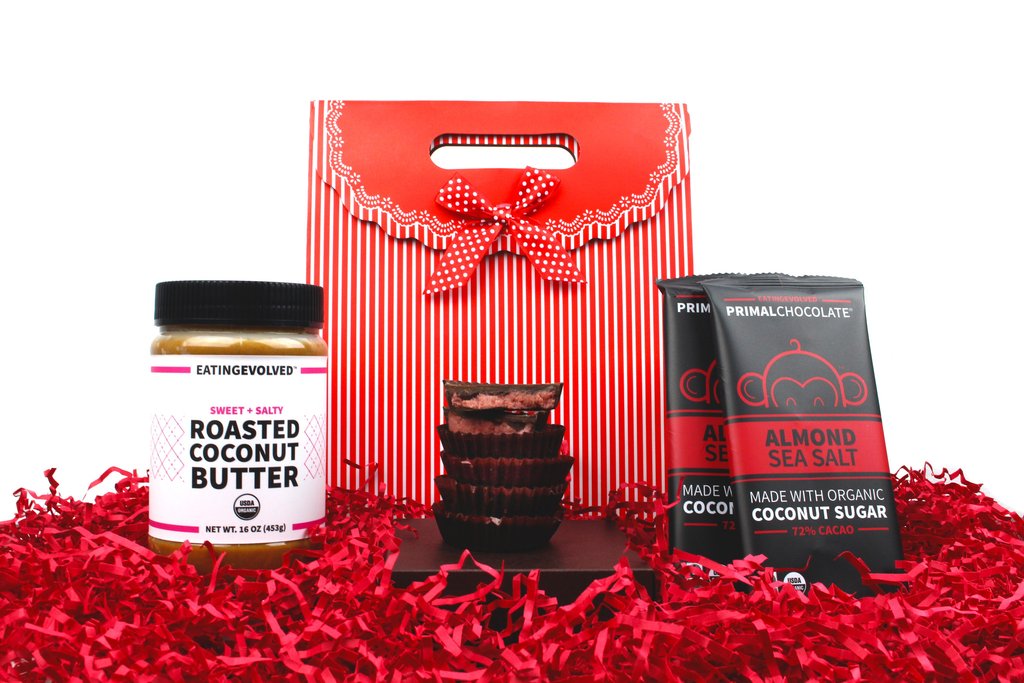 And available anytime are several other gift sets, including The Sampler Gift Set for $49.99 that includes one of each of the 4 Primal Chocolate bars, one of each of the 4 flavors of Coconut Butter Cups, 1 Hot Chocolate and 1 Chocolate Spread.
If you really, really want to make someone happy, there's the Chocolate Lover Gift Box and the Chocoholic Gift Box. There's also a I am super excited for folks to try this chocolate. I have complete faith that, if you like dark chocolate and you like coconut, you will LOVE this stuff!
If you are needing some non-chocolate sweets for the holiday or for any other time when your kids are likely to be presented with versions that contain dyes, artificial flavors, High Fructose Corn Syrup, GMO ingredients or other yucky stuff, here are a few alternatives.
This post contains affiliate links.

Jessica Claire Haney is the founder, publisher and editor of Mindful Healthy Life. She is the founder of the Arlington/Alexandria Chapter of Holistic Moms Network. Jessica is a writer and editor who is working on her first novel. Find information about her writing and about the editing and business consulting services she offers at JessicaClaireHaney.com. Her personal blog is Crunchy-Chewy Mama, on Facebook at facebook.com/CrunchyChewyMama. For more information, see Jessica's Mindful Healthy Life Q&A.