Cindy Santa Ana is a Northern Virginia mother of two who turned her health around with real food nutrition and who now works as a health coach assisting clients in her Unlock Better Health practice and speaking from her book, Unprocessed Living: 3 Easy Steps to Transition Into Healthy Eating
. This summer she is offering Real Food camps for kids out of her home near Gainesville, Virginia.

Cindy gave an inspiring and powerful talk in 2014 to Holistic Moms Arlington/Alexandria chapter on the topic of healthy digestion, and last fall, I had the chance to see Cindy speak at the Take Back Your Health Conference. She packed a ton of great information into her terrific presentation on non-toxic living, including an explanation of different kinds of plastics and how they affect health as well as suggestions for replacements and other healthy strategies in the kitchen.
Her book, Unprocessed Living: 3 Easy Steps to Transition Into Healthy Eating, goes into more detail about how to make your home a healthy home. It's a wonderful primer for folks new to non-toxic living but it is full of great nuggets and tips that even the most experienced healthy family will find illuminating.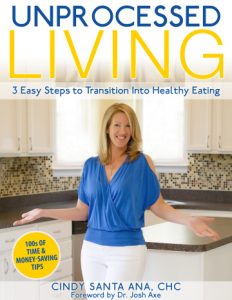 I asked Cindy to share a little bit with our readers about her healing journey and how she found her way to health coaching.
Jessica of Mindful Healthy Life: What kind of health issues did you face before becoming a mom?
Cindy Santa Ana of Unlock Better Health: I was diagnosed with Hashimoto's Thyroiditis at age 25. I had migraines since I was 7. I then developed allergies in my 30's and started to gain weight in my early 30's. I always had frequent colds, bronchitis and was on antibiotics several times per year. After children, I became 50 pounds overweight and also had high cholesterol. But, I refused to be put on a statin, and I wanted to lower it naturally – which I did!


Jessica: What were some of the strategies that helped you regain your health?
Cindy: I started incorporating a daily 2-mile walk, increasing my protein intake and decreasing carbs and sugar. I added probiotics and all grass-fed meats. I also started a stress management routine of deep breathing, journaling and meditation.
Jessica: How did you stay healthy through postpartum periods, or what did you do to bounce back if you backslid? And how old are your kids now?
Cindy: My kids are 8 and 9, two girls. I lost the pregnancy weight gradually after each pregnancy, but it slowly crept on as I continued with my low-fat diet and processed foods, not knowing what damage I was doing.


Jessica: So when did you start your journey to health?
Cindy: My healing didn't happen until just a few years ago. I began this journey in 2011, well after children. I went to Integrative Nutrition in 2012.  I wish I had known all of this back then! I share more about my journey on my website.
Jessica: What are the top three things you'd like to tell every mom or expectant mom to do for optimal health?
Cindy: Even though packaged foods are convenient, they contain chemicals that are destroying our health. Always read the label of everything you buy – even medicine. Ask questions/do research, get second opinions before considering medication or surgery. Take daily walks, get sunshine, deep breaths and think positive, happy thoughts.


Jessica: What prompted you to write the Unprocessed Living? Who is your target audience?
Cindy: Women and families. I had a client who suggested I write a book to share all the info she was always feverishly writing down during workshops. I felt compelled to share the content with as many people as possible. The message is important and we need to start questioning the "food" that is being sold to us. Many people don't know about GMOs and how to avoid them, so I wanted to share that info too.

Jessica: What have you heard so far in response to it? Cindy: Wonderful!  5 Star reviews on Amazon! Everyone loves it and they're buying multiple copies to share with family and friends! They're also finding the recipes to be delicious and easy to make!
Jessica: Tell us about the camps you are doing this summer.
Cindy: Children will learn skills they will carry with them for a lifetime. Cooking is an essential skill that children aren't learning in schools anymore. We'll learn how to get around in a kitchen safely, and I'll even teach them some cleaning-up skills!
The camp is for kids ages 7-12. They will learn basic knife skills, food safety, and will prepare and eat their meals each day. Campers receive a recipe packet and certificate for the week they attend. My camp for younger kids is full, but I have a one-day teen cooking class coming up on August 13.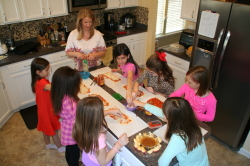 Cindy's website is www.unlockbetterhealth.com/. She is also a Healthy Living Contributor for Fitlife.tv and The DC Ladies. Follow her on Facebook, Twitter, Pinterest and Instagram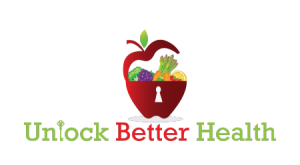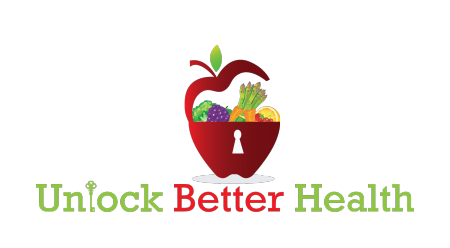 Unlock Better Health is sold by Whiffletree Farm in its store. The book is also available in bookstores and on Amazon through our affiliate link here:
Unprocessed Living: 3 Easy Steps to Transition Into Healthy Eating
by Northern Virginia mom Cindy Santa Ana of Unlock Better Health health coaching
Enter to win a copy in our giveaway below!
This page contains affiliate links.

Jessica Claire Haney is the founder, publisher and editor of Mindful Healthy Life. She is a writer and editor and a co-leader for the Arlington/Alexandria chapter of Holistic Moms Network. Her personal blog is Crunchy-Chewy Mama and her writer's site is JessicaClaireHaney.com. See the Contributors page and Jessica's Mindful Healthy Life Q&A for more on Jessica.