If you're looking for a way to expose your children to yoga and healthy eating while ensuring they have a fun day, give them — and yourself! — a gift by signing them up for the second summer Kids Yoga Staycation Mini-Retreat offered by Cathy Burke, E-RYT at Alexandria's Ease Yoga & Cafe this Thursday, August 11.
The mini-retreat begins at 11 a.m. and wraps up at 3 p.m. and is open to children ages 7-12. It's described as a "day filled with learning, creating and moving that will provide children with better body awareness, nutritional understanding, well-being and just plain fun!"
The day includes yoga, of course, conversation and creativity – this time featuring a meditation jar -as well as yummy, healthy food! Each yogi will sample ingredients used in smoothie and bowl creations from South Block and choose their own smoothie or bowl for lunch in the Café! Cathy will lead the group in a discussion about the macro and micro nutrients in various ingredients as the group tastes and enjoys healthy lunchtime masterpieces that look as beautiful and they taste!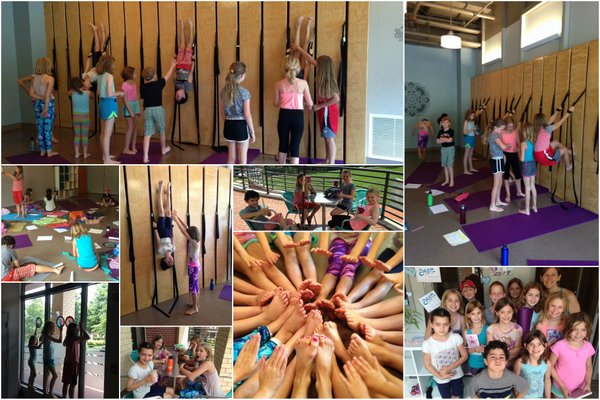 Cathy shared with us a few thoughts about this Thursday's upcoming retreat:
"I am always looking for ways to infuse the fun of kids yoga with creativity, self-awareness and nutrition (all vital aspects and building blocks of lifelong wellness), and the Kids Yoga Staycation does just that! I love teaching this 4-hour workshop for kids 7-12 and sharing in their questions, concerns, creativity and self realization. It's a chance for them to connect and normalize their feelings with other kids their age and to experience tools that will help them in so many facets of life!
Our first Staycation last month sold out and was such a hit! Each child tried new poses and new foods and walked away with a big smile on their face! We still have spots available for our upcoming mini-retreat this Thursday, Aug. 11 and would love for your children to join us! Just visit www.easeyogacafe.com/grow for all of the details about how we will move, hang, craft, taste, eat, write, play and connect!"
Cathy has been teaching yoga to children and adults for the past 10 years. Her business is called Evolve Yoga Beyond the Mat. You might have had the chance to see her teaching family yoga during the Arlington Library summer reading program this year and for the past two years. She's also blogged for us here as part of our Mindful Healthy Life team.
Cathy brings a playful approach to her teaching while infusing aspects of yoga philosophy and personal health. For this mini-retreat, she pairs her background in nutrition and wellness with yoga for a workshop that allows children to experience yoga in a group class dynamic and on a rope wall, to sample new foods and enjoy a healthy lunch, to create a meditation tool art project and to discuss and express feeling through reading, movement and journaling.
In addition to her work with the Arlington Library system and at Ease, where this mini-retreat will be held, Cathy also has worked with YoKid in various capacities throughout her career and currently teaches at various schools, Ease and Arlington's JOURNEYoga.

Jessica Claire Haney is the founder, publisher and editor of Mindful Healthy Life. She is a writer and editor and a co-leader for the Arlington/Alexandria chapter of Holistic Moms Network. Her personal blog is Crunchy-Chewy Mama and her writer's site is JessicaClaireHaney.com. See the Contributors page and Jessica's Mindful Healthy Life Q&A for more on Jessica.