We are so excited to be exhibiting at MommyCon DC on July 23, 2016 at the DC Convention Center. Read our promo piece for more details about this huge and awesome event.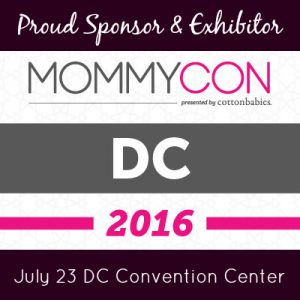 Mindful Healthy Life MommyCon DC 2016 Table
Please come by our table to meet:
Sign up for our email newsletter and follow us on social media to enter to win the following terrific giveaways:
Membership
A one-year membership to Holistic Moms Network, a national non-profit organization with chapters around the U.S. Local DC-area chapters include four chapters in Northern Virginia, one in Montgomery County and more in the works!  Click here for more info on DC-area chapters.
Items
Coaching & Consults
Services and tickets local to Metro DC
Drawing will be done on site and members will need to be present to claim their prize within a specified time window in the afternoon. Details TBA on-site. Be sure to come by our table before the lunch break ends at 1:00!
Donations are now closed. If you are an author, practitioner, coach or small business owner who would like to donate a book, product or service to make available for a giveaway after MommyCon giveaways, please contact jessica (at) mindfulhealthylife (dot) com.
At our table, you can also take a look at a preliminary draft of our upcoming e-book, The Mindful Healthy Life Guide to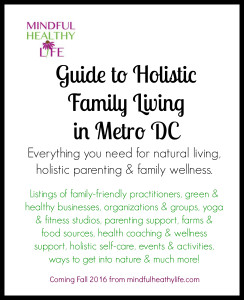 Holistic Family Resources in Metro DC.
We're excited to have you see what we've put together for you and to get your ideas on things to add before we release it (for free!) to our email subscribers this fall. If you're not already on our mailing list, click here to join!
We may also have a few items for sale. Let us know what you'd like to see us carry! We're thinking maybe mugs, journals, t-shirts, onesies with some inspiring words to support you in your efforts to live and parent mindfully. Email ideas to jessica (at) mindfulhealthylife (dot) com or put in the comments.
At the table, Jessica will have some specials on holistic parent newbie coaching calls for those looking for some guidance on how to get started on their path in general or specifically here in Metro DC.
Click here to see our recap of MommyCon 2015. Read our 2016 event promo piece and enter our ticket giveaway here!

Local practitioners, businesses and organizations: Connect with us!
To be sure your business or organization is listed in our e-book, add your listing for free to our resource directory by July 1. Just click the green button that says "Submit a Listing." That's all there is to itS!
For just $25, you can to upgrade to an Enhanced Listing for a bolded entry and thank you page mention in the e-book and for additional images and live links in your online listing. To upgrade, email jessica (at) mindfulhealthylife (dot) com
Mindful Healthy Life also has several products and partnerships levels if you're looking for more exposure.
We look forward to talking with you!
Save