Looking for a chapter of Holistic Moms Network in the DC Metro area?
Holistic Moms Network is a national non-profit organization with over 100 chapters around the U.S. including four in Northern Virginia and two in Maryland.
First-time visitors are welcome to check out a meeting for free. Each chapter has a monthly meeting that is open to the public. Chapters might also offer playgroups, Moms Nights Outs, motherblessings for expectant mamas, buying clubs, journal/book discussions, co-ops and more to members. Membership is now only $30/year for individuals for the first chapter and $20/year for additional chapters. Discounts apply for families and multi-year memberships.
Visit our events page to find our most recent seasonal roundup of events that always includes a glimpse of all local chapter meetings posted at the time of publication.
Northern Virginia Holistic Moms Network Chapter
In January 2020, all three Northern Virginia chapters planned to merge into one chapter.
Northern Virginia Area Chapter
Meets the first Monday of the month in Annandale, VA at 7:00 p.m.
Chapter Facebook page: https://www.facebook.com/HMNNOVA/
Chapter site: http://chapters.holisticmoms.org/chapters/va-northern/
Archival chapter blog: http://hmnofnova.blogspot.com/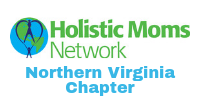 Arlington/Alexandria Chapter Archives
Chapter blog (archive): http://holisticmomsarlalex.blogspot.com
Facebook: https://www.facebook.com/HMNArlingtonVA
Burke/Springfield Chapter Archives
Facebook: https://www.facebook.com/HMNBurkeSpringfieldVA
Note also that, in addition to their monthly meetings, which are open to the public, many chapters hold other events for members only. These include nature playgroups, motherblessings, moms nights out, journal clubs, homeschool co-ops and more.
Mindful Healthy Life founder Jessica Claire Haney founded the Arlington/Alexandria chapter in 2009. Read this profile of the Arlington/Alexandria chapter with a recap of its many meetings and activities written on its 9-year anniversary. Also see this commemoration of the original Northern Virginia chapter on the occasion of its 10-year anniversary in 2018.
Mindful Healthy Life is an in-kind partner of Holistic Moms Network.