Returning to the DC Convention Center for a second year on Saturday, July 23 is MommyCon, a conference that educates natural-minded parents on breastfeeding, babywearing, cloth diapering and other holistic choices for healthy families.
Targeted to parents with children under age four, MommyCon describes itself as a "boutique style natural parenting convention focused on bringing modern families together to discuss, learn and grow." Last year was MommyCon's first time in DC.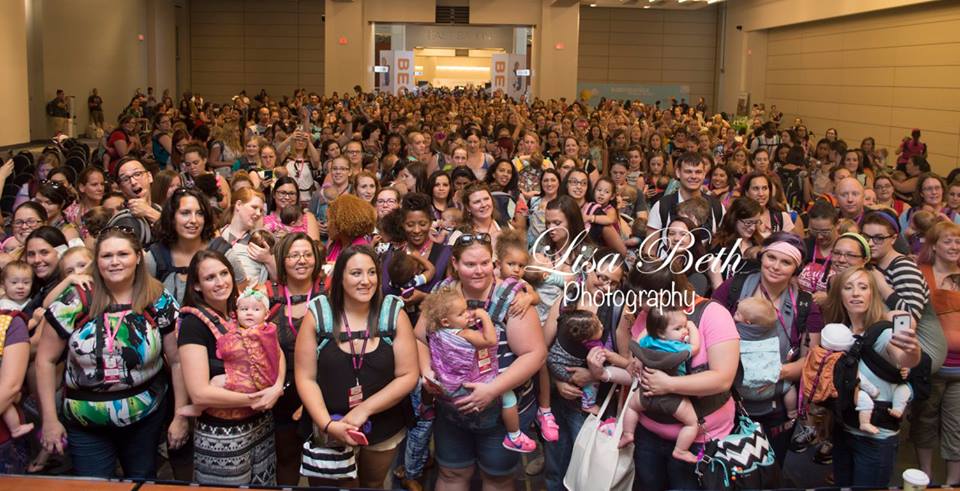 The event travels around the country, bringing thousands of parents together to learn, share and shop. MommyCon offers several great gear giveaways at the end of each event. This year and again in 2017, MommyCon will be stopping in eight different cities.
In addition to the educational sessions and giveaways, MommyCon DC will host more than 50 terrific vendors who will be selling baby and toddler gear, wraps, clothing, food, accessories, cloth diapers, and much more.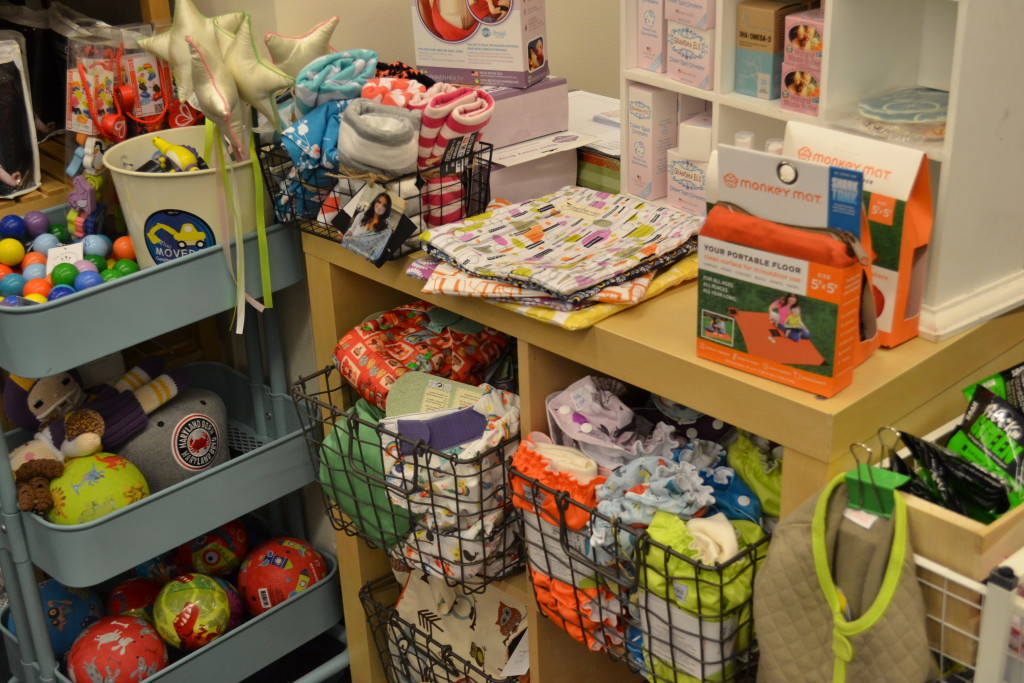 Mindful Healthy Life is proud to be one of this year's MommyCon DC sponsors and an exhibitor. If you are planning to attend the event on July 23, be sure to stop by our exhibit hall table to connect and to enter to win some great giveaways, including to several local DC-area service providers!
Speakers & Schedule
The schedule is packed for the main event, which opens at 9 a.m. on Saturday, July 23, preceded by a media breakfast that morning. There is also a VIP day on Friday, July 22 with upgraded tickets available for individual sessions to those who have already purchased tickets for Saturday's MommyCon. Some of the VIP sessions have already sold out, so check out the full schedule if you're interested!
MommyCon always brings nationally-recognized speakers to the stage and also draws on the expertise of local talent. This year's local DC-area and Mid-Atlantic-area speakers include:
Mary Auker-Endres (Queering the Birth Space: Opening the Birth Community to the Unseen)

Yvonne Brown (Steps Toward Sustainability)

Maren Pearson (Navigating Life as a Parent of a Special Needs Child)

Amanda Holliday (Zumbini Fun or Everyone!)

Tammi McKinley (Natural Childbirth in the Out of Hospital Setting)

Tori Levine (Babies at the Barre)

Pamm Fontana (Declaring War on the Mommy Wars)

Ashley Morrison (Babywearing for Survival)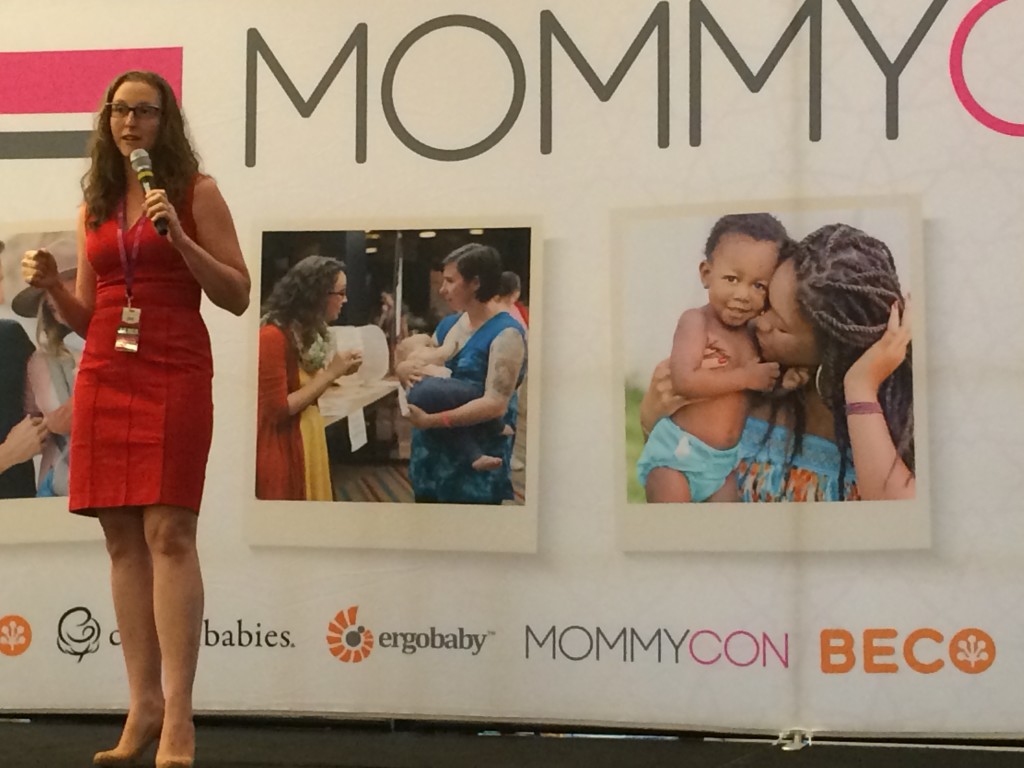 Please check out the MommyCon website for the most updated information and full descriptions of all the sessions. There is also a MommyCon DC Facebook event page, and attendees are also invited to participate in a special MommyCon DC Facebook group that contains all the latest information, including information about transferring tickets, which might come in handy if the event sells out again!
Here is the new schedule: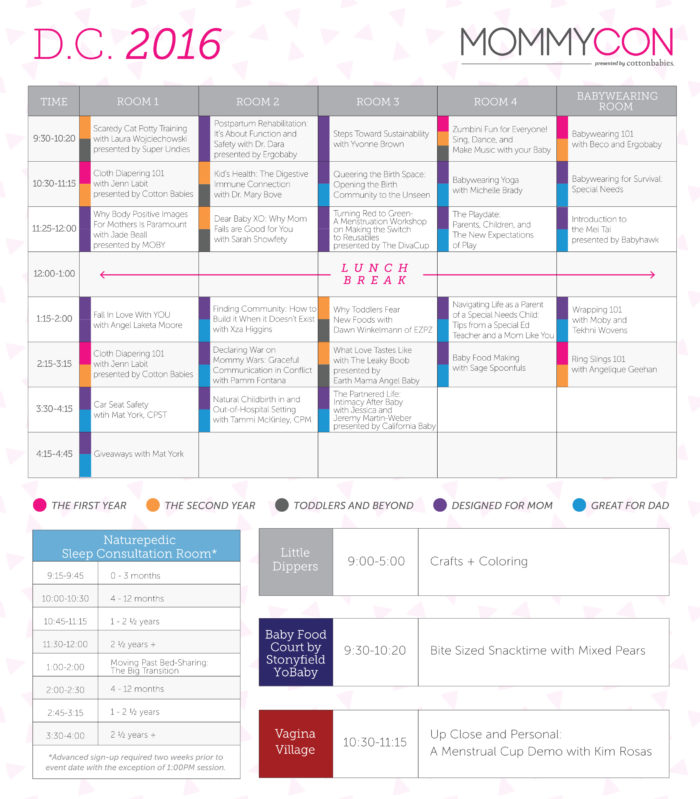 Please note that the schedule described below (and in the image above) has changed from our original post. Be sure to check the MommyCon site for the most updated information.
9:30-10:20 a.m. 
10:30-11:15 a.m.:
Cloth Diapering 101 with Jenn Labit presented by Cotton Babies with Jenn Labit
Kid's Health: The Digestive Immune Connection with Dr. Mary Bove
Queering the Birth Space: Opening the Birth Community to the Unseen with Mary Auker-Endres
Babywearing Yoga with Michelle Brady
Babywearing for Survival: Special Needs with Ashley Morrison
Up Close and Personal: A Menstrual Cup Demo with Kim Rosas
11:25 a.m.-12:00 p.m.
12:00-1:00 p.m. LUNCH BREAK
1:15-2:00 p.m.  
Fall in Love With YOU with Angel Laketa Moore
Finding Community: How to Build it When it Doesn't Exist with MommyCon's Xza Higgins
Why Toddlers Fear New Foods with Dawn Winkelmann of EZPZ
Navigating Life as a Parent of a Special Needs Child: Tips from a Special Ed Teacher and a Mom Like You with Maren Pearson
Wrapping 101 with MOBY and Tekhni Wovens with Alisa DeMarco
Sacred Sexuality and Conscious Love: How Tantra Can Change Your Life with Leah Love
2:15-3:15 p.m.
3:30-4:15 p.m.
4:15-4:45 p.m.: Giveaways + Gear for the Modern Parent with Mat York presented by Eyla'swith Mat York
Throughout the day, there will also be Sleep Consultations with Rebecca Michi presented by Naturepedic. Sign up in advance starting two weeks before the event.
New feature for 2016
When asked about what was new this year, the media team told us: "A new event element in 2016 is Vagina Village. Vagina Village is an area of empowerment for women who are looking to embrace their inner goddess. This intimate setting offers our attendees the chance to get up close and personal with feminine care products, and engage in small group sessions with experts in the field's of sexual and reproductive health. This area features products to touch and feel without the pressure to buy.
Pink Lemonade Shop has their cloth pads and accessories while Kim Rosas of Put A Cup In It offers hands-on for demos on cup usage from the Diva Cup and the Lena Cup. Lunapads also has samples of their products available for feeling and discovering. Additional products within the area include lube, sexual health fact cards and more. This area is constantly evolving, sessions differ from city to city, and additional products will be added throughout the year."
Food & Play
For lunch, there will be some concessions on site provided by the DC Convention Center. MommyCon encourages people to bring their own food or explore the area near the convention center for lunch options. Look for some suggestions to come from another local blogger.
For young children, the Babyganics Baby Safe Play Space is located in the back of the seminar room. The area features toys, tunnels, tents and more for kids to explore and play with. Nova Natural Toys is also a supporting sponsor. The Little Dippers Creative Station has finger paints, coloring, crafts and more. Art supplies are provided by EZPZ Fun, Nova Natural, and Mixed Pears. Children 16 and under are welcome to attend with parents.
Donations
MommyCon has teamed up with Share the Love for cloth diaper donations and The Carrying On Project for baby carrier donations. Both of these organizations take new and used items to give to families in need. Share the Love provides cloth diapers to families who could not otherwise afford them, and the Carrying On Project provides baby carriers to military families.
Logistics
The DC Convention Center is right on Metro's Yellow Line at the Mt. Vernon Square 7th Street Convention Center station, also not far from the Gallery Place/Chinatown station on the Red line.
MommyCon has an exclusive deal for parking with Parking Panda. Click here for the best available rates. Use code: "mommycon2016"
Attendees are asked to leave their strollers at home. There will be stroller parking, but the conference is not responsible for lost or stolen items.
Bring your ID and a printed or digital ticket and whatever you need for you and any children you bring.
Tickets & For More Information
Mindful Healthy Life is grateful to MommyCon for offering two free tickets – one each for two lucky giveaway winners!
Enter our giveaway below by the end of the day on June 30. There will be two winners who will be notified on July 1 and will each get a free ticket to MommyCon DC or any remaining 2016 MommyCon, or a one-day ticket to MILK: An Infant Feeding Conference in November in Orange County, California. If you don't win and want to attend in July, register right away! Last year, MommyCon DC sold out in advance!
For more information, see the MommyCon website at mommy-con.com/ and or join the MommyCon DC Facebook group.
Follow MommyConUSA on Facebook, MommyConUSA on Twitter, and mommycon on Instagram.

DC group photo courtesy of Lisa Beth Photography. Featured image adapted from MommyCon. Other images copyright Mindful Healthy Life, 2015.
Also check out the Mindful Healthy Life Recap of MommyCon 2015!

Jessica Claire Haney is the founder, publisher and editor of Mindful Healthy Life. She is a writer and editor and the founder of the Arlington/Alexandria chapter of Holistic Moms Network. Her personal blog is Crunchy-Chewy Mama and her writer's site is JessicaClaireHaney.com. See the Team Mindful Healthy Life page and Jessica's Mindful Healthy Life Q&A for more on Jessica.

We're very excited to be able to offer two free general admission tickets to any remaining 2016 MommyCon event or a one-day ticket to MILK: An Infant Feeding Conference in November in Orange County, California. Enter below using Rafflecopter and share widely!
Two individual winners will be chosen on at 11:59 p.m. June 30. They will be notified by 10 a.m. July 1 and must respond within 48 hours to claim their prize of one ticket each.
a Rafflecopter giveaway