Healing requires support. That usually means people. Connections and community are integral to parenting, and to healing and wellness. As I head to New York for this week's BlogHer Health & Wellness conference, I'm reflecting on the many connections that have supported my healing and parenting journeys. Maintaining and strengthenings connections to our parenting tribes supports wellness – for us and for our families. Get and stay connected!

My personal journey
During the first phase of my healing journey, before I became a parent in 2006, I considered my "tribe" to be my many practitioners. I also got support from friends, family and lots of books. Then, during my first pregnancy, I connected with other parents through childbirth education classes at BirthCare & Women's Health. Our families got together after the babies were born and kept in touch as they grew into toddlers and beyond, and these connections led to more connections that kept me sane in the months after I became a mom. I also was buoyed by the moms I met at the weekly newborn nursing class at the Breastfeeding Center for Greater Washington. and by participating in events that supported breastfeeding and birth.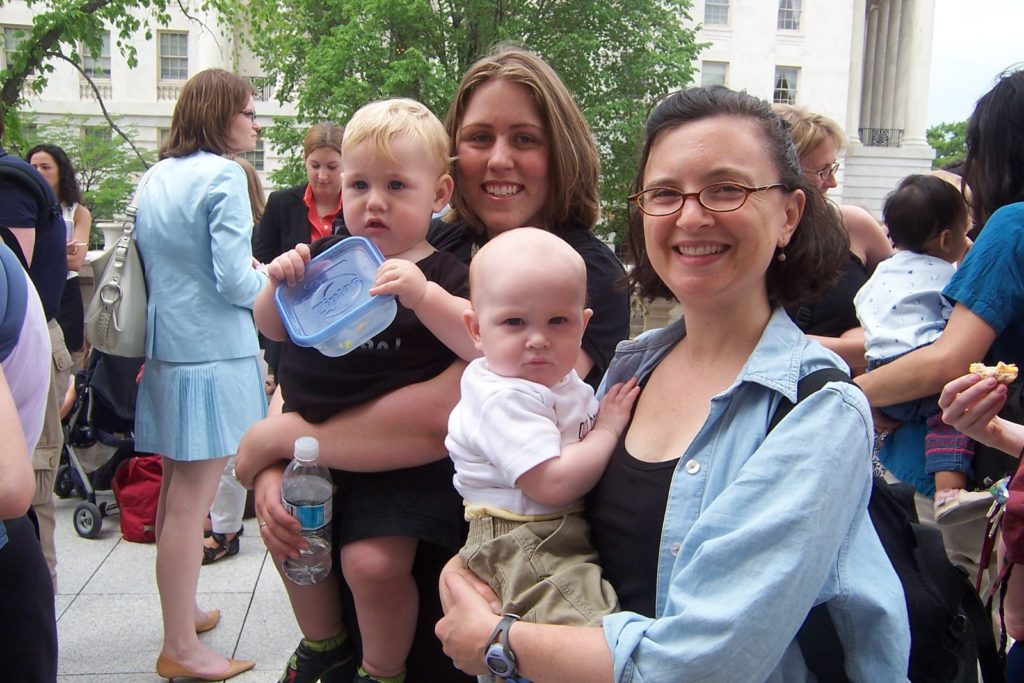 As my thirst for connection and shared experience grew, I turned to the main online resource for parents at the time, which also published a guide book by the same name: DC Baby. That book connected me with in-person groups, including Attachment Parenting (API) of NoVA, and online groups, including Northern Virginia Families for Natural Living. These, along with La Leche League, were lifelines for me! They led to playgroups and connections that have sustained me for the past almost 12 years!
One thing I always wanted as a new mom was for there to be a website that would pull together resources specifically for natural-minded parents. Eventually, in 2014, I built this site – Mindful Healthy Life – to be just that!
But not before more in-person community-building.
Reaching out and building
In 2008, I learned about the first local chapter of a national group I hadn't heard of: Holistic Moms Network. After joining the Northern Virginia chapter, I started working on founding the Arlington/Alexandria chapter. It launched in January 2009 and just celebrated its 9th birthday!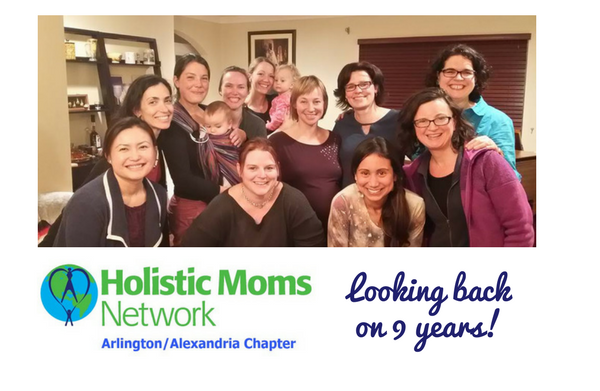 At our anniversary meeting earlier this month, I learned some things I hadn't known from some of the moms who were there at the very beginning about how the chapter had supported them. They and others shared stories of ways our meetings and the support of the group had made a difference for them and given them a solid place from which to feel good about their decisions.
This was great for me to hear. I put a lot into building the chapter, as I have into building this site. My hope is that it helps people connect to the resources they need to feel supported in pursuing family wellness.
I initially listed several other local resources and blogs on the Around DC page and in the resource directory, but then I went on to add a whole lot more into my eBook Guide to Holistic Family Living in Metro DC.
Moving (to move forward!)
Nearly four years ago, just when I was launching Mindful Healthy Life, I read and enjoyed Thrive by Arianna Huffington, the keynote speaker at the BlogHer Health & Wellness conference I'm attending this week. It takes me a while to integrate things, but I'm finally implementing one of the strategies Huffington employs: walking!
In Thrive, Huffington writes about the healing powers of being in nature and shares how productive walking "meetings" and strategy sessions have been for her and her team.
When I talk with friends and neighbors about how nice it would be to catch up, the words used are often "get lunch" or "have coffee." Lunch doesn't work for me because I have a lot of dietary restrictions and I still really need a calm environment in order to digest so I really prefer not to mix eating with content, even if it's personal. I can't even drink decaf without getting jittery. I'm super sensitive and get a buzz just from sitting in a Starbucks!
Walking, on the other hand, is great all around. We get connection to nature and exercise on top of getting to connect. After I went to a talk at the Viva Center on Forest Therapy with Clare Kelley of DC Forest Bathing, I got commited to getting outdoors every day. Scheduling connection walks is a great way to make that happen and feel – and give! – support to friends and colleagues at the same time!
I've enjoyed catching up this way with neighbors and friends and also had productive planning and reflection sessions on the trail with the people who do school advocacy with me, the women behind Arlingtonians for a Clean Environment and Nature Club Kids.
Other healthy options I've enjoyed include getting fresh green juice and sitting in the sun, as I did with the woman behind Damselwings photography. At other times when whether or mood or the task at hand wasn't right for moving, I've had a lovely time doing a healing foot soak and enjoying a pot of tea at House of Steep while talking about our visions for a healthier, cleanier, more grounded world with the women behind EarlySpace, Where the Good Grows, Optimystic Living and Amy Thomas Design.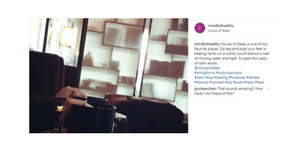 Foot soaks are sort of the wellness-focused version of getting a pedicure together, which I've done with the women behind Integrative Wellness Strategies and Pure Nurture at a place that offers non-toxic polish, but I'm hoping to try a salon that's more committed to natural offerings and doesn't also use scrubs with dyes and lotions with fragrance. (There are a few new options inthe spas section of my eBook.)
It's been a great beginning to 2018 with lots of conversation and connection. I'm super excited to keep the momentum, to meet other bloggers and to hear from wellness influencers and change-makers. Check out this packed schedule of amazing speakers this week at  BlogHer Health!
And look for updates on my Facebook and Instagram feeds!

Jessica Claire Haney is the founder, publisher and editor of Mindful Healthy Life and the author of its Guide to Holistic Family Living in Metro DC. Jessica volunteers on issues related to wellness in public schools and was the founder of the Arlington/Alexandria Chapter of Holistic Moms Network. A writer working on her first novel, Jessica offers writing, editing, and consulting services.  Learn more at JessicaClaireHaney.com and in Jessica's Mindful Healthy Life Q&A. Follow Jessica on Facebook at MindfulHealthyLife, on @Twitter @MindfulHealthy and on Instagram at @mindfulhealthy. Jessica's personal blog is Crunchy-Chewy Mama, on Facebook at CrunchyChewyMama and on Twitter @CrunchyChewy.