BlogHer and SheKnows Media held their first health-focused conference last week. I walked away from BlogHer Health feeling inspired, connected and open-hearted.
The conference included powerful speakers and Voices of the Year honorees, including Arianna Huffington and Chelsea Clinton.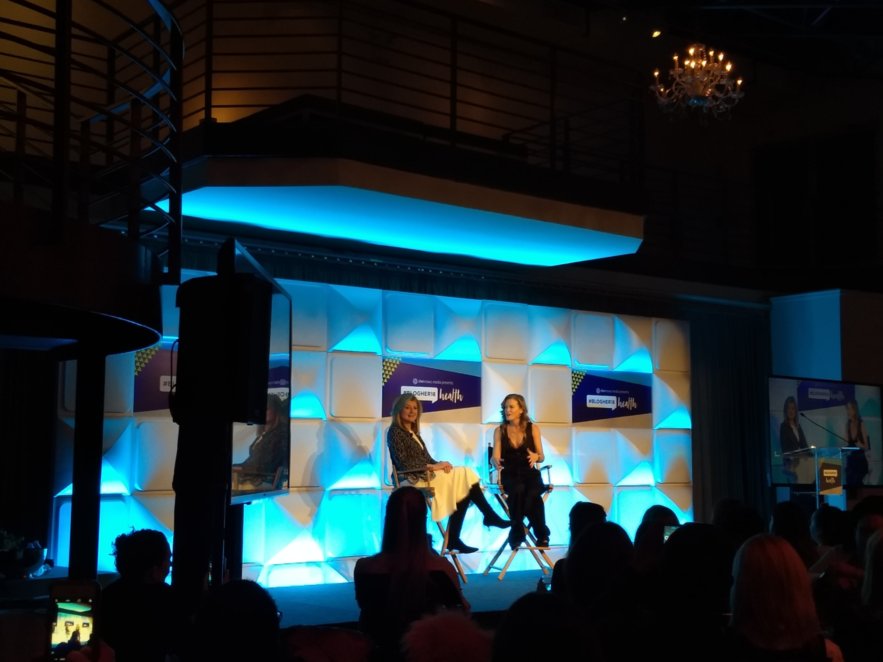 Most of the talks were panels and conversations with authors and influencers, some of whom shared their experiences with health crises and chronic conditions. Many spoke about how they've used their platforms to make positive changes in the health sphere and in people's consciousness about various health issues.
Arianna talked at length about how people are addicted to their phones and gave tips for living a more grounded life.  My longer recap over on my personal blog goes into more detail about her talk and many others.
Camila Alves McConaughey, founder of Yummy Spoonfuls organic baby food company and Women of Today and co-founder with husband Matthew McConaughey of the Just Keep Livin' Foundation to empower high school students, shared how she came to turn her passions into business and philanthropic pursuits.
I loved the #lifeunfiltered panel, which talked about being real and authentic about illness and challenges, even in an Instagrammable world that holds beautiful images in highest regard.
I was very moved by these women's stories of dealing with chronic pain and what helped them to keep going and to push for awareness and change. Check out my longer recap over on my personal blog for more on this!
Especially powerful was the spotlight on  Ruthie Lindsey, who shared her story of debilitating pain and her conscious choice to live a life of joy.
There were lots of terrific sponsors and exhibitors. And food!
Thin from Within author Robyn Youkilis joined with New Chapter to talk about the power of fermented foods.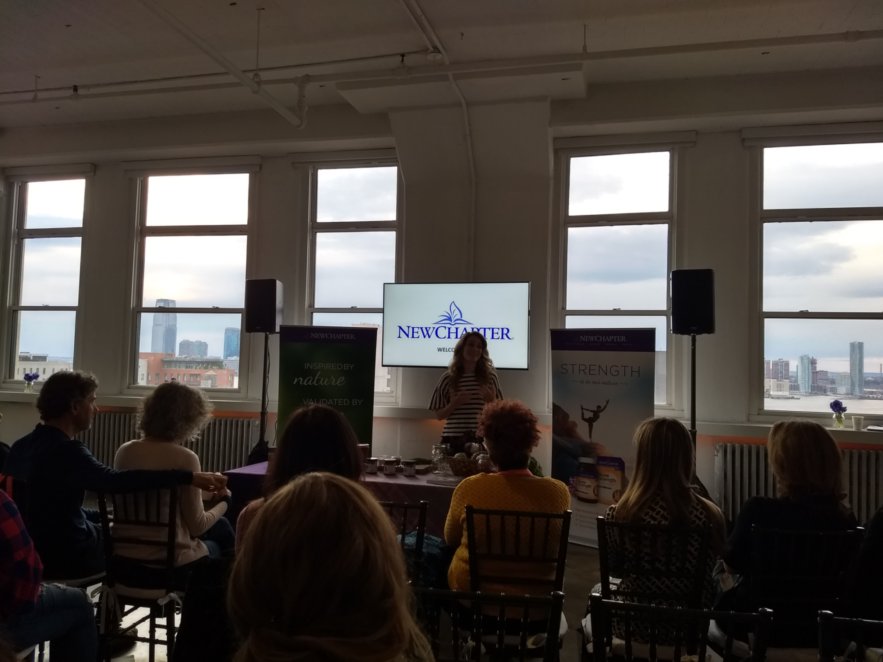 I loved the spa smoothie with Primal Kitchen collagen.
and the almond milk and almond butter created by NutraMilk, a brand-new appliance that makes it super easy to DIY.
NutraMilk ran a contest, and I won one of their appliances because of this Instagram post!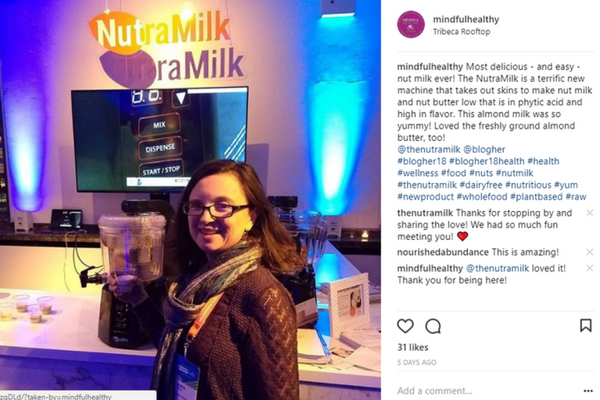 I've since signed up to become a NutraMilk affiliate, which means if you buy the appliance using my affiliate link – bit.ly/NutraMilkMHL – I will get a commission. That's the only affiliate link on this page.
I loved that BlogHer included among its exhibitors the alara radiation protection case by BRINK case, a case that directs cell phone radiation away from the head.
and Davey Trees, which brought seven live trees that were placed throughout the Tribeca Rooftop main conference and exhibit floor. Connecting to nature is super important, even – or especially! – when you're spending the whole day sitting, posting on social media, and networking.
There were lots of great, healthy snacks and foods. I drank cucumber water all day, enjoyed massaged kale salad for lunch, had a green smoothie courtesy of Chase bank after completing a financial type survey, and loved the Harmless Harvest coconut water.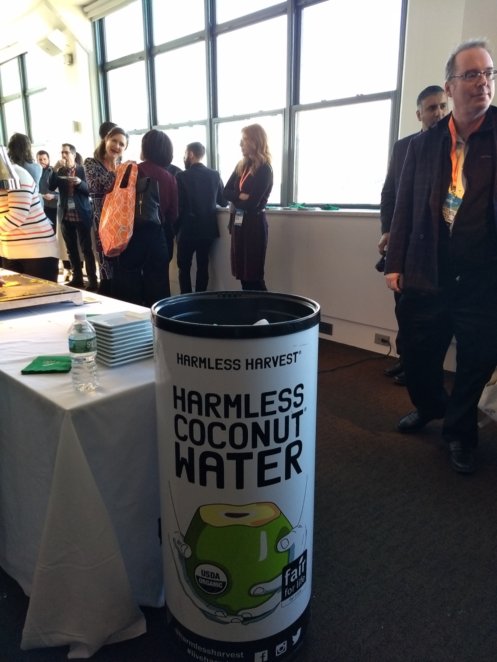 I came away from this two-day event feeling like I was part of a community of wellness warriors and full of possibilities. I'll be processing what I learned and experienced for a long time!
If you want to hear more about this wonderful event, check out my longer recap over on my personal blog, Crunchy-Chewy Mama.
Many thanks to BlogHer and SheKnows Media for putting on such a powerful experience!
This page contains an affiliate link for NutraMilk.

Jessica Claire Haney is the founder, publisher and editor of Mindful Healthy Life and the author of its Guide to Holistic Family Living in Metro DC. Jessica volunteers on issues related to wellness in public schools and was the founder of the Arlington/Alexandria Chapter of Holistic Moms Network. A writer working on her first novel, Jessica offers writing, editing, and consulting services.  Learn more at JessicaClaireHaney.com and in Jessica's Mindful Healthy Life Q&A. Follow Jessica on Facebook at MindfulHealthyLife, on @Twitter @MindfulHealthy and on Instagram at @mindfulhealthy. Jessica's personal blog is Crunchy-Chewy Mama, on Facebook at CrunchyChewyMama and on Twitter @CrunchyChewy.