Love Your Body Yoga Festival is one of my favorite days of the year. It's a terrific opportunity for families to enjoy experiences and connections that support health and wellness.
Love Your Body is organized by Beloved Yoga and offers a rich day of programming with yoga, holistic health, nutrient-dense food and much more. The event brings together studios and wellness centers from around Northern Virginia and launches the start of Virginia Yoga Week when several area studios will offer free, $5 and karma yoga classes. Participating locations include bedrock YOGA, Beloved Yoga, Blue Nectar Yoga, Dancing Mind, East Meets West Yoga, River's Edge Yoga, Spark Yoga, The Health Advantage Yoga Center, Tranquil Space, Unity Woods Yoga Center.
Love Your Body includes more than ten different yoga glasses for adults on the main stage pavilion under the awning of Reston Town Center.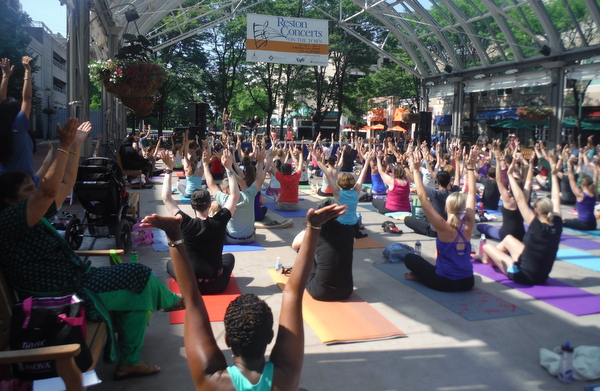 There's also a full day of programming for kids and families in the Kidasana and Community Art tent.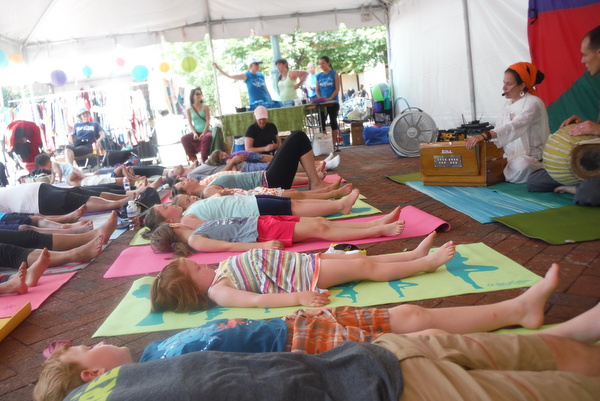 And the Bhakti Speakeasy Stage offers a full day of music and wellness talks and experiences.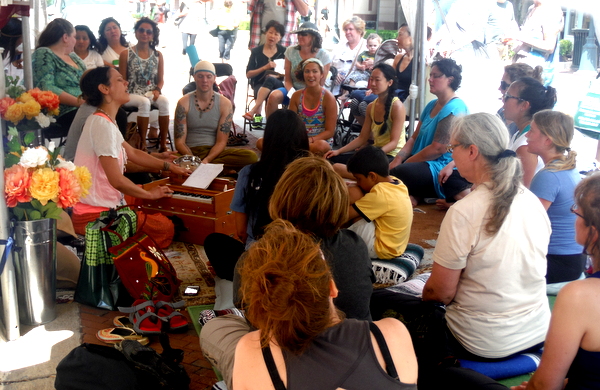 Among this year's speakers are Mindful Healthy Life partners and collaborators.
Jennifer Joy Madden of The Durable Human will be speaking at 10:45 on "Digital Age Parenting" and leading a mindfulness experience for families at 2:00.
Lisa Jackson of Carpe Diem Wellness and the Wellness Inspired Network will be leading a dance lesson at 3:00.
YoKid, organizer of the National Kids Yoga Conference, will lead a class for kids aged 5-10 at 2:30. The 2017 National Kids Yoga Conference takes place in October in Old Town Alexandria. Check out our 2016 recap.
All day long at Love Your Body, the streets are lined with vendors that support health and wellness, including bodywork practitioners, purveyors of healthy food, and so much more. Learn more The Documenting Hope Project which aims to heal children from chronic illness and document their journeys. Click here for a complete list of festival sponsors.
For more information about Love Your Body Yoga Festival 2017, visit loveyourbodyyogafestival.com. The event is on Facebook at facebook.com/LoveYourBodyYogaFestival
Here is the full schedule:
If you've never attended Love Your Body, be sure to check out our 2016 recap, 2015 recap and 2014 recap for photos and more about what to expect. This is the ninth annual event.
Hope to see you there this year!

Jessica Claire Haney is the founder, publisher and editor of Mindful Healthy Life and was the founder and a longtime leader of the Arlington/Alexandria Chapter of Holistic Moms Network. Jessica is a writer who is working on her first novel. She also offers copywriting, editing, writing coaching and holistic business consulting services. Learn more at JessicaClaireHaney.com. Jessica volunteers on issues related to wellness in public schools, as described in her Mindful Healthy Life Q&A. Follow her on Facebook at on Facebook at MindfulHealthyLife, on @Twitter @MindfulHealthy and on Instagram at @mindfulhealthy. Her personal blog is Crunchy-Chewy Mama, on Facebook at CrunchyChewyMama and tweeting @CrunchyChewy.