Moms Clean Air Force is organizing its fourth annual Play-In for Climate Action on Thursday, July 13. This family-friendly advocacy opportunity includes fun climate-themed activities for kids followed by a press conference with lawmakers and advocates for children's health and the environment.
Now more than ever, it's crucial that parents who care about clean air and water speak up and show their children how important it is to send a message to lawmakers and corporations that we stand for health – for humans and for the environment.
The event shines light on the intersection of social justice and environmental justice. It gives children a sense of shared community values and the language to talk about these important issues.
Here at Mindful Healthy Life, I've been covering this unique event since its inception in 2014. Check out the recaps from the 2015 and 2014 event and my interview with the Virginia mom who came up with the idea for a play-in.
As in past years, the event will take place in Upper Senate Park, a grassy lawn area between Union Station and the Senate Office buildings. There is shade, but attendees are encouraged to wear hats and sunscreen.
The Play-In runs 9:00-11:00 a.m. on Thursday, July 13.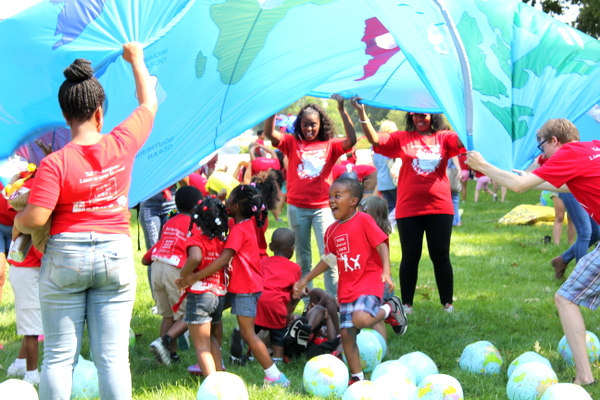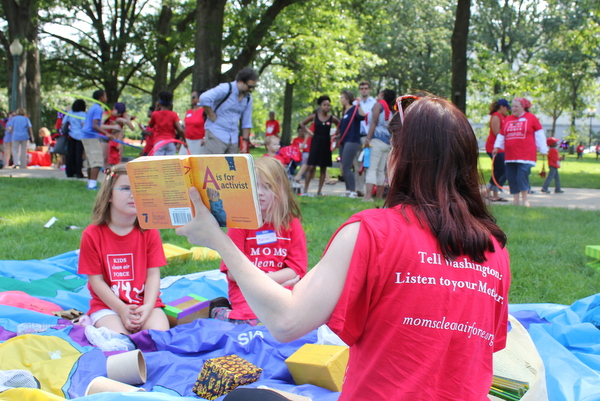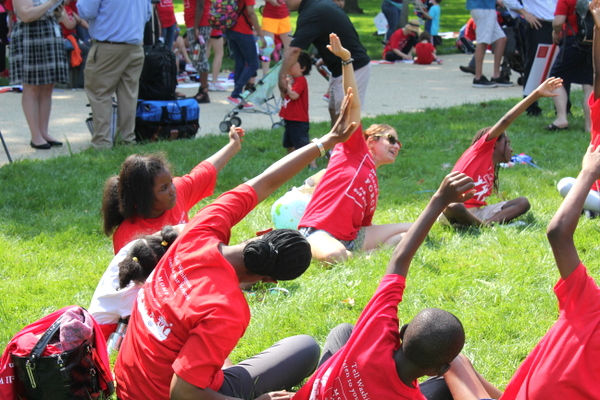 Check the official Play-In page at momscleanairforce.org/play-in-climate-action and the Facebook event page for updates to the schedule.
At this writing, the line-up of activities is as follows:
9:30: Welcome to the Land Ceremony with Sebi Medina-Tayac, Casey Camp-Horinek, Shaina Oliver
9:45: Children's activities for all ages, including: parachute play, hula-hooping, yoga, photo booth, puppet play with Spiral Q, declaration signing and more!
10:00: Musical performance by Laura Tsaggaris
The press conference takes place 10:30-11:00 a.m.
With the impressive backdrop of the U.S. Capitol building, the press conference is a great opportunity for for kids to stand  with changemakers and hear them sharing their vision.
This year's press conference features the following speakers:
Logistics
Upper Senate Park is between Union Station and the Senate Office buildings at 200 New Jersey Avenue NW.
Union Station is the nearest Metro station and transportation hub. It also has a public garage with hourly and daily rates. Street parking will be very difficult. Organizers highly recommend using public transportation.
Light, healthy snacks and water will be provided. Please register to help organizers to plan. Everyone in the family will get a free Moms Clean Air Force t-shirt.
Portable toilets will be available.
The event will go on rain or shine. The rain location will be Lutheran Church of the Reformation. Registered participants will receive an email if there is to be a location change, and information will be put on social media as well.
How to show your support
Register at momscleanairforce.org/play-in-climate-action and share the Facebook event page.
Find Moms Clean Air Force on Facebook and on Twitter @CleanAirMoms and @CleanAirMoms on Instagram.
When sharing about the event, use the hashtag #PlayIn4Climate.
If you can't make it to the event in person, you can also join in via Thunderclap.
Mindful Healthy Life is proud to partner with Moms Clean Air Force.
Postcard image courtesy of Moms Clean Air Force. All photos copyright Mindful Healthy Life.

Jessica Claire Haney is the founder, publisher and editor of Mindful Healthy Life and was the founder and a longtime leader of the Arlington/Alexandria Chapter of Holistic Moms Network. Jessica is a writer who is working on her first novel. She also offers copywriting, editing, writing coaching and holistic business consulting services. Learn more at JessicaClaireHaney.com. Jessica volunteers on issues related to wellness in public schools, as described in her Mindful Healthy Life Q&A. Follow her on Facebook at on Facebook at MindfulHealthyLife, on @Twitter @MindfulHealthy and on Instagram at @mindfulhealthy. Her personal blog is Crunchy-Chewy Mama, on Facebook at CrunchyChewyMama and tweeting @CrunchyChewy.