Northern Virginia mother of two Heather Clark is so serious about climate change that she's organized a day of play to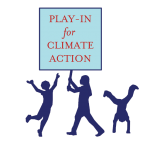 draw attention to it! On Wednesday, July 9, parents concerned about the effect air pollution is having on climate change will join Moms Clean Air Force for a Play-In for Climate Action on the Hill to raise awareness and demand action from politicians.
I had the chance to chat with Heather to learn more about how this event came about. As principal of the Biome Studio, Heather has long been passionate about sustainability. Her work is involved in visionary projects that start to change the places we live and the way those places behave with an eye toward zero energy communities.
Heather says, "We currently have the knowledge to redesign the places where we live so that they can power themselves with renewable energy, clean themselves with plants and micro-organisms, produce food organically, and provide habitat.  This is the type of work I do – I have firsthand experience that it is possible. By overcoming climate change, we will solve other problems in the process – toxic waste, air pollution, water pollution, habitat destruction, etc.  As a society, we just need the vision and will."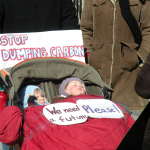 After Heather had her second child, now two years old, she spent more time researching climate change in particular. In February 2013, Heather attended her first protest since she was a teenager, the "Forward on Climate Rally" in Washington, DC organized by 350.org, an organization that has led global climate action events since 2009. She brought her children, aged 1 and 3 at the time, in a double stroller with a sleeping bag with a sign that read, "We need a future. Please! Stop dumping carbon."
When Heather got loads of attention from photographers, NPR, and other reporters because of her children, she saw the promise of parents getting together around climate change.
Inspired by sit-ins for civil rights, Heather mulled the idea over for an organized action around climate change, initially envisioning something in Congressional buildings. "It's hard not to notice kids playing in a government space," she says, adding that she hopes Wednesday's Play-In for Climate Action will be replicated by informal groups across the country of parents and their friends. Wednesday's event took off after a friend of Heather's at the Natural Resources Defense Council pointed Heather to Moms Clean Air Force, which got very excited and ran with the idea.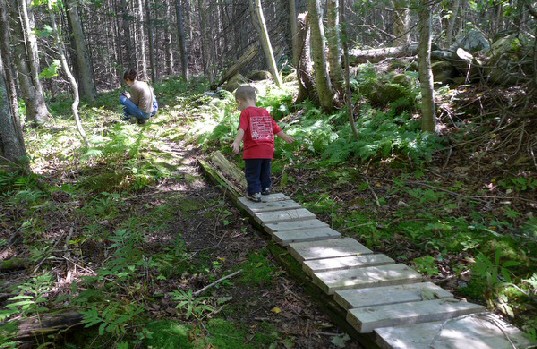 Here is a modified version of Heather's blog post for Moms Clean Air Force:
"I have tended to be fairly quiet about sharing my thoughts about climate change, until now. As a mother of two toddlers, I realized that creating a smaller carbon footprint at home is not enough. I am deeply concerned about what the world will look like in 2045 when my children are my age and having children of their own. Climate change threatens our food supply, our homes, our safety, and most importantly, the health of our children.
I first learned about climate change in seventh grade. Then I studied climate change in college, but it seemed so abstract and futuristic that I had a hard time believing it would happen. Somewhere between Hurricane Katrina and Hurricane Sandy, climate change became very real for me. Those storms prompted me to read climate change reports from the The Intergovernmental Panel on Climate Change (IPCC) formed by the United Nations, the Pentagon, NASA, the National Academy of Sciences, The U.S. National Climate Assessment and other sources.
On YouTube, I watched the Philippine representative at the UN Climate Summit announce his hunger strike, as he spoke tearfully about how climate change is devastating his country. I also began looking at flood maps of Cape Cod and Virginia Beach, where my sisters and parents live. I cringe when I think about the world our families will live in if we don't do something now to curb climate change.
As a parent, I know that we must take action! After attending my first climate change rally when my kids were one and three, I experienced the power of children and families together, calling attention to climate change. I recently came up with the idea of a Play-In – a family-friendly event that gives parents the opportunity to demand action from our politicians.
Sadly, some polluters and politicians are doing everything in their power to undermine solutions As parents, we must vocalize our power by supporting the U.S. Environmental Protection Agency efforts to regulate carbon at power plants.
Please join my family at the Play-In for Climate Action in Washington, DC on July 9, 2014. As parents, let's join together and let our voices be heard loud and clear!"
Thanks to Heather for talking with us here at Mindful Healthy Life!
For more information on Wednesday's event, which will take place 10 a.m. to 12 noon in Upper Senate Park on Capitol Hill,  go to http://www.momscleanairforce.org/play-in-climate-action/ or the Facebook event page.
Attendees who register ahead of time are eligible to win either one organic crib mattress or two organic pillows from Naturepedic.
Here's a glance at the schedule for the event:
10:00 – Arrival and sign-in
10:15-11:00 – Yoga with Holly Clay-Smith of lil omm yoga studio; Music with Rose Tootle; Parachute activity; poster-making
11:00-11:30 – Press conference
11:30-12:00 – March to Senate offices
Refreshments to be provided by MOM's Organic Market