While many of the biggest and most well-established camps in the DC area filled when there was still snow on the ground, there are a number of camps with a more specifically mindful or outdoors focus that still have room.
Here are some smaller and off-the-grid camps to check out this year. (Or use this as a starting point for future planning!)
Note: Arcadia Farm Camp is full for 2014 and has full waitlists.
Creative Camps and Classes
New addition 7/7/14: iSchool for the Future has spaces in two-week camps:
July 14-25 Innovation Lab Camp that combine STEM with creative Arts to inspire children to use their imaginations and Empathy to create inventions that make life easier. 
July 28-August 8 Amazing Race Around the World Camp where young explorers – with some language and navigation skills – will learn about people, science, cultures, and geography while experiencing music, cuisines, and arts from around the world. They will even build a country along the way! Camps are offered in 2 locations – in Reston and at Wakefield School in The Plains, VA. View slide show.

$595 for the two week sessions

Scholarships for young scholars are available
Classes are taught by passionate scientists and educators
Camp Create Music in Alexandria (Fairfax)
Children ages 1-3 may attend with a loving grown-up, and children aged 4-8 may be dropped off at this camp led by Cheryl Anderson Sabo of Music Together Vivo.
My son, several times a Music Together alum, and my daughter, who'd only attended one session, had a blast at this camp last year, and so did their mom! We danced, sang, heard stories told magically by Miss Cheryl, ate healthy snacks, listened to and made live music and so much more. It was the perfect thing to do as a family when my kids were three and seven. Cheryl's description says: "Campers will enjoy instrument exploration, yoga, stories, and a fun-filled Music Together class each day!  Each family will receive the 'Family Favorites' CD and activity guide."
Morning camp meets Monday–Thursday, 9:00–11:45 a.m. Register online through Music Together Vivo and ignore the fact that the registration says the class is only 45 minutes long). Weeks available are  July 28-31, August 4-7, and August 11-14. Location is Nativity Lutheran Church, 1300 Collingwood Rd, Alexandria, VA. $152 /$120 siblings per week. mtvivo.yourvirtuoso.com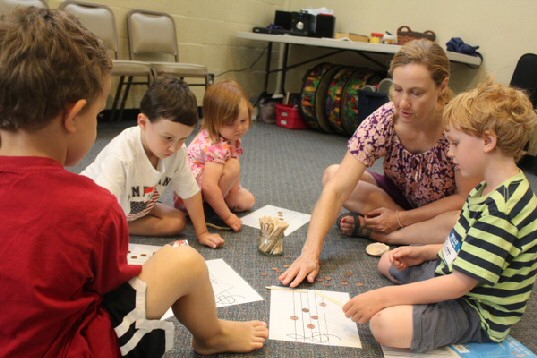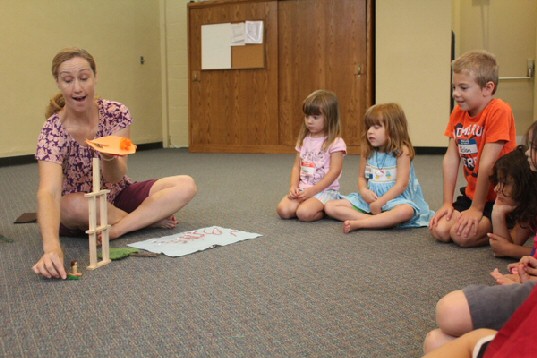 Color Catchers Art & Yoga Class in Sterling
Jean McTigue is a homeschooling mother and certified yoga teacher. She's offering six weeks of Thursday afternoon classes: "Observation and Feeling/ Yoga and Art at the Cascades Library in Sterling starting 7/10 and going through 8/14. Children ages 8 or 9 and up will meet 2:00-3:00; class for younger children is full. Cost is $50/child.
Jean says: "We will do a short yoga sort of stretching relaxing and game playing and then I will lead them either outside in front of the library or just to the general area inside the library so they can observe certain things and do a drawing exercise! " Contact colorcatchers (at) gmail (dot) com to register.
Eastern Ridge School in Vienna
This Reggio-inspired school on a meadow with a large garden and pigs near Wolf Trap has several summer offerings including a Toddler Program for ages 2 and 3 and an early childhood program for ages 3.5 to 6 running through the summer, 8:30-3:00 (with before care and after care available). Toddlers (ages 2 to 3.5): $435 for full week, $305 for Monday to Wednesday, $205 for Thursday and Friday. (Requires four-week commitment if child is not enrolled in ERS for spring or fall). Early childhood (ages 3.5 to 6): $395, full week only.
Description: "Children work in the gardens, visit and care for our pot bellied pigs, tell stories,  sing songs, splash and play in our galvanized farm tubs or mud pit, and work with inspirational and messy art materials. In the midst of all of that old-fashioned fun, we work with them to develop projects they are passionate about."
Also offered are three weeks of themed elementary camps with visiting experts as lead teachers for children rising into grades two through five: June 30-July 3: Creative and Technical Drawing; July 7-11: Elementary Photography (see article and giveaway); August 4-8: Dramatic Arts; and August: 18-22 Native Americans. Cost is $415/week. easternridgeschool.org
Home-based Reggio-Inspired Camp in Arlington
Christy Przystawik is a trained chef and holistic health coach who works as a school garden coordinator for DC's FoodPrints program and for private schools in the area and as a nutrition educator at The Breastfeeding Center of Greater Washington. Christy is running three weeks of a Reggio Emilia-inspired camp from her home and garden in Arlington with co-teacher Amrita Love.
Description: "With Amrita, children will have the opportunity to make these discoveries through a variety of media like: paper making, vegetable prints, clay, mosaic, mod podge decoupage, different paints, cray pas, sculpture and good old paper and pencil. Christy will be working with the children on gardening, harvesting, cooking, composting, and plant preparations. Music will be included every day at camp to inspire learning, movement, and relaxation."
Camp will be offered July 21-25, July 28-August 1, and August 4-8. $300/week (includes a healthy snack). Hours 9-1. More information on Christy's blog, feedingfamilieswell.com/
Nature Camp at Tauxemont in Alexandria (Fairfax)
Children "can enjoy a traditional camp experience with nature hikes, camp songs, opening and closing ceremonies" in Tauxemont Cooperative Preschools' wooded setting. Morning sessions are for children ages 3 1/2 (by June) through completion of kindergarten (rising first graders). Afternoon camp sessions are for children 4 1/2 years old through completion of 2nd grade (rising third graders). Space is available June 23-27 and June 30-July 3 for both morning and afternoon sessions. The final week of camp is full. www.tauxemont.org/nature-camp
Peace Camp in Arlington
Little Friends for Peace offers three sessions of Peace Camp at the Unitarian Universalist Church of Arlington for children ages 5-14. Weeks are June 23-27, June 30-July 3, and July 7-11. Hours are 8:45 a.m. to 3:00 p.m. Full weeks: $295; July 4 week: $260. Price includes lunch. When my son attended, the staff was very accommodating of his gluten-free diet and included gluten-free options for him and other campers.
Peace Camp offers children "an opportunity to explore the issues and feelings associated with peace and conflict. Campers and staff represent a diversity of religious faith, ethnicity and culture." For more information, see this brochure. www.uucava.org/group/peacecamp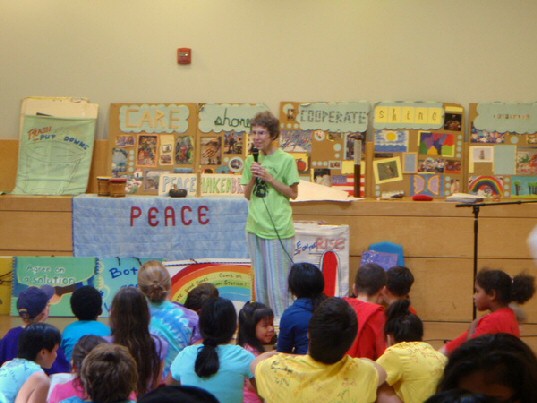 Potomac Crescent Waldorf School in Arlington
A half-Day Camp for children aged 4 through rising 1st graders the weeks of June 23-27, July 7-11, July 14-18, and July 21-25. Description says: "Each day begins outdoors, enjoying sand and water play, bubbles, wet felting and more. Indoors, we have time for imaginative play, cooking, camp crafts, circle and story time." Price is $325 per week and includes a healthy snack. www.potomaccrescentschool.org
Zayla's Studio in the Woods in Alexandria (Fairfax)
"Summer Immersions: For kids of all ages (check for age appropriateness). Nature oriented. Outdoor classroom. Inspired teaching. Small groups."
"Free To Be in 3-D" Nature-Art-Yoga Immersion, July 14-25, M-F 10:30am-2pm. $400
Description: "Sculpture, assemblage, nature installation, collaborative large scale work and yoga that takes on new dimensions. Journaling, discussion and documentation of work and process incorporated." 
Art & Geography immersion, August 11-15, M-F 10am-12:30pm,  $200 
Description: "Exploring our sense of Place in this global environment, we will begin with artist map-making. Creating maps of our literal place, our imagined place even our symbolic place. We will move into an inquiry and exchange with a person/place somewhere else in the world creating a postcard-sized work of art that signifies our home."
Yoga Camps
New addition 7/8/14: 532 Yoga in Old Town Alexandria is offering a Kids Corner camp the week of July 14 and also the week of August 4 in the afternoons, 1:30-4:00 p.m., for children age 3-7(ish). It's $50/day for a drop-in or $215 for the full week for one child. And if you enroll two children, the studio is running a special get a $65 discount for a total of $365 for both kids combined. For more information, visit the 532 Yoga Facebook page or go to the main schedule page at http://www.532yoga.com/SCHEDULE.html  and from there go to the Online Scheduler and choose the Workshops tab.
Description says: "This camp will promote strength, flexibility, coordination, balance, peacefulness and body awareness, as well as improve concentration and focus, stimulate imagination, and help promote a good nights sleep.
The 532Kids Camp program will improve focus and concentration through posture work, improve self-esteem as they are encouraged to work to the best of their ability, and improve social skills through games focusing on teamwork, listening and cooperation, and teach breathing and relaxation techniques to help teach how to stay calm through anxious moments. 532Kids Camp will include asana, art, music and movement. There will also be a small snack provided."
Beloved Yoga in Reston, VA
Half-day yoga camps, 1-4 p.m. Ages 3-6 the week of July 14-18 and July 28-August 1. Ages 7-11 the week of July 7-11 and July 21-25. $170 first child. 15% sibling discount.
Description says: "Kids will explore yoga poses, games, art, breath-work and relaxation through different themes each day throughout the week: Countries of the world, Trust, Environmental actions, Body system and Chakras. These classes will help the kids to improve their physical and mental health and teach them the importance of "care of oneself". Every child will thrive in this noncompetitive atmosphere where they get a chance for self-expression, cooperation through fun yoga activities." www.belovedyoga.com
Breathing Space Yoga on Capitol Hill
Full-day camps for children ages 4-12 years (rising PreK-5th grade). $345 per week or $660 for two weeks or two children. 8:30-3:15 pm with optional after-camp care until 5:30 pm. Most camp weeks are already full but click here for registration . Limited space remains in ASL Week, June 23-27, and for 1st-3rd graders only the week of August 11 and August 25.
Description says: "Our summer camp provides children with a fun, creative, educational and enriching experience through yoga movement classes, mindfulness activities, relaxation, games, crafts and outdoor time." breathingspacedc.com
Circle Yoga in NW DC
Half-day camp for ages 4-7 for $250, 9am-12pm, $250 per week, July 7-11 and July 14-18.
Ages 6-12 can do a full day (9-3) for $365 the following weeks: June 23-27, July 21-25, July 28-August 1, August 4-8, August 11-15, August 18-22 (and for $219 the short week of June 30-July 2)
The description says: "Budding Yogis camp is FUN and full of movements and creativity. Campers get to play outside and be the active kids they are, and they have time to wind down with mindful yoga, journaling, and relaxation. Because we are completely non-competitive and spend time in small groups, our campers develop friendships and connections that are truly special." circleyoga.com
Sun & Moon Yoga in Arlington and Fairfax
Afternoon four-day camps for children ages 5-12 the week of July 14-17 in both the Arlington location and the Fairfax location. 1:00-4:00 p.m., $180. The description says: "We will introduce poses to increase flexibility and strength, develop coordination and posture, and learn to relax and release energy in a safe way. The curriculum will include yoga asanas, mindful walking to a neighboring park, crafts, snacks, karma yoga (acts of selfless service) and creative expression. We will emphasize the non-competitive nature of yoga and have time for reflection and gratitude, all in fun. The intention is for children to learn skills which will carry over into their daily lives.  "
There is also a Teens Camp July 21-24 in Arlington, 1:00-4:00 p.m., $180. The description reads: "Daily yoga practice with postures, breathing techniques, group activities, and deep relaxation. Goals include identifying stress triggers, releasing tension, increasing focus, developing strength and flexibility for life both on and off the mat. We'll have a chow break each day (snacks provided). Annie and Hope will create a relaxed atmosphere with space for creativity, frank discussion, and, most importantly, fun." Register at www.sunandmoonstudio.com/Workshop.shtml
Please share any additional ideas in the comments, email to jessica (at) mindfulhealthylife (dot) com or post on our Facebook page.
For more summer ideas in and around DC, check out the resources at these other great websites: