The non-profit organization Real Food For Kids is hosting a Culinary Challenge and Wellness Expo on Saturday, March 12 at Robinson Secondary School in Fairfax, 10 a.m. to 2 p.m. Attendees at this free event can learn about food writing, promotion and photography, family meal planning, school gardening and school food. The Expo is an outreach program designed to educate students and their families on making healthier lifestyle choices, and ensuring access to real whole foods for all school children.
Kate Sherwood, Executive Chef for Center for Science in the Public Interest, has just been announced as the emcee for the Expo and a culinary competition judge.
Top Chef Contestant and Ripple and Roofers Union Executive Chef Marjorie Meek-Bradley, Washington Post Deputy Food Editor Bonnie S. Benwick and Six O'Clock Scramble's Aviva Goldfarb will be among the presenters and judges at this fourth annual Real Food For Kids event.  
Fairfax County Public Schools Food and Nutrition Services Director Rodney Taylor, a pioneer in farm-to-school dining programs, and Executive Chef Paul Davis will present their new specialty salad and sandwich lines for students and teachers as well as sample creative new school lunch dishes.
All students and parents are welcome to attend this free event. Space is limited, so register at http://www.realfoodforkids.org/expo.html
The event opens at 10:00 with a lively culinary challenge competition among eleven student teams challenged to prepare a delicious and nutritious school breakfast, lunch or snack. There is room for 400 attendees at this event, which runs 10:00-11:15 and offers three separate challenges:
Competing in the "Smart Snacks Challenge" will be teams from Franklin Middle School, Glasgow Middle School, Irving Middle School, Sandburg Middle School and Stone Middle School.
The teams for "Grab N Go Breakfast Challenge" are from Mary Ellen Henderson MS and West Potomac High School.
"Makeover Lunch Challenge" teams will come from Annandale High School, Chantilly Academy, Edison Academy, Marshall Academy, South Lakes High School.
Following the culinary challenge, there will be two expo workshops, at 11:30 and 12:20. Middle and high schoolers may attend workshops on their own. Space is limited, so if parents wish to attend with younger elementary students, they should register a spot for each person who will need a seat in the room. 
Topics for the workshops are:
"Food Is Hot" about food journalism with Bonnie Benwick and Renee Comet of The Washington Post
"Food for Thought" with Fairfax County Public Schools chef Paul Davis
"Dinnertime Unscrambled" with Aviva Goldfarb, cookbook author and founder of Six O'Clock Scramble (sessions almost full!)
"Mind and Body" with Julianne Misra of OM Yoga Center
"Growing Garden Teachers" with Sarah Holway of DC Greens
"What's a Chicken Nugget?" with Willowsford Farm (which will also be bringing a chicken to the event)
Also at the event, there will be drawings for prizes from Williams-Sonoma and a table for six from Earls Kitchen + Bar. Must be present to win. Entries must be submitted during the morning culinary challenge.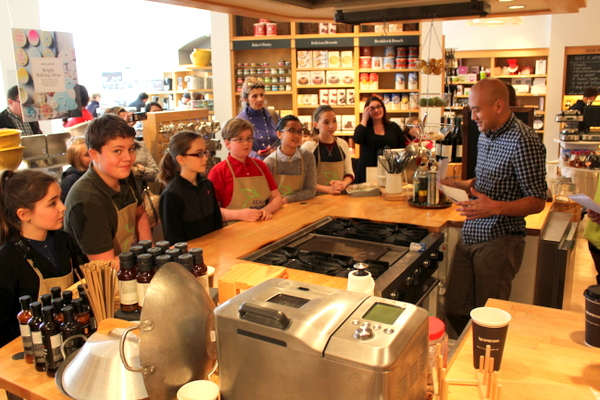 For lunch, Fairfax Nutrition Services will provide ½ sandwiches Chef Paul's Signature line – Ciabatta Caprese and Chicken Po'Boy – for $3 each. There will be a gluten-free salad option as well.
Expo event sponsors are Culinaria Cooking School, Earls Kitchen + Bar, Williams-Sonoma, and Wusthof.
As the local face of the national school wellness movement, Real Food For Kids (RFFK) is committed to working collaboratively to increase the quantities of healthy foods in public schools and supporting programs that educate students and their families to make healthier lifestyle choices. Real Food For Kids aims to find innovative ways to bring more fresh, less processed foods to students. Real Food For Kids has chapters in Fairfax and Loudoun counties and Alexandria City in Virginia and in Cobb County, Georgia.
Later this spring, Real Food For Kids will host another Kids Cook Recipe Contest, similar to the one we reviewed here last year. The contest begins with students submitting recipes and then a select number of entrants are chosen to compete in six preliminary rounds at Williams-Sonoma stores. Then one winner from each round goes on to compete in the finals. Last year's winner was Haven Clare Townsend, a 6th grader at White Oaks Elementary School in Burke, Virginia, with Thai Shrimp Noodles with Broccoli including homemade oyster sauce using gluten-free Tamari and organic ramen noodles.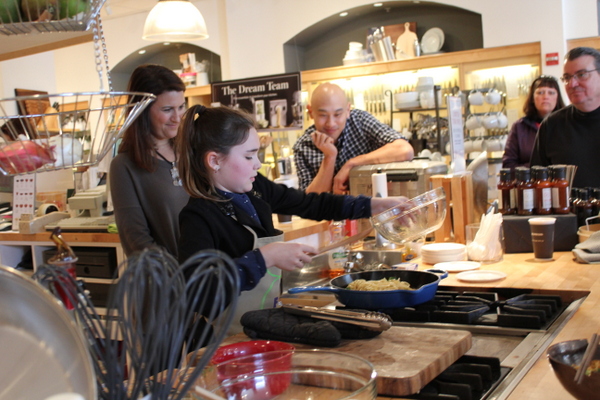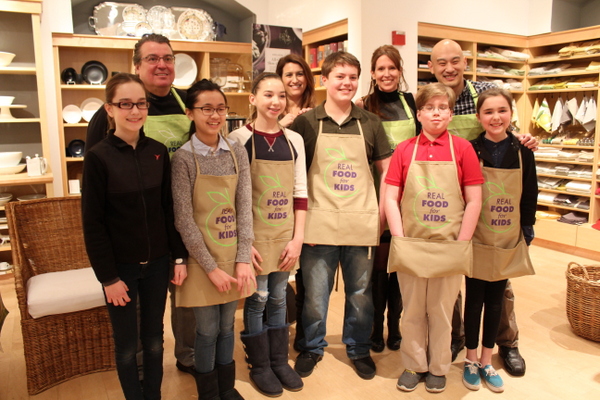 There is also an ongoing Healthy Habits program at RFFK, and there will be another Real Food for Kids commemoration of Food Day in October. Details to come.
One of RFFK's partners, Willowsford Farm, is offering a six-week Jr. Chef Academy to those in the greater Loudoun County community. Space is limited. "During Jr. Chef Academy (JCA), students will learn beginning knife skills, a variety of key cooking techniques, party planning and dinner party etiquette. At the end of the 6-week course, each child invite a parent to a three-course dinner prepared and served by the children. Our JCA mission is to inspire your child to become comfortable moving, cooking and growing in the kitchen."

Jessica Claire Haney is the founder, publisher and editor of Mindful Healthy Life. She is a writer and editor and a co-leader for the Arlington/Alexandria chapter of Holistic Moms Network. Her personal blog is Crunchy-Chewy Mama and her writer's site is JessicaClaireHaney.com. See the Contributors page and Jessica's Mindful Healthy Life Q&A for more on Jessica.