NoVA Outside
, an alliance of environmental educators that was founded in 2010, has some exciting events coming up this spring, beginning with a
networking and social event
at Meadowlark Gardens on Sunday, March 13.
SEAS,
which returns to George Mason University for a fifth year on 
April 6, 2016,
provides upper elementary, middle and high school students with the opportunity to learn and share about their school's green efforts and to have hands-on experiences with STEM activities.
Children also get to network with people who work in the fields of energy, conservation and sustainability, thereby learning about a wide array of related career options.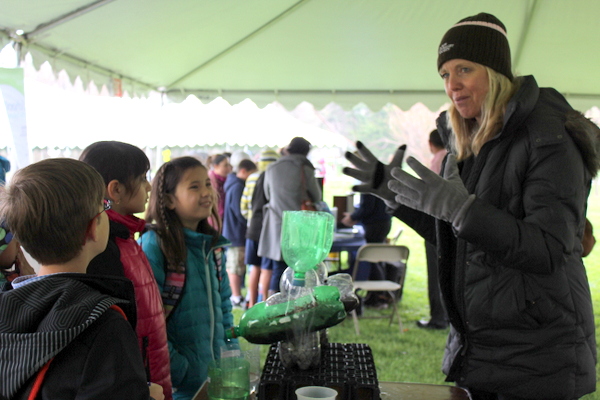 SEAS
is run by by a partnership including
NoVA Outside
, George Mason University,
Earth Force
, James Madison University, and Fairfax County Public Schools. Volunteers and staff from the sponsorship organizations contribute to the event by working with a variety of volunteers including Mason students. In addition to hands-on workshops and a schools expo area, 
SEAS
includes a
Caring for Our Watersheds
competition and a
KidWind
competition, among many other offerings.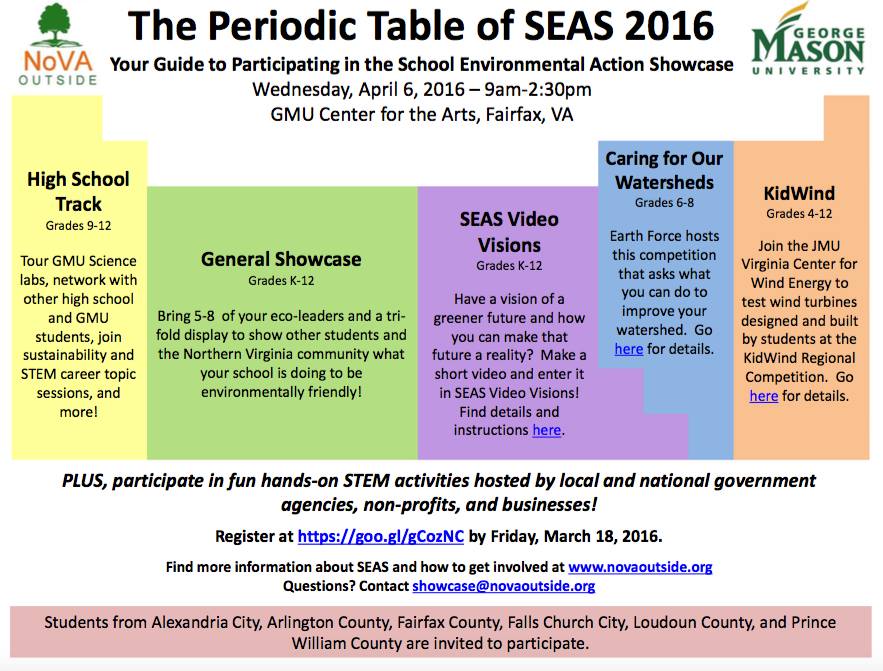 NoVA Outside
recently became a fiscally sponsored program of United Charitable Programs and is expanding its outreach and activities including more engagement among teachers, parents, activists and anyone who cares about children having access to outdoor learning.
In order to re-introduce itself to the community, NoVA Outside is holding an event called 
Meet, Connect, Learn and Grow with NoVA Outside
 on 
Sunday, March 13
 at Meadowlark Gardens. The main program will be 
3:00-5:00
 in the Visitor Center following an open-to-the-public Spring Wildflower Walk at 
2:00 p.m.
 on the grounds.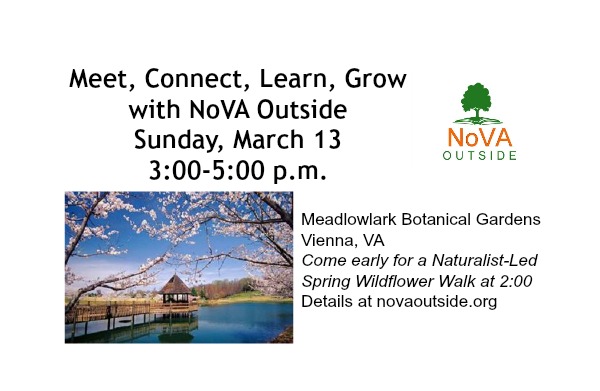 Jessica of Mindful Healthy Life: What is your goal for the March 13 social & networking event?
Elenor of NoVA Outside: Our main goal is to provide an opportunity for the environmental and outdoor education community to connect with NoVA Outside and with each other. It is an exciting time for NoVA Outside as we recently became a fiscally sponsored program of United Charitable Programs, and we are in the process of expanding our outreach and activities. We are committed to giving educators the tools they need to feel confident in offering innovative outdoor learning experiences.
We also want to provide increased opportunities for the environmental and outdoor education community to network and learn about best practices from each other. Our 2016 programming will include a variety of professional development and networking opportunities. We are also working hard to get more people involved in our organization. In order to expand our activities for 2016, we are looking for new volunteers to support our work.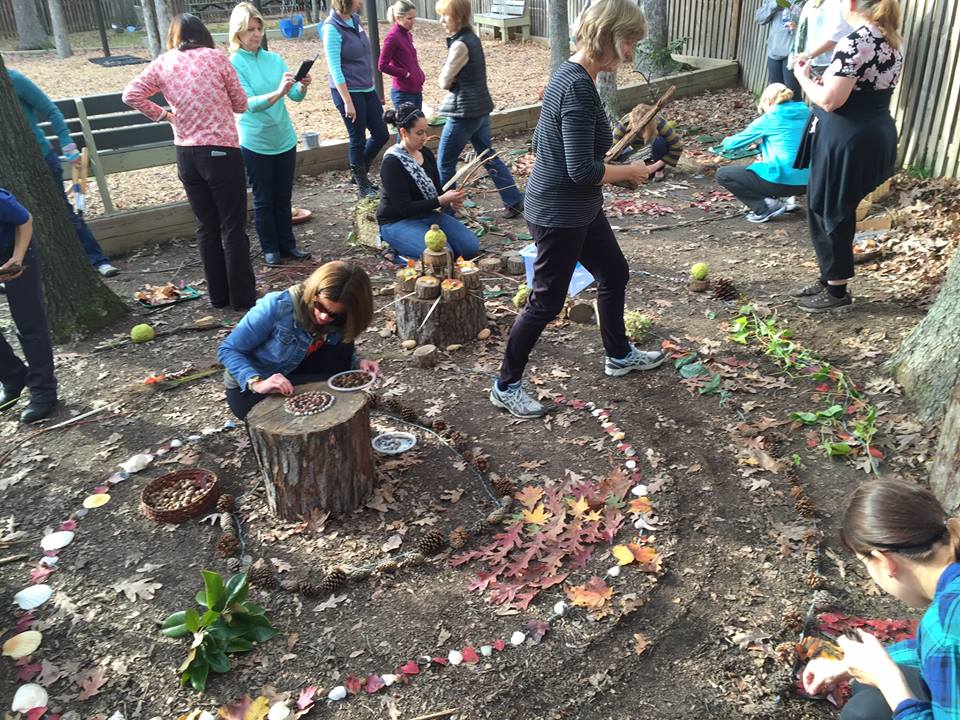 Jessica: Can you identify a few volunteer needs that would make a big difference for the group?
Elenor: NoVA Outside has many opportunities for people to get involved. For those interested in outreach and professional development, we have a new School-Aged Committee that will be developing professional development and networking opportunities for those working with K-12 audiences. This committee will provide parallel programming to an active Early Childhood committee focused on pre-K audiences.
We are also looking for volunteers with communications skills including social media, websites, and marketing to join our Communications Committee.
Finally, we need people interested in contributing to NoVA Outside's overall governance and operations to join the leadership team which meets monthly and oversees all operations of the group. Anyone with enthusiasm for outdoor learning is welcome. Specific skill sets needed for the leadership team including fundraising, event planning and strategic planning.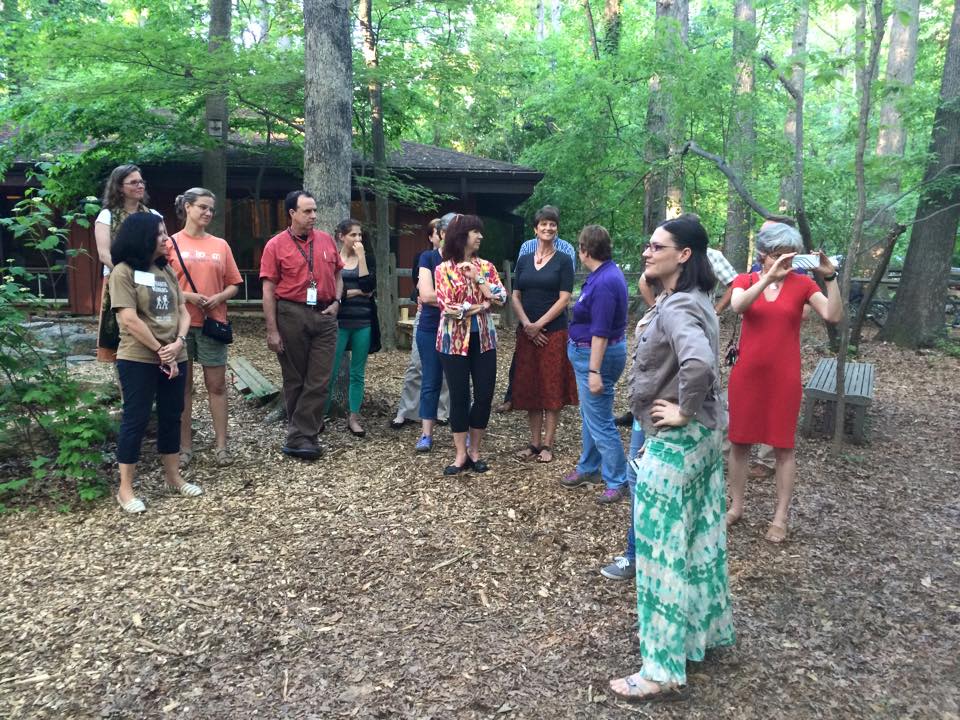 To learn more, visit novaoutside.org or follow NoVA Outside on Facebook.

For Jessica's past coverage of NoVA Outside events, see the following recap posts:

Jessica Claire Haney is the founder, publisher and editor of Mindful Healthy Life. She is a writer and editor and a co-leader for the Arlington/Alexandria chapter of Holistic Moms Network. Her personal blog is Crunchy-Chewy Mama and her writer's site is JessicaClaireHaney.com. See the Contributors page and Jessica's Mindful Healthy Life Q&A for more on Jessica.