Parents who care about Real Food couldn't have asked for a better display of enthusiasm for cooking than that shown by the poised and skilled young chefs who participated in the finals of the Real Food for Kids "KIDS COOK" competition Saturday. The six contestants, children in grades 4-8, took turns claiming the kitchen at the Clarendon Williams-Sonoma to whip up their own creations in front of a huge crowd.
The winner of the competition was Haven Clare Townsend, a 6th grader at White Oaks Elementary School in Burke, Virginia, with Thai Shrimp Noodles with Broccoli including homemade oyster sauce using gluten-free Tamari and organic ramen noodles.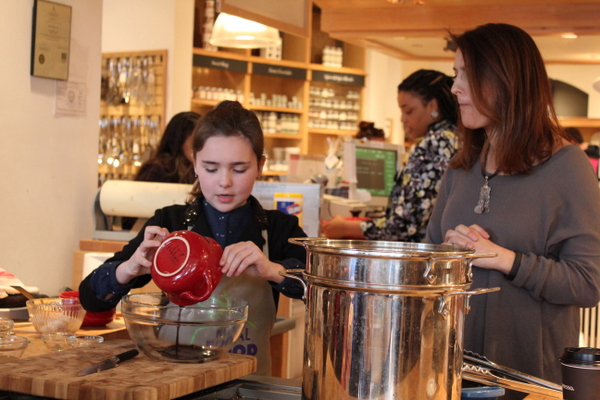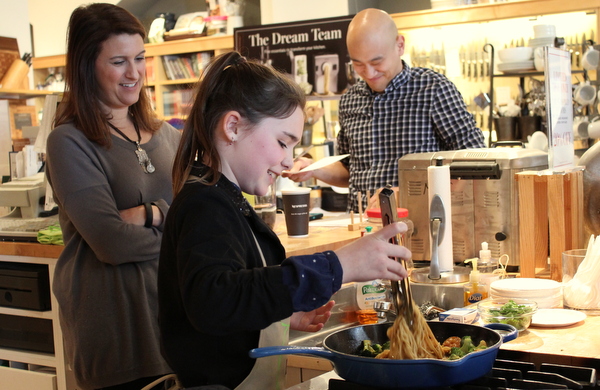 Each of the six finalists had 20 minutes to create – on the spot – the recipe they had submitted the previous month to the KIDS COOK recipe contest, which was open in January. Children entering the Real Food for Kids contest were invited to create an original recipe that met ChooseMyPlate.gov guidelines. The organization's goal was "to engage more children in the creative process of developing delicious dishes using fresh, healthful ingredients that they and their families would love to eat."
A group of culinary professionals evaluated the initial entries and chose 24 semi-finalists. The six who competed in the finals on Saturday, February 28 were those who had won the semi-final rounds of in-person demos the previous weekend at Williams-Sonoma locations around Virginia and in D.C. All 24 received gift bags from Williams-Sonoma, and the six winners got a cooking class for four at Williams-Sonoma and a set of Super Food Cards from Nourish Schools.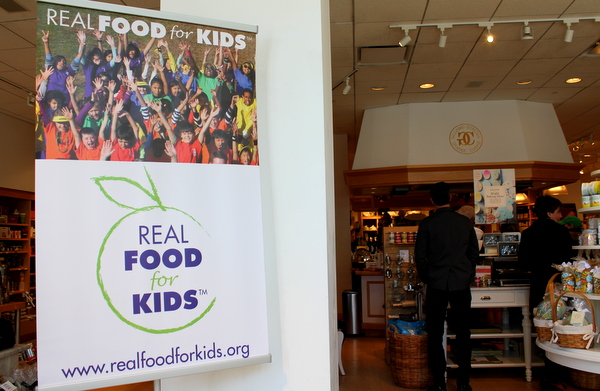 On Saturday, 11-year-old Haven won the top prize of half a day in with Chef Bryan Voltaggio in his Volt kitchen in Frederick, Maryland, a signed copy of his forthcoming book, Home, and an All Clad Pan. Before the winners of Saturday's competition were announced, Williams-Sonoma Clarendon Assistant Manager Beth Donnelly congratulated all the contestants and offered them each an opportunity to return to teach a class in the store.
Aviva Goldfarb of The Six O'Clock Scramble served as emcee for the finals, peppering the contestants with questions about their creative process, their technique, their flavor preferences, and their hobbies. She engaged with them just as if they were contestants on a reality show.
From the outside, I was amazed how well the youngsters pulled it all off! They managed to cook, describe what they were doing, and joke all the while. The young chefs had brought their ingredients from home and had just 20 minutes to unpack, set up, and cook. While each one was cleaning up and the next contestant was setting up, Aviva and the two other judges – Chef Tim Ma of Water and Wall in Arlington and Maple Avenue Restaurant in Vienna and Chef Patrick Bazin of Bazin's on Church in Vienna – tasted and evaluated their creations.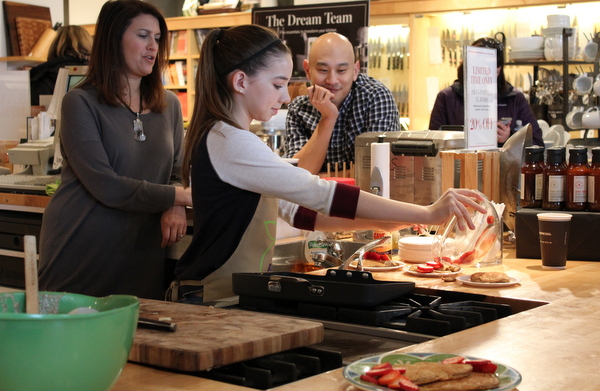 Real Food for Kids Executive Director Jenny Hein, a mother of three who lives in Loudoun County, said, "We are incredibly grateful to our esteemed panel of judges. I know the children gained valuable insight from each of them."
In addition to Haven's winning creation, the other five dishes were:
"Avofu Me" by Caitlyn Nguyen
"AAA Salmon Sandwich" by Zach Neville
"Thanksgiving Omelet with Brie" by Kate Madigan
"Banana Chia Seed Griddle Cakes" by Lamara Allen
"Inside Out Turkey Zoodle Sandwich" by Lars Nyman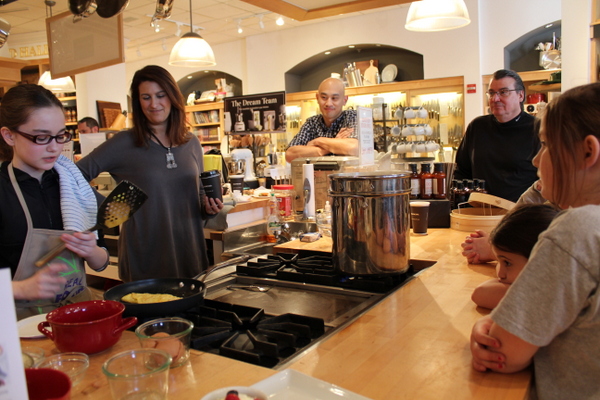 As Lars made the zucchini spirals that he layered onto homemade pesto spread on thick slices of turkey (instead of bread), he shared that eating gluten-free makes him feel better. Chef Patrick Bazin later shared during the judging analysis that he has celiac disease and also follows a gluten-free diet. (He asked his family members to taste Lamara's whole wheat griddle cakes.)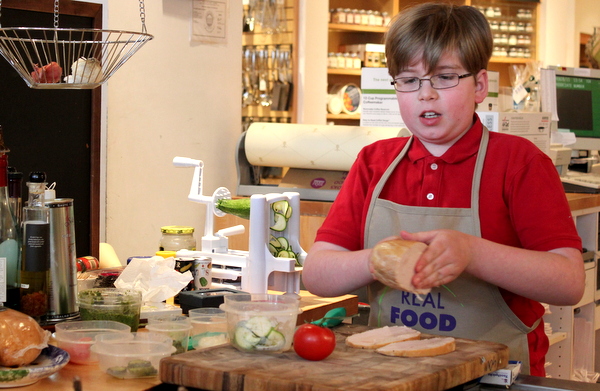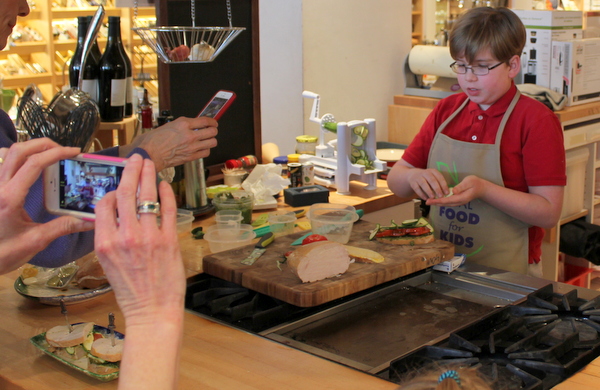 The judges were generous with their praise for these six young chefs, and they spared no time in providing detailed feedback and commentary.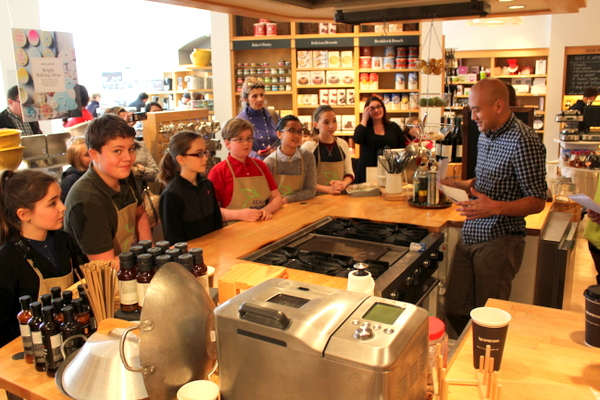 Kate's omelet technique was praised, with Chef Patrick noting she would be "hired on the spot." Chef Tim Ma said he'd love to make Lamara's pancakes for his own kids. Aviva loved the fun of Caitlyn's tofu and avocado creation and said she would be very happy if she ordered Zach's salmon sandwich in a restaurant, calling the dish "sophisticated." Lars was called the "star of the show" by Chef Patrick for his witty presence, and Aviva noted her surprise at all the flavor elements of his bread-free inside-out sandwich.
Haven's dish was praised for its homemade oyster sauce.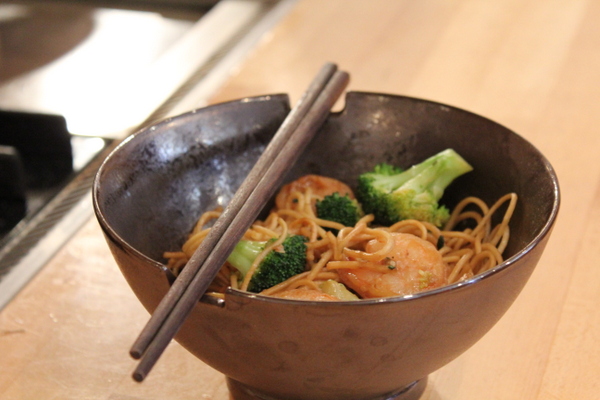 Aviva also noted how clearly the love and joy of food came through during Haven's demonstration. The afternoon was thoroughly entertaining, a great advertisement for getting children involved in cooking.
Real Food for Kids, a parent-led advocacy group working to improve school food in the Washington, D.C., metropolitan area believes that "if children get into the kitchen to help make family meals and snacks, it will make them more aware of what they are eating and encourage them to be more adventuresome in their food choices and curious about good food." Jenny, the executive director, said, "The feedback from the families that participated has been very positive, and we hope to do this again next year!
Saturday's competition was a wonderful opportunity for parents to cultivate a love of good food in their children and families.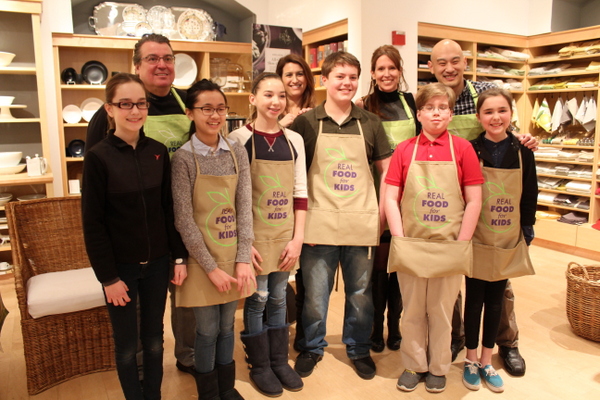 Real Food For Kids adds: "We wish to thank the six participating Williams-Sonoma stores, Clarendon, Tysons, Old Town, Mazza Gallerie, Fair Oaks and Reston for hosting our events the past two weeks. And a very special thank you to their store employees, who pulled and set aside all of the equipment the children needed for their demonstrations, and then cleaned up after the event."

Jessica Claire Haney is the founder, publisher and editor of Mindful Healthy Life. She is a writer and editor and a co-leader for the Arlington/Alexandria chapter of Holistic Moms Network. Her personal blog is Crunchy-Chewy Mama and her writer's site is JessicaClaireHaney.com. See the Contributors page and Jessica's Mindful Healthy Life Q&A for more on Jessica.