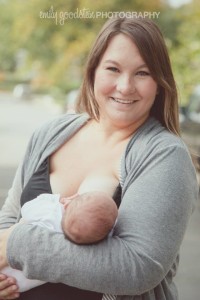 Joanna penned
our lovely Mother's Day post
about moms having patience with themselves and will be writing on a variety of topics, including breastfeeding. We're introducing her today to learn a little more about what she does professionally and as a mom.
Jessica: First tell us about the ages of your children and when you got started as a lactation consultant.
Joanna: I actually began my lactation journey before having children of my own. After serving as both a birth and postpartum doula, I recognized the need for offering more lactation based support. To better assist my clients, I wanted to learn all that I could about breastfeeding. In doing so, I not only uncovered my passion, but I truly feel that I have found the best way for me to support others within my community and beyond.
Shortly after becoming an IBCLC, I had my first daughter (now 3.5 years old). Immediately, we faced breastfeeding challenges when a hemorrhage left me without colostrum. Through the amazing support from husband, my LC sisters, and close friends and family, my daughter and I were able to overcome our issues and breastfeed until my next daughter was born almost three years later. She is 9 months olds and, again, we faced some breastfeeding issues and needed support. I think that my experiences only further validate how essential breastfeeding support is.