MommyCon is a conference for natural-minded moms that supports breastfeeding, babywearing and other holistic choices for healthy families.
I was so excited to learn that DC-area moms would be able to enjoy this event on August 22 when MommyCon comes to the DC Convention Center for a full day of fun and education, 9 a.m. to 5 p.m. Mindful Healthy Life is pleased to offer this glimpse behind the scenes for newcomers, including an exclusive Q&A with the organizers to help you plan for Saturday.
MommyCon describes itself as a "boutique style natural parenting convention focused on bringing modern families together to discuss, learn and grow." Most of the information is targeted to parents with children under age 4, but children 16 and under are welcome to attend with parents. It's a pretty amazing thing to be in a room with several hundred babywearing parents!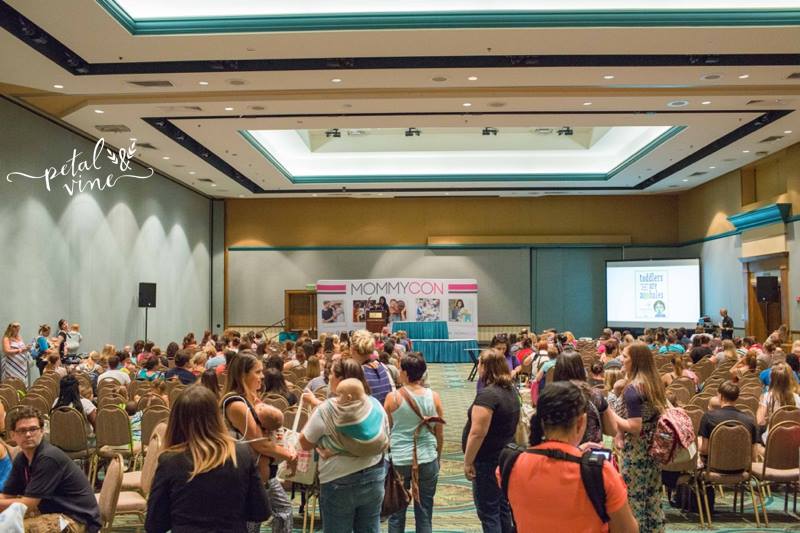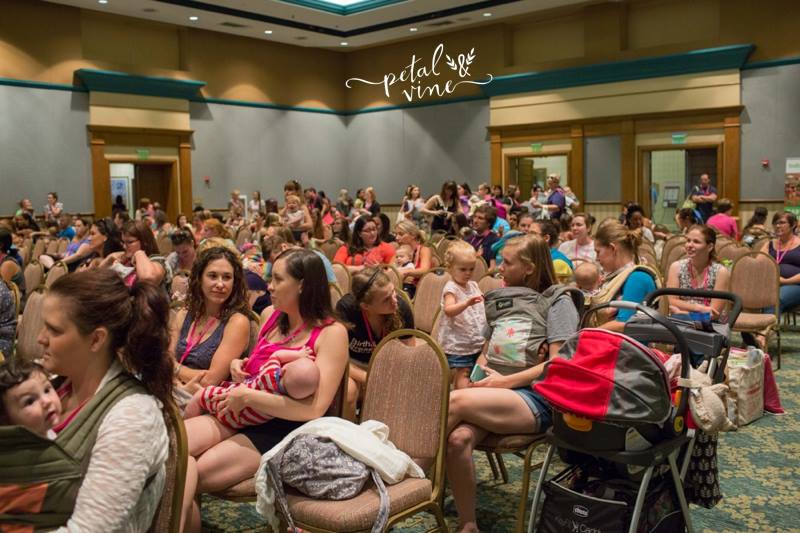 Even though I didn't plan to have another baby when I attended the 2013 Philadelphia MommyCon, I got a lot out of the sessions and was so thrilled to learn about so many great products and supports for new moms.
The event includes speaker presentations, smaller and hands-on workshops, and an exhibit area. Presentations include straight talk from Jessica Martin-Weber aka The Leaky Boob, a primer on vaccine law and parents' rights with lawyer Valerie Borek, and sessions babywearing, cloth diapering, and much more.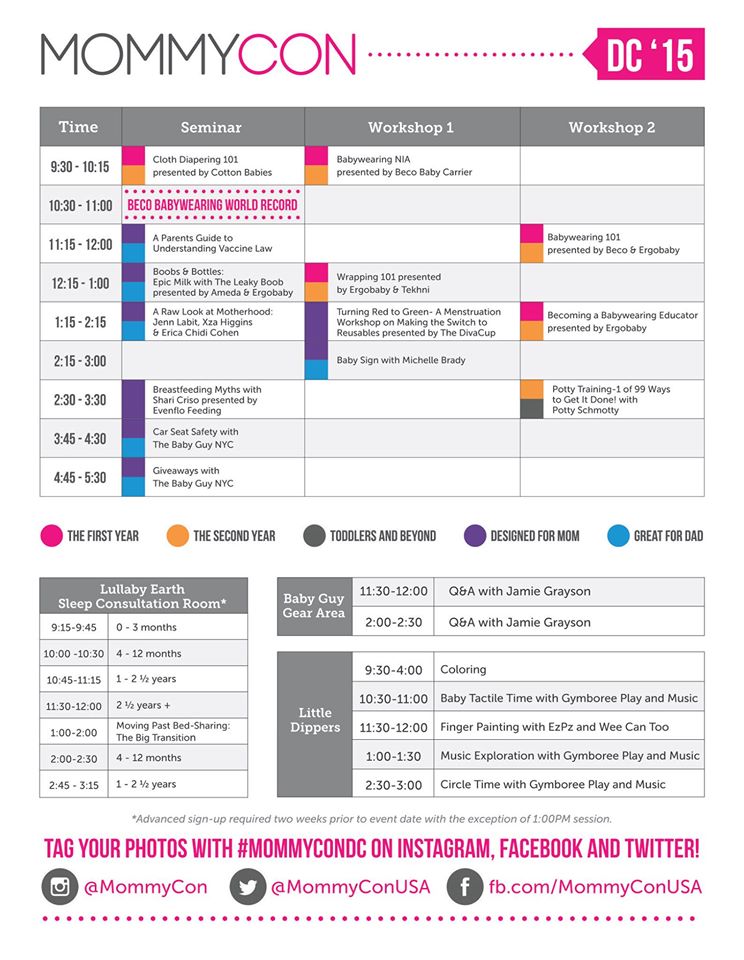 There is a lot to learn, and it can be really powerful to learn in a supportive community.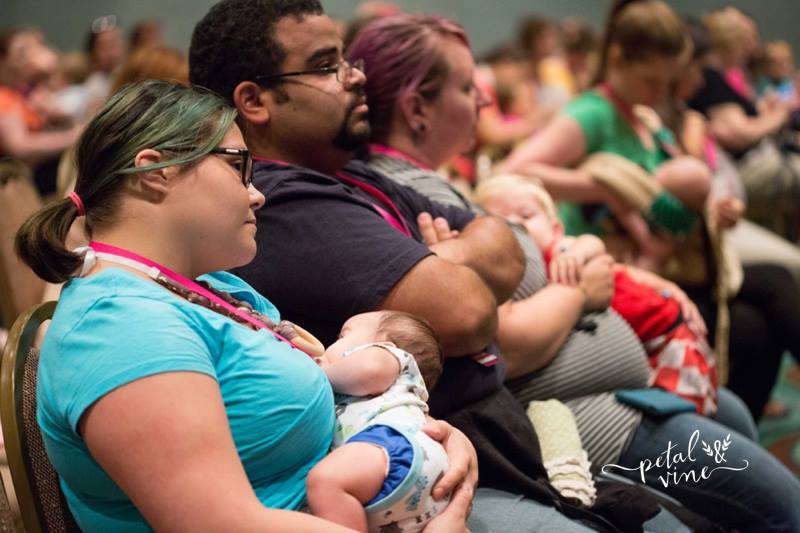 Check out the descriptions of speakers and a full list of exhibitors.
Some local exhibitors include Greenberries boutique in Maryland, Destined Doulas, Momme Meals plus Moms Clean Air Force and Red Tricycle online family resource in addition to dozens of national brands and babywearing and cloth diapering businesses.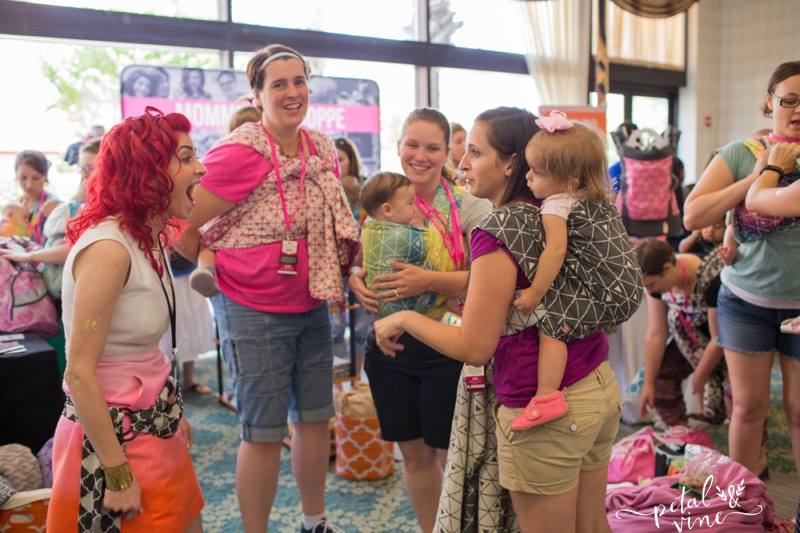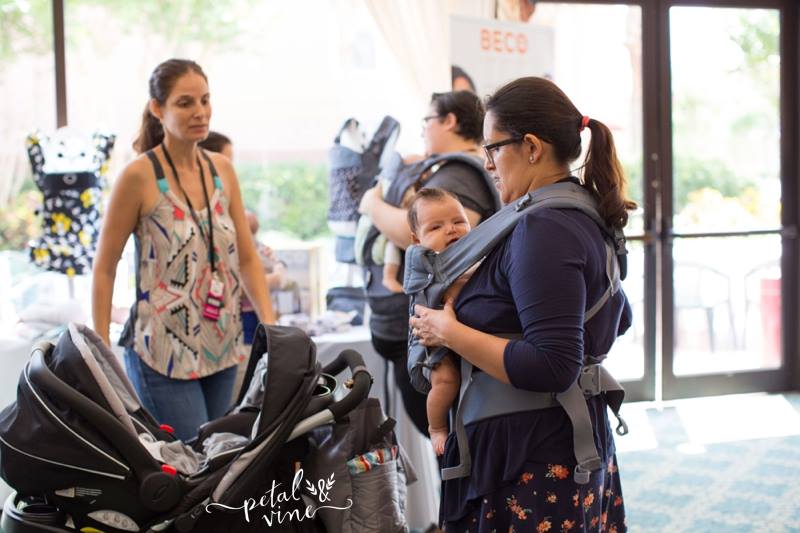 The day concludes with lots of great giveaways with The Baby Guy, Jamie Grayson.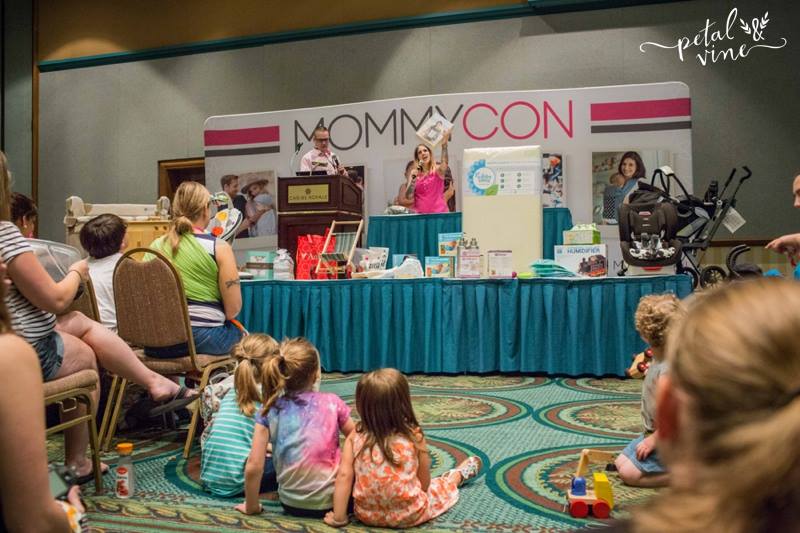 The education and the opportunities to win great stuff make the day an amazing deal at just $40.
For $5 off, use the discount code "MindfulHealthy5" when you register at Mommy-con.com
Images are used courtesy of Petal & Vine Photography from the MommyCon Orlando photo album on Facebook.
I wanted to learn a little more about the event and about how this year's DC conference would look and felt to help our readers plan their day. The MommyCon team was kind enough to do the following Q&A with Mindful Healthy Life.
Mindful Healthy Life: First of all, thank you for coming to DC! We are so excited!
​Thank you so much for joining us! We have wanted to host an event here for a long time and can't wait to meet everyone!​ Is this your third full year in operation? How many cities are you up to now for 2015? Do you plan to make DC a regular stop? How many people are you expecting at MommyCon DC?
​MommyCon: This is our third year of events! MommyCon DC is the 6th event we have on our tour schedule this year and is our largest MommyCon of 2015. We are expecting 1500 parents, and we are so excited to see all of the little ones everyone will be bringing!​ Our 2016 event dates will be announced soon, so follow us at facebook.com/mommyconusa for updates!
Mindful Healthy Life: It's great that children under 16 are allowed to come along with a registered parent! What can you tell me about the play area? I know in Philly there was a Waldorf school that brought a bunch of natural toys. Will there be anything like that? Is the play area different that the Little Dippers Craft Corner?
​MommyCon: The Babyganics Baby Safe Play Space is found in the back of our main seminar room at MommyCon. There are toys from Nova Natural Toys & Crafts and from One Step Ahead, a squishy gated floor area for crawlers, and Babyganics cleaning products to keep everything tidy and germ-free. You'll also find toys in the back of the workshop rooms and in the Evenflo Feeding Lounge! The Little Dippers Craft Corner is hosted by Gymboree Play & Music at MommyCon DC, they will have all sorts of fun activities! Stop by for playtime and enjoy craft time with EzPz, WeeCanToo Art Supplies (like finger painting and coloring) and Nova Natural.​
​
Mindful Healthy Life: Wow, that sounds amazing! So if someone wants to bring children older than, say 5, they could probably still enjoy some of those activities? And perhaps they might also have a chance to play with their own stuff or read books?
​MommyCon: Children over 5 are absolutely welcome at MommyCon! However, most of our activities are focused on preschool age and younger. ​Kids of any age can pick up a free MommyCon coloring book in the Little Dippers Craft corner!
Mindful Healthy Life: What is new and special about this event that previous attendees might not have seen before?
​MommyCon: We have new event elements in 2015, our Little Dippers Craft Corner, the Babyganics Play Area, the Baby Gear Area (be sure to stop by during Jamie Grayson's Q&A sessions!), the Baby Care Area, and more! ​
Mindful Healthy Life: Tell me about the MommyCon Shoppe. This is where certain brands will be selling? Are other exhibitors also selling their wares or there just for information-sharing?
​MommyCon: The MommyCon Shoppe is MommyCon's pop up store, featuring Tekhni Wovens. We have everything from MommyCon merch to EzPz Happy Mats, Exclusive Wrapsody carriers, BabyHawk, super cute toys from Pebble plus products from Diva Cup, Pink Lemonade Shop, Cotton Babies, Silikids, and more!​ A lot of our exhibitors will be selling, so definitely come with shopping in mind! This event has the biggest exhibitor line-up of any event we have ever done.
Mindful Healthy Life: Tell us about the Babywearing World Record 10:30-11:00. What is the current record? Did MommyCon set it?
​MommyCon:The current record is 1002 babywearers in LA in 2013 set at MommyCon. Click here to see a video from The Mommy Dialogues. We'd love to break the record in DC! Bring your baby, your toddler, a carrier and your friends! ​
Mindful Healthy Life: Anything else you want to be sure our readers know before they come?
​MommyCon: Doors open at 9:00 a.m., and the first session starts at 9:30 a.m. Be sure to grab a program with the schedule and the event map that will tell you where all of the sessions occur, where a good place to pump or feed your baby is, bathrooms, gift bag pickup and more! You're automatically entered into giveaways, you just need your individual number on the back of your badge. Make some new mommy friends and enjoy yourself! It's going to be a super fun weekend. ​
Mindful Healthy Life: Thank you for putting together such a great event! We are looking forward to it!
​MommyCon: Thank you for your support! Looking forward to meeting you and all of your readers!​
Jessica Claire Haney is founder & editor of Mindful Healthy Life.