Different diets work for different people, but there is certainly a growing interest in grain-free eating these days, especially for issues related to inflammation and autoimmune conditions. I remember thinking that a cookbook for gluten-free kids sounded like a great idea when I first saw something about Eat Like a Dinosaur shortly after it was released in 2012. Since then, authors Stacy Toth and Matt McCarry, the Northern Virginia-based couple behind PaleoParents.com, have become rock stars in the health and wellness community and the Paleo world. Their personal story of transformation is incredibly inspiring.
After I ran into Stacy and her family a local farm event on a recent weekend, I decided it was high time I gave away the copies of Eat Like a Dinosaur and Beyond Bacon.
Eat Like a Dinosaur is a cheery delight with a story about kids who feel better when they change their diet, family-friendly recipes, and everything you need to get started on a life without gluten.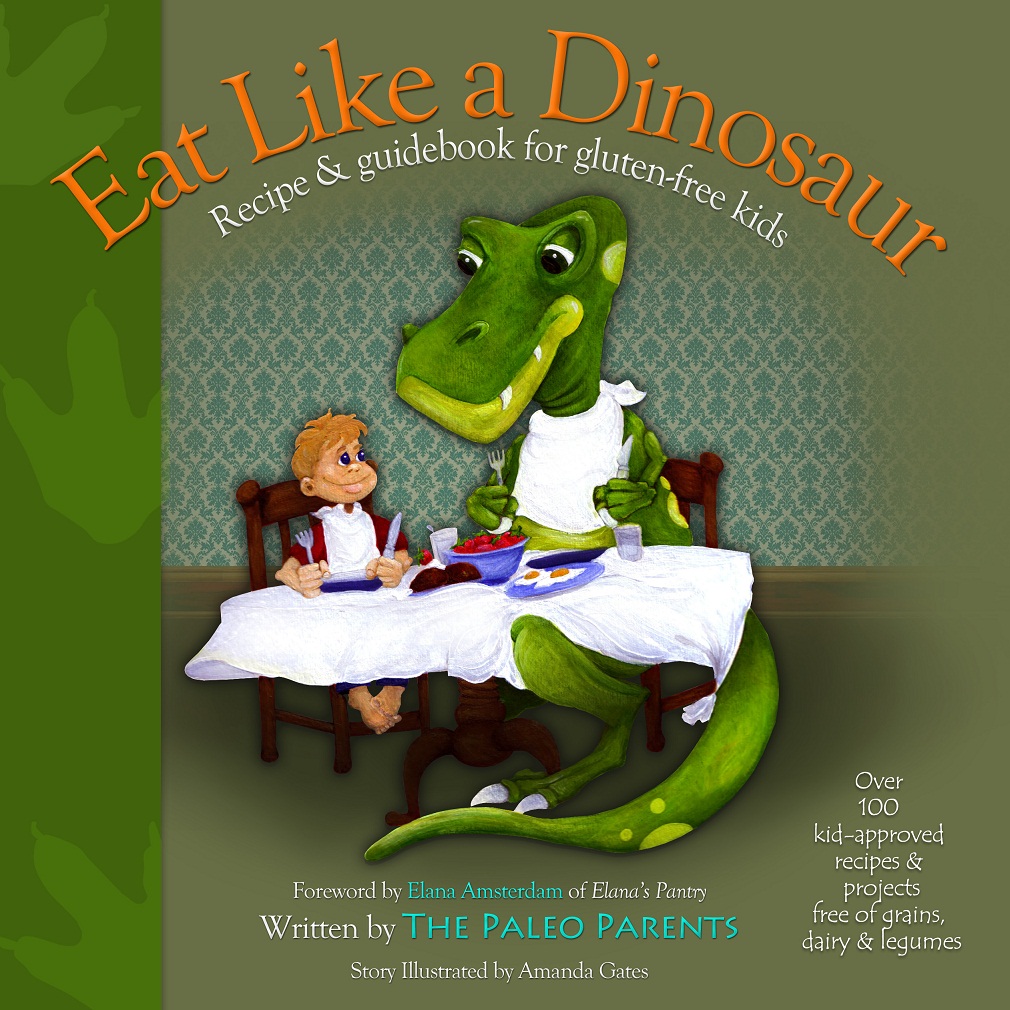 Beyond Bacon shows just how much diversity there is to be found in cooking with pastured pigs. The photography is beautiful, and in addition to the amazing recipes, it really lays out a vision for sustainable farming and eating.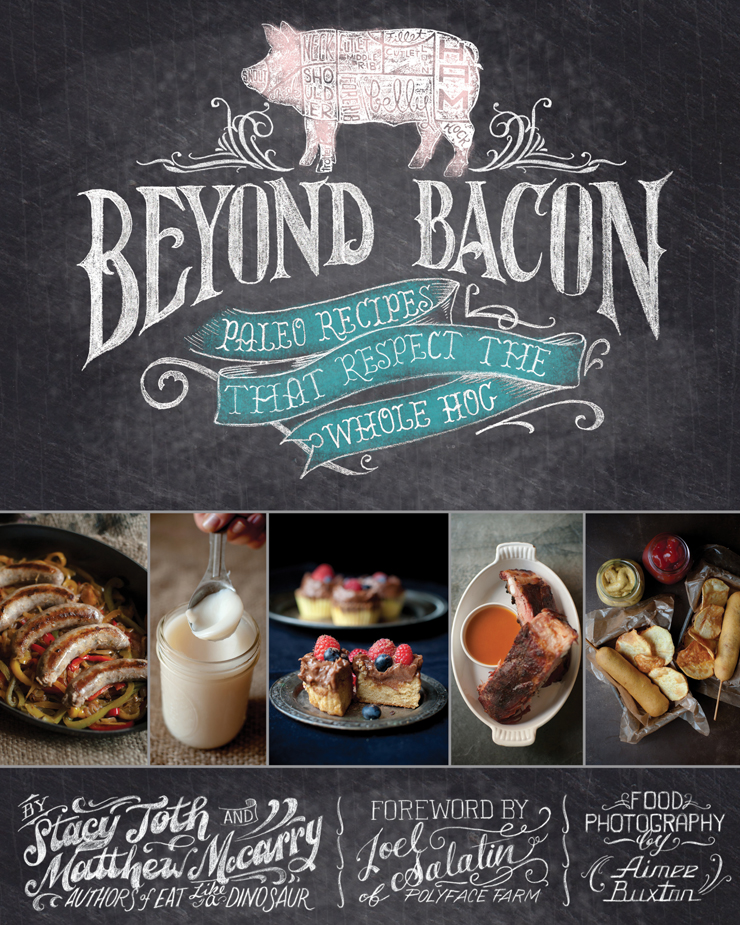 I am humbled to note that in the time it has taken me to execute on this Mindful Healthy Life concept I had when Beyond Bacon was released in the summer of 2013, Stacy — a mom of three with a full-time job — has done a bunch of speaking (including to the Arlington/Alexandria Holistic Moms chapter in December 2013) and won the title of NOVA's Strongest Woman, and she and her husband Matt McCarry have penned a third book, Real Life Paleo.
I can't wait to get my hands on Real Life Paleo on Sunday at the Take Back Your Health Conference and will do a giveaway on the new book at some point down the line, probably with a recap of the conference talk. But for now, I wouldn't want to stop you from ordering your own copy or buying one in person! Every writer knows how important early sales are. So the winner of the giveaway can get started with the first two Paleo Parents books, Eat Like a Dinosaur and Beyond Bacon.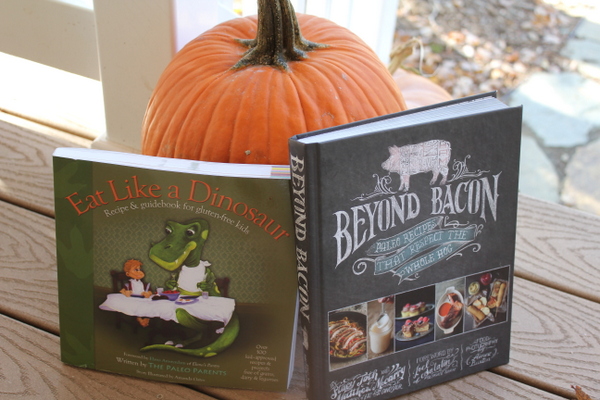 Meet Stacy this weekend at the TBYH conference. Sunday morning, November 2, Dr. Sarah Ballantyne of ThePaleoMom.com (author of The Paleo Approach) speaks at 9:00 about using diet to manage immune and autoimmune diseases, Stacy Toth speaks at 11:00 about a three-phased approach to going Paleo, and there's a panel at 12 noon with both women and two doctors (click here for the full schedule).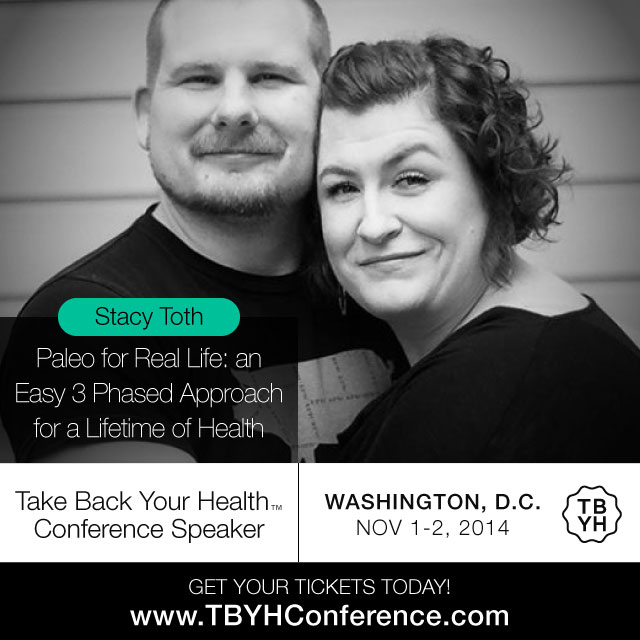 If that's not enough for you, check out the Real Life Paleo book release event on November 4 at the Barnes & Noble in Bethesda. We have to be out of town and would love to hear how the Election Day event goes!
Stacy and Matt write in their newsletter of the November 4 event that they will be signing books and giving out door prize packs valued at over $300 each featuring some of their favorite vendors: Pure Indian Ghee, Paleo Treats, Exo Protein Bars, and treats made by Out of the Box Bakery from the book. Let them know you're coming by RSVPing to Eventbrite at bit.ly/RLPreleaseparty or to via Meetup at the Paleo Parents & Friends group. More info on the whole U.S. book tour for Real Life Paleo is at http://TVPBookTour.bit.ly/
Also through the Paleo Friends Meetup group is Stacy and Matt's annual costumed no-candy Halloween party on November 1, which this year features Sarah Ballantyne as special guest at the Toth/McCarry Northern Virginia home. If you are not nearly-concurrently on a soccer field, at a birthday party or at a housewarming like me on Saturday, get yourself into the group to RSVP for this not-to-be-missed event.
We'll run this giveaway of the Paleo Parents' first two books for a full week, concluding on Friday, November 8.