When the Freedom for Family Wellness Summit came to town in 2010, it was an impressive gathering, to say the least! For anyone interested in health and wellness, and especially the connection between healthy birth and future health or between a sound physical structure and optimal energetic wellness, this conference is not to be missed. The event is the third of its kind organized by the International Chiropractic Pediatric Association (ICPA), which runs 150 seminars a year for 4000 members and publishes the Pathways to Family Wellness magazine, reaching an audience of some 35,000.
I attended the 2010 summit with my two-month-old daughter, who had been born at home (a home VBAC, or HBAC) four years after her brother had been born via c-section. I had my mind blown by the summit speakers, and while I was staffing the Holistic Moms Network table, I got to talk with midwife extraordinaire Ina May Gaskin, who was at the table next to us with Safe Motherhood Quilt project and who also got her first chiropractic adjustment at the event!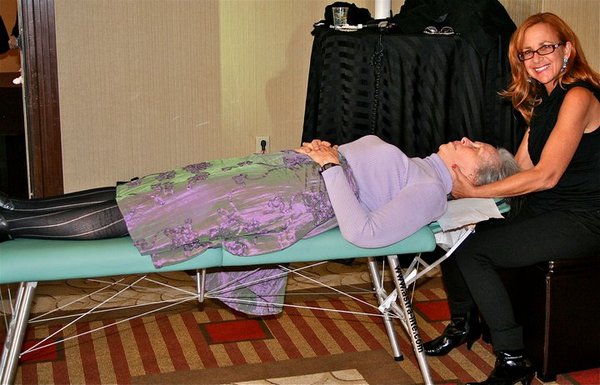 The HMN table was also right behind the table of Dr. Jennifer Mercier whose knowledge about women's pelvic pain helped me to understand that it was my c-section scar that was causing me discomfort since my daughter's vaginal birth.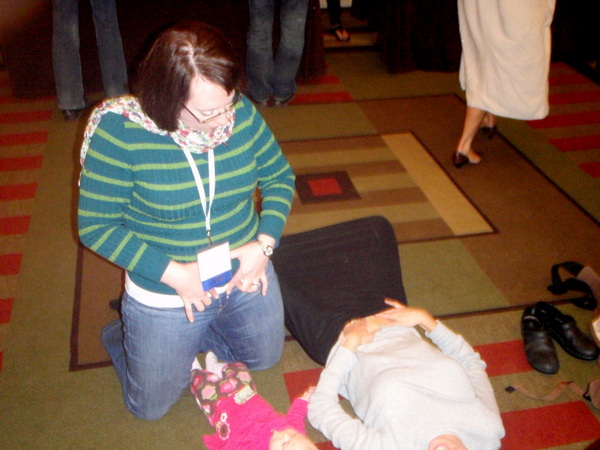 I'm excited to go back this year to the large gathering for lots of reasons (including to watch Dr. Jennifer's new movie about fertility, which I hear she will be screening at her exhibit hall booth), and I hope to to cover at least a slice of what I learn this weekend to share here.
But with more than 30 speakers and 50 exhibitors, the possibilities are endless. If you're into family wellness, this is a stellar conference to attend! There's no telling when or if an event of this magnitude will return. Ina May is coming back this year and is joined by numerous other speakers including Business of Baby author Jennifer Margulis, Karen Brody, author of Birth the play and founder of the BOLD method, and Jeffrey Smith of the Institute for Responsible Technology and Genetic Roulette.
I had a chance to speak with ICPA Executive Director Dr. Jeanne Ohm who referenced the event's subtitle: "Celebrating the Shift to Conscious Choice." She said she senses a powerful shift of people wanting to reclaim their right to informed choice, and she hopes the event will empower parents and practitioners to believe that we have the right to make informed choices for our children.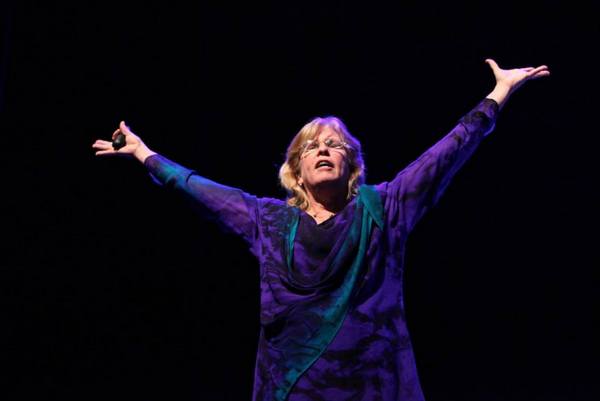 A chiropractor, Dr. Ohm says the event promotes respect: "Whatever you want is what's best for you and your family," she says. When parents approach her unsure what to do about a medical decision, she tells them that a state of fear is not the place from which a parent should make any choice. She recommends you ask yourself what resonates with your highest core value."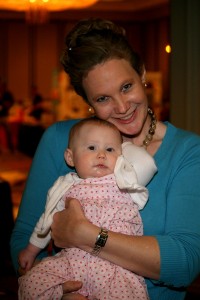 And she also recommends having a respect and trust for the intelligence of life. She's written about the paradigm called "vitalism," which she wants to describe now simply as "life is intelligent." She referenced a saying of Einstein's that the most important decision we're going to make is whether we live in a hostile universe or a friendly one. "It's a friendly universe when you trust that the universe knows what it's doing," Dr. Ohm says. "If you think your body doesn't know what it's doing, you live in fear. When you believe it's friendly, you can let go and enjoy life a little more."
The purpose of the event is to bring together groups of people who are all saying the same thing but from different perspectives, that of holistic practitioners, psychologists, parents, educators, and more. "In chiropractic," Dr. Ohm says, "we call it the above down inside out lifestyle. There is intelligence inherent in all of us. So respect the child and let her educate herself, respect the body in birth instead of trying to regulate and control it, respect the body that it will do the right thing rather than subject it to unnecessary intervention."
What this weekend is about, she says, is that there is a sense of order and intelligence in life, and how can we respond accordingly in our personal choices. See registration information here.
See this full roster of speakers and the complete schedule of the event that opens Thursday, November 13 and runs through Sunday, November 16 at the Hyatt Regency Reston. In addition to these presentations will be a packed exhibit hall with practitioners, businesses, organizations and authors. See this list of sponsors and exhibitors.
Exhibitors include the following:
Biomat Network
Birth Boot Camp
Birthworks International
Information Medicine
Books Institute for Neural Freedom
ChiroFutures
Chiro Ink
Chiropractic Leadership Alliance
ChiroTouch
ChiroVantage
DOTERRA Essential Oils
Dr. Kate Engelhardt/ Bennie Gets Adjusted – A Chiropractic Story
Educated Pregnancy
Elizabeth Eyre Seltzer Designs
Foundation for Vertebral Subluxation
Full Circle Coaching & Co
Growums
International Federation of Chiropractors & Organizations (IFCO)
Isagenix
League of Chiropractic Women
Life Chiropractic College West
Life University
Love Your Body
Makin' Miracles
Marialuchsinger.com – Sammy the Centipede Books
McCoy Press
Med-Chem Labs, Inc. (Lauricidin)
National Vaccine Information Center
Oklahaven
OptiMOM Coaching
Palmercare Chiropractic
Serola Biomechanics
Sherman College of Chiropractic
Smart Health, Inc.
Vitamix
White Light Media (Happy Healthy Child)
Wuji Firgrove
Young Living Essential Oils-Lemon Dropper
Wellesley Chiropractic Office
Also exhibiting are One More Page Books and authors: Maria Gavriel, Tara Gesling, Kathleen DiChiara and Nydia Kastra.
Photo credits (except Dr. Mercier demonstrating pelvic self-assessment): Christine Zichittella-Heeren. 
Disclosure: I've been offered a complimentary press pass to attend this event.