There may be a lot of fall festivals and holiday bazaars, but there's nothing quite like an event at a Waldorf school. Even the classrooms — with their soothing pastel colors, soft light and natural materials — make you feel like you just curled up with a candle and a cozy blanket.
But then there are the activities that fill those homey rooms. Potomac Crescent Waldorf School in Arlington recently held its Fall Festival, the last at its home near Crystal City before the school begins a 10-year lease at Fairlington Presbyterian in Alexandria in 2015. Despite the chilly weather, there were plenty of children enjoying the marble run and other outdoor fun, including a visit with a blacksmith. Inside children enjoyed crafts with wool, leaves and silk.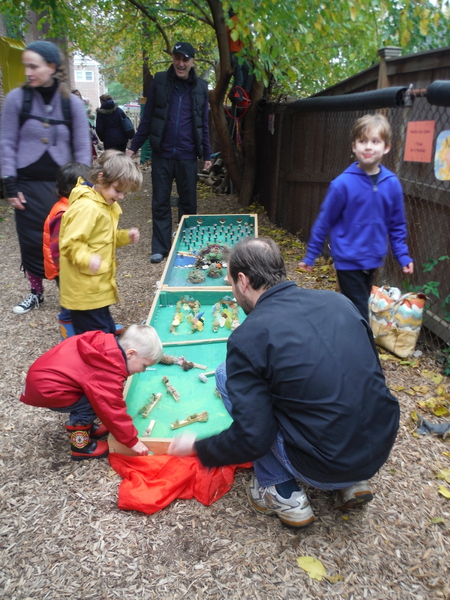 And oh, the puppet shows. Waldorf schools may be the one place where art is so sacred that no one is going to snap a photo during a marionette show or a puppet play. It's like against a silent code that you're only allowed to pay attention to what is in front of you and to hold it in your head — not on a screen — for eternity. So I have n o image, but trust me, these performances are truly magical – slow, patient, pentatonic, and dreamy. If you've ever doubted the ability of children to sit still if something is not blinking and buzzing at them, see one of these shows for yourself and become a believer.
This Saturday you'll have the chance at the Washington Waldorf School annual Fall Bazaar, 10 a.m. to 3 p.m.. Celebrating 45 years of educating children in pre-K through high school, the Bethesda-based school puts on an amazing event with a wide variety of crafts and activities for children as well as vendors and artisans. Click here for a full listing of the offerings, which include a children's shop where little ones can purchase treasures for others using tickets.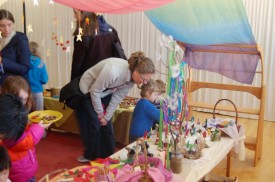 Tickets for activities ($1 each, activities vary in number of tickets) are available at three locations throughout the school in addition to at the main entrance. However, tickets for the puppet plays are only available outside on a first-come, first-served basis.  "The Magic Gourd" is geared toward children ages 4-8 and will be performed in the library at 10:30 and 11:15 a.m. "Mouth Finds His Winter Home" is for children aged 2-3 and will be performed at 12:00 and 12:45 p.m. Tickets sell out, so be sure to arrive early to get yours.
Click here for a map of the day's activities. The school even has a newsletter with reflections by bazaar contributors and organizers. New this year this year is a woodworking room and the making of thumb pianos with the help of NeighborWood's Bill Merkel.
Also debuting is a vendor preview night on Friday, 7:00-9:00 p.m. so you can shop without children in tow! The array of artisans is always impressive and includes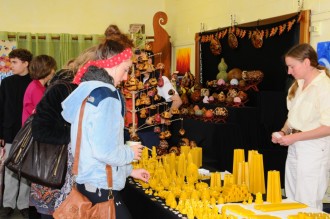 vendors selling beeswax candles, ornaments, textiles, jewelry, wooden toys and art, and much more. You could really spend all day there and never take your child to a single activity. So instead, go Friday night! Tickets are limited and cost $10.
On Saturday, refreshments will be available in the Snack Shop 10 a.m. to 2 p.m. and the Bistro Café and Patisserie 11 a.m. to 3 p.m. There will be coffee in the auditorium for the whole 10-3 event.
The school even produced a video to showcase the event and let you know what to expect. Enjoy!
Washington Waldorf school photos courtesy of the school.