The second annual National Kids Yoga Conference returns to the George Washington University campus November 13-15. The conference "for adults bringing yoga to the next generation" aims to spread the word about the positive benefits of yoga and mindfulness for youth. The event will bring together dozens of inspiring speakers for keynote addresses and breakout sessions and will offer a marketplace of vendors offering services and products to support youth mindfulness education, training and practice.
As I described in my recap of the inaugural 2014 conference, this event has tremendous value to offer parents, school staff and anyone who works with children. It's a hands-on, experiential event that does not just teach, but transforms.  As I attended all the programming — listening to keynotes and participating in breakout sessions — there seemed to be a powerful collective passion for giving children the gift of mindfulness to equip them for a healthy, happy life, even if they face adversity.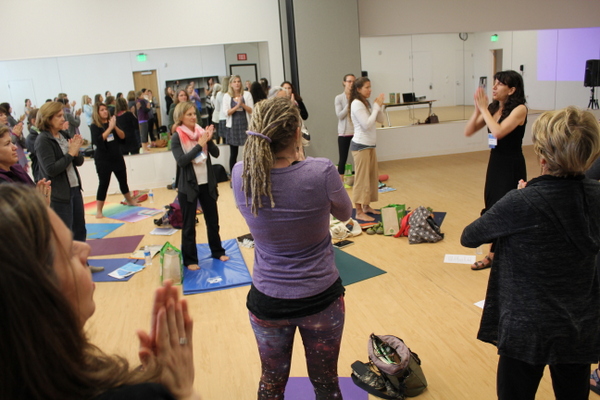 On top of all I gained from the sessions, it was inspiring to talk to vendors and learn about so many resources for children's yoga, many of which have made it into my home, CD players, and bookshelves.
The School and Tools tracks will be of particular interest to teachers and parents and professionals who work directly with children. Michelle Kelsey Mitchell, co-founder of YoKid, said, "Every day, we see how yoga transforms the kids we serve. They are able to focus more at school, they are calmer, have better self-esteem. Not to mention that practicing a fitness activity also has a great impact on physical health, especially in DC where 35% of kids are overweight. With our annual conference, we want to raise awareness on the benefits of yoga so that it becomes an accessible option for as many children as possible."
The Research track sets the foundation for this work, explaining what the science says about mindfulness and its impact on learning, compassion, empathy, positive attitude, and self-reliance. The Business track supports practitioners, studio owners and others who want to bring their passions to a wider audience. There are still scholarships available for the Teen Track for youth ages 13-17.
The location for the event has moved from last year, where it was housed at the GWU School for Public Health, over to the GWU Marvin Center, which offers a larger ballroom for plenary sessions and keynote addresses. Some of the sponsoring vendors like KIND Snacks and Kripalu Center for Yoga & Health will be in the ballroom. Most vendors will be in the Marketplace along with goodie bags, a passport for entrance into a raffle, and conference t-shirts for sale. The Research track sessions will be in the ballroom, and all other tracks will be elsewhere on the third floor. The Teen Track sessions take place on the fifth floor, and teens will join in the keynote sessions.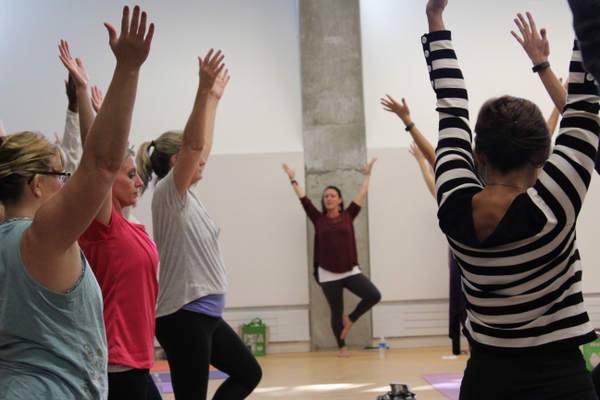 The weekend kicks off on Friday, November 13, with the first DC-area workshop ever led by Gurmukh Khalsa, founder of Golden Bridge Yoga. The workshop takes place 5:00-7:00 p.m. and is followed by the conference kick-off networking event 7:00-9:30 p.m. where attendees and speakers can meet and connect. Bhavna's Henna & Arts of Maryland will offer henna art, and Kristen Norvel of Alexandria's Lifestyle Sport & Recovery will be offering chair massages. A light dinner will be served while attendees mingle.
This year's daytime conference is extending into a second day. The hours for Saturday are 7:30 a.m. to 5:00 p.m., and Sunday's hours are 7:30 a.m. to 1:30 p.m. An overview schedule is available here. A full schedule of all keynotes and breakout sessions will be available soon. Tickets for Friday evening activities are separate from the daytime weekend conference registration.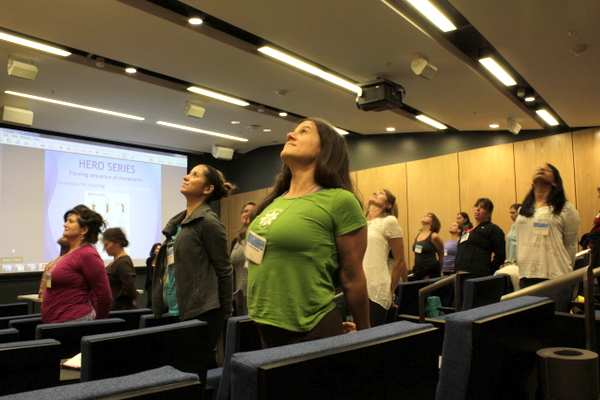 Breakfast and lunch will be provided Saturday and Sunday through GWU catering. Gluten-free and vegetarian options will be available. The Sunday keynotes will be panel discussions with leaders discussing kids yoga research and sustainability. Sunday's lunch will be during a "round-mat" discussion for each track, and finally, the weekend will wrap up with a closing led by founders in the children's yoga movement.
The National Kids Yoga Conference was co-founded in 2014 by Alexandria mom Michelle Kelsey Mitchell, co-founder of the non-profit organization YoKid, and DC mom Pleasance Silicki, founder of lil omm yoga studio in NW DC. For more on their vision, see this post from last year at TheDCMoms.com, and for more about how these two moms make this work work with their families, see this post from last year here at Mindful Healthy Life.
For more details on what to expect at this year's National Kids Yoga Conference, see the conference FAQ page.
To register, visit conference.yokid.org.
Mindful Healthy Life is a Joy & Kindness sponsor of this event. Readers may use the discount code "KidsYogaConLove" for 10% off registration.

Jessica Claire Haney is the founder, publisher and editor of Mindful Healthy Life. She is a writer and editor and a co-leader for the Arlington/Alexandria chapter of Holistic Moms Network. Her personal blog is Crunchy-Chewy Mama. See the Contributors page for more on Jessica.