A woman's body undergoes many changes during pregnancy that linger after baby arrives.  Muscular imbalances contribute to the random aches and pains that creep up postpartum.  Many of these pains can be traced back to pelvis misalignment.
In this guest post, personal trainer Sara Lewis of Mix Fitness in Northern Virginia shares some common postpartum alignment issues to be aware of and exercises to correct them.
A very common condition called anterior pelvic tilt plagues many new moms.  In anterior pelvic tilt (APT), the top of your pelvis tips forward.  This causes an increased curve in your lower back which puts pressure on your vertebrae.  Your gluteal muscles in your buttocks lengthen and get weak.  Your abdominal muscles stretch and can have the appearance of an 18-week pregnant belly even when you're months postpartum.
Anterior pelvic tilt (APT) also causes your center of gravity to shift forward.  When you combine the APT with the extra rounding in your upper spine from nursing, you have a recipe for muscular imbalance and chronic tightness.  Conditions like hip bursitis, hip impingement, knee pain, pelvic floor pain and painful intercourse can all be caused by the muscular imbalances that come with APT.
There is an easy way to check yourself for anterior pelvic tilt.  Stand with your back against a wall.  Your head, shoulder blades and tailbone should contact the wall.  Your heels will be a few inches away from the wall.  Take one hand and slide it in the natural curve of your lower back to see how much space is between your back and the wall.  If you can slide your second knuckles past your spine and fit your whole hand or more through that space, you have an anterior pelvic tilt.
Watch this video for demonstration of the assessment as well as some exercises to help correct the pelvis alignment.
One of the worst things you can do in the hopes of feeling better is stretch.  As I mentioned above, your glutes, abs and upper back are overstretched.  So more stretching will make matters worse.
Here's another video discussing stretching further.
To restore pelvis alignment, include resistance exercises to strengthen the weak muscles.  Bridges are great for postpartum moms because they target the glutes and you don't need any equipment to do them.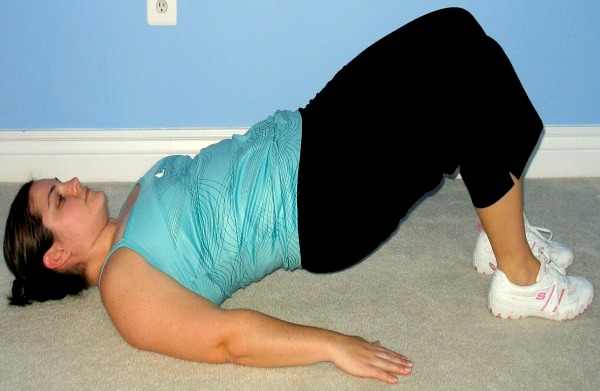 Low intensity exercises like the bridge will help reverse the anterior pelvic tilt position.  Perform 1-2 sets of 10-12 reps.  Watch the video below for instruction.
Another exercise that's beneficial for new moms is the dead bug.  It's a great core exercise.  While lying on your back, hold your arms and legs up.  Press your lower back into the floor and breathe.  Hold this position for 15-30 seconds.  When you press your lower back against the floor, your abdominals engage.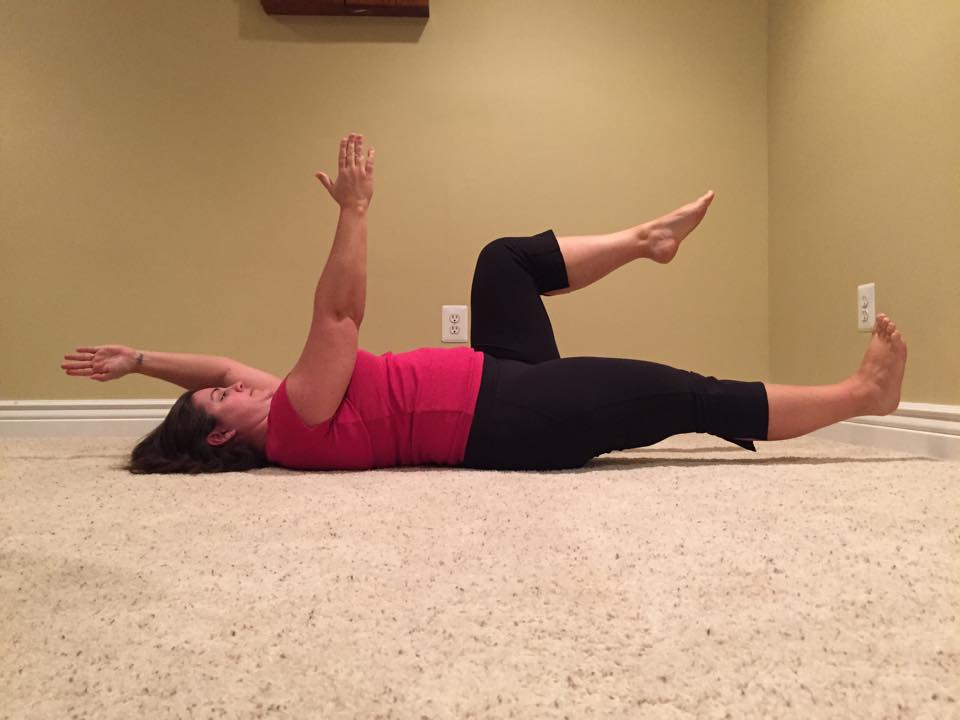 You may be tempted to do crunches and planks to strengthen your abdominals postpartum, but I urge you not to!  Crunches place unnecessary stress on your already weakened abdominal wall.  And during a plank, your weak abs simply can't hold your belly in and resist the force of gravity.  This is especially true if you have diastasis recti.  So please…stick with the dead bug and give your abdominals a chance to heal.
I have an 8-week online Restore the Core program specifically for postpartum moms with video downloads, email coaching, and access to a private Facebook group. To try the first week for free, just go to the Mix Fitness site, click the link from the Restore the Core tab, and download the video.
To help release the tension in your upper back, use a tennis ball to release trigger points.  This form of foam rolling is like giving yourself a massage.  It will feel great!  Stand against a wall and place a tennis ball between your spine and shoulder blade.  Roll the ball around by shifting side to side and bending your knees.  Make sure not to roll directly over the spine.
Roll on one side of your upper back for 1-2 minutes then switch sides.  If you find an extra sore spot, hover over it until it releases.  That may take 20-30 seconds.  Rolling is safe to do every day and the knots will stay at bay when you consistently roll.
It's difficult to find time to exercise when you have a baby in the house.  Prioritize these exercises that will help you feel good without having to go to the gym or find a babysitter.  Take care of yourself, momma!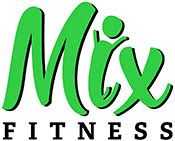 Sara Lewis is the owner of Mix Fitness.  She has a degree in Exercise and Health Promotion and more than 15 years of experience in the fitness industry.  Sara chose this career because of a fascination with human anatomy and how the body responds to exercise.  She loves working with clients who have limited mobility, unexplained aches and pains, and new moms.  Sara trains clients and teaches Fit Momma Training in western Loudoun County, VA.
Check out Sara's 8-week online program, Restore the Core for Post Partum Moms, and follow her on Facebook at http://facebook.com/mixfitness
This page has affiliate links.