To hear Takoma Park mom and strategic consultant Grace Ogden talk about attending a kirtan with Jai Uttal, one gets the impression that not taking your child would be like shielding her from a rainbow.
A kirtan is a participatory music event that can simultaneously calm and energize the spirit.  The experience of chanting, usually in Sanskrit, is aimed to be a healing one, helping participants connect to their heart and more generally to a shared vibration and bigger sense of spirit. A father himself, Jai has a joyful spirit, Grace says, that creates an inclusive and loving vibe for the musical chant-dance experience.
On Thursday, October 23, Grace's event-planning firm, Grace Productions, is partnering with BuddhaFest to bring Jai Uttal and mantra performer Gaura Vani to the Spectrum Theatre at Artisphere in Rosslyn, Arlington. The event runs from 7:00 to 9:30 p.m.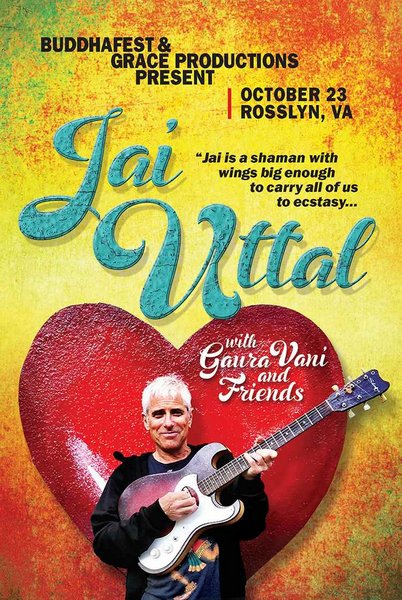 Grace says that a kirtan typically becomes more energetic toward the end, like most any concert, but that it's completely normal for people to leave when they need to. She's seen children come to kirtans in pajamas if they have a long drive home. Children under age five get in free. Tickets for children ages six to seventeen are $10, and adult tickets are $30, but Grace emphasizes that the event welcomes everyone and that no one will be turned away.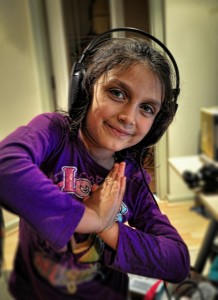 Grace has brought Jai to DC twice before, once for an evening performance suitable for all ages and in November 2013 for two events, including a Kids Kirtan geared to young children. Jai includes children's voices in his Kirtan Kids CD, and DC-area parents wanted a child-focused event that would include the funny stories about Hanuman. Stories about the mischievous monkey help children connect with their understanding of themselves.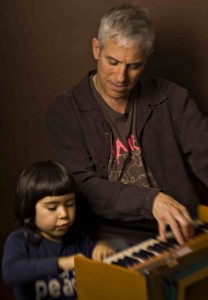 When Jai performs for a mixed-age crowd, he begins the show by inviting children to come to the front where they can dance, usually layering themselves naturally with little children closest to the stage and the taller ones in back.
For those who have never attended a kirtan, Grace says not to worry if you're not familiar with Hindu traditions or Sanskrit words. The music, she says, "lights up the heart, connects us universal qualities that are present in all of life. It's just like singing about the sun or the moon or a radiant flower." The chants evoke feelings of "joy, beauty, safety, love, healing, forgiveness, and inspiration," Grace says, adding that Jai has a "natural awareness of and connection to children's energy." Being so loving and respectful of children and approaching his work with such joy helps children feel at ease participating in the experience, which is not a quiet one. In fact, it's loud and interactive, Grace emphasizes. Jai studied in India and was led on a spiritual path that includes concerts and retreats, but he also is a Grammy-nominated artist with a varied background in jazz and many forms of world music.
At the kids' kirtan, Grace's daughter, Julia, aged 11,  hung back as one of the older children in the crowd. But at the all-ages evening event like the one happening Thursday, Julia "danced her sweet self into a state of bliss." It was exciting for a child to see talented musicians so happy to play to her, just six or eight feet away in a very immediate experience unlike most concerts. Julia was "seen and touched in her heart and inspired" to be invited into participation, Grace says, adding of watching all children at a Jai kirtan: "I love that they are awakened into the light of music."
Grace says that Jai's performances inspire joy. "It's hard to just get joy straight off" in the midst of our complicated and stressful lives, she says, so Thursday's kirtan is just the ticket if you're looking to be in a space of joy with your children.
The kirtan is part of a larger bhakti tradition that aims to create "a dynamic flow of energy from the heart chakra," according to The Expanding Light.
Click here to purchase tickets to Thursday's event.
To see a video of last year's Kids Kirtan in Silver Spring, see the Willow Street Yoga Facebook page.
Photo credit: Christine Alicino
Disclosure: I was offered free admission for my family to attend this event.

a Rafflecopter giveaway