The fifth annual NoVA Outside School Environmental Action Showcase (SEAS) brought over 500 students from public schools, private schools and homeschooling groups in Ablemarle County, Alexandria, Arlington, Fairfax, and Falls Church to George Mason University to learn and share about environmental stewardship. The event, which took place on April 6, 2016, was put on in partnership with George Mason University Potomac Environmental Research and Education Center. and GMU's Office of Sustainability.
As in past years, the goal to of the event is to provide K-12 students with the opportunity to engage in Science, Technology, Engineering and Math (STEM) activities and to showcase their ingenuity to solve environmental problems by reducing waste, conserving energy, providing habitat for animal species, creating sustainable food programs, cleaning watersheds and more.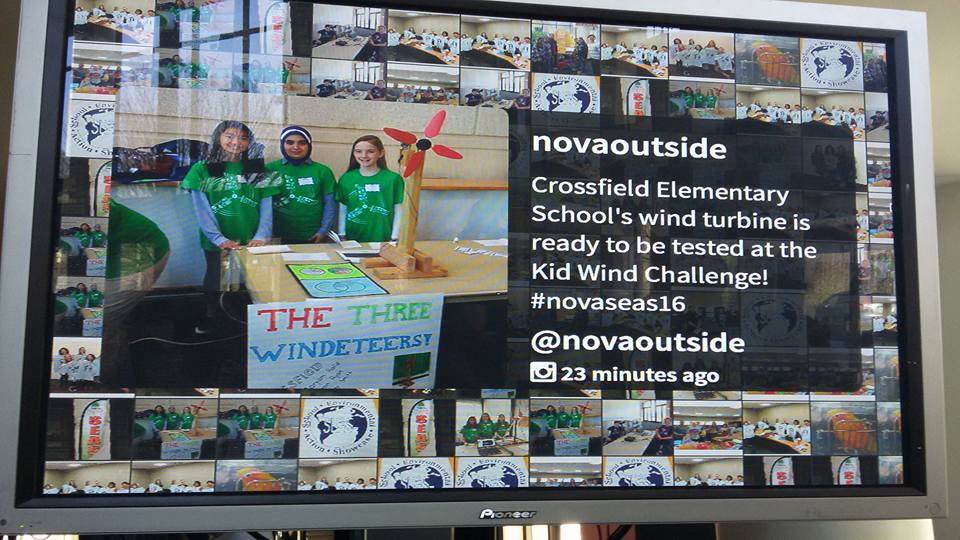 NoVa Outside Leadership Team member Kurt Moser began the day with an introduction and welcome before ceding the stage to keynote speaker Sharon Dorsey, GMU class of 2018. A Baltimore native, Sharon is working toward a B.S. in Environmental Science. She shared her experiences as both an athlete and a student at GMU including tales and photos of many fieldwork opportunities.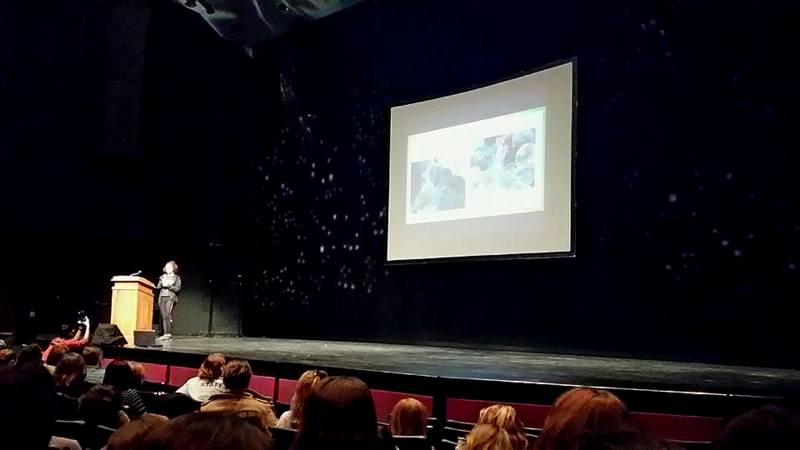 After having arrived around early to set up display tables where they would share their school's projects related to sustainability and a greener future, students had a full schedule of programming before the event concluded with the presentation of awards for two competitions: the KidWind competition to design and build an efficient wind turbine and Caring For Our Watersheds, to propose a practical and actionable solution to water pollution.
Most students spent one part of the day outside in "Partner Village" where they got to meet and work with professionals in STEM and sustainability fields, including in parks service, with non-profit organizations and with agencies that conduct research and do environmental advocacy. These experts led the children in hands-on activities related to energy, water quality, and environmental stewardship.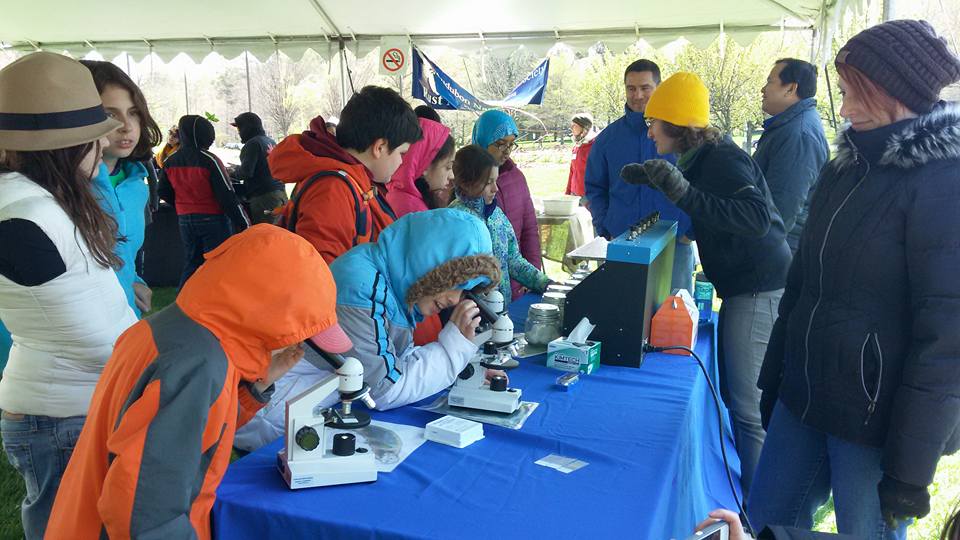 Another part of the day was spent in the school exhibit area in the lobby of GMU's Center for the Arts where students stood with their school display to engage other participants in conversations about efforts their school takes toward sustainability. Student groups usually had a few students stay with the table display, like conference exhibitors, talking about their projects, while the other part of their school team took a tour of other schools' displays.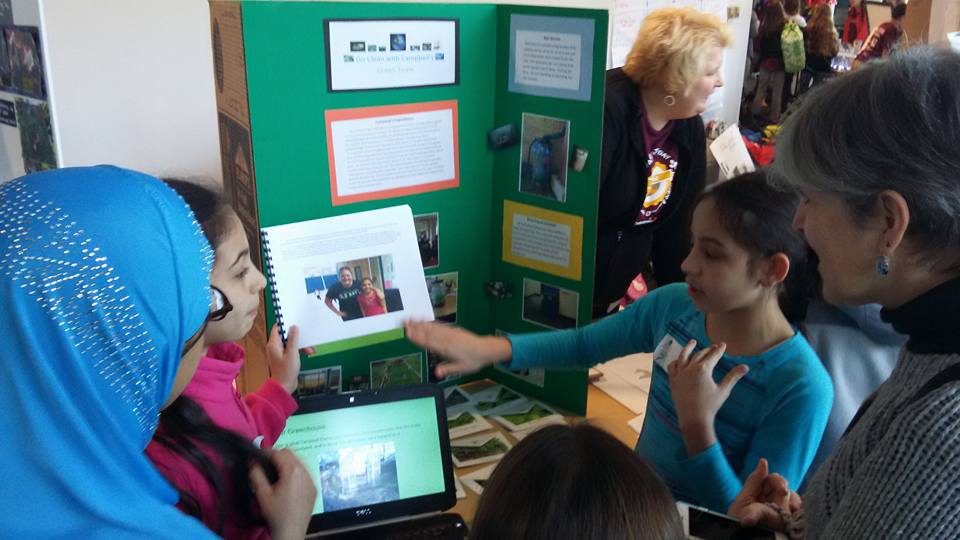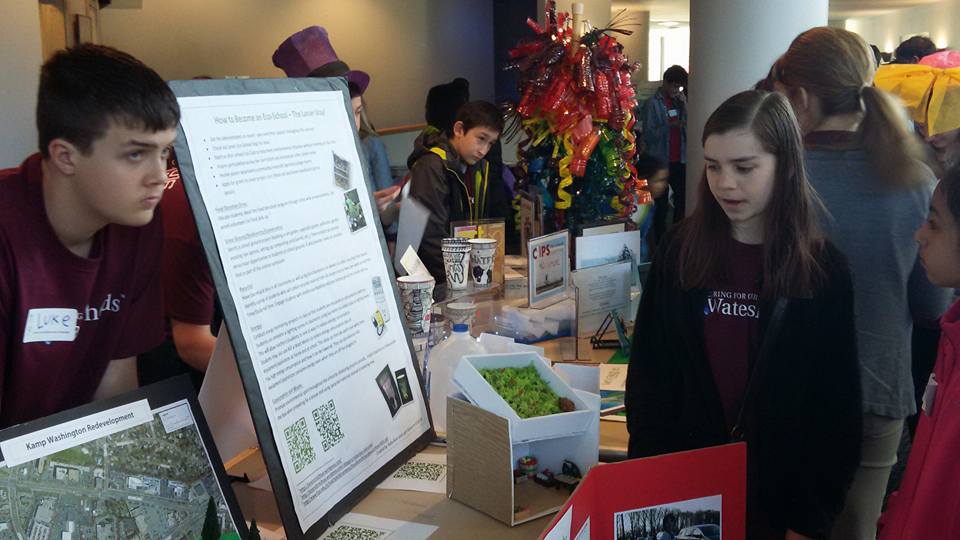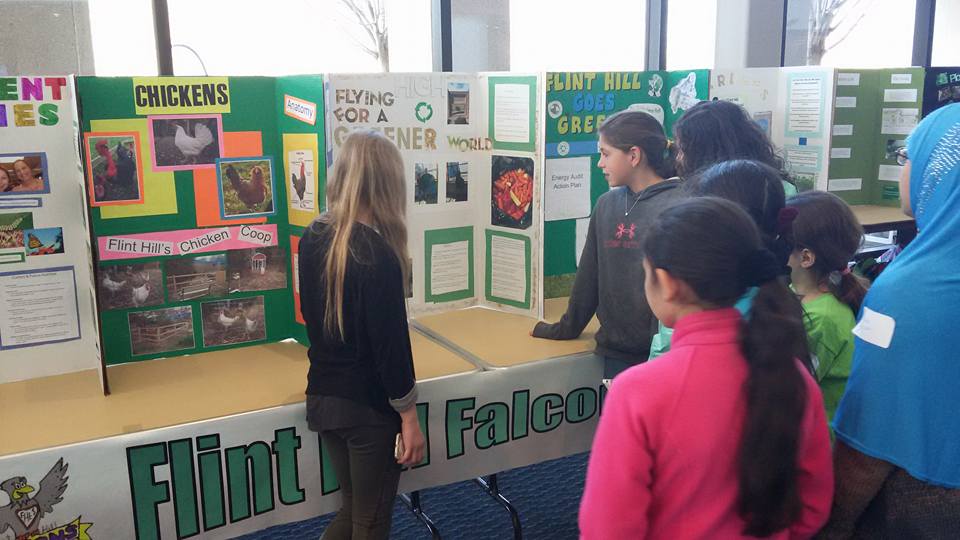 Many attendees participated in the KidWind competition, a national program based in Minnesota that has taken off in Virginia and comes to the SEAS event at GMU through a collaboration with James Madison University's Center for Wind Energy.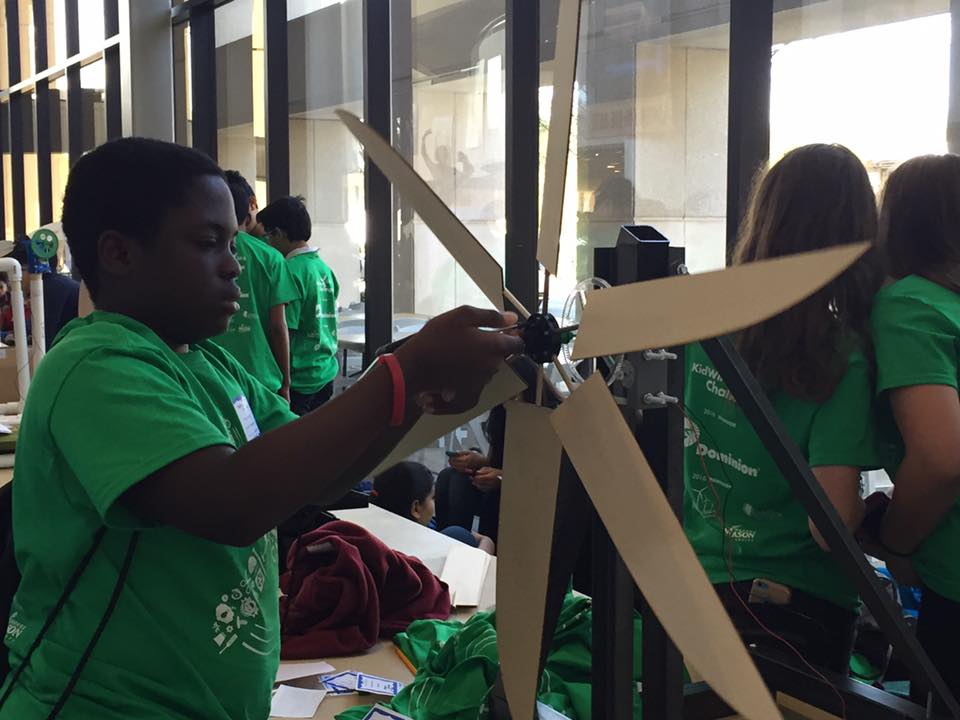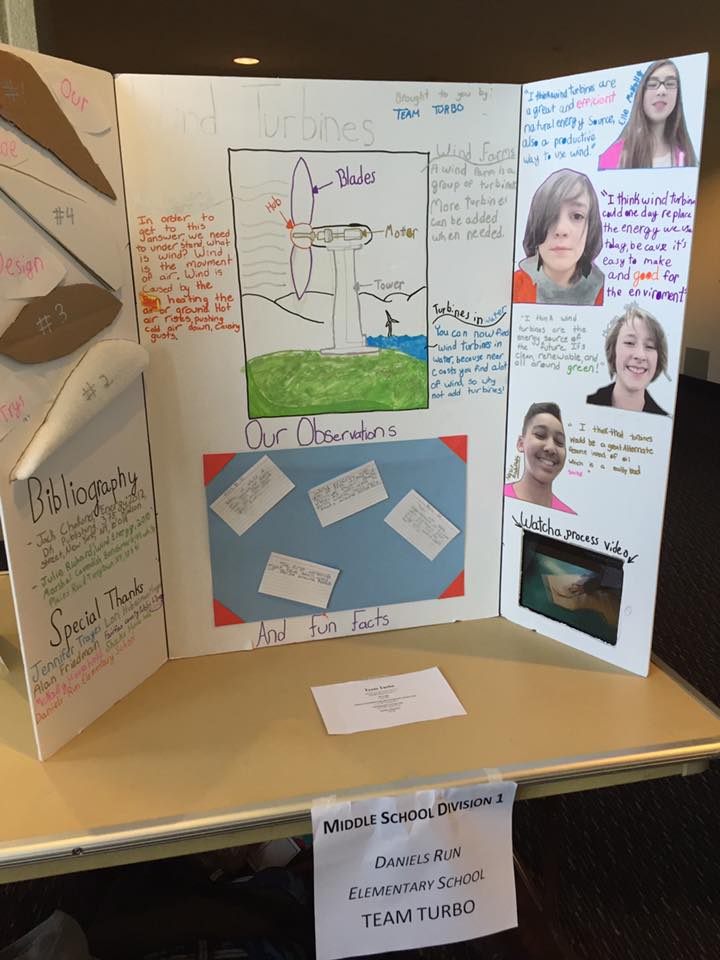 During another portion of the program, attendees observed or participated in the Caring For Our Watersheds competition. Participants presented their proposed project with a PowerPoint and then faced both practical and scientific questions from a panel of judges.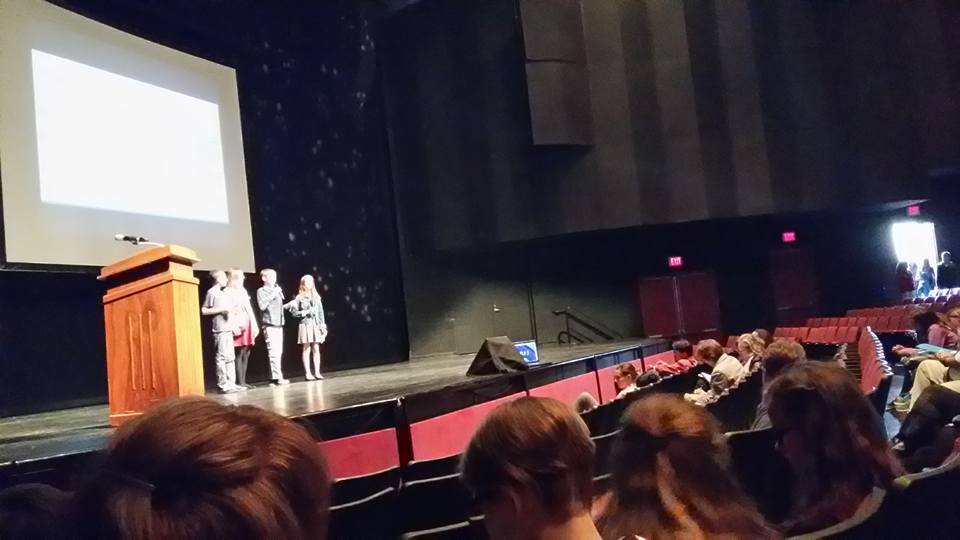 Students who attend SEAS get to practice public speaking, learn from professionals, and learn from other students. The free event brings together a host of real-world skills.
And the volunteer organizers work hard to ensure that it's also full of fun. This year's special guests included Weeble, a Sun Conure whose handler Tricia was the SEAS special guest Tweeter, posting updates from the exhibit hall area.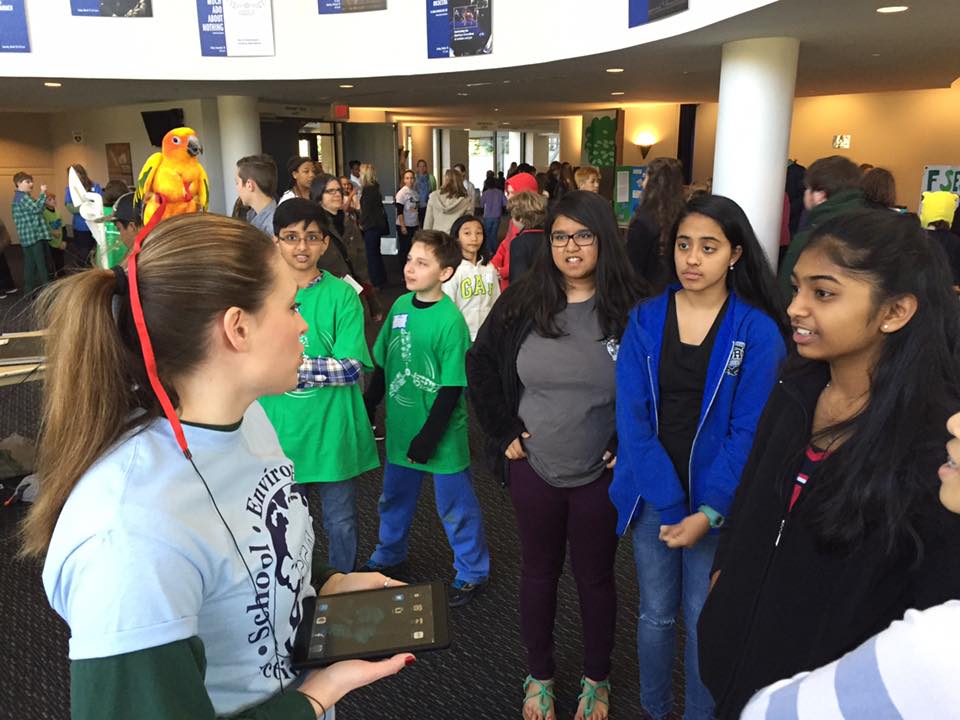 And Ranger Rick was there, too!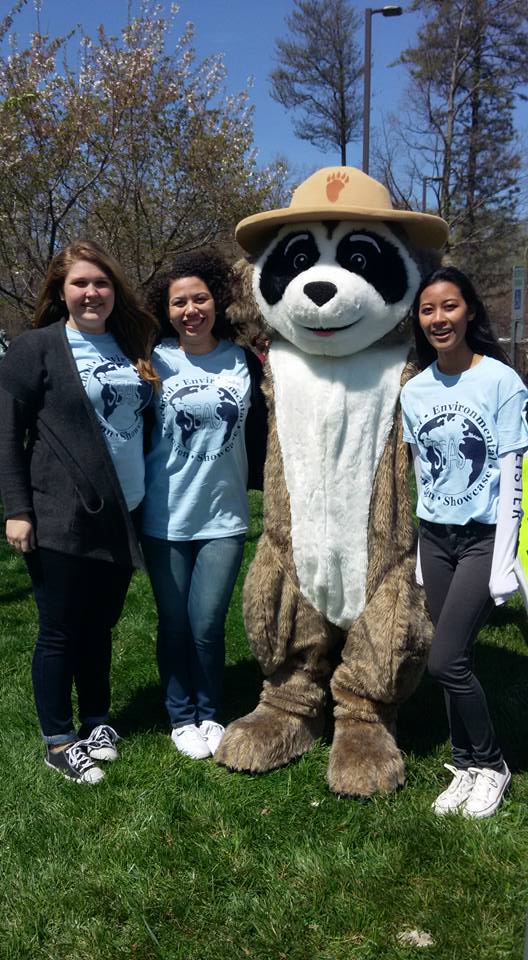 Fairfax's Lanier Middle School teams took first place in the Caring for Our Watersheds competition with a plan to plant native grasses. According to an FCPS press release, the Lanier team "plans to grow submerged aquatic vegetation in their science lab throughout the winter, then take a field trip to the Chesapeake Bay to plant the grasses in the spring. Second place in Caring for Our Watersheds went to Dogwood Elementary with "a look at how nutrient pollution and algal blooms affect the health of the local watershed."
The full results and awards for the Caring for Our Watersheds competition are as follows:
1st place: Lanier MS: "Classes Plant Grasses" – $1,000
2nd place: Dogwood ES: "The Effect of Nutrient Pollution and Algal Blooms on Our Local Watershed" – $900
3rd place: Lanier MS: "Ban the Bottles Continued" – $800
4th place: George Washington MS: "Pesticides AVA" – $700
5th place: George Washington MS: "Going Green 2K16" – $600
6th place: Lanier MS: "Journey to a Jolly Watershed" – $500
7th place: Lanier MS: "Ban the Bag!" – $450
8th place: Lanier MS: "Green Roofs for VA; Development the Green Way" – $400
9th place: George Washington MS: "Nitrate and Phosphate Levels in the Potomac River" – $350
10th place: Meridian Homeschool Club: "What Can We Do?" – $300
The following are the results of the KidWind Challenge:
High School Division
1st Place – The Learning Barn, Off the Grid
2nd Place – The Learning Barn, Green Lightning
3rd Place – Albemarle High School, Powered by Bacon
Judge's Award – The Learning Barn, Green Lightning
Blades Award – Albemarle High School, Powered by Bacon
Middle School Division
1st Place – Lanier Middle School, SPINNERS
2nd Place – Jack Jouett Middle School, High Voltage
3rd Place – Crossfield Elementary School, Team Zephyrus
Division 1 Judge's Award – Crossfield Elementary School, Team Zephyrus
Division 1 Blades Award – Navy Elementary School, Mustacios
Division 1 Young Innovators Award – Navy Elementary School, S.I.G.H. Girls
Division 2 Judge's Award – Jack Jouett Middle School, High Voltage
Division 2 Blades Award – Lanier Middle School, SPINNERS
This year also included "SEAS Video Visions," a short film festival celebrating students' visions of a greener future.  Students from Fairfax's Belvedere Elementary, Crossfield Elementary, Dranesville Elementary, Lanier Middle, Providence Elementary, and Carson Middle schools entered the festival.
The Fairfax County Federation of Teachers Dynamic Young Visionary Award was another opportunity for recognition. Arlington's Patrick Henry Elementary won this award for its mapping project of the Columbia Pike community in which the school sits. The school's
Exemplary Project
is service learning, and the 3rd grade mapping project was overseen by 3rd grade teacher Nathan Erwin who led the students in an analysis of their surroundings. The students in Mr. Erwin's class have connected in meaningful ways with their broader community and have engaged with the broader
Columbia Pike Documentary Project
.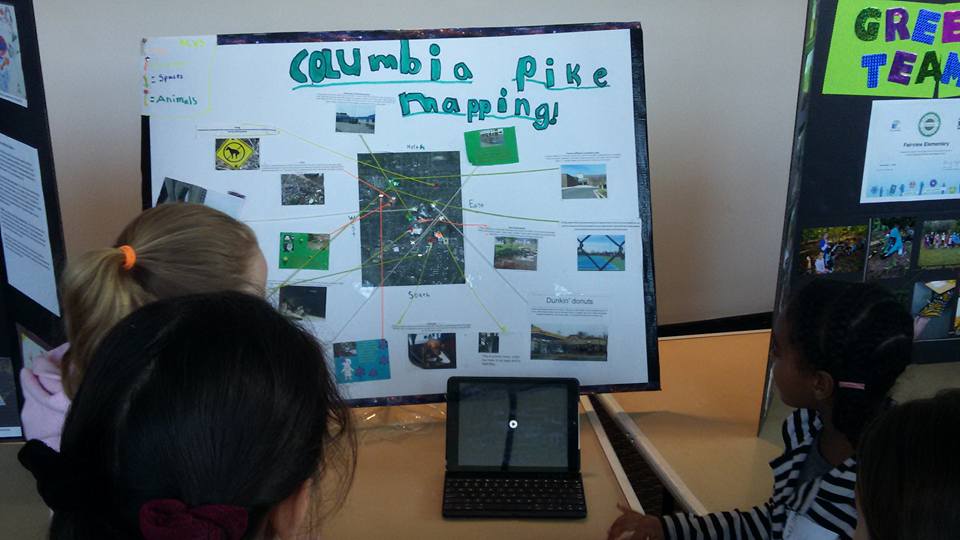 NoVA Outside
, an alliance of environmental educators, is a non-profit organization that welcomes community support and engagement. Leadership Team member Kurt Moser said of the fifth annual event:
 "One thing that really struck me this year was seeing students who have attended before participating in new ways. Some of the high school students were previous Caring for Our Watersheds finalists, and some of the KidWind and Caring for Our Watersheds participants had been one or the other, or both, previously. It's really part of the intent behind SEAS: to have youth honing their environmental STEM skills, becoming better presenters, and inspiring other students, younger or older, to do the same. For NoVA Outside, SEAS is a vital collaboration, and we have such wonderful involvement from Mason staff and students. Over the last five years, the event has evolved a lot, and all of us have grown in our capability as partners."
Jessica Claire Haney is the founder, publisher and editor of Mindful Healthy Life. She is a writer and editor and the founder of the Arlington/Alexandria chapter of Holistic Moms Network. Her personal blog is Crunchy-Chewy Mama and her writer's site is JessicaClaireHaney.com. See the Team Mindful Healthy Life page and Jessica's Mindful Healthy Life Q&A for more on Jessica.