Natural foods grocery store Earth Fare opened its second Virginia location today in Fairfax with an enthusiastic response. The store, the 45th in a chain that started in 1975 in Asheville, North Carolina, offers an organic juice bar and salad bar, hot bar, pizza and bakery, cheese shop and meat and seafood counter in addition to stocking a full array of produce, bulk items, dry goods and wellness items.
I was thrilled to be able to tour Earth Fare on its opening day and to speak with Spokesperson Laurie Aker about the store's history and philosophy.
All Earth Fare food is free of added hormones, antibiotics, artificial fats and trans-fats, high fructose corn syrup, artificial sweeteners, artificial preservatives, bleached or bromated flour and artificial colors or flavors. Earth Fare's Food Philosophy, displayed several places throughout the store, is detailed on the Earth Fare website. Click on each food icon to find out more about the specifics of that category.

Also check out the Boot List of ingredients Earth Fare won't allow on its shelves and its FAQ page for more information about the chain's guidelines and choices.
The new store is a 20,000-square foot facility located at the intersection of Lee Highway (Rt. 29) and Fairfax Boulevard (Rt. 50) in Kamp Washington.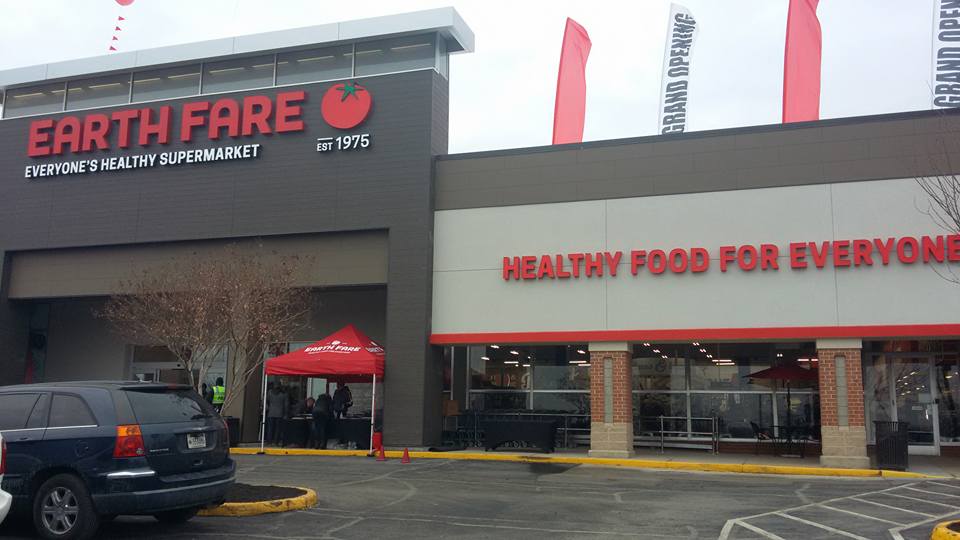 The store was abuzz with activity when I attended the morning of its Grand Opening. There were tons of friendly staff members offering assistance and several offering tastings of snacks, pizzas and other delights throughout the store.
If you go this week, you'll get a free bag and enjoy other specials activities like vendor demos. On Saturday, January 13, the store is holding a Wellness Fair that will have music and activities for kids plus giveaways.
The company prides itself on providing "Healthy Food for Everyone." Its "Live Longer with Earth Fare" tagline came about in response the finding that in 2015, life expectancy in the U.S. had started to decline for the first time in decades.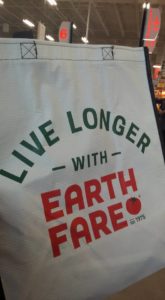 About 70% of the store's produce is organic. It is displayed above any conventional produce to protect it from being dripped on. All produce is sprayed with water that goes through a reverse osmosis filtration system, which is also used for the ingredients of the store's prepared foods.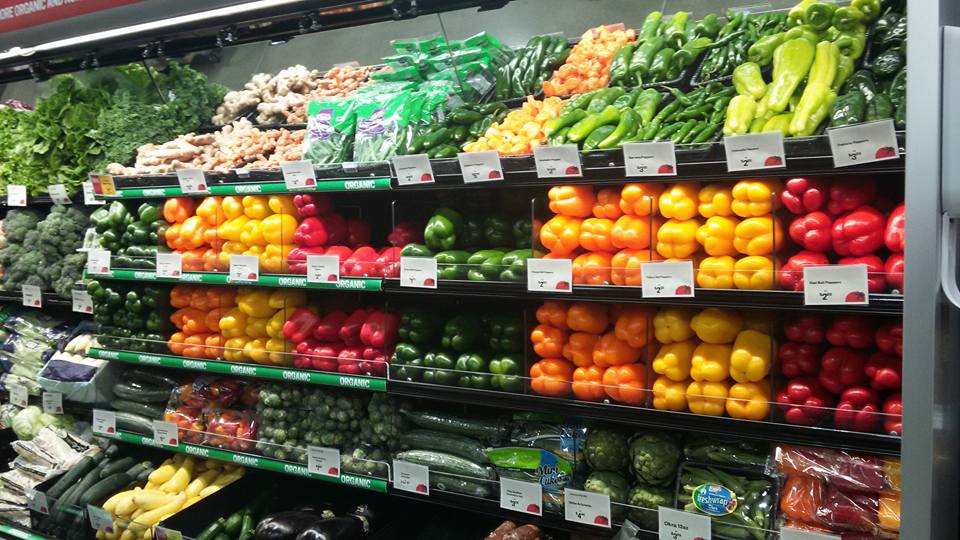 There are some 30 local vendors who supply produce to the Fairfax store. The store also features products by local companies like Moorenko's ice cream.
In the bulk section, Earth Fare has 175 options including grind-your-own peanut and almond butters and bulk honey, apple cider vinegar, extra virgin olive oil and balsamic vinegar, which are kept in warm containers to retain nutrients.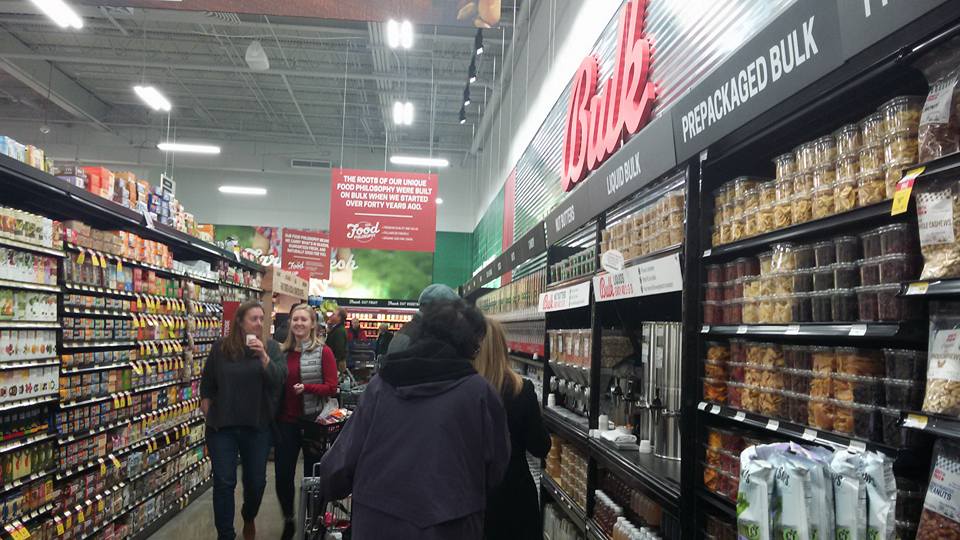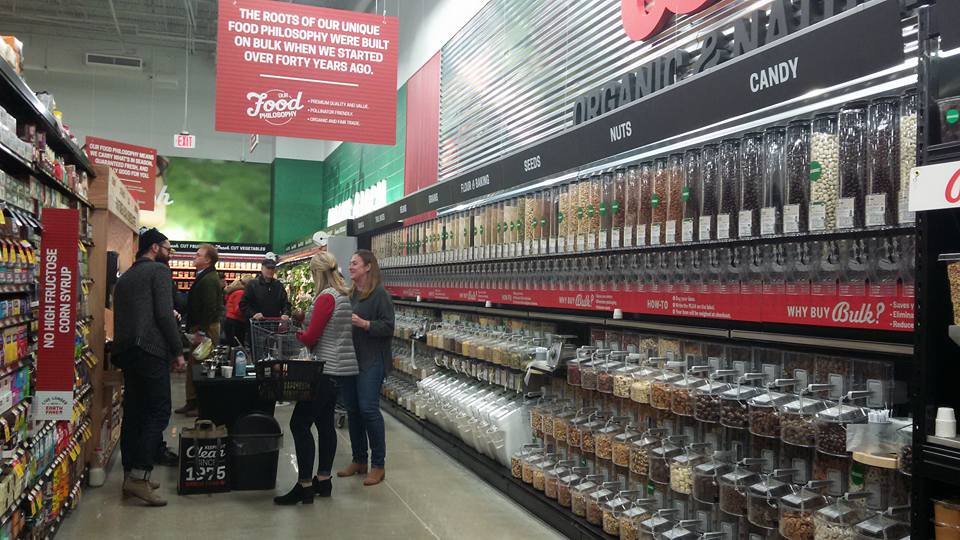 Earth Fare works in partnership with Counter Culture coffee, a North Carolina-based company with a commitment to sustainability that considers the social, environmental, and fiscal implications of all of its decisions.
Earth Fare offers a full array of meats including grassfed beef and over 100 varieties of seafood. The store works exclusively with Inland Seafood and has its own station on the cutting floor. Earth Fare carries wild seafood and also farm-raised food with a sustainable and responsible protocol. The company is part of a dayboat program, taking everything off a fishing boat so that workers are fairly compensated for their time and so that fish is packaged quickly without a long wait.
Earth Fare doesn't offer "tailpipe tuna" doused with carbon monoxide to preserve its color, and it also doesn't allow the use of sodium triphosphate, or STPP, a preservative used to produce the appearance of shine on seafood like scallops.
Earth Fare has its own private label of over 1000 foods currently on shelves and hundreds more in the pipeline. All Earth Fare brand products are GMO-free as are an additional 4000 products carried in the store.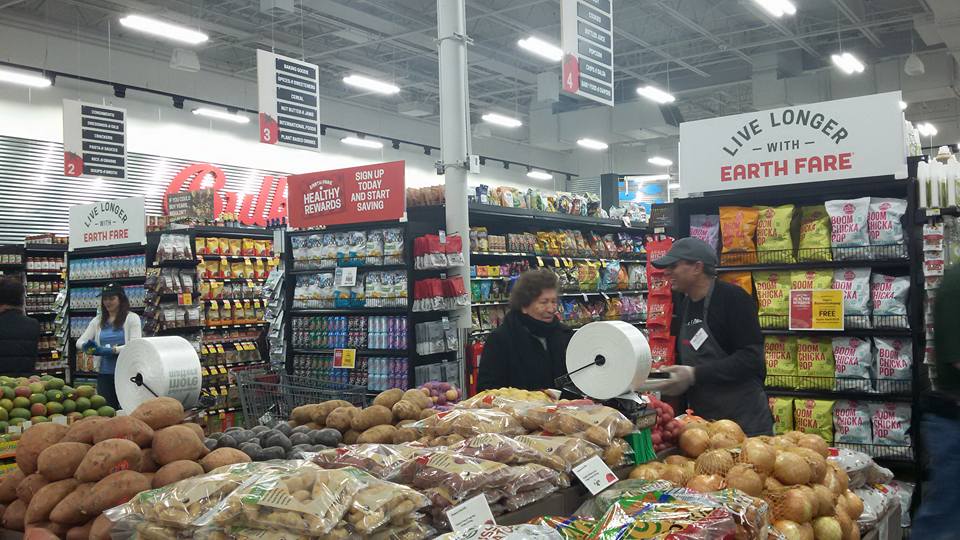 The store carries a wide array of speciality foods including dairy-free cheeses and milks and more than 1000 gluten-free products.
There is an open-air cheese shop where staff members can assist customers with pairings.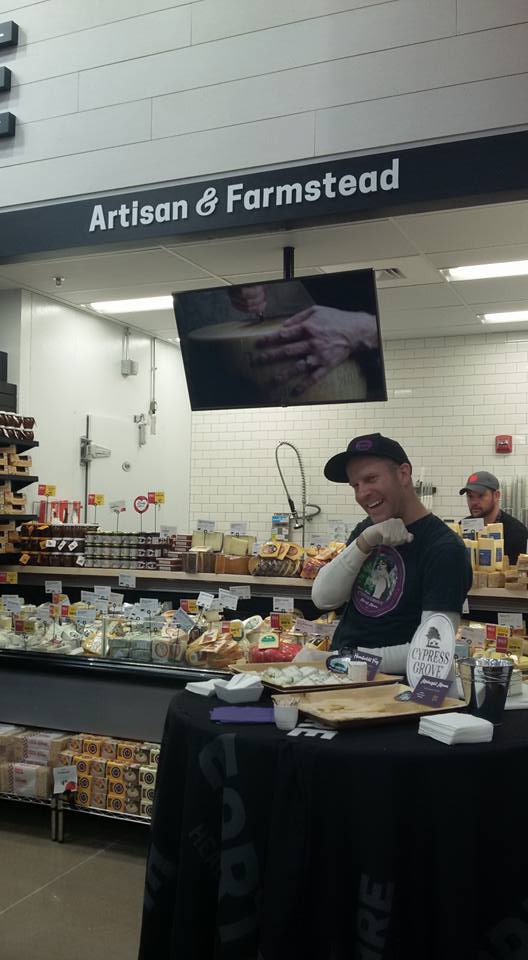 Divina supplies Earth Fare 's olive and antipasti bar.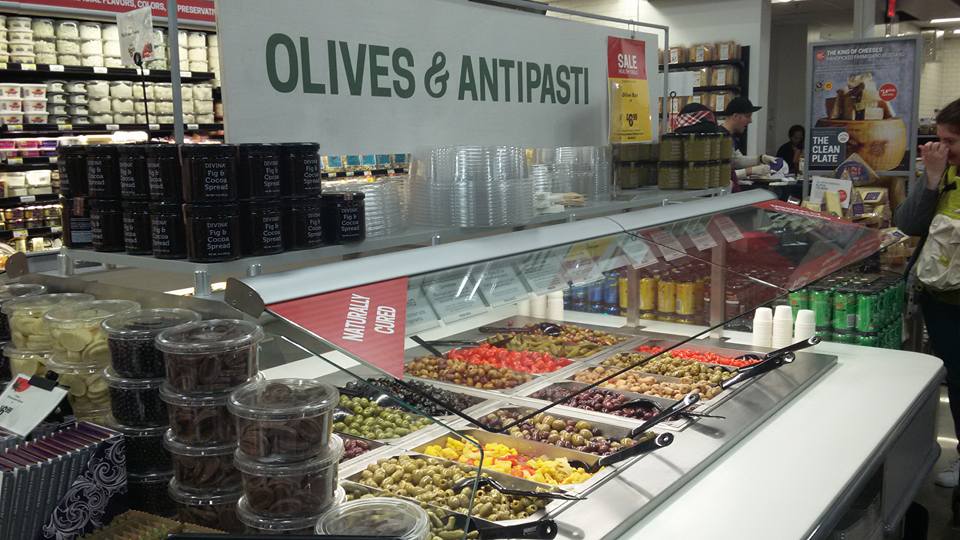 The "old world" style bakery at Earth Fare produces 6-8 varieties of bread including a 99-cent organic baguette offered daily. The kitchen does not have a gluten-free section but the bakery features almond-flour-based paleo goodies by local company Bakefully Yours.
Earth Fare wants to make healthy food accessible to all and offers special deals like $9.99 pasta night that feeds a family of four, $5 baked chickens available daily in four different flavors and a hot bar that aims to feed an individual for around $2.50 so that a family of four can eat for around $10.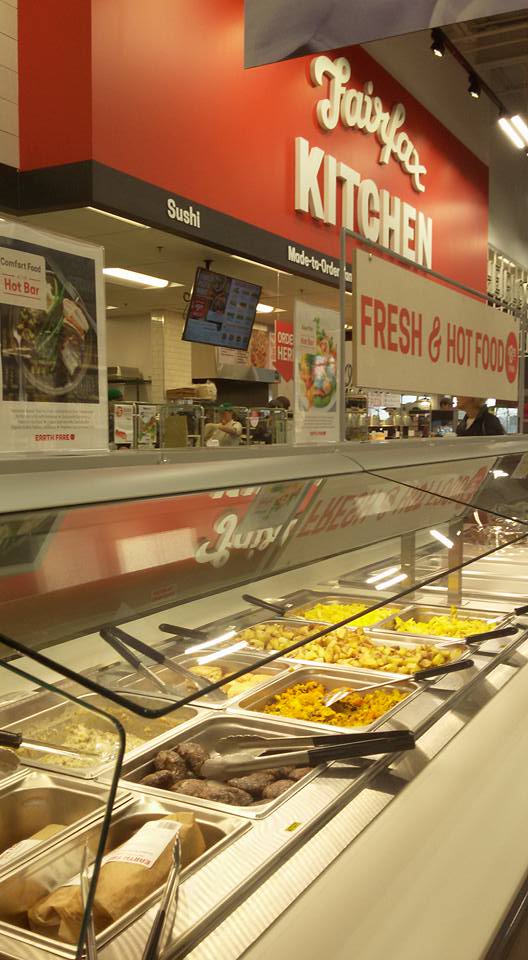 The prepared foods section sports clear labeling (including noting nitrate- and nitrite-free bacon in a vegetable dish!), and the pizza dough is organic and vegan. There are lots of Grab & Go items.
If raw is your thing, there is a beautiful organic salad bar
and the 100% organic Heirloom Juice Bar that offers juices and smoothies to order as well as cold-pressed prepared juices. Weekdays from 2 to 5 p.m. are happy hour with $1 off juices and smoothies.
There's plenty of seating at the front of the store to enjoy a juice, a snack, or a meal.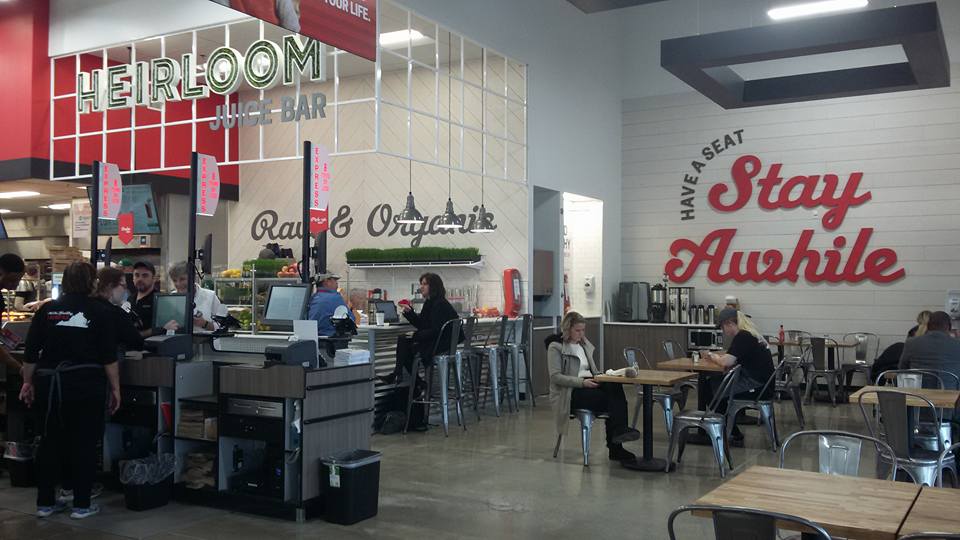 I received a $25 gift card for myself in addition to the one I'm giving away, and you can bet I used some of it on a juice! I love that that cucumber is considered a regular base for a build-your-own juice. I added beet, lemon, spinach, parsley and ginger. Yum! Bonus that the cart had a spot for it so I could shop two-handed!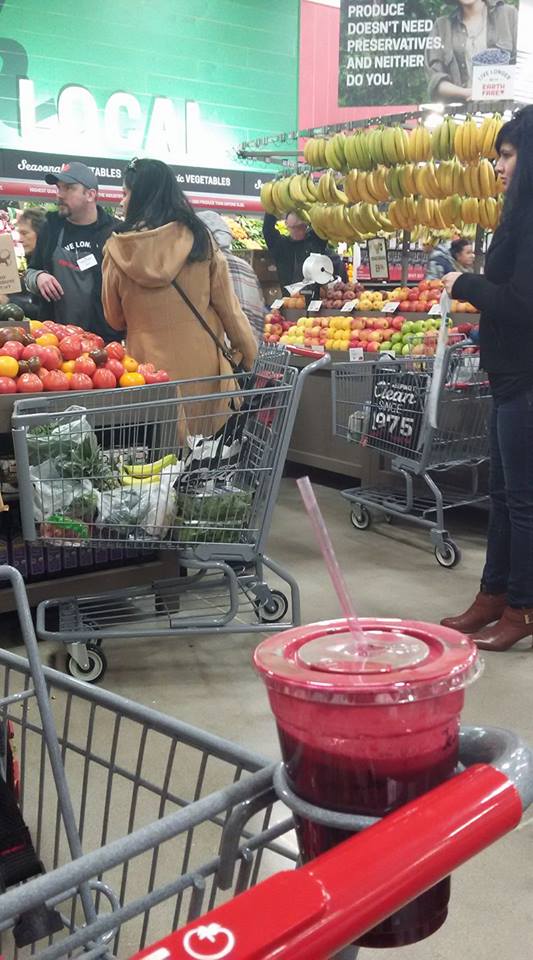 Watch my Facebook Live video tour of the store and also check out the Facebook Live video from Andrea of Northern Virginia Housewives  with Laurie explaining some of the information I've shared above.
Enter below to win a $25 gift card for Earth Fare!
All images – except Earth Care's Food Philosophy graphic and Grand Opening Week Event graphic – copyright Jessica Claire Haney for Mindful Healthy Life.
Disclosure: I received a $25 gift card to use and a $25 gift card to offer as a giveaway with no expectation of a blog post. All opinions are my own.

Jessica Claire Haney is the founder, publisher and editor of Mindful Healthy Life and the author of its Guide to Holistic Family Living in Metro DC. Jessica volunteers on issues related to wellness in public schools and was the founder of the Arlington/Alexandria Chapter of Holistic Moms Network. A writer working on her first novel, Jessica offers writing, editing, and consulting services.  Learn more at JessicaClaireHaney.com and in Jessica's Mindful Healthy Life Q&A. Follow Jessica on Facebook at MindfulHealthyLife, on @Twitter @MindfulHealthy and on Instagram at @mindfulhealthy. Jessica's personal blog is Crunchy-Chewy Mama, on Facebook at CrunchyChewyMama and on Twitter @CrunchyChewy.