On Tuesday, April 25, NoVA Outside will put on its 6th annual School Environmental Action Showcase, or SEAS, at George Mason University. The day for students K-12 is an immersion in STEM, an opportunity for public speaking, an education about environmental stewardship and a career fair all rolled into one.
Schools have already registered their eco-teams for SEAS, but individual parents may still come on their own to check out the event for a possible future trip with students, or they may bring their own child.
Last year's event hosted over 500 student participants from 40 schools.  At SEAS, students get to share with others what kind of eco activities are going on at their school and to participate in hands-on activities and meet professionals who work in fields related to conservation and sustainability.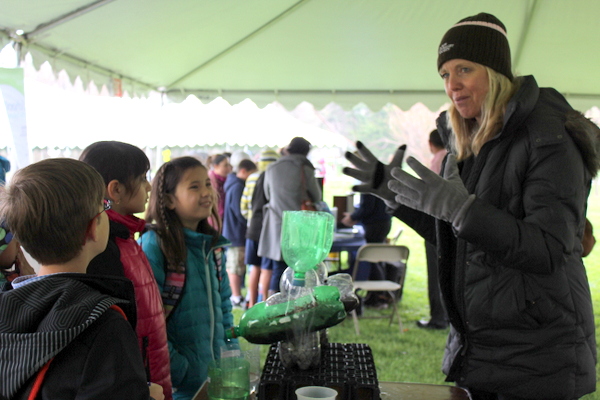 Those who are not participating in the Caring for Our Watersheds competition can observe the presentations in which students propose a solution to a problem that affects water quality. They defend their proposal to a team of judges who ask thoughtful questions. At the end of the day, winning schools get awarded funds to carry out their project.
New this year to SEAS is a recycled musical instrument festival.
The registration table opens at 8:45 a.m. on Tuesday, April 25. School eco-teams start the day by setting up their displays. The opening ceremony begins at 10:00. From 10:30-1:30, school groups go to activities based on the designated times on their tickets.  Eco-Partners run activities 10:30-11:45 a.m. and 12:15-1:30 p.m. with a break for lunch in between.
During non-scheduled times, school groups explore the general Showcase area, watch Caring for Our Watersheds presentations, and eat lunch.
Awards will be given out starting at 1:40, and the event will end by 2:30.
For complete details on the event, visit the NoVA Outside site. The specific page about SEAS can be found – and shared! – at bit.ly/NoVAOutsideSEAS2017.
Here is some of what NoVA Outside has to say about the 2017 event:
"The teams from across the region celebrate the "Green or Eco" work they are doing at their school and in their communities.  The student teams apply STEM (Science, Technology, Engineering and Math) concepts to real, authentic, environmental problems they identify.   They develop action plans to solve the problems and go to work—reducing waste, conserving energy, providing habitat for animal species, creating sustainable food programs, cleaning watersheds, etc.
Besides showcasing student work, the regional Caring for Our Watersheds competition, hosted by Earth Force, is an important part of the event, and this year we are also partnering with the Thinkabit Lab at Virginia Tech, affording students an opportunity to tackle environmental problems using programming and sensors. We will again have an eco-art event – this year we ask students to create musical instruments and play them at the event.  All of this allows students, teachers and administrators to network, build knowledge and gain ideas to further their school's efforts in environmental stewardship.  Participation in an event like this and the work that leads up to it is instrumental in helping students build 21st Century life skills (collaboration, critical thinking, communication, etc.) and service to the community."
To get a sense of what SEAS looks and feels like, check out my coverage of previous events from 2016, and 2015, 2014, 2013 and 2012.
After I had participated as a volunteer and documentarian the first four years of SEAS, I was happy that my son was able to attend last year as part of his school's eco-team. He continues to cite it as one of the most enjoyable and influential school experiences he's had.
For parents who want their children to see how and why sustainability matters and to appreciate the many roles we can all play in caring for our environment, SEAS is an opportunity not to be missed.
NoVA Outside is an alliance of environmental educators. Learn more at novaoutside.org and follow NoVA Outside on Facebook.

Jessica Claire Haney is the founder, publisher and editor of Mindful Healthy Life and was the founder and a longtime leader of the Arlington/Alexandria Chapter of Holistic Moms Network. Jessica is a writer and editor who is working on her first novel. Find information about her writing and about the editing and business consulting services she offers at JessicaClaireHaney.com. She also volunteers on issues related to wellness in public schools. Jessica's personal blog is Crunchy-Chewy Mama, on Facebook at facebook.com/CrunchyChewyMama. For more information, see Jessica's Mindful Healthy Life Q&A.