Maine-based Dancing Jaguar Inspirations is taking its Spirit Camp on the road to several different cities across the country this summer, stopping in Arlington for one week in July. This unique offering provides children ages 5-10 the opportunity to tune into their inner worlds and "connect to their spirit, that wonderful essence that makes each child a unique, beautiful individual."
The curriculum includes mindfulness, yoga, the Law of Attraction, an attitude of gratitude, working with chakras, auras, affirmations, shamanic journeying, power animals, and many other topics. Each module is introduced using crafts, games, songs, and stories. The children have a fun-filled week while learning important self-nurturing techniques that will set them up for success as the grow.
I asked founder Eva Goulette to tell us more about the
Spirit Camp program
she developed and will bring to the DC area July 10-14, 2017.
Jessica of Mindful Healthy Life: First tell us a little bit about what led you to start leading Spirit Camps. I know on your website you talk about the car accident and how healing from a traumatic brain injury led you to study shamanic healing and to work with children. Give us a little history of the development of the weeklong Spirit Camp program.
Eva of Dancing Jaguar Inspirations: I chose my shamanic teacher based on her special connection to working with children. During my intake interview for her shamanic practitioner training program, I shared with her that I was being drawn to work with children and that I chose her as my teacher because of her passion for working with children.
At some point during the training, she shared a story about Spirit Camp, a program she developed for children one summer. She explained that although she loved teaching Spirit Camp, spirit told her it wasn't going to belong to her. Once my training was well underway, she suggested I carry on with Spirit Camp because it seemed like I was the person who was supposed to carry it forward into the world. I took her initial idea, molded and sculpted it into my own, and continued to develop it to what it is today.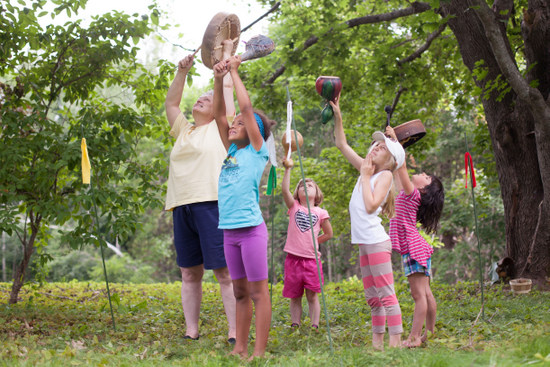 Jessica: Describe a day at Spirit Camp. What is the flow of activities?
Eva: We always begin the day in sacred space, drumming and rattling while calling in the spirits of the seven directions: north, south, east, west, above, below, and within.
We sit in sacred space for our morning check-in, then I share the theme for the day and begin our first lesson while we're still in circle. Each lesson has a story, craft, game, and/or song that supports the teaching. After learning about the subject matter in a story, we move to creating a craft that supports the teaching, then play a game that allows the children to have fun while they continue to anchor the teaching into their bodies.
Once a lesson module has been completed, we have free play or a snack. This basic formula repeats for each module throughout the day and week.
We end each day in sacred space, share our highs and lows for the day, then close our circle by thanking the spirits for being with us and by singing a song. The curriculum has been designed to be entertaining and engaging for children ages 5 to 10 years old.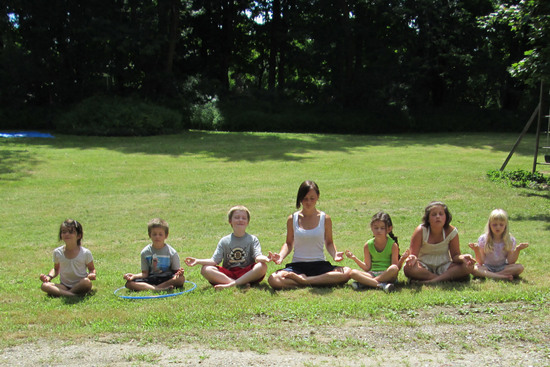 Jessica: What is your favorite part about camp? What do you think is the favorite part of many of the children?
Eva: My favorite part of the camp isn't part of the curriculum or a scheduled event or topic during the week. My favorite parts are the moments when a child makes a discovery about himself and how he operates in the world.
An example is one day when I was speaking with the children about energy, I explained auras, the field of energy that surrounds our bodies. I explained that one might see colors when one looks at a person. A child became very animate, interrupted me, and exclaimed, "There's a word for those colors I see?! This is so cool!"
That particular child had never talked about seeing those colors because it was normal for him. He also didn't know that not everyone can see them. At that moment, he became aware of one of his gifts. Children who are sensitive, intuitive, psychic, etc. discover they are not alone when they are with other Spirit Campers. They are creating their own web of support among peers. This has become very valuable for many Spirit Campers and their families. My favorite part of camp is watching the children discover and understand their gifts, then watch them as they feel safe enough to share those gifts with other children.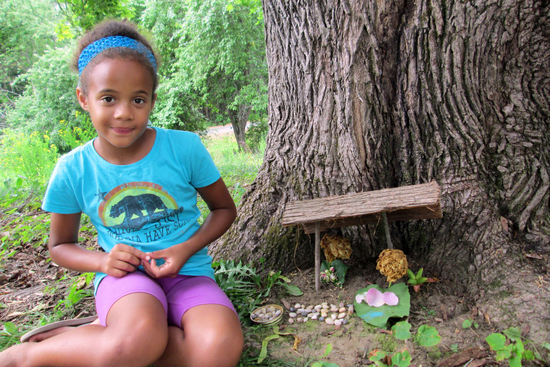 Many children express that their favorite part of the day is when we play one of the many games that have been created to help anchor the various teachings for a child. For instance, I have created a game called Chakra Challenge. It's very similar to Pin The Tail on the Donkey, but the chart on the wall has a picture of our "client" who has seven circles representing his chakras. The children take turns being blindfolded, then they have to take one of the colored circles that represents a chakra and place it on the appropriate chakra on the chart. As they are doing that, the rest of us sing a song about the chakras, so everyone is involved during the game, not just the child placing the chakra on the chart. At the end of the game, the "client's" chakras are scattered all over the place and he is in need of having his chakras "aligned". The children work together to align their client's chakras. They love this game and often ask to play it a couple of times.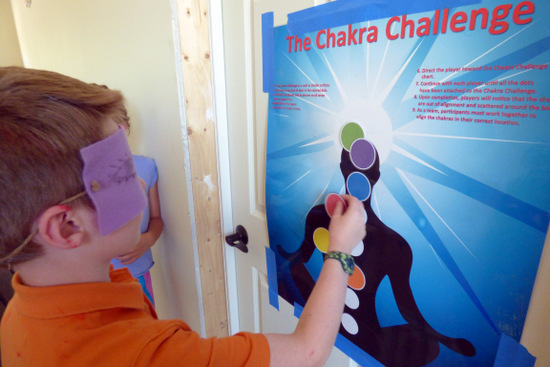 Jessica: Are there any special themes for each day or projects that build on one another?
Eva: Yes, each day has a different theme. Our first day is spent creating everything the children need to support themselves and their work for the rest of the week, which includes making a Spirit Tool Box, a Sacred Pouch, and a rattle. The next four days focus on Chakras, Nature, Power Animals, and Self-Nurturing techniques.
Jessica: Tell us about the size of the camp. I know your camp minimum is 20 children to bring the program to Arlington. How many children can the camp accommodate? Do you break children into small groups? What will be the ratio of adults to children? Will you bring your own staff with you?
Eva: The camp can accommodate 40 children. The ratio of adults to children is usually five or six children to one adult. I am bringing some of my staff with me from Maine. I also have a Counselor-In-Training program for older teens that will be running simultaneously in Arlington. Those teens will also be available to assist with the younger children.
Jessica: What if parents or older siblings want to experience some of Spirit Camp, too?
Eva: I have an open door policy for parents and older siblings. If they would like to stay and watch the camp, they are welcome as long as the Spirit Camper is okay with it. It is always nice for other family members to understand the curriculum the Spirit Camper is learning so they may help to reinforce the teachings at home.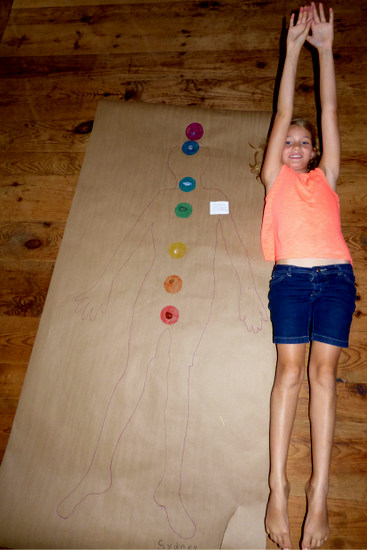 Jessica: Are you able to accommodate children with special needs?
Eva: I deal with each child on a case by case basis.  Throughout the registration process, parents are asked to fill out complete medical information, including allergies and any diagnosis their child has.  I work with parents to ensure that each child has what they need to have a successful week.  Every child is unique.
I think the most important piece of information a parent can have is to know I will work with them to understand what their child's needs are and do my best to accommodate them.
I schedule our modules so the children are able to have physical activity for 10 minutes out of every hour. This provides some much-needed relief for children with ADHD and allows me to have the children's undivided attention for the rest of the hour.
The facility, the Unitarian Universalist Church of Arlington, is ADA compliant, and we welcome all children into Spirit Camp. The camp has a ratio of six children to one adult, so we are not able to provide one-on-one assistance for a child. If the child requires extra one-on-one assistance, we ask that an older sibling or adult accompany the child at camp to accommodate those needs.
Jessica: What else would you like parents and prospective attendees to know about the program?
Eva: This empowering program has been known to change family dynamics in a profound way. Children learn how to regulate their moods and develop the necessary tools to become responsible for meeting their own needs. Prior to Spirit Camp, if a child is in a bad mood, he might be in that bad mood, spinning his wheels, and creating a disruptive environment for those around him.
After Spirit Camp, when this same child is in a bad mood, he has the tools necessary to regulate his emotions and shift them back into a more peaceful, happier place. Some of the benefits Spirit Campers and their families have shared with me have been smoother bedtimes and better ability to deal with death, dying and illness, as well as having effective tools for dealing with anxieties, worries and fears.
Jessica: Do you think you'll take camp on the road again in 2018 and would you consider coming back to the DC area?
Eva: This is the first year I've taken Spirit Camp on the road outside of my home state of Maine. Based on the positive responses I've received in other states, I believe Spirit Camp is on the verge of a large expansion and will be visiting even more states next summer. I would love to return to the DC area next summer.
Jessica: How can people reach you for further inquiries and register for the camp?
Eva: I can be reached via email at eva@dancingjaguarinspirations.com. My company's name is Dancing Jaguar Inspirations and it can be found at www.dancingjaguarinspirations.com. The registration link for Spirit Camp is https://campscui.active.com/orgs/DancingJaguarInspirations.
The camp runs July 10-14, 2017, 10 a.m. to 4 p.m. with before and after care available for an additional fee. The cost is $325 or $300 using the discount code "MHL."
Early bird pricing ended on March 31, but Eva is extending Mindful Healthy Life readers the same discount of $25 as long as you register by May 15.

This is a sponsored post.

Jessica Claire Haney is the founder, publisher and editor of Mindful Healthy Life and was the founder and a longtime leader of the Arlington/Alexandria Chapter of Holistic Moms Network. Jessica is a writer and editor who is working on her first novel. Find information about her writing and about the editing and business consulting services she offers at JessicaClaireHaney.com. She also volunteers on issues related to wellness in public schools. Jessica's personal blog is Crunchy-Chewy Mama, on Facebook at facebook.com/CrunchyChewyMama. For more information, see Jessica's Mindful Healthy Life Q&A.