Did you set intentions for the new year? Get inspiration to keep your momentum going and to look deeper within! This giveaway features two books by mothers who share profound insight on leading lives of presence.
Both of these writers – Katrina Kenison and Karen Maezen Miller – have so much wisdom to share. I've had the chance in the past few years to see both of the authors speak and lead yoga and meditation practices at lil omm, a yoga studio that offered family yoga and terrific workshops and discussion series.
See our interview with lil omm founder Pleasance Silicki, who now offers retreats and coaching and classes at different locations.
Ten or more years ago, I was given a copy of Katrina's Mitten Strings for God: Reflections for Mothers in a Hurry
by another mom, a babysitter-turned friend who also was a parent at Potomac Crescent Waldorf School. Mitten Strings gave me insight and inspiration toward intentional parenting. It's a favorite, a book I've given as a gift to several friends.
This post includes affiliate links. I may receive commissions from purchases made from this post. Click here for more information.
I loved Katrina's next book, The Gift of an Ordinary Day: A Mother's Memoir
. I appreciated her reflections and insights on parenting children growing into adults and on other life transitions.
Katrina's next book, Magical Journey: An Apprenticeship in Contentment
 – which is included in this giveaway – continues the personal exploration themes but goes deeper into harder topics, including grief and aging. Having watched both children leave for college, Katrina asks what's next. Answers include yoga teacher training, a writing group and more.
This 2013 book was followed in 2016 by Moments of Seeing, a collection of essays from Katrina's blog. I just ordered a copy!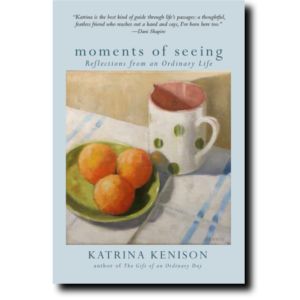 The other author featured in this givaway is Karen Maezen Miller, a Zen Buddhist priest. I was introduced to her Momma Zen: Walking the Crooked Path of Motherhood by a friend from the playgroup I attended every week when our first children – now almost 12 years old! were small
.
I gobbled up Hand Wash Cold: Care Instructions for an Ordinary Life
 shortly after it came out and was glad to have the chance to meet the author, who is called Maezen by her students.
I saw her when she came to lil omm when my second child was a baby and then again in June of 2014 when she returned to lil omm after the release of the next book in this giveaway: Paradise in Plain Sight: Lessons from a Zen Garden
.
This book shares the story of moving to a home with a hundred-year-old Japanese garden and what the process teaches the author about presence and acceptance, among other important lessons.
Both Magical Journey and Paradise in Plain Sight offer insights that invite the reader to reconsider her perspective and to turn to the now rather than the past or the maybe-future.
I hope these books – both signed by the authors – find a home that is ready for the gifts of wisdom they impart.
Along with these paper gems, I am also including in this giveaway a roller bottle of Forgive Touch oil that can support the process of letting go of regret, resentment and anger. Forgive has a clean, woody scent that can counteract negative emotions and assist in being able to forgive and let go. It's one of my new favorites from doTERRA!
It's been some years since I first read these books and am looking forward to re-reading them in 2018. I could stand some wisdom, especially on parenting a child who is leaving childhood behind.
From my pillow to yours!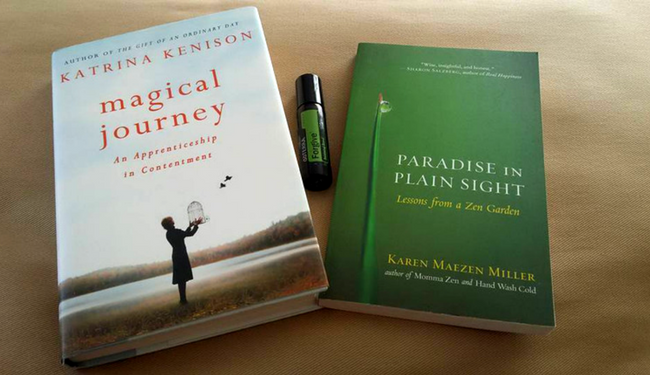 This giveaway runs through Friday, February 2 at 12 noon. Thanks for entering and sharing!
For more about my personal experience with these books, see this companion piece on my personal blog, Crunchy-Chewy Mama.
This post includes affiliate links. I may receive commissions from purchases made from this post. Click here for more information.

Jessica Claire Haney is the founder, publisher and editor of Mindful Healthy Life and the author of its Guide to Holistic Family Living in Metro DC. Jessica volunteers on issues related to wellness in public schools and was the founder of the Arlington/Alexandria Chapter of Holistic Moms Network. A writer working on her first novel, Jessica offers writing, editing, and consulting services.  Learn more at JessicaClaireHaney.com and in Jessica's Mindful Healthy Life Q&A. Follow Jessica on Facebook at MindfulHealthyLife, on @Twitter @MindfulHealthy and on Instagram at @mindfulhealthy. Jessica's personal blog is Crunchy-Chewy Mama, on Facebook at CrunchyChewyMama and on Twitter @CrunchyChewy.