Since the recent papal encyclical on climate change from Pope Francis, many people are thinking about climate action as a moral question. Next week, mothers, children, activists, and lawmakers will raise their collective voices toward their commitment to address climate change at Moms Clean Air Force's Play-In for Climate Action, on Tuesday morning, July 7 on Capitol Hill grounds.
Last year's inaugural Play-In was inspired by visionary mom Heather Clark, as described in this post. Back in 2014, over 200 moms, dads and kids gathered in Upper Senate Park to hear powerful speeches by lawmakers, scientists, and parents and then marched on the Capitol with banners signed by hundreds more from around the country.
This year's July 7 Play-In will return to Upper Senate Park and is open to all families and individuals who care about protecting the climate for our kids and moving rapidly toward a sustainable energy future. And at this 2nd annual event, there will be a really incredible menu of activities to keep the little ones engaged.
Julie Hantman is the DC Field Organizer for Moms Clean Air Force; Molly Rauch is the organization's Public Health Policy and Outreach Manager; and Lori O'Neill is the Play-In Coordinator. I asked this group of activist moms to fill us in about goals for this event and plans for the morning, which begins at 9:30 a.m.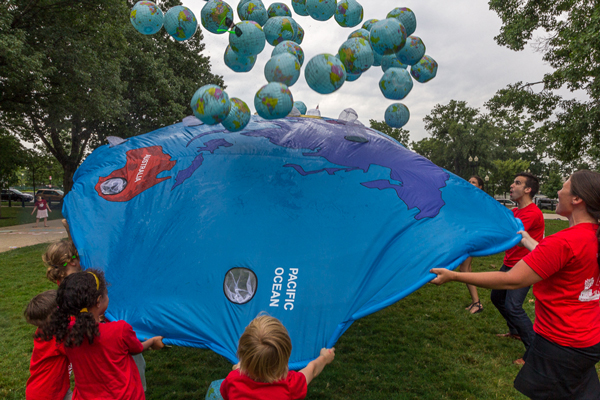 Mindful Healthy Life: What are the highlights of Moms Clean Air Force's year since the first Play-In?
Moms Clean Air Force: A top highlight is our organizational growth. We doubled our field outreach since last year's Play-In. We now have local chapters in 15 states plus the District of Columbia, and more than 500,000 members nationwide. Another top highlight is our unwavering on-the-ground support for America's Clean Power Plan. We testified at public hearings and we gathered crowds of moms in Denver, Pittsburgh and Washington, DC to show support for the Plan which will reduce carbon pollution from the nation's power plants. Power plants are the top source of the carbon pollution that drives climate change.
We also began calling for an updated smog standard, one which follows the science and protects little lungs from smog, a powerful asthma trigger. The current standard is too weak — so we helped organize more than 100,000 moms to call for a truly protective standard to protect our kids.
State by state, we fight daily in places like Ohio, Pennsylvania, Michigan, and Tennessee to stop regressive legislators from peeling back state and federal protections for clean air.
Jessica, you participated with us at the Virginia "Mama Summit" in Richmond earlier this year. We held Mama Summits in 15 state capitols this Spring. Mama Summits are collective visits to state lawmakers, to tell them just how much we care about clean air and a healthy climate. Legislators really listen when moms (and kids!) come around. It's a really effective way to show that moms are paying attention and want to see action.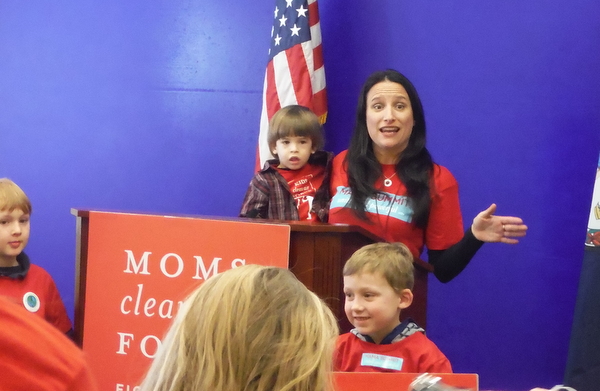 Q: What are the goals of Moms Clean Air Force for this year's event?
A: We want to show our lawmakers what's really on the line when they dither about climate change: Our kids. We'll do this in a positive way, by bringing families from across the country, and playing together. That's what kids do best.
In terms of policy issues, we want to demonstrate strong support from moms for America's Clean Power Plan, which we mentioned earlier.
We also want strong limits on methane emissions from natural gas development. Methane is a powerful greenhouse gas, and simple, cost-effective practices could really help curb emissions. Right now, there are no national standards for limiting methane from this industry.
Bottom line: we will show that moms demand a healthy climate and a clean energy future. There are already over 350 people registered for the event. We want our decision-makers to seize this opportunity for a safe and prosperous future for our kids.
This highly visible, fun rally will make a national "splash" to show moms and kids really, seriously care — in a year when the stakes for climate action couldn't be higher on national and global levels.
Q: What can parents expect of the "family activities"? What ages are the activities targeted for?
A: We can't believe our good fortune in attracting so many artists and organizations to provide high-quality and engaging activities between 9:30-11:00am.
Two activities will occur continuously: the littlest ones (0-3) will enjoy stories, songs and games with Natalie Cronin, founder of Tinker Tree Play Care in New York City. Tinker Tree's motto is "great, green play for all."  Plus, kids and adults will enjoy capoeira lessons with Capoeira Angola teacher Troy Thomas.
We'll also have yoga, hula hooping with Sirkus Dayz, parachute play, and sign-making with art supplies donated by SCRAP DC.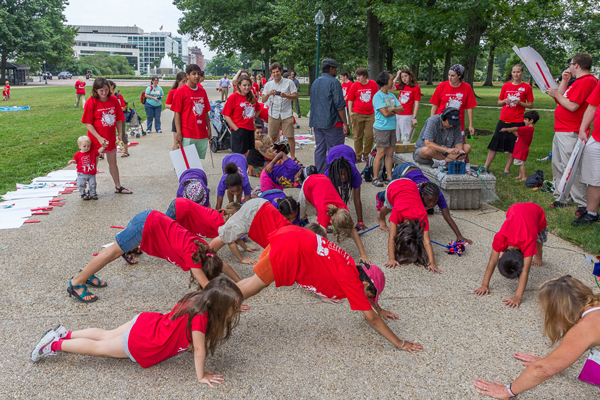 And we'll have three musical acts. These include TheFourSW, an award-winning teenage group that sings about climate change and its impacts. Songstress Ms. Cacie is a DC coffee-house regular whose range includes melodic originals and folksy hits catering to children. Then there's Baba Ras D and his "Harambee" program of drumming and singing. Harambee is Swahili for "all pull together."
Also, we'll hear an original spoken word poem by local hip hop artist Osa Obaseki, who leads the performance team at The Sanctuaries, a racially and religiously diverse arts community that partners with justice organizations to bring art and soul to social change.
All of these individuals are giving their time pro bono, for which we're very grateful.
Q: What will the speakers talk about? What can I tell my kids about them?
A: You're wondering about the speakers for our 11:00 press conference. Our speakers will be inspiring — and brief! They include the Reverend Gerald Durley, nurse-midwife Katie Huffling, CNN political contributor Maria Cardona, and Moms Clean Air Force's director Dominique Browning. Moms from across the country also will be sharing their stories about how climate change affects their families and communities.
Together they will give kids and adults a dose of much-needed optimism — and even joy, joy in standing together in a family-friendly community, standing up for what's right, for what our kids need.
Our speakers know that many kids will be present. They will be brief, and they won't bat an eye when little ones start to squirm.
Q: Where will we be marching, and will it be stroller-accessible?
A: The march begins at 11:30, after the press conference. We will march a few short blocks from Upper Senate Park, where the Play-In occurs, to the plaza behind the US Capitol dome. The route is on paved sidewalks. Strollers are welcome!  See this photo — and all the photos — on this post from the 2014 event.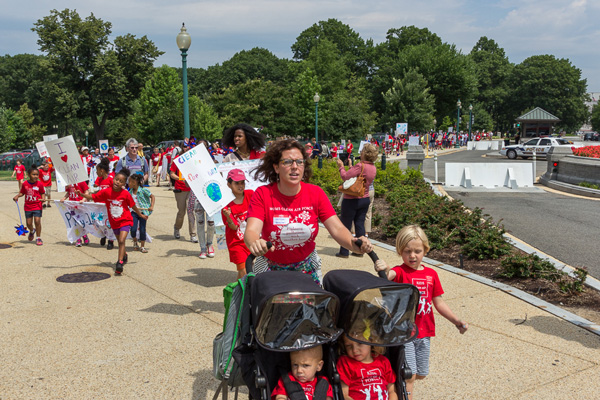 The march is a fun way to draw attention from passers-by and show off the kids' hand-decorated signs. That said, the march certainly is optional.
Q: Will there be snacks? What kind? Water? Shade?
A: Delicious, free snacks for participants will include organic bananas, organic apples, "Chia Squeeze" pouches, granola bars and more. We are grateful to MOM's Organic Market and Mamma Chia for kindly donating healthy snacks. We will provide abundant water. But given the likelihood of heat, we suggest that families bring their own water.
Upper Senate Park – the Play-In's location – offers partial shade. We highly recommend hats and sunscreen. (We have an alternative location in case of inclement weather.)
Q: Anything else we should know about, like t-shirts and other things we might need to tote home? What if it rains?
A: We will be providing t-shirts, water bottles, and informational resources about Moms Clean Air Force and about our event partners.
The event is "on" rain or shine.  We will use an indoor location in case of rain, extreme heat or poor air quality.
Q: Are there restrooms in Upper Senate Park? If not, where can we go nearby?
A: There are no restrooms right at the Park. An informational booklet provided at the event will direct you to nearby restrooms.
Q: Where is Upper Senate Park? If I drive there, where can I park? Any bus lines that come by? How long of a walk is it from the nearest Metro stations?
A: Upper Senate Park is between Union Station and the Senate Office buildings. The address is 200 New Jersey Avenue NW.
Street parking will be very difficult. Union Station has a public garage with hourly and daily rates. It is also a public transportation hub. We highly recommend using public transportation.
More transportation information may be posted on the Play-In registration page.
Q: If we can't come in person, how can we get involved?
A: Join Moms Clean Air Force!  It's free and simple. We welcome moms, dads, aunties, uncles and anyone who cares about kids, clean air and climate action.  Go to www.momscleanairforce.org, and click on the red "JOIN THE FORCE" button.
We coined the term "naptime activism!" Getting involved is quick and simple. Our online petitions let you engage with a click of the mouse. Our blog, member emails, online information and social media are informative, easy-to-read and mom-oriented.
Q: What social media accounts and hashtags should we use when posting about this event?  
A: For live Twitter coverage of the Play-In, follow @CleanAirMoms. When posting use hashtag #PlayIn4Climate. Or follow us on Facebook.
You can help promote the event beforehand, too. Here's a sample tweet: Play-In for #Climate Action! Bring the kids and join @CleanAirMoms in DC July 7: http://ow.ly/NzaBF.
On Facebook, share the Facebook event. Facebook posters could say: Join [tag] Moms Clean Air Force to Play-In for Climate Action at Upper Senate Park in Washington, DC! July 7, 2015 9:30 AM http://www.momscleanairforce.org/play-in-climate-action/ #PlayIn4Climate
Q: Do people really need to register, and why?
A: It is very helpful. Registering makes sure we've got a T-shirt and water bottle waiting for you! Plus, you'll get alerts about the inclement weather location, in case we have to move the event indoors. That said, last-minute attendees are welcome.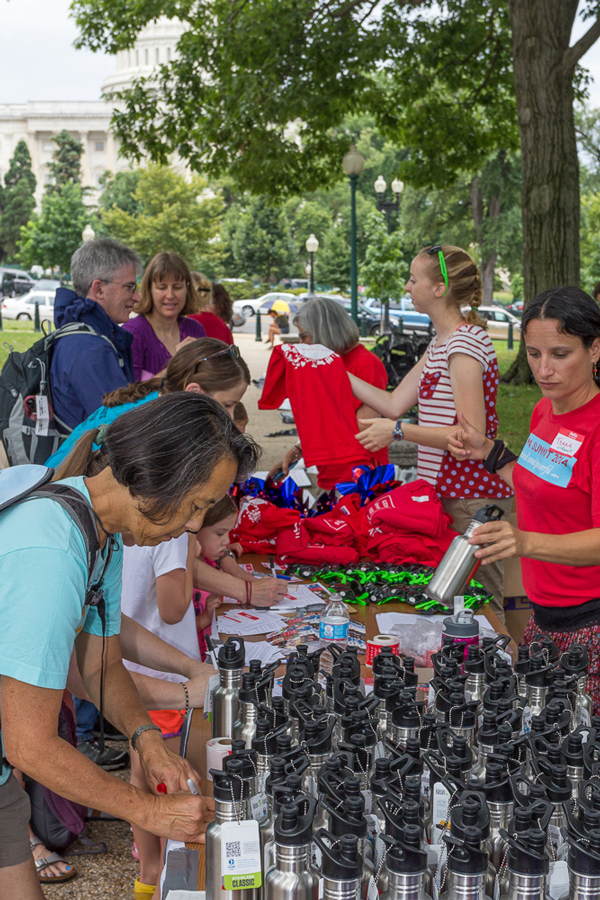 Q: Who are the other sponsors or partners of this event?
A: We are pleased to have eleven partners for this event:  Alliance for Climate Education; the Alliance of Nurses for Healthy Environments; Chesapeake Climate Action Network; ClimateMama; Climate Parents; Elders Climate Action; Interfaith Power & Light; Physicians for Social Responsibility; The Climate Mobilization; The Climate Reality Project, and Children's Environmental Health Network.
Q: If people have additional questions, whom can they contact?
A: Check the Play-In Registration page for more information. Or, contact Lori O'Neill, Play-In Coordinator, at loneill@momscleanairforce.org, or (703) 517-7978.
Registration at http://www.momscleanairforce.org/play-in-climate-action/
Check out this highlight reel of the July 9, 2014 play-in and read the Mindful Healthy Life recap.
Photos courtesy of Moms Clean Air Force
Note: Mindful Healthy Life is a media partner with Moms Clean Air Force.