The  World Children's Festival sponsored by the International Child Art Foundation wraps up its three-day array of free performances and activities on the Ellipse in front of the White House on Thursday, July 2 with a closing drumming session at 5:00 p.m. An Awards Banquet follows on Friday. The festival is a delight for those interested in connecting arts, peace and social justice.
I learned about the festival a few months ago when NoVA Outside listed it in its newsletter's upcoming events. I went in not knowing what to expect and left feeling like a whole new world was opened to me. The Festival website explains that this quadrennial event, was launched in 1999 as the "Olympics" of children's imagination and draws on a "peace through art" methodology. Anyone may attend the three days of activities, but official delegates are chosen through Arts Olympiad. The ICAF also puts on a two-week summer camp in DC inclusive of the festival.
The first day of the festival was Health & Environment Day, Wednesdays (pictured here) was Creativity & Imagination Day, and Thursday is Peace & Leadership Day. There was plenty of discussion of peace on Wednesday with the painting of Posts for Peace and Social Justice, a collaborative project of tHE ARTS on Purpose, Resiliency Arts, Arts Connecting Communities, One Billion Rising Atlanta and the Ben Marion Institute.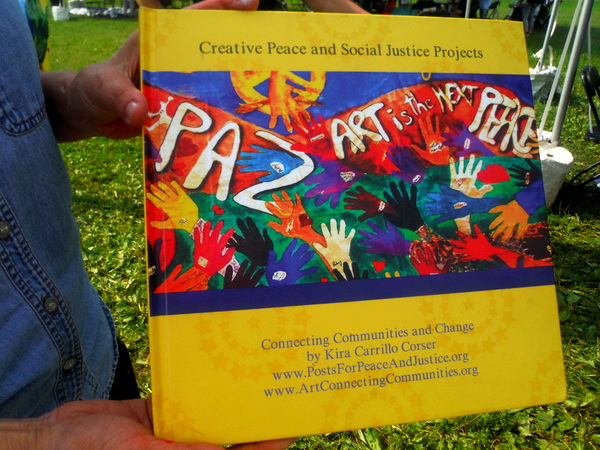 It was inspiring to talk with organizer Lisa Parsons about the work of California artist Kira Corser of Art is the New Peace and to then watch my children work alongside the two of them as well as Virginia artist Nancy Polend of Creating the New World, Inc. and other artists, parents and children using the arts to connect environmental, physical and mental health to social justice.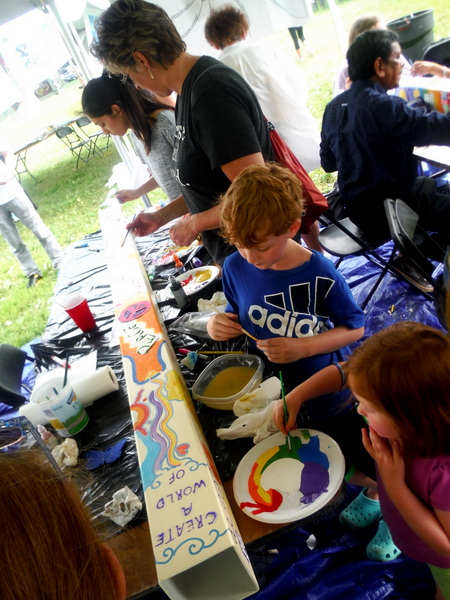 On Thursday, July 2, from 7 to 9 p.m., there will be a reception for the opening of a related art exhibit on display through July 7 at The Corner Store Art Center, 900 South Carolina Ave SE.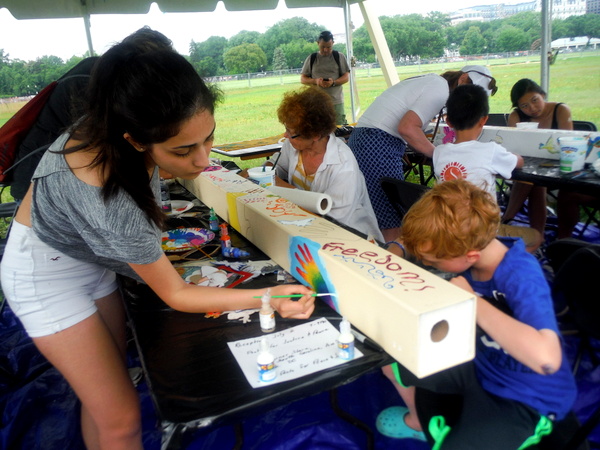 During the same two-hour block on Wednesday afternoon, Friends of the Occoquan had two rain barrels to decorate in a project called "Rain Barrels for Peace." Activity leader Sonia Monson, a project manager at the non-profit organization, suggested that children draw anything that felt peaceful in the water drops of the blue barrel and that they decorate the yellow barrel as a "garden of peace." My son had just completed a week at Peace Camp with Little Friends for Peace, so this festival was great reinforcement for him to expand on the ideas he'd been exploring. And, in advance of Tuesday's Play-In for Climate Action with Moms Clean Air Force, it's also nice to see him connecting peace to environmental issues and issues of social justice.
The festival, which is not far back from Constitution Avenue on the Ellipse, has a World Stage with regular performances that are 30-60 minutes long. There are five other stations that have different activities for two-hour time blocks. These are the Creativity Studio, Arts Classroom, Wellness Center, Earth Pow Wow, and Exporatoriation Pavilion. See the full schedule of activities for more on all the participants.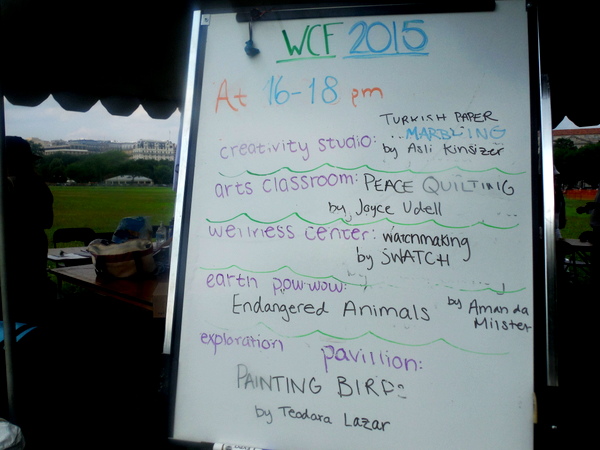 My children and I arrived just in time to try Turkish paper marbling. I had always loved the look of marbled paper but knew nothing about its history as a part of Turkish culture or how it was done (short description here, longer here). Gorgeous!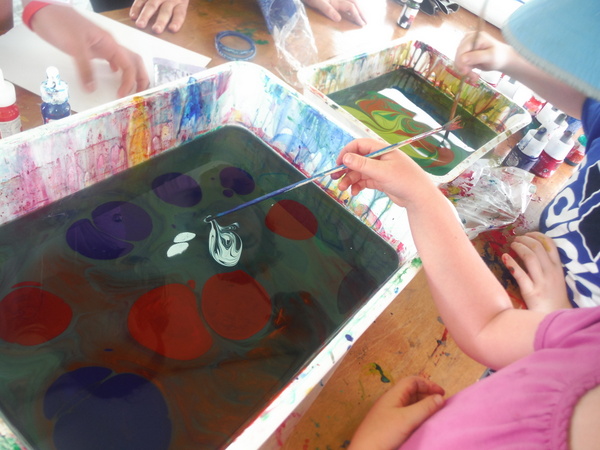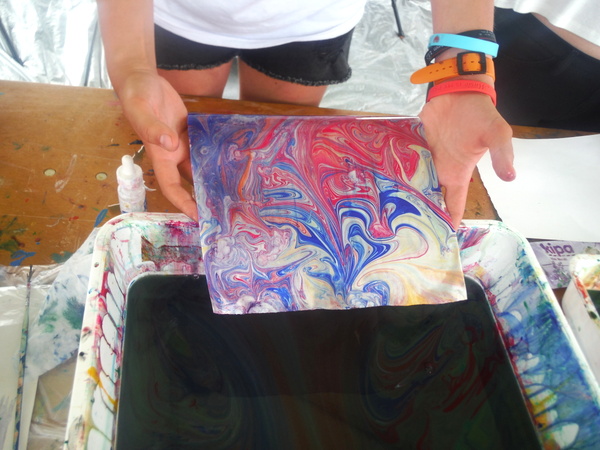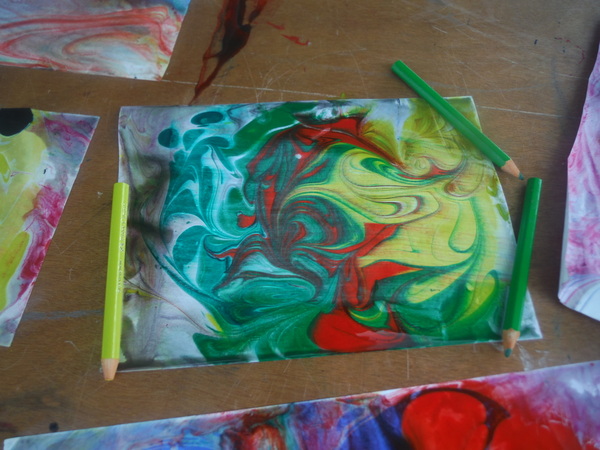 If you go:
All the activities are under tents, so sun should not be much of a problem during activities but possibly while watching performances on stage. The ground is wet in spots and may get worse if there are more storms Wednesday night.
Metro if you can to Federal Triangle, still something of a walk but more enjoyable than looking around for a parking spot. If you drive, there is free 3-hour parking along much of Constitution Avenue near the event, but only until 4 p.m. We found paid two-hour parking on Pennsylvania Avenue but had a good walk to get to the front of the Ellipse where the tents are.
Even if you are past diaper days, bring wipes. Those little artistic hands will get mighty colorful!
Refreshments are not available, so pack your own.
Label your artwork and take photos so you know what you're looking for when you go to retrieve it after it's dry …or so that you'll have a copy in case your child's masterpiece gets lost, which can always happen.
Thursday's activities end at 4:00 before the closing awards begin.