To celebrate the fourth anniversary of the site and Mother's Day, I'm giving away a doTERRA Yoga Collection kit!
This new Yoga Collection launched last fall, and the three oil blends have quickly become some of my favorites.
They are all rich and complex, like mothers!
All blends can be enjoyed on or off your yoga mat. I use them whenever I feel called.
I turn to
Arise when I need to approach a challenging situation with a sense of possibility rather than fear
Anchor when there are too many things swirling around and I need to steady myself
Align when I'm struggling with purpose and self-acceptance
For more than this brief snapshot, click on the link to each oil name for the full Product Information Page.
Arise Enlightening Blend
Floral, sweet and bright, Arise is a blend of Lemon Peel, Grapefruit Peel, Siberian Fir, Osmanthus Flower, and Melissa Leaf essential
oils.
Supporting a sense of courage and stability, this blend can help you awaken to and embrace challenges that might yield breakthroughs.
In your yoga practice, try Arise with balancing poses, such as Half Moon.
Anchor Steadying Blend
Woodsy, earthy and spicy, Anchor is a blend of Lavender, Cedarwood, Frankincense, Cinnamon Bark, Sandalwood, Black Pepper, and
Patchouli essential oils.
This blend supports a connection to innate wisdom and promotes feelings of calmness and completeness.
Try Anchor when doing seated meditation or seated twists.
Align Centering Blend
Fresh and herbal with a light floral quality, Align is a blend of Bergamot Fruit, Coriander Seed, Marjoram Leaf, Peppermint, Geranium, Basil, Rose, and Jasmine Flower essential oils.
Encouraging a sense of trust and openness, Align promotes self-acceptance and feelings of harmony and peace.
In your yoga practice, try Align with poses like Warrior II and Triangle pose.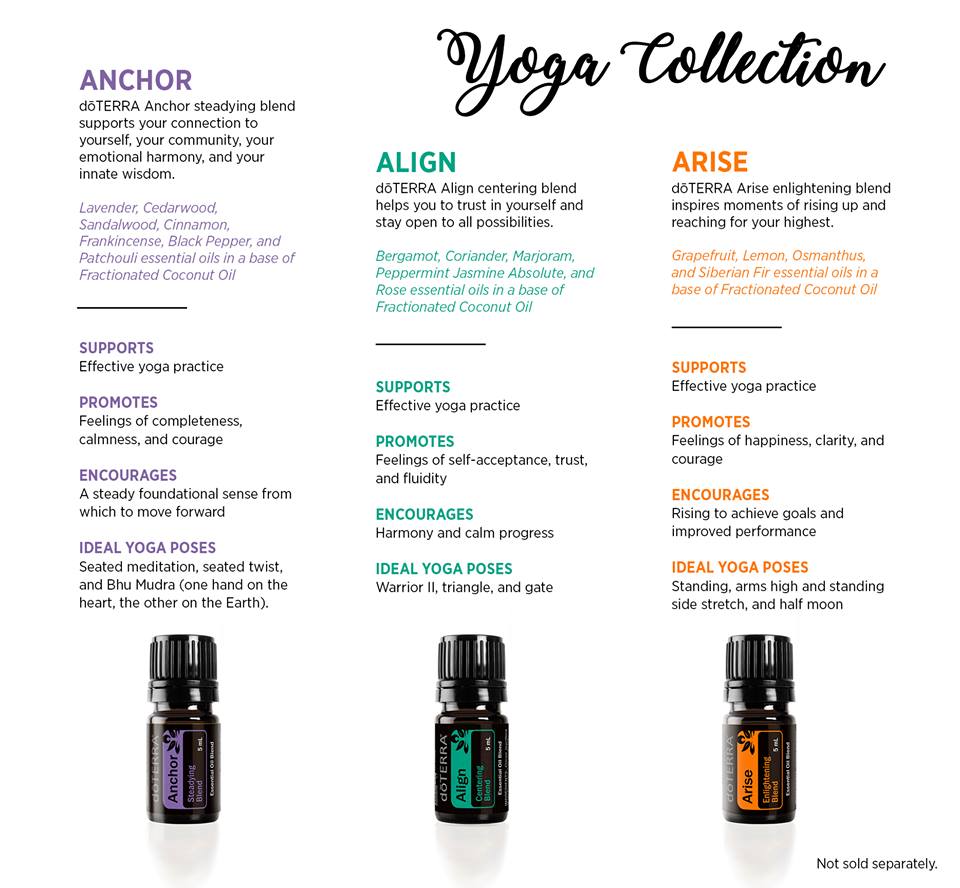 The giveaway runs through the day after Mothers Day, closing at 11:59 p.m. on Monday, May 14.
There will be one randomly chosen winner who must reply within 48 hours of being notified.
Jessica Claire Haney is the founder, publisher and editor of Mindful Healthy Life and the author of its Guide to Holistic Family Living in Metro DC. Jessica founded the Arlington/Alexandria Chapter of Holistic Moms Network, volunteers on school wellness issues, and is a Beautycounter consultant and a doTERRA Wellness Advocate.  Follow on Facebook at MindfulHealthyLife, on Twitter @mindfulhealthy and on Instagram @mindfulhealthy.