Women's bodies go through lots of transition in a lifetime, and especially during the childbearing years. Women's Health and Wellness Day, a first-time event in Reston on September 30, aims to support women through these transitions with a unique lineup of workshops by local experts in bodywork, movement, mindfulness and more.
Event organizer Jennifer Chu is a mom of two young children and the owner of ITR Physical Therapy, which has offices in McLean and Bethesda. Jen has worked with hundreds of women healing from pregnancy and injuries of all kinds. She specializes in pelvic floor health, a topic that may not be talked about much but is key for so many aspects of women's health.
Jen has put together a full morning during which women can learn more about their pelvic floor and how to support it while also experiencing yoga, meditation and learning about core exercises, stress reduction and essential oils to support whole body health.
I asked Jen to share a little about how she came to her work and how the idea of Women's Health and Wellness Day came to her.
Jessica: First tell us a little bit about how you came to specialize in pelvic floor and other women's issues in your physical therapy practice.
Jen: When I first went to school to study physical therapy (PT), I had no idea a physical therapist could have an opportunity to help people in such important ways. My introduction to the pelvic floor and women's issues came while I was studying at Duke University. Duke's Medical Center was starting a multidisciplinary pelvic floor center. My clinical instructor was one of the physical therapists taking a continuing education course on pelvic floor physical therapy. I was blessed to sit in and take that four-day class. It was eye opening.
After that class, the seeds were planted; I was on my path to become a women's health PT! Within two years of finishing school, I was treating patients with urinary incontinence. As time went on, I worked with patients with pregnancy and postpartum related issues, all types of bowel and bladder dysfunctions. Eventually, I started to specialize in treating patients with all types of pelvic pain. These issues can be secondary to pregnancy and delivery or they can occur on their own.
Did you know that in France and other European countries every postpartum women received six to eight sessions of physical therapy to rehabilitate their bodies? In the U.S., most women would never even think about seeing a physical therapist after having a child.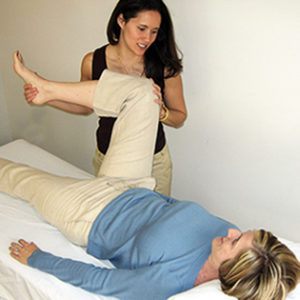 The more I worked with patients with women's health issues, the more I realized that women need to be educated. Most either believe the issues they live with on a daily basis are "normal" or they have been told that their issues are "all in their head and they just need to relax." This is not okay! Women need to know that not only can they be helped, but that they deserve to be helped.
Jessica: Yes! I have learned from experience that women need support through pregnancy and beyond in order to avoid pain and injury and to fully enjoy all aspects of their body, from playing with their children to exercise to sex.
For those who have never seen a physical therapist in general or specifically for postpartum and pelvic floor issues, can you explain what sessions are like?
Jen: At ITR Physical Therapy we completely focus on each patient in an individualized one-on-one environment. When you first see a women's health PT, you will first undergo thorough initial evaluation. Depending on why you are seeing your PT, she will ask you about your symptoms, any pain or discomfort you may have, your bladder and bowel habits as well as your diet.
After your physical therapist takes your history, she will assess your spine, hips and pelvis for any mechanical malalignments. She will palpate (feel) your muscles and fascia in and around your trunk, pelvic, hips and thighs to determine if there are any tight muscles or trigger points. At ITR, we also perform a 3D type of assessment as well, feeling for any fascial restrictions in and around your organs that could be affecting your symptoms. We feel it is important to educate patients on your anatomy so you leave your first visit with a ton of new knowledge about your body and what physical therapy can do for you.
As we specialize in manual or hands-on therapy, during your treatment sessions you will spend most of the hour on the treatment table while your therapist uses different manual therapy techniques designed to address mechanical issues, release tight and restricted muscles, fascia and organs as well as help reeducate muscles that are weak or too tight. You will undergo education on dietary management, stress management techniques, exercises and stretches.
Jessica: So on top of working with women, you have put together an event to spread the word more widely!  Women's Health and Wellness Day will include some informational talks plus some experiential classes. Tell us what you're hoping participants will get out of the day.
Jen: In the almost 20 years I have been treating women with a myriad of pelvic issues, I am still blown away that so many women deal with the problems they do on a daily basis without getting the help they need. Most women don't know that they can get help. It was my intention in putting this event together to reach as many people as possible and let them know that they can be helped. There is a whole world of women's health providers that is growing leaps and bounds. Participants will leave with new information about their bodies and their pelvic floor muscles, as well as actual exercises and strategies to help their bodies right away.
Jessica: What else should people know about the day? Do they need to register in advance?
Jen: The event will be held at the Conference Centers at the Reston Association, a great space that has a ton of natural light and windows. And free parking! The address is 12001 Sunrise Valley Drive. We will be using two classrooms. As mentioned above, the capacity for the experiential classroom is about 30 yoga mats on the floor. The other room for the informative talks – including your essential oils class, Jessica – seats 50. Classes in the two rooms will run concurrently, for about 30 minutes each. Attendees can choose six different classes out of a total of twelve offerings.
Doors open at 8:45 a.m., and classes will start promptly at 9:00. Anyone who wants to secure a spot in the experiential room should plan to get there early! Please make sure to bring your own mat or towel.
When participants arrive, they will get a program that describes the topics in detail. This information will also be added to the event website soon. Here is a look at the schedule.
September 30 Women's Health and Wellness Day Schedule
Subject to change

Listed first in each time block is the informational talk in Presentation Room A. Second is the workshop in Experiential Room B (limited to 30 mats). Choose one class during each session for a total of six different classes.
9:05-9:40
9:45-10:20
10:25-11:00
11:05-11:40
11:45-12:20
12:25-12:55
Just before the closing of the event at 1:00, we will raffle off some fun items donated by our terrific speakers. These might include free classes or sessions or products. Attendees need to be present to win. I will post photos of the raffle items as they come in on my ITR Physical Therapy Facebook page.
You can also follow the Women's Health & Wellness Day event page on Facebook for updates. Please share the event with anyone who could use a day of self-care!
We do hope folks will register in advance. It's only $20, and then you'll be sure to have a space and to receive any important updates. The Eventbrite registration page is http://bit.ly/WomensHealthWellnessDay
If space permits, we will accept on-site registrations for $25.
Jessica: Anything else you want to share?
Jen: As this event is coming together, it goes without saying that I am super excited about our line up of experienced providers who are ready to share some pearls of wisdom. Participants will have an opportunity to win a free session or item being offered by some of our speakers. In addition to the raffle, each participant will go home with a goodie bag full of informational items and coupons that they can use to help themselves, their friends or family!

Thanks to Jen for putting together this terrific day and for offering two lucky winners to receive a free ticket. Enter below and share with your friends! The giveaway ends at 11:59 on Friday night, September 22. The winners will be notified on Saturday, September 23 and must reply within 24 hours to claim their tickets.
Additional bonus: Mention that you read this post and get 15% off one treatment with Jen at ITR Physical Therapy.

Jessica Claire Haney is the founder, publisher and editor of Mindful Healthy Life and was the founder and a longtime leader of the Arlington/Alexandria Chapter of Holistic Moms Network. Jessica is a writer who is working on her first novel. She also offers copywriting, editing, writing coaching and holistic business consulting services. Learn more at JessicaClaireHaney.com. Jessica volunteers on issues related to wellness in public schools, as described in her Mindful Healthy Life Q&A. Follow her on Facebook at MindfulHealthyLife, on @Twitter @MindfulHealthy and on Instagram at @mindfulhealthy. Her personal blog is Crunchy-Chewy Mama, on Facebook at CrunchyChewyMama and on Twitter @CrunchyChewy.