The National Kids Yoga Conference is returning to DC for its third year September 30 to October 2. A weekend of programming for adults bringing yoga and mindfulness to the next generation, the conference includes discussions, presentations and hands-on breakout sessions and inspiring keynotes with speakers sharing experiences and research about the impact of yoga and mindfulness training on children's health, wellness and readiness to learn. Conference registration has been extended through Thursday, September 29.
The conference was founded in 2014 by Michelle Kelsey Mitchell of YoKid, a non-profit organization that brings yoga to underserved youth, and Pleasance Silicki, founder of lil omm yoga. Readers of Mindful Healthy Life know we are big fans of the conference. For past coverage, see our 2015 conference recap and our 2014 event recap. Also, enter our giveaway of music, books and activities that we got from NKYC speakers and exhibitors. Giveaway closes September 25.
I spoke with YoKid co-founder Michelle, an Alexandria mother of three, and asked her to share a little bit about this year's conference.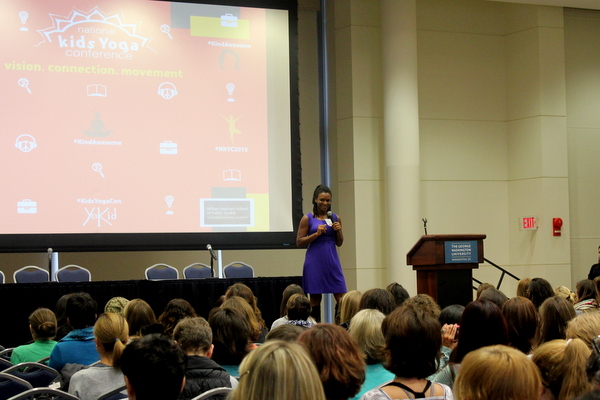 Jessica of Mindful Healthy Life: Who should attend the conference?
Michelle: It's an incredible learning experience whether you're implementing a full-on yoga program, implementing classes into part of another program, or you simply integrate yoga and mindfulness into your work with your own children, in the classroom or at home.
Information about CEUs is available here.
Jessica: What are some of the highlights for this year?
Michelle: We've added a new track: a "master class" track that allows for people to participate in a yoga class as it would be taught to kids. A Q&A will follow after that yoga class experience.
These master classes are being taught by people who are leaders in the field: Krishna Kaur of Y.O.G.A. for Youth and Shakta Khalsa of Radiant Child Yoga, Jodi Komitor of Next Generation Yoga, Don Wenig of Yoga Kids, Sonia Sumar of Yoga for the Special Child, and teachers and musicians Kira Willey of Fireflies Yoga and Bari Koral of Yogapalooza.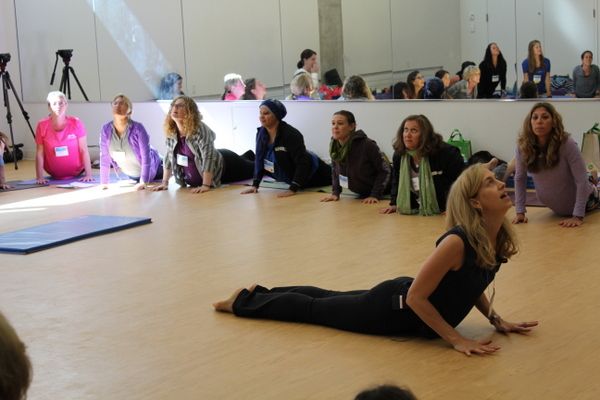 The other breakout tracks are Business, School, Tools, and Research.
We're excited that the Sonima Foundation, one of our sponsors, will be releasing evidenced-based curriculum that they have implemented on a large scale across the country.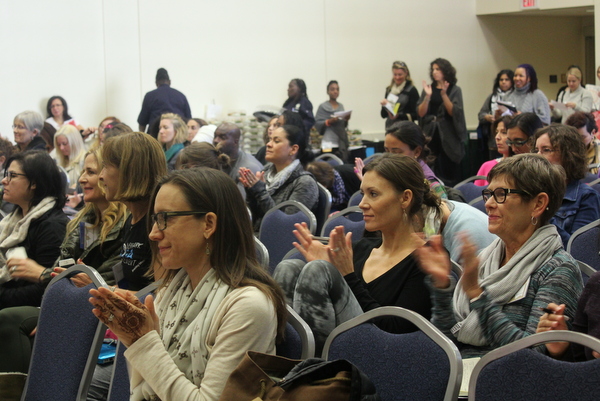 One of our keynote speakers is Molly Barker, founder of Girls on the Run. She will share her successes with that program, which was such a novelty when it started. Now it's really taken off. She'll talk about the similarities with her work and with what is happening in the field of yoga with children.
Another keynote speaker is John Ratey, the author of Spark: The Revolutionary New Science of Exercise and the Brain
and Go Wild: Eat Fat, Run Free, Be Social, and Follow Evolution's Other Rules for Total Health and Well-being
. He has done a lot of work around neuroscience and exercise and will share that perspective.
Senator Corey Booker isn't going to be able to join us in person as previously planned but has sent a very inspiring message that I think people will really appreciate.
On Saturday evening, we'll be screening Fly By Light. with the director, Hawah Kasat. It's a film by One Common Unity about five teens from DC who go on a journey and do a retreat in West Virginia. They learn a lot about who they are. The film follows their integration when they get back to their communities and engage in conscious conversation toward social justice. It was originally planned to be just for those in the Teen Track, but we've opened up to adults to join. Even the trailer is really powerful.

Jessica: How are the daytime programs on Saturday and Sunday different?
Michelle: Similar to last year, Sunday's schedule will have similar longer keynotes that allow for more of a discussion. One will be on Program Sustainability. Lisa Flynn of Childlight Yoga, Henry Cross of the Sonima Foundation, Jen Cohen Harper from Little Flower Yoga , Cheryl Crawford from Atlanta Yoga Movement– and Debby Kaminsky from Newark Yoga Movement have been successfully implementing programs for the last ten years.
The other Sunday keynote is with Hawah, whose students from One Common Unity right here in DC will be talking about their sustainable model and the integration of their model to support arts and poetry.
Also on Sunday, we've added the intensives, three-hour workshops that really allow people to delve into subject matter.
See the full schedule and our full list of speakers for more information.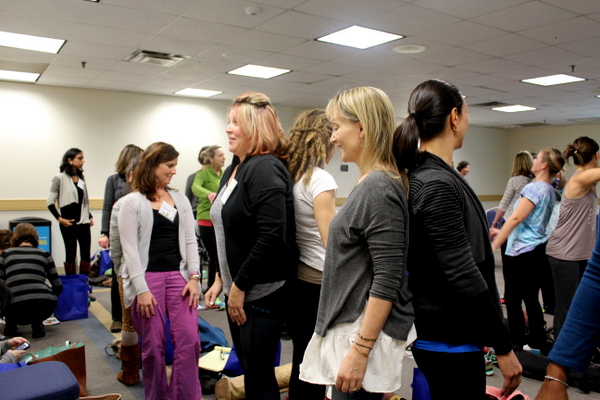 Jessica: How big is the conference? Is there still room?
Michelle: Friday night has been sold out for quite a while. It's going to be a lot of fun with live music during the class led by local yoga teacher Jess Purtell, a Lululemon ambassador. We'll also have the henna and massage that we've offered the past two years.
The Teen Track is sold out.
We do still have space for Saturday and Sunday, but it's possible we will sell out. Our maximum capacity is 450 people. Regular registration is now closed. Late online registration ends September 25. There will be no on-site registration the day of the conference.
Mindful Healthy Life readers who want to attend the conference can use the discount code "MindfulHealthy" for 10% off their registration.
Jessica: Tell us about the new site at Catholic University and the conference amenities.
Michelle: We're excited about the new location and how well it accommodates our needs, including parking.
There's green space, which will allow people to get outside if they need to connect with the outdoors during the day. We've expanded the lunch break to give people enough time to go off campus if they haven't registered for the catered lunch from Catholic. There is a Busboys and Poets that is easy to get to, and if people pack their own lunch, it will be easy to go outside and eat.
KIND Snacks is returning and will be bringing their delicious snacks again.
Jessica: Are there any other related events people might want to check out?
Michelle: Some of the speakers might be making other local appearances. I know that Wah!, a yoga teacher and musician, is going to be at Ease Yoga & Café in Del Ray Alexandria on Wednesday, September 28, and Y.O.G.A. For Youth is doing a training the following weekend at Lighthouse Yoga Center.

Many thanks to Michelle for putting on this important event and for taking the time to tell us more about it!
Thanks to all those who donated to our giveaway.
All images copyright Mindful Healthy Life.
This page contains affiliate links.

Jessica Claire Haney is the founder, publisher and editor of Mindful Healthy Life. She is a writer, editor, emerging novelist, and the founder of the Arlington/Alexandria chapter of Holistic Moms Network. Her personal blog is Crunchy-Chewy Mama and her writer's site is JessicaClaireHaney.com. See the Contributors page and Jessica's Mindful Healthy Life Q&A for more on Jessica.