Even though we've had a mild winter, the low temperatures this past weekend reminded us that it's not time to get busy in our gardens just yet. However, there are lots of ways you can grow and regrow vegetables and herbs indoors at any time of the year. All you need is sunshine and water and a starter plant – something you might have thought was just trash or fodder for the compost!
I was inspired by this post that lists 13 plants you can regrow to try my hand at regrowing a few veggies I had in the kitchen. See my piece on Good Morning Washington about my experiment.
In most cases, I needed only the starter plant, water, and a sunny spot on the windowsill. Check out the icreativeideas post for a longer list and links to other blogs with even more information, check out "25+ Plants You Can Regrow from Your Kitchen Scraps" from Epic Gardening, see the infographic "19 Foods You Can Regrow from Scraps" from The Food Revolution Network.
Three weeks ago. I endeavored to try a few of these ideas. Here's how it went!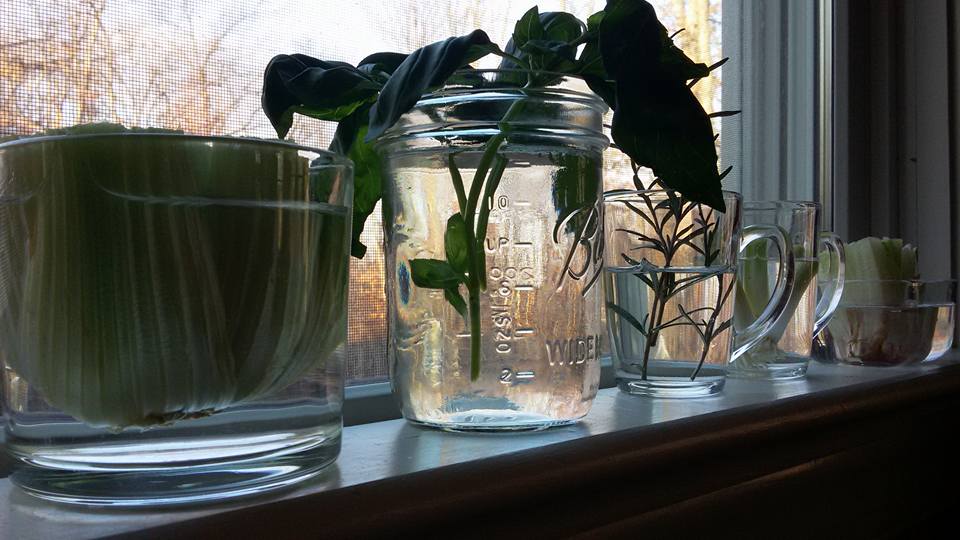 Green Onions
These were so easy! I just snipped off the greens, put the white ends in water, and they started sprouting new greens within a few days! Lesson learned: As long as you have a windowsill, you pretty much never need to buy green onions again!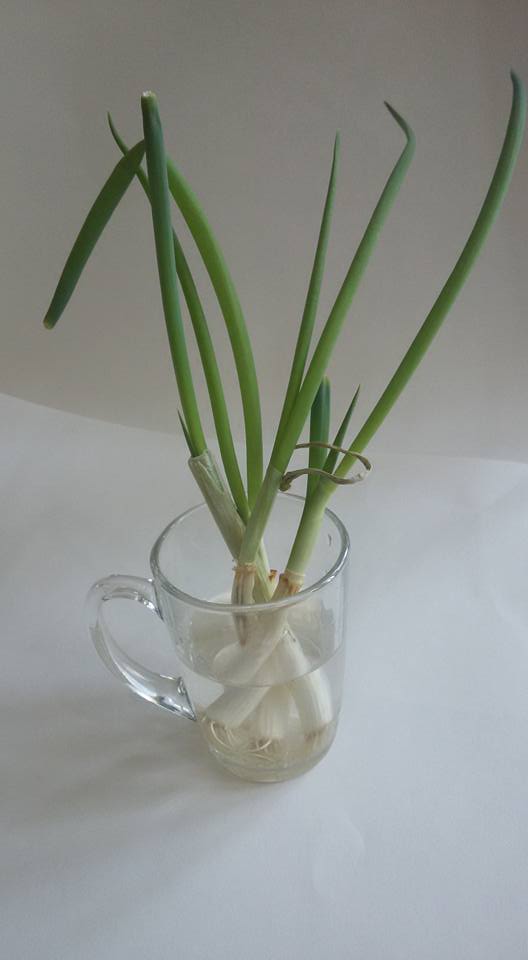 Romaine Lettuce
I use lots of romaine lettuce as my base for green juices, so I'm pretty excited to have started sourcing it in-house! All you need to do is put the base in water, and new shoots will sprout up! I planted them in dirt two weeks ago and haven't gotten a ton more growth, but I also haven't watered them a whole lot. I'll try transplanting in a few weeks when the threat of frost has passed.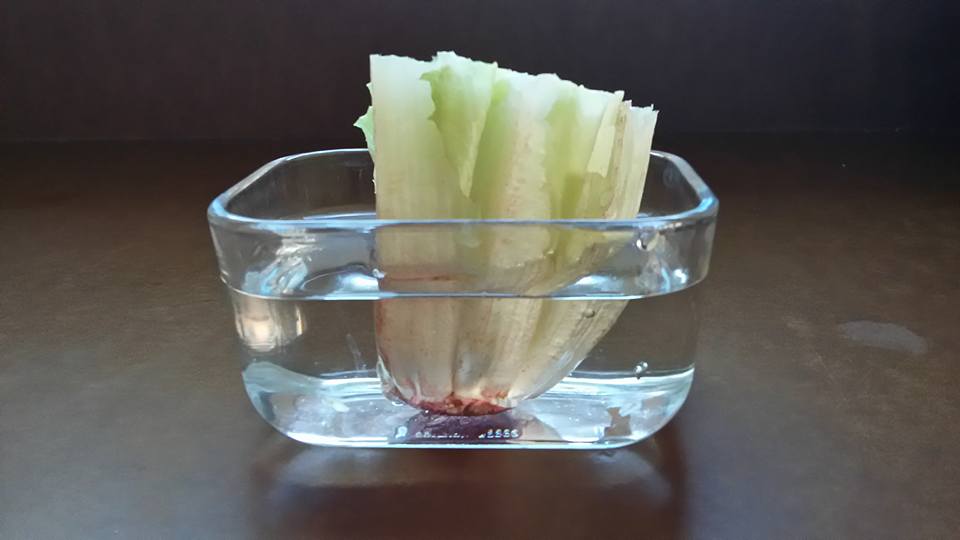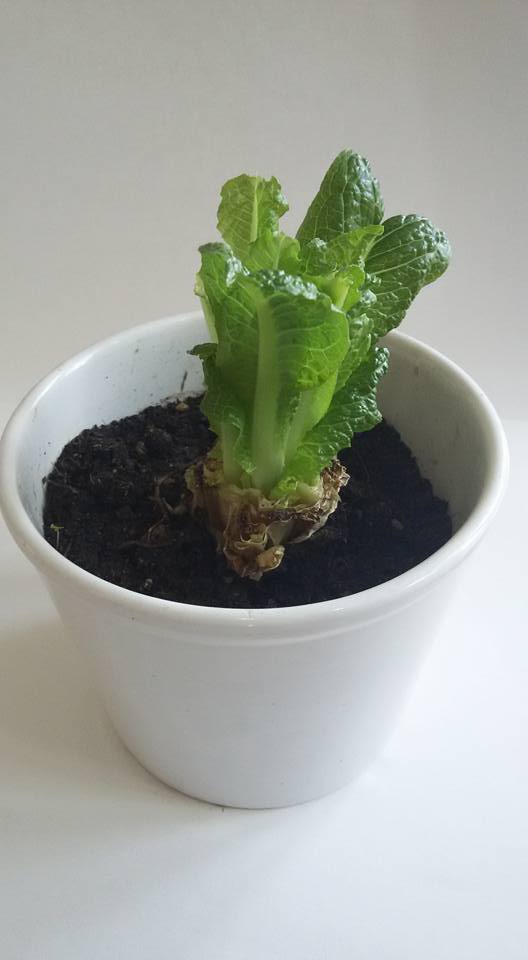 If you're going to keep plants in pots, you should not follow my example of using garden soil and a pot that doesn't have drainage! I plan to move the lettuce into another pot and then into the garden. Container gardening calls for a potting mix. For more on soil types, see these articles:
Lettuce is a cool-weather crop that can withstand mild frosts. See the Farmer's Almanac on planting lettuce . You can also refer to its planting dates. Here's a chart of planting dates for Fairfax, Virginia.
Celery
Celery grows much just like the romaine lettuce, though I think I'll need to be a little more patient before I will see new stalks.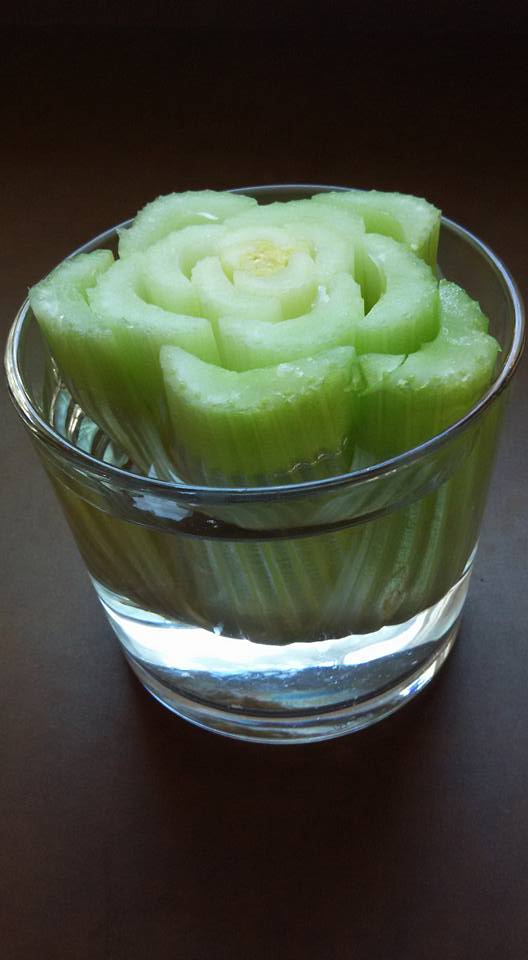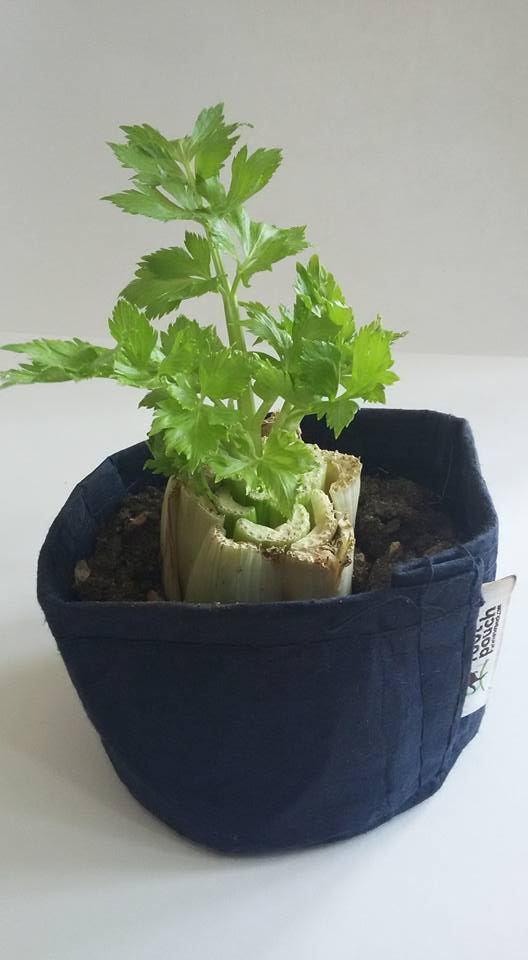 I wanted to show the growth, so I've left a good bit sticking up, but I'll be planting the celery more per the recommendation in this article 17 Apart where gardeners are advised to bury most of the plant and leave only the leaves poking out above the dirt.
When I put the celery in soil, I used a Root Pouch that I bought from Cultivate the City at Rooting DC, a terrific gardening forum put on every February by DC Greens. The Root Pouch is made from recycled plastic containers, and it folds up like sturdy fabric for easy storage between seasons.
Basil & Rosemary
These herbs can grow new roots in water. The basil came from MOMs Organic Market, and the rosemary came from my garden, where it did fine all winter long.
The basil roots started growing a lot faster than the rosemary, which only just budded out in the three days between these two photos.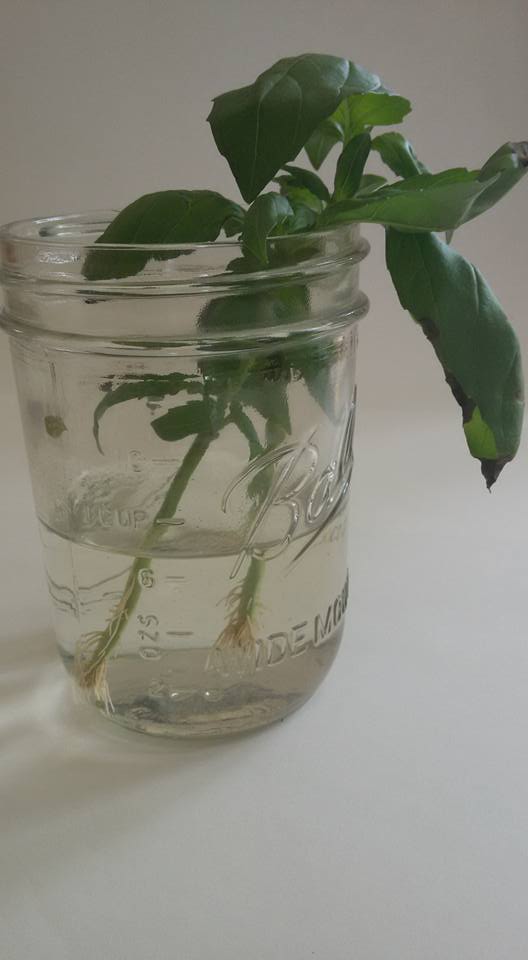 When the roots are a little longer, I'll plant them in a pot. When it's warmer, I'll plant the basil in the garden and the rosemary in our front yard.
You can try this with lemon balm and other herbs, too.
Carrot tops
I used to think that they weren't poisonous, but it turns out that carrot tops are edible! I put the ends of three different carrots in water. Only one sprouted, beginning pretty quickly and continuing to grow to this day. You can't grow new carrots this way, just the greens for salads, teas, soups, or as a side dish.
In all cases above, the "before" photos were taken about three weeks before the "after." This didn't take a lot of time, and it is going to save me money. Plus, it has been enjoyable for all of us to watch. We have a garden and have started some plants from seed before, but this was a new kind of fun!
Even if you don't have room for a garden or large balcony pots, you can see there are a lot of other plants you can grow and regrow to save money, take control over your own food production, to donate to the hungry, and to educate your children.
For more information, consult additional resources for urban and suburban gardening. You might start with this post from Sustainable Nova, or go to your city or county extension for advice and information and classes, soil testing, workshops and trainings. There are often master gardeners available to answer questions at weekend farmer's markets. The Master Gardeners of Northern Virginia website at mgnv.org has lots of great regional links.
And if you missed attending this year, be sure to check out the 2017 Rooting DC program and learn about some of the best resources in DC and surrounding areas.

Jessica Claire Haney is the founder, publisher and editor of Mindful Healthy Life and was the founder and a longtime leader of the Arlington/Alexandria Chapter of Holistic Moms Network. Jessica is a writer and editor who is working on her first novel. Find information about her writing and about the editing and business consulting services she offers at JessicaClaireHaney.com. She also volunteers on issues related to wellness in public schools. Jessica's personal blog is Crunchy-Chewy Mama, on Facebook at facebook.com/CrunchyChewyMama. For more information, see Jessica's Mindful Healthy Life Q&A.