The Mindful Healthy Life of Metro DC eBook Guide to Holistic Family Living is now available for download! Take our survey and let us know what you like best about the eBook and how we can make it better, and enter to win our prize!
The eBook is the result of years of trial and error, over a decade of living as a holistic-minded parent in Metro DC. I've attended countless expos and wellness events and conference and have put everything I think like-minded parents will want to know.
I've also added in a bunch of other resources people have shared with me – in person, online and in Holistic Moms meetings. The first version was emailed in December to those who requested it. I've been adding and tweaking since then and will release a revision in April around Earth Day, the site's third anniversary.
For info about the eBook and a link to register for the email list, go to bit.ly/MHLeBook
Those who are subscribed to our email newsletter will be getting a separate email with instructions on how to download the eBook for free. If you haven't yet registered for our email newsletter, get on board at bit.ly/MHLemail.
I recommend you set aside a half-hour to page through the eBook. The SurveyMonkey survey should take between 4 and 7 minutes to fill out. It might help to look at the survey before you sit down with the eBook, both so you know what kind of feedback I'm asking for and so you'll have an idea what's in the eBook!
I'll take your survey feedback into consideration as much possible before the April version goes out.
To enter to win a special giveaway from me, complete the survey before March 22 and include your email address. Shortlink to the survey is bit.ly/MHLofMetroDC.
One winner will be chosen at random from all of the responses that include email addresses and are submitted before March 22.
The Prize: 4 dōTERRA Touch roller bottles of Certified Pure Therapeutic Grade essential oils:
On Guard®, DigestZen®, Cheer® and Forgive®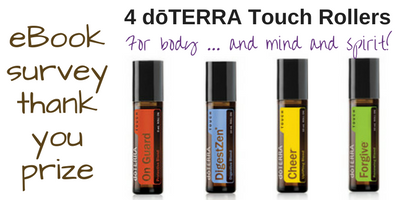 These are all in the Touch line, which means they are roller bottles of oils that have been blended with fractionated coconut oil, so they are safe to use directly on the skin, even for adults with sensitive skin. The Cheer ® and Forgive® are newly available in the Touch line!
There will be lots of giveaways on the site starting soon and going through Mother's Day, including local services and a variety of products. This one is straight from me to a reader in gratitude for your support.
I'm giving away roller bottles of two oils that can support the physical body and of two oils that can support emotions and spirit.
On Guard® Touch
– This is an uplifting oil, a protective blend that may support the immune system in fighting seasonal threats.
Contains: Fractionated Coconut Oil, Wild Orange Peel, Clove Bud, Cinnamon Leaf, Cinnamon Bark, Eucalyptus Leaf, and Rosemary Leaf essential oils
DigestZen® Touch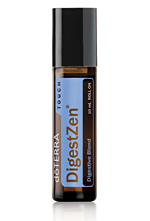 – This is a sweet and spicy oil that can ease the effects of motion sickness and stomach upset when used aromatically or topically. It's good to have on hand during road trips or whenever you might experience feelings of stomach upset.
Contains: Fractionated Coconut Oil, Ginger Rhizome/Root, Peppermint Plant, Caraway Seed, Coriander Seed, Anise Seed, Tarragon Plant, and Fennel Seed essential oils.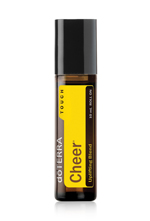 Cheer® Touch –  This oil can promote feelings of optimism, cheerfulness, and happiness and counteract negative emotions of feeling down, blue, or low.
Contains: Fractionated Coconut Oil, Wild Orange Peel, Clove Bud, Star Anise Fruit/Seed, Lemon Myrtle Leaf, Nutmeg Kernel, Vanilla Bean Extract, Ginger Rhizome, Cinnamon Bark, Zdravetz Herb
Forgive® Touch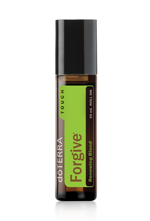 – This is a woodsy oil that can promote feelings of contentment, relief, and patience and counteract negative emotions of anger and guilt.
Contains: Fractionated Coconut Oil, Spruce Leaf, Bergamot Peel, Juniper Berry Fruit, Myrrh Resin, Arborvitae Wood, Nootka Tree Wood, Thyme Leaf, Citronella Herb
DigestZen® and On Guard® Touch can be used on children, in moderation. The Cheer® and Forgive® Touch are probably also fine for most children, but these oils can have a strong emotional resonance. So use your judgment depending on how sensitive your children are. The oils smell so great, children might go a little overboard if left to their own devices. One swipe along the bottoms of feet or on wrists should suffice!
If you're new to dōTERRA, these four oils will be a great introduction to the line of Certified Pure Therapeutic Grade essential oils.
And even if you're already a dōTERRA user and know great the oils are, you might be new to the Touch line. It's so convenient to keep the rollers in your purse to use on the go!
Thank you for taking the time to look through the eBook and to provide your feedback! 

For more on why I'm a dōTERRA Wellness Advocate, see bit.ly/JCHEssentialsNaturalHealth

Jessica Claire Haney is the founder, publisher and editor of Mindful Healthy Life and was the founder and a longtime leader of the Arlington/Alexandria Chapter of Holistic Moms Network. Jessica is a writer and editor who is working on her first novel. Find information about her writing and about the editing and business consulting services she offers at JessicaClaireHaney.com. She also volunteers on issues related to wellness in public schools. Jessica's personal blog is Crunchy-Chewy Mama, on Facebook at facebook.com/CrunchyChewyMama. For more information, see Jessica's Mindful Healthy Life Q&A.