School gardens are such a terrific resource on so many levels, but it takes work to get one started, to maintain a program, and to hand it over when it's time for key players move on. Fortunately, there are lots of resources out there to support parents and teachers who value outdoor learning and gardening programs.
Two years ago, I worked on an event called Growing Green Schools to showcase what great things were happening in – or, in many cases, outside! – Arlington Public Schools. The event, recapped here, was a great success in connecting people around the county and inspiring teachers and parents to get outdoors with their students.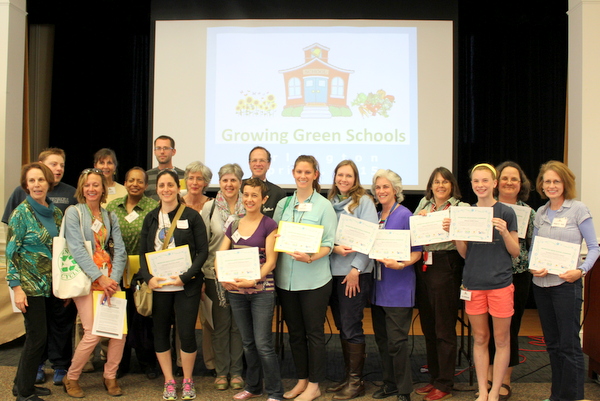 The following year, monthly School Garden Meetups took place across APS and gave parents and staff the chance to connect and share. Link recaps to those Meetups are below. This year, the School-Age Green Educators (SAGE) group of NoVA Outside is organizing monthly garden meetups across Northern Virginia.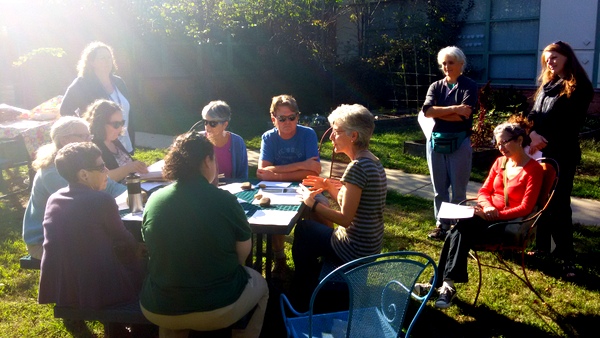 The following is a slightly updated version of the handout that attendees received at the 2015 Growing Green Schools event. This new post includes some resources outside of Northern Virginia, and I'd be happy to add more to a future version. Please leave ideas in the comments!
How do schools maintain their gardens and grounds?
It varies. Some strategies include:
hold family-friendly garden work days on weekends or after school
hold work hours for parents to help during the school day
get students (and staff) to do much of the work during class, recess, and/or Extended Day
involve students via after school clubs or enrichment activities
use PTA funding to pay an outside contractor for help with their outdoor classroom

maintenance
teaching & training as "Garden Docent" or "Visiting Horticulturalist" or "Outdoor Learning Liason"

get assistance from outside volunteers in the community (see below)
apply for grants
seek donations from landscapers and gardening companies
What about summer watering? Discuss with the administration and PTA. Some ideas include:
families or staff to sign up to take weekly shifts or tend to certain plots ("adopt-a-bed"). Be sure water key  is accessible outside summer office hours
custodian assistance
drip irrigation and a timer – a significant investment that makes a big difference and allows for harvesting all summer long. For more information, see http://www.organicgardening.com/learn-and-grow/beginners-guidedrip-irrigation
late planting in summer means crops like tomatoes, basil, pumpkins, gourds, sunflowers and flowers for fall pollinators (French Marigolds, rudbeckia, coneflowers, goldenrod) will still be producing when students return in September
seeding a covercrop in June and leaving over summer requires no maintenance. Then dig in and planting quick-growing salads in the fall.

What are some sources of possible volunteers that can assist with gardening and nutrition efforts?
Other potential volunteers
Eagle Scouts, Girl Scouts, Boy Scouts
National Honor Society
Retirement communities
Organizations and businesses that tie to a school's focus (language, STEM, arts, etc.) Student Service Learning and Community Service
More resources for school gardening with a focus on Arlington
Arlington County free mulch – http://recycling.arlingtonva.us/residential/mulch-dirt/
Virginia Cooperative Extension
Horticulture Help Desk offers in person assistance between 9am and 12pm at the Fairlington Community Center 3308 S. Stafford St. Information seekers can also call in to the Help desk at 703 228 6414 or send emails including photos to mgarlalex@gmail.com.
VCE Master Gardener volunteer-staffed plant clinics are offered at local libraries and farmer's markets, and five demonstration gardens throughout Arlington and Alexandria are maintained for purposes of public education
VCE also offers free classes on plant disease, insect control, composting, native plants and more – Calendar of events at Master Gardeners offer Speaker's Bureau services and Garden Coaching services that can be requested by contacting the VCE Horticulture Help Desk at 703.228.6414 or emailing mgarlalex@gmail.com.
Master Gardeners can also offer: training to volunteers on community garden management, Junior Master Gardener curriculum, and the full VCE volunteer Master Gardener training that is conducted annually.
More Partners & Supporters in & around Northern Virginia
Food Donation
For donating excess food from cafeterias, see also Food Bus – http://foodbus.org/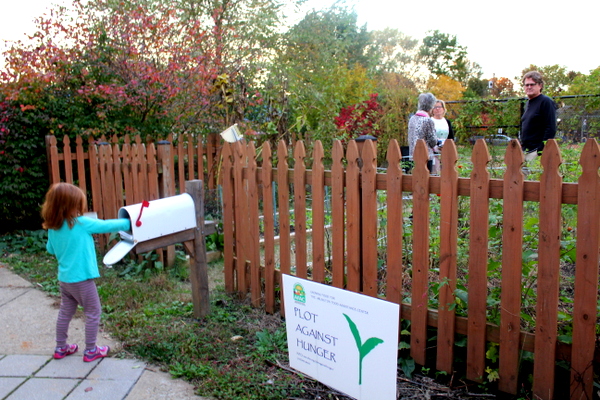 School Resources
In Arlington:
DC/MD/VA
Nationally:
What are some local field trip spots related to gardening and/or nutrition?
What about gardening related activities in the winter?
Ideas for cold months:

November: harvest fall crops, add row cover, cut back and dry perennial herbs, lasagna garden the cleared plots
December: indoor bulbs, worm compost bins, use dried herbs, sprouting
January: bird houses/feeders, plan indoor seed starting (need space for grow lights), research seeds, order seeds, plan Spring garden, tend worm bins,
February: start seedlings indoors: marigolds, lettuces, kale, swiss chard, herbs; survey garden beds; clear fallen branches; check for signs of damage; prune fruit trees & grape vines

Consider building cold frames or a greenhouse
Ask parents to send away for seed catalogs and use in the classroom to plan potential gardens as a math & art activity
The Reevesland Learning Center promotes: growing pea shoots indoors to teach about plant parts and provide a healthy snack; "trench" composting in the fall and winter to improve outside soil; planting garlic and cover crops in the fall and to measure growth over the school year. Contact:  Joan Horwitt shorwitt@aol.com
What about other curriculum connections?

Events that Support School Gardening & Sustainability Efforts
Local Blogs on Environmental Education
Recaps of 2015-16 Arlington School Garden Meetups
See also Thomas Jefferson Middle School Community Garden
There are a few more resources here at this list. Tell us about more blogs and resources in the comments!

Jessica Claire Haney is the founder, publisher and editor of Mindful Healthy Life and was the founder and a longtime leader of the Arlington/Alexandria Chapter of Holistic Moms Network. Jessica is a writer and editor who is working on her first novel. Find information about her writing and about the editing and business consulting services she offers at JessicaClaireHaney.com. She also volunteers on issues related to wellness in public schools. Jessica's personal blog is Crunchy-Chewy Mama, on Facebook at facebook.com/CrunchyChewyMama. For more information, see Jessica's Mindful Healthy Life Q&A.