The Natural Products Expo holds two events annually, one on each coast, for those in the industry of healthy food, body care and supplements to showcase their wares and connect with buyers, investors and influencers. Lucky for us, Expo East 2015 and 2016 have been in Baltimore, so I've been able to connect with brands I already love and to learn about many more I'm excited to tell you about!
It was thrilling to meet so many amazing business owners — often the person who started the company — and to talk with them about their vision for a healthier world. Everyone was so pleased to share, and they all had such great stories! I walked away not just stuffed to the gills with delicious and healthy food but full of inspiration to keep working on spreading the word about healthy living.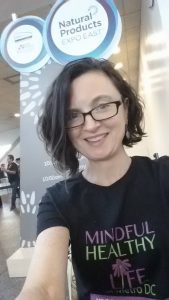 Expo East is many times larger than any similar expo or festival event I have ever attended. There are industry talks and meetings through the four days the event takes place. The show floor I visited was open for three full days. I was there for six hours and barely scratched the surface!
Many Expo attendees are buyers for stores and chains, but there are lots of press and blogger folk as well.  In that space, being a natural-minded consumer and citizen felt like the most, well, natural thing in the world!
As someone who has been gluten-free and dairy-free for over 10 years and who is currently on a grain-free Paleo diet, it was tremendous fun to be able to taste so many delicious products, many of which are included in the giveaway below.
In addition to those items featured in the giveaway, I enjoyed talking with the folks from several fermented and fresh juice beverage companies and from perishable food companies that I hope to profile in the future.
I'm grateful to everyone I met last year and this year and especially to those who offered up a product to contribute to this giveaway, which I am so pleased to offer!
All items in this giveaway are gluten-free, to the best of my knowledge. A few items contain dairy.
Many of the items contain nuts, and there are several items that contain meat, so this giveaway is not suitable for vegetarians or those with nut allergies.
Please see full terms and conditions in the giveaway. Mindful Healthy Life is not responsible for any reactions caused by any of these foods. Snack at your own risk!
Enter below to win this terrific compilation of yummy treats and accessories, and be sure to check out these terrific companies as you're shopping, in local stores and online! Consider offering these times as gifts folks who are already eating healthfully and for those who could use some inspiration! And tell them you learned about their brands here!
This giveaway contains the following items:
Four boxes of paleo-friendly, non-GMO, soy-free almond flour crackers from Simple Mills plus tote bag and coupons
The Simple Mills company produces gluten-free and grain-free products including these crackers and also baking mixes that are high in protein and much lower in sugar than other gluten-free mixes. You get one box each of: Sea Salt, Rosemary & Sea Salt, Sundried Tomato & Basil, and Farmhouse Cheddar. Ingredients include almond flour, coconut flour, cassava flour, tapioca flour, flax and arrowroot.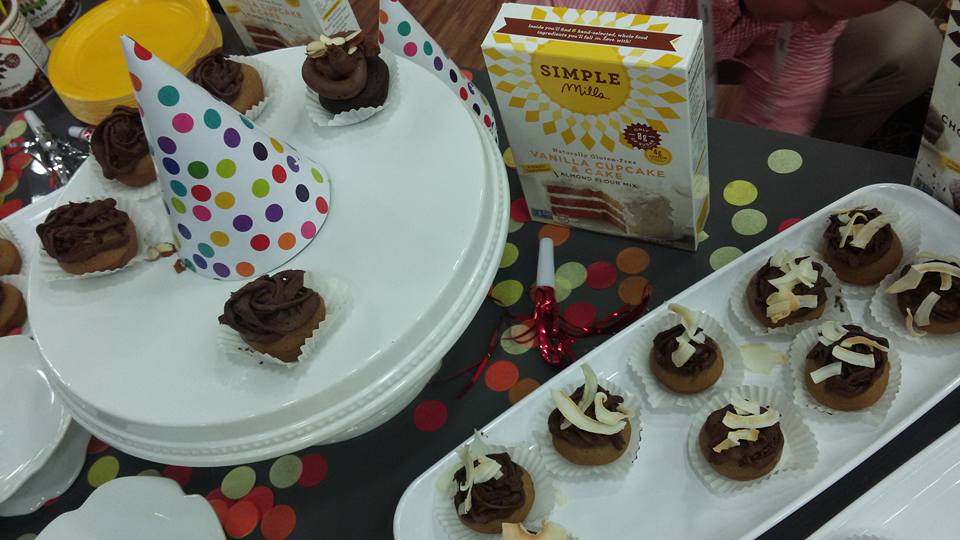 One bag of Sea Salt JicaChips
These are delicious crispy fiber-rich chips made from jicama, a root vegetable with loads of good nutrients.
Two chocolate bars and two sets of coconut butter cups from Eating Evolved
My life changed forever when I met the people from Eating Evolved last year and tried their coconut butter cups for the first time. I hadn't had chocolate in over a year because of health issues, but this stuff made me feel great and caused no ill effects because it is so clean and good! I went on to order their chocolate bars, spread and hot chocolate powder online and to jump for joy when MOMs Organic Market started carrying the coconut butter cups in local stores. You get to try two flavors of coconut butter cups – Classic and Caramel & Sea Salt – and two chocolate bars: Almond Sea Salt and Crunchy Caramel.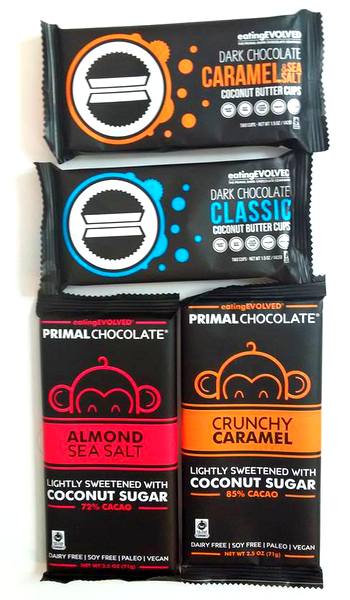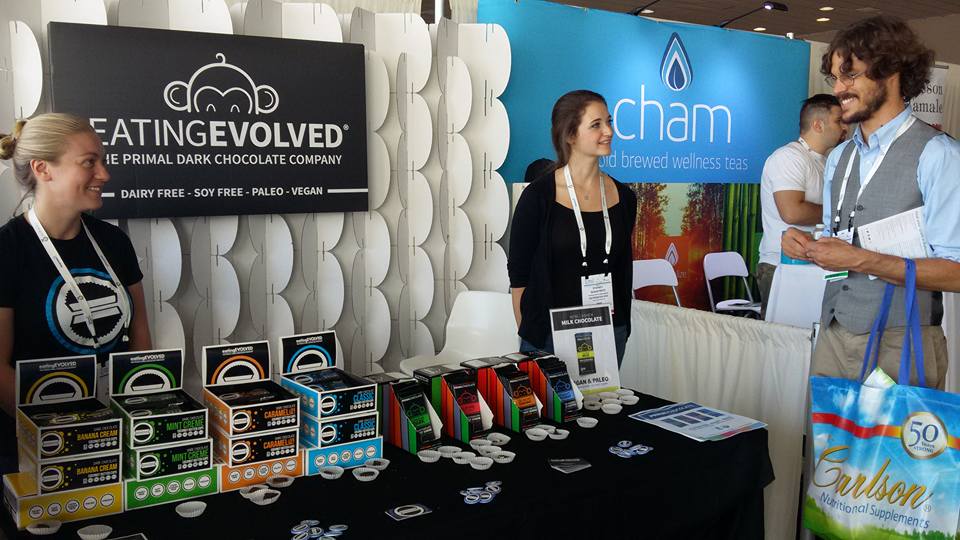 Krave the Krunch Choco-Nuts granola from Paleo Passion Foods 
Last year I got to try the delicious Paleo Passion Pops produced by Paleo Passion Foods at the Expo and my kids loved trying the samples the company later sent us. These popsicles have no added sugar and are sweetened only by fruit. They also contain flax and/or chia seeds, adding in fiber and some protein. This year's taste sensation was Krave the Krunch, grainless granola made with nuts, seeds, spices, fruit, and a touch of honey or maple syrup.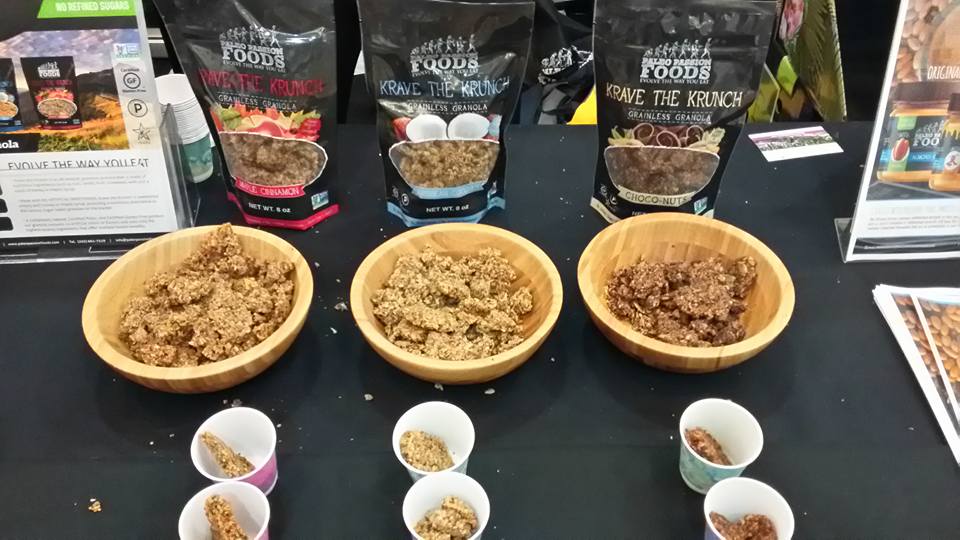 Artisan Tropic Cassava Strips and Plantain Strips: Sea Salt, Naturally Sweet, Naturally Sweet with Cinnamon
I love the story of this family-run company that developed its products after the young adult daughter identified gluten as a cause of her health problems. The plantain strips are the tastiest I've ever tried, and now there are several different versions, plus cassava strips, too!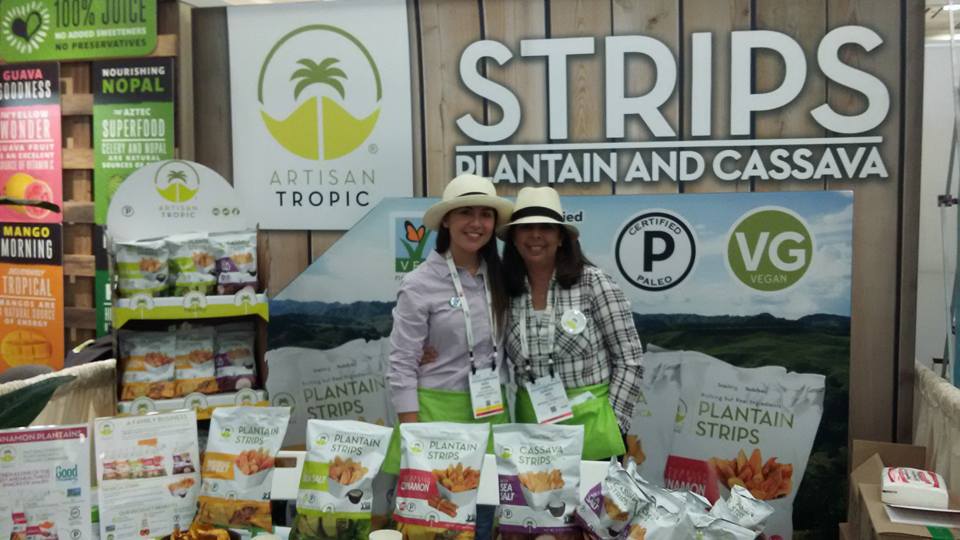 One bag of cheddar Chirps cricket flour chips
These are high-protein chips made from cricket flour and various grains, including corn. Cricket flour may be the wave of the future!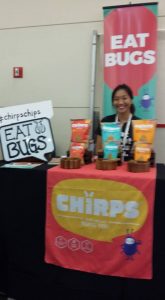 Patience Fruit Company – One bag Moka Moments snack blend and two bags Dried Cranberries
True to its name, this company doesn't rush its process! It makes artisan blends that elevate the traditional fruit/nut combo with spices for a delicious and nutrient-dense, sustaining snack. You get to enjoy Moka Moments – with hazelnuts, cranberries, chocolate and coffee – and also two packages of dried cranberries, the biggest juiciest you will ever taste, thanks in part to the fact that they are whole and contain apple juice. These were a huge hit with my kids!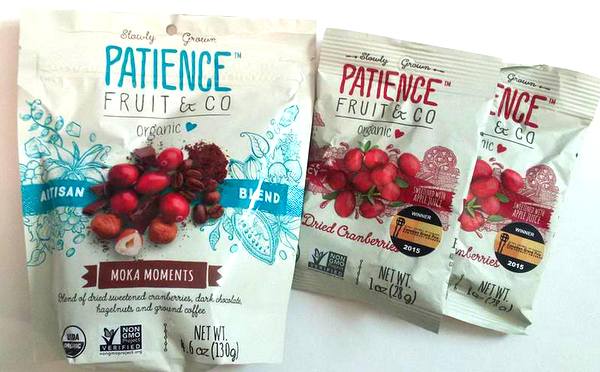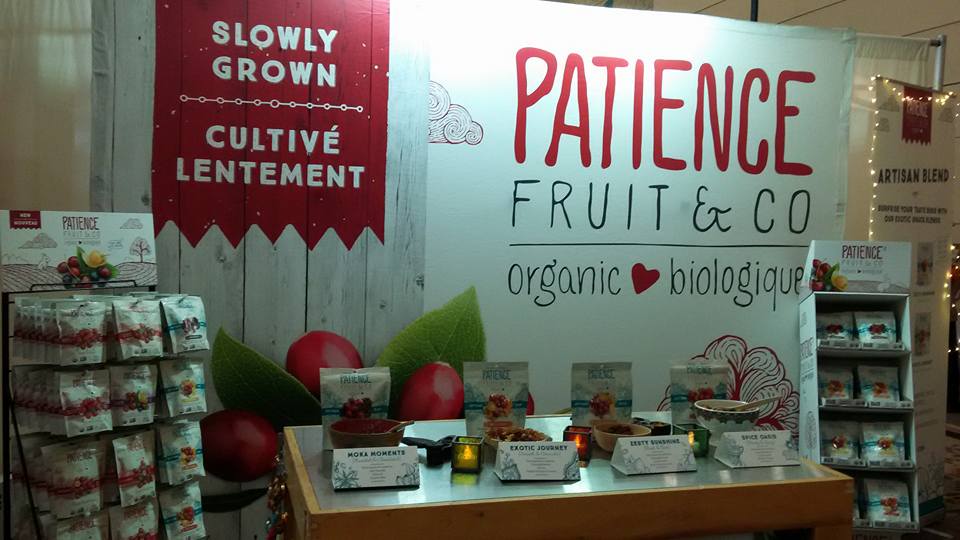 One Cashew Butter & Pure Vanilla Bean Chocolate Bar from Hu Kitchen
This is pure stuff! Paleo chocolate with no soy, emulsifiers, cane sugar, refined sugar or GMOs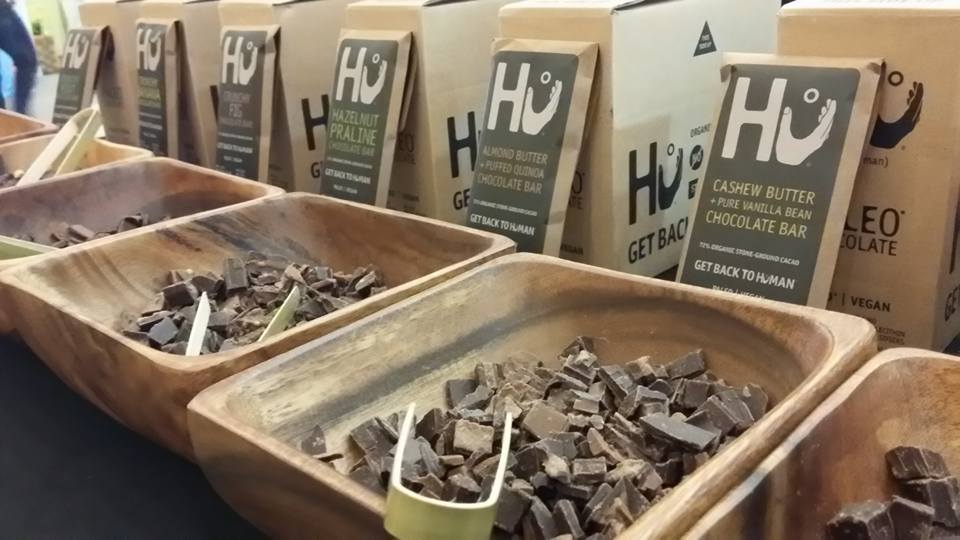 6 travel packets of Nuttzo nut & seed butter
If you haven't tried Nuttzo butters yet, now you get to enjoy each of these three flavors: Chocolate Peanut, Original and Original Peanut. Includes 2 one-ounce travel packets of each.
Two Snack Mates for kids plus a regular classic turkey stick from The New Primal plus a snack size tote bag
Don't leave home without protein! The Snack Mates are packs of four kid-sized sticks that come in classic beef (grass-fed) and classic turkey (free-range) that have a little less pepper than the adult sticks. You get one of those, too! In the Mid-Atlantic, find The New Primal products at REI, or order online with a first-time purchaser discount. Coming soon are marinades!
Apricot Pistachio Yogurt Bar from Mediterra
Mediterra says that Mediterraneans have incorporated a balance of apricots, pistachios, and oats into their daily diet for generations. In this bar, they are drizzled with honey; sprinkled raisins, figs, and sunflower seeds plus an added layer flavored with yogurt.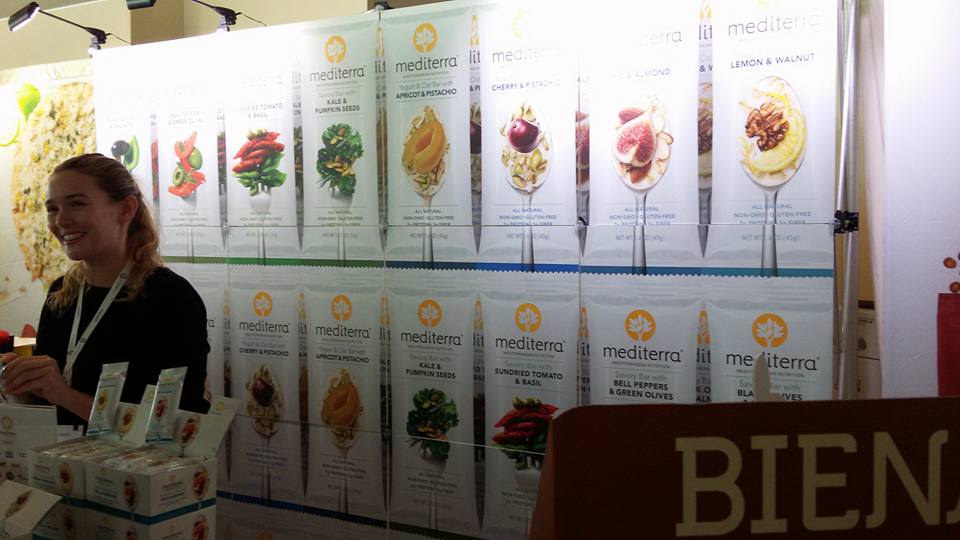 Ancient Nutrition sample of Turmeric Bone Broth Protein 
If you go to the Ancient Nutrition website, Dr. Axe will tell you why this is such a healing superfood. This packet is a powdered form of bone broth mixed with turmeric. One scoop contains 20g of highly absorbable protein.
KLEE girls lip balm and eye shadow by Luna Star Naturals
Parent company Luna Star Naturals has launched a new line of skincare and beauty products for girls using safe, natural ingredients like argan oil and coconut oil and mineral tints. Made in the United States and Canada. You get a Pink Lemonade lip balm and a blue (Mesa Verde) eye shadow.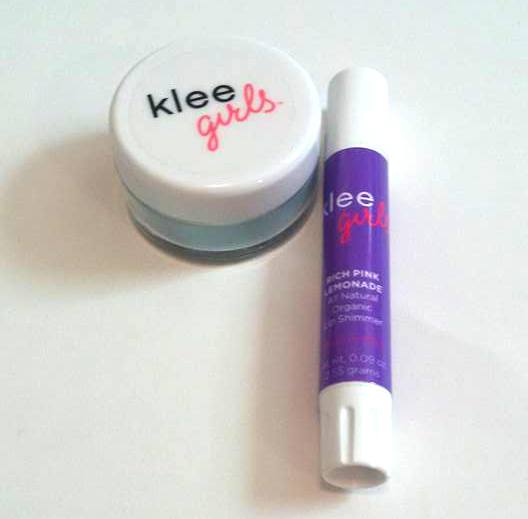 SeaSnax One package lime flavor seaweed snack
We've been fans of SeaSnax dried seaweed snacks in my hous for a long time, but this new lime flavor is a special treat. The natural tang of the lime is a delightful addition! Try it out!
One bag of Fruit & Nut Gorilly Goods mix and one bag of Dark Chocolate, Fruit & Nut flavor and samples of Baja and Hillside pumpkin seed mixes
My kids and I had just tried out two kinds of Gorilly Goods' delicious snacks shortly before Expo East, to our great delight. It is always fun to meet the folks behind a product you just fell in love with! Included here are four different and equally delicious flavors of their seed and nut snacks.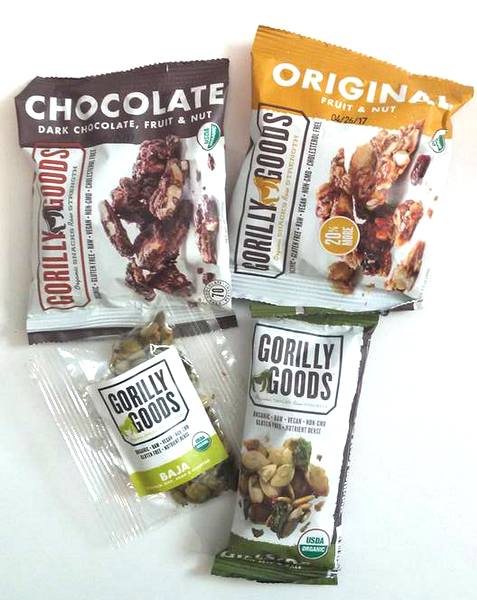 Cassava Crunch Beet & Goat Cheese Root Veggie Chips from Plant Snacks
For folks who can't eat grain or potato, cassava is such a wonderful substitute. I fell in love with the plain version of their chips. You get to try the Beet & Goat Cheese flavor of these root veggie chips.
One tub of Sticky Granola from Base Culture 
For grainless goodness, Base Culture is a terrific paleo resource. I couldn't believe my taste buds when I bit into the chewy almond butter brownie they had for sampling. You get to enjoy an entire 10-oz. container of the company's Sticky Granola, "savory-sweet glazed bits of nuts, seeds and dried fruits seasoned with coconut oil, honey, cinnamon and sea salt." It is out of this world.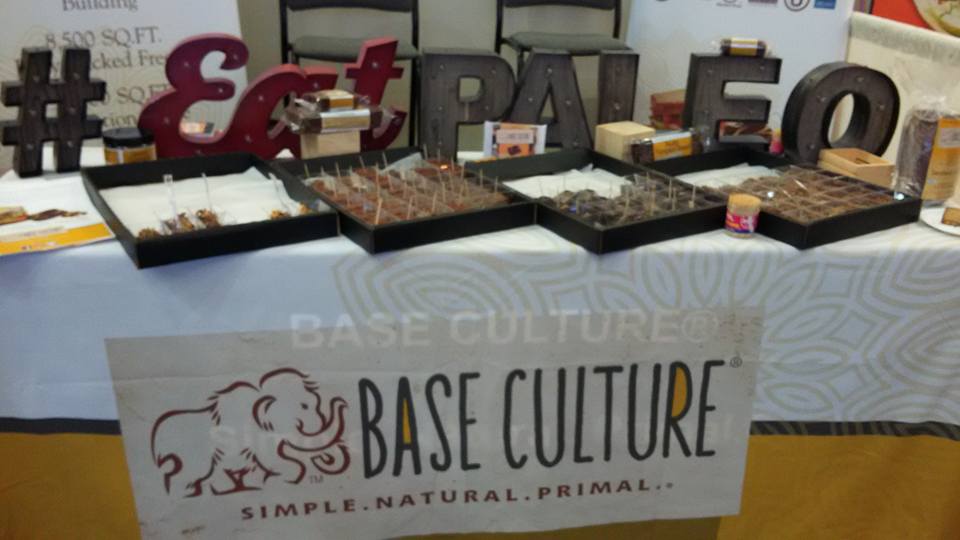 Nature Nate's t-shirt, honey sample and tote bag
Stepping into the Nature Nate's display was kind of like walking into heaven. I'm sure my kids would have thought so! They had so many delightful flavored honeys that are available at Costco and Safeway. Enjoy a sample of their sweetness and a t-shirt!
Apple Raisin Soft Granola Bites & a water bottle from My Superfoods Company
The My Superfoods Company was started by moms who wanted healthier options for their kids with no GMOs, artificial ingredients or preservatives. They've got an organic line and a gluten-free line, including these apple raisin cookies, which are oat-based.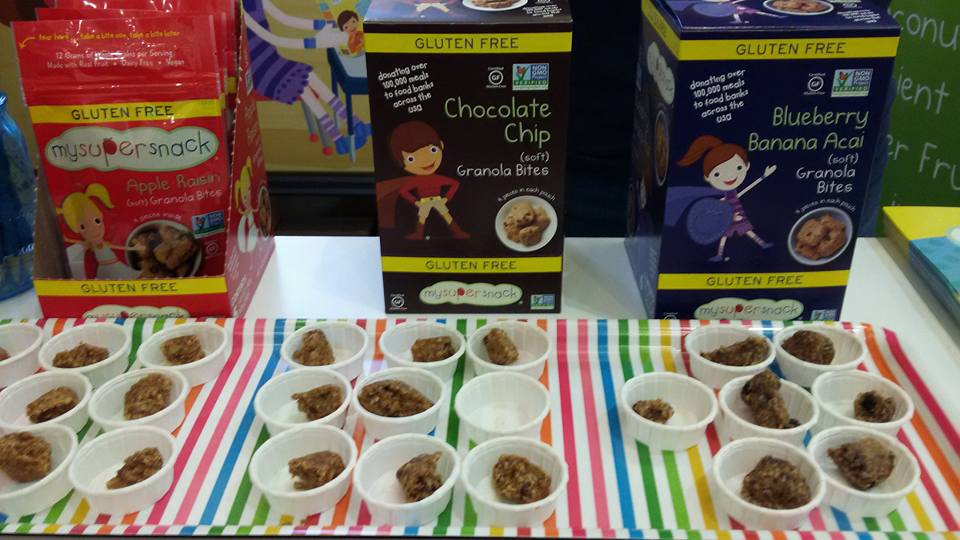 Goodpop t-shirt
Goodpop makes popsicles with non-GMO, Fair Trade Certified, rBST-free, organic and locally sourced ingredients. Flavors include Hibiscus Mint, Coldbrew Coffee, Strawberry Lemonade, Banana Cinnamon, Chocolate Milk, Watermelon Agave, Strawberry, and Coconut Lime. Find them locally at MOMs Organic Market and other Metro DC other retailers: click here for a store locator. Walk in wearing your t-shirt!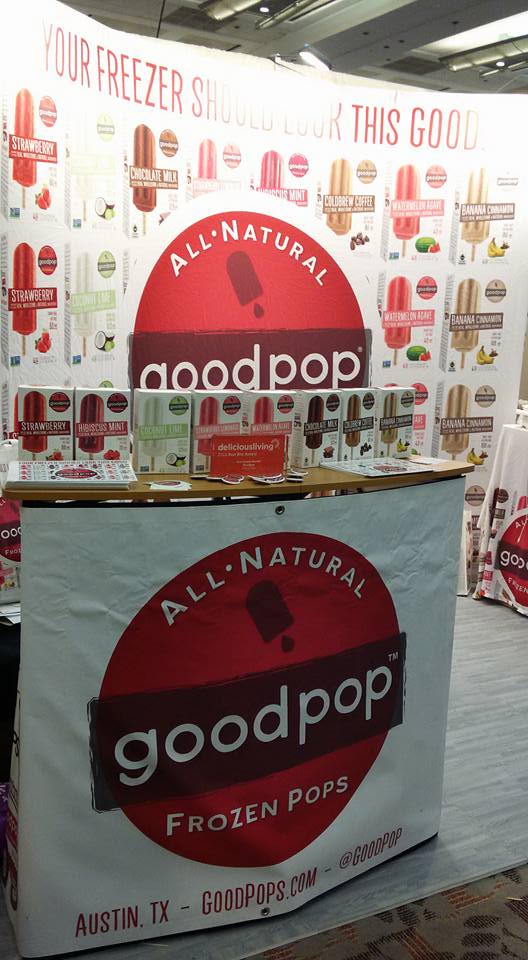 One bag of Almond Blueberry Lemon Bites from Frontier Fruit & Nut Bites
These snack bites include only eight ingredients: almonds, sunflower seeds, brown rice syrup, honey, puffed millet, puffed rice, blueberries and pure lemon oil
Candy from Seeley Mint
A third-generation peppermint and spearmint farm, Seely steam distills the plants for their oils and makes all its products by hand in its own facility in Washington State. Order online. You get one pacakge each of Ivory Mint Melts, Chocolate Mint Melts, Mint Patty plus a Candy Cane and a bottle of mint essential oil.
Thermos & tote bag from Mr. Mak's Gin-Bao
Mr. Mak's Chinese Ginger and Ginseng drink Gin-Bao (ginger broth) is a family remedy that can support a healthy GI system. The company calls it "the base for nearly half of Traditional Chinese wellness drinks." Just before Expo East, the company became the first to bottle the brew. It takes three and a half hours to make a batch of the elixir, which comes in a few different flavors that include ginger, ginsing, honey, and lemon juice. I loved the bottle I got to bring home. It needs to be refrigerated, so you're getting a Kleen Kanteen insulated thermos printed with the Mr. Mak's logo and a tote bag. Purchase the drink at select stores in New York City or online at the Mr. Mak's website.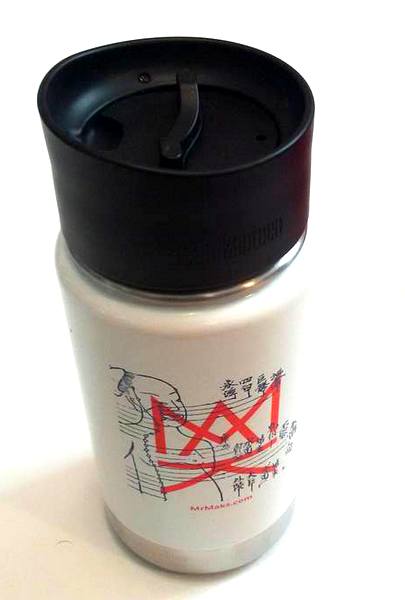 Recycled tote from Oasis Bags
Founded in Canada in 1989, Oasis Bags use recycled materials to make custom totes. The company is Fair Trade Certified. This tote is while with a beautiful swirling tree design.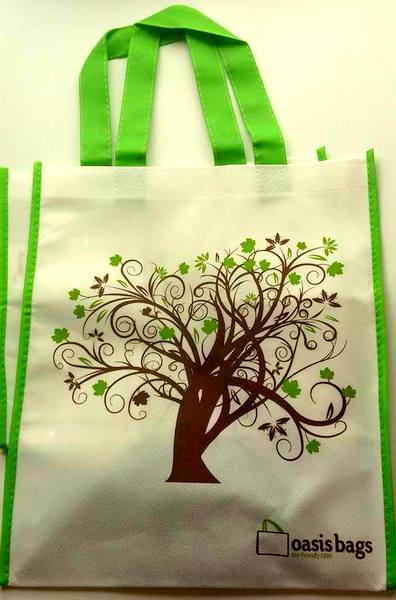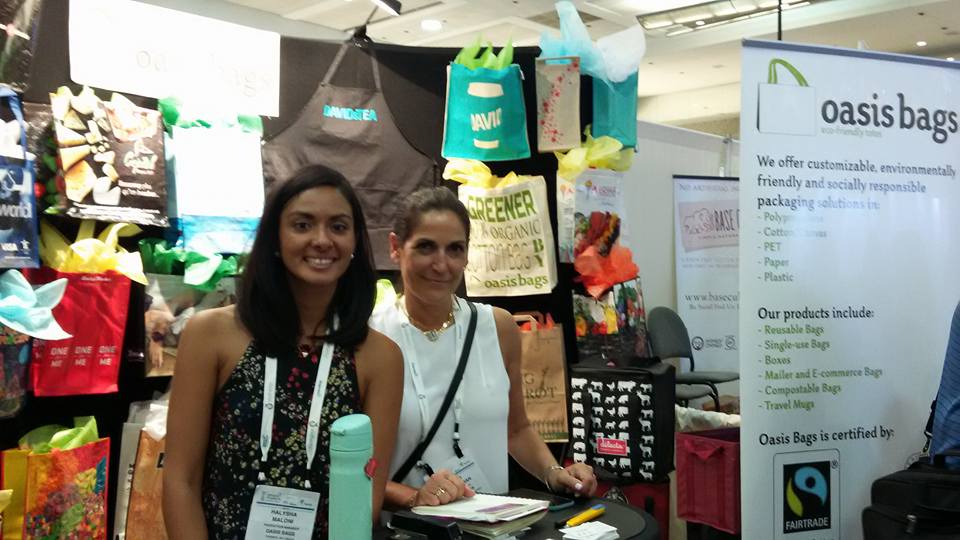 There are lots of trail mix options out there, but the North Carolina-based Dick Stevens company has a delicious and protein-rich granola-like mix that includes jerky. This original blend includes beef, almonds, macadamia nuts, cranberries and blueberries.
One package of Cinnamon Sugar Donut raw energy balls by Ello Raw
Founded by a college student two years ago in Raleigh, North Carolina, Ello Raw now produces three flavors of organic, raw energy balls: coconut chocolate chip cookie dough, goji cacao brownie, and the most popular, the one you get to try, cinnamon sugar donut. Don't be fooled by the "sugar" in the name, though: coconut crystals are the last ingredient after cashews, walnuts, dates, cinnamon and nutmeg.
Chocolate Covered Organic Protein Coconut Bar from Square Organics
This company was launched by a husband-wife team in 2012 after cleaning up her diet of inflammatory foods made co-owner Sarah's asthma disappear. The company donates a portion of sales to Not for Sale, an organization working to fight human trafficking. Ingredients for this powerful and powerfully tasty organic bar include whole grain sprouted brown rice protein and gluten-free oats in addition to the dark chocolate and coconut.
You'll also get some pins, stickers, literature and coupons, including Once Again nut butter raccoon tattoos and coupons

Expo East returns to Baltimore next year, September 13-16, 2017. Follow the Natural Products Expo on Twitter @natprodexpo and on Facebook and on Facebook at /naturalproductsexpo