Pregnancy and childbirth are incredible feats of human strength and ability. But, too often women are left injured for months or even years after giving birth. The therapists at Body Connect Health and Wellness (BCHW) dedicate much of their practice to rehabilitating postpartum women through an emerging specialization called pelvic physical therapy (PT).
In some ways pelvic PT is similar to treating injuries in other parts of our body, like the hamstring or back. But, unlike the bicep "you can't really see what's happening with your pelvic floor," says Marisa Alonso, co-founder of BCHW.
The therapists at BCHW get the bigger picture. Postpartum healing is more than just fixing the body. Ann Udofia, the other co-founder of the clinic, is a mother of two and has experienced and rehabilitated her own share of pelvic pain and disorders.
"It takes a lot for our postpartum patients to devote their valuable time and attention to self-care. Figuring out work schedules, finances, childcare, feeding, and sleeping takes a lot of time, support, and planning. As a practice, our priority lies in creating a compassionate, safe, and sacred space for these warrior women to focus on their healing in whatever shape is may take," says Udofia.
Commonly treated issues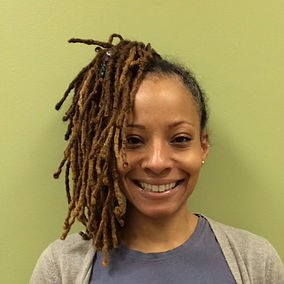 Regardless of how you delivered your baby, pregnancy alone is "one of the most normal phases of dysfunction," says Lauren Collins, another physical therapist at the clinic. Ligaments are looser and our posture is altered. Our bodies may struggle to return to its pre-pregnancy alignment or function.
Pelvic PT isn't just about the pelvic floor either. Scarring from C-sections or perineal tears can pull on internal structures or heal over in dysfunctional ways. For instance, in cases of digestive disorders, including constipation, sometimes a contributing cause is related to birth injury—internal scarring, abdominal separation (diastasis recti) or organs that shifted and settled in a less than optimal spot.
Common symptoms BCHW treats:
Common women's health issues the clinic effectively treats:
Painful Surgical Scars
Urinary Incontinence
Menstrual Pain or Amenorrhea
Painful Intercourse
Pregnancy and Post-Partum Issues
Infertility Problems
Pelvic Pain
The clinic uses a unique combination of treatments including pelvic floor physical therapy, myofascial release, visceral manipulation, and cranial-sacral therapy. For more details on these healing modalities click here.
Communication is key
Pelvic PT can be more intimate, let's say, than a broken ankle. It's quite common to receive internal (vaginal and/or rectal) treatment. The BCHW therapists take every measure to ensure that you feel comfortable and safe in their care. The therapists are incredibly descriptive and sensitive to patient comfort.
"We don't push anyone to go beyond where they're comfortable going. We have all our models, we describe everything, we try to inform people as much as possible…I've rehabbed postpartum moms without doing any internal work because some people felt uncomfortable with it, and that's fine. There's a lot of different ways we can start to access the pelvic floor or work the structures around the pelvic floor," says Alonso.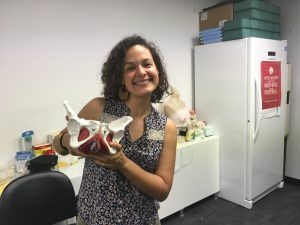 All the physical therapists at the clinic have been trained by Herman and Wallace Pelvic Rehabilitation Institute, the industry's gold standard for this specialized field. Built into the training is for therapists to experience all the treatments they offer, building a high degree of empathy for patients. Hannah Schoonover, another BCHW therapist, says, "there's never going to be something we do to a patient that we haven't had done on ourselves. We've felt everything that we do."
Empowering women through outreach and education
It's become socially acceptable for mothers to suffer silently with scar pain, incontinence, chronic pelvic pain, and pain with sex. Worse, we sometimes celebrate post birth injuries as proud "battle scars." According to the National Institute of Health, roughly a quarter of U.S. women have pelvic floor dysfunction, yet pelvic PT isn't widely available in America.
"In this country it's a huge cultural issue that post pregnancy, everyone is concerned about baby.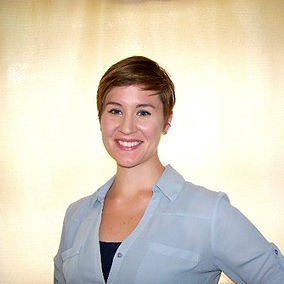 No one talks about mom. Just because the baby is out it doesn't mean that mom's body isn't important or worthy of treatment…People are starting to realize that more and more. Speaking to empowerment, you can help yourself feel better. That's allowed, that's okay. You can focus on yourself," says Schoonover.
Therapists at Body Connect Health and Wellness go beyond providing treatment to those who know to seek them out. They're a community fixture dedicated to educating everyone about pelvic health and self-care, a topic far removed from public discussion.
Alonso says, "Our main focus is really empowering people. So how do we empower folks to know more about their bodies, to feel more confident with their bodies, to know more about their pelvic floors?"
The clinic regularly offers free or low cost classes to the DC community at The Breastfeeding Center for Greater Washington and at Freed Bodyworks. Past events include "Pre and Post Natal Care for Your Pelvic Floor," "Life After Baby," "Fertility and Fascia," and a hands-on four part series about diastasis recti. Therapists at the clinic have also offered pro bono sessions as part of their outreach service to communities in need.
If you've been suffering from pelvic pain or dysfunction reach out to Body Connect Health and Wellness!
Find more information about treatments, classes, and BCHW therapists on the clinic's website or by contacting the office. Body Connect Health and Wellness is located at 2440 M Street NW, Suite 326, Washington DC, 20037. Email: admin@bodyconnecthw.com Phone: 202-733-1929.
Follow Body Connect on Facebook, Twitter and Instagram.
Upcoming Events
Body Connect offers talks and workshops. To see the most current schedule, visit  www.bodyconnecthw.com/events
Mindful Healthy Life is proud to count Body Connect Health and Wellness among our partners.