Pleasance Silicki and Alexandra Hughes are moms on a mission to help other moms find joy, take care of themselves, and learn to be present even in challenging situations. At the end of October, they will be taking their show on the road for a unique weekend of self-care at their Moms UP! Retreat in beautiful Meadowkirk, Virginia at Meadowkirk Manor.
Many of our readers already are familiar with these inspiring women. Pleasance is founder of lil omm yoga, co-founder of the National Kids Yoga Conference, and author of Delight: Eight Principles for Living with Joy and Ease. Before hosting her first Clear Mind, Present Mama "Ditch Overwhelm Challenge, Alexandra of In Essence Coaching and Calm Joyful Mom shared some of her insights with our readers in this guest post. Check out other posts on or by Pleasance and lil omm and Alexandra here on Mindful Healthy Life.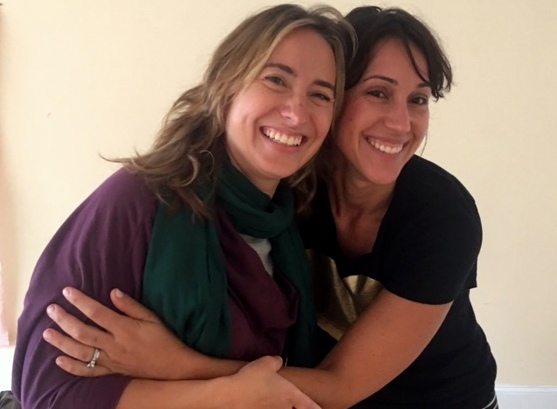 The two women have been teaming up for a while now, having created the once-a-month Moms UP! coaching circles at lil omm because they kept noticing that the women they were working with were down. Pleasance and Alexandra wanted moms to feel uplifted, not overstretched. They wanted to support moms in prioritizing self-care and help them find their way back to joy.
Five key areas arose in the circles: self-love, balance, creative energy, energetic strength, and trust.
Pleasance explained that at the end of each circle, no one wanted to leave such a supportive community. She and Alexandra wanted to continue this work and thought how awesome it would be to take the energy of those circles and sit with it for a whole weekend. Using the five principles as a guide, they are excited to have put together a program for what promises to be a delicious weekend retreat.
I had the chance to interview these two visionaries about the weekend and about their other coaching work with moms. Click here to see our complete interview or click here for the audio file.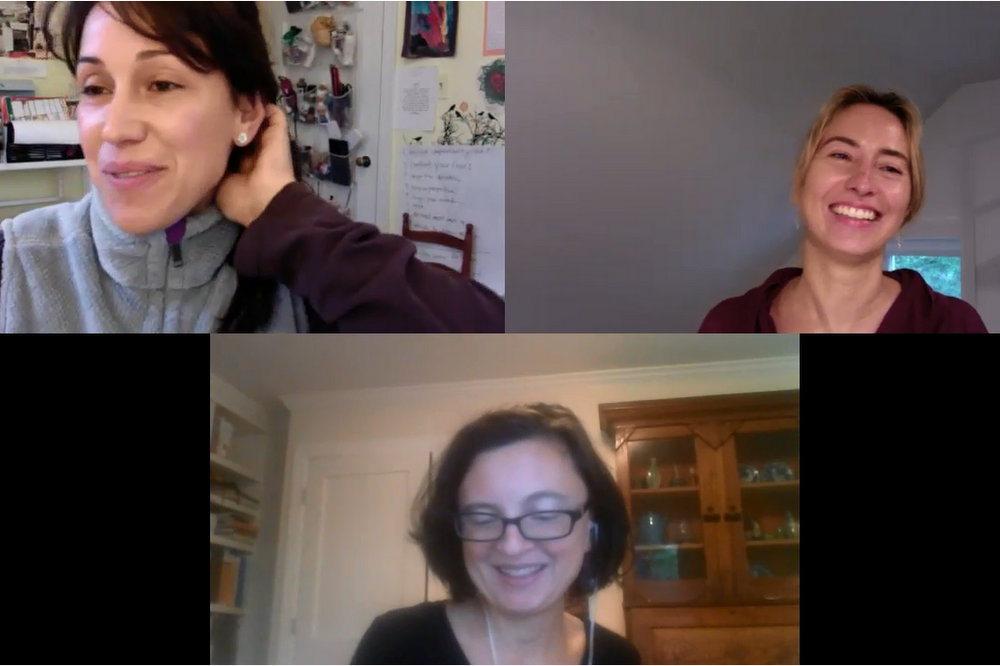 It was a true delight to talk with Pleasance and Alexandra about what is certain to be an amazing weekend! It was so inspiring to see the joy on their faces when they talk about the retreat's amazing program!
If you are thinking about the retreat but wonder what the vibe will be like, this interview will give you a great idea of what's in store! Go watch it!
The Moms UP! Retreat will intersperse workshops like the coaching circles with yoga and meditation. The pace will be gentle, not stressed. The organizers have intentionally left space in between, and all aspects of the retreat are optional, so participants are free to take a walk or a nap or just sit with a journal in the corner of what sounds like a lovely farmhouse.
The retreat runs October 28-30. Housing and all meals are included in the $799 price for a shared room. The food will be catered by Jodi of Red Lentil Catering, who speaks about her approach in the video below. She catered the expectant moms retreat Pleasance ran last year. "You will be well nourished!" Pleasance assured our listeners in the interview. Here's Jodi talking about her plans for the weekend's menu:

Meet Jodi! Our Chef for MOMS UP RETREAT! from lil omm yoga on Vimeo.
The grounds of the farm should be beautiful in late October, and time in nature will be an integral part of the weekend. Alexandra noted that fall is a great time to let go of what doesn't serve you and to really step in to your self.
For more details , visit momsupretreat.com. The retreat is limited to just 12 registrants. There are a few spots open as of this writing. We will try to update the post if it fills up. October 10 is the deadline for registration.
Both women have plenty of other coaching opportunities going on. Pleasance just started her 8-week online THRIVE program.  Pleasance will be doing a few other retreats later this fall, locally and at Meadowkirk, and will do a mother-daughter retreat the weekend of March 10. She also offers individual coaching. For more information, visit lilomm.com.
Alexandra just started her fall Calm Mom Coaching Circle. She plans to run another Clear Mind, Present Mama challenge this fall, probably before the holidays get underway.
I'm excited that two lucky winners will get a chance to work with one of these two women. They are each offering a free 30-minute coaching call. If you're interested, enter the giveaway below! Comment and tell us what challenge or strategy described in our interview resonated with you the most.

Jessica Claire Haney is the founder, publisher and editor of Mindful Healthy Life. She is a writer, editor, emerging novelist, and the founder of the Arlington/Alexandria chapter of Holistic Moms Network. Her personal blog is Crunchy-Chewy Mama and her writer's site is JessicaClaireHaney.com. See the Contributors page and Jessica's Mindful Healthy Life Q&A for more on Jessica.