Kids who see their parents making mindful decisions about transportation are more likely to grow up doing so themselves. The air quality in Washington DC and in nearby Virginia locales get an F for Ozone. Children are more susceptible to developing problems from pollution. Thursday, September 22 is Car Free Day. The folks at air quality leader Clean Air Partners and transportation network Commuter Connections are encouraging residents to take the Car Free Day pledge to get people ready for the big day!
In addition to concerns about poor air quality in the Washington DC area – click here for historical data about green, yellow and orange air quality days – the DC-metro region is experiencing a "September shock" of traffic surges exacerbated by maintenance to the Metro system. Area commuters who bike, walk or use public transportation can get to work and school without the hassle of traffic, delays, and frustration. The partners behind #CarFreeDay have also seen an increase in employer acceptance of teleworking. September 22 is the perfect time to get drivers out of their cars and into a new transportation routine!
Commuters are encouraged to take a break from the traffic and go car free (or "car lite") on #CarFreeDay. Pledge participants will be entered to win prizes from WMATA, Fall Fest, Capital Bikeshare, Kind, CrunchFitness, and more.
There are many #CarFreeDay options in the DMV, and each has additional benefits that even go beyond improving air quality. Check out our fun and inspiring video:
Residents can go Car Free by:
Biking: Forget the headache of traffic, finding parking, and paying for gas by riding your bike. It could save you more than $1,000 a year!
Walking: Getting out of your car and walking to your destinations two days a week can remove 1,600 pounds of pollution in just one year. Burn calories, not gas!
Ridesharing: If can't go car free, go "car-lite"! Carpooling with friends and coworkers not only improves air quality, it also gives you a chance to get to know the people in your community better, read a good book, or get a jump start on work emails.
Taking Public Transit: Eliminating one car per household and utilizing public transportation can save families $10,000+ per year. Why not try it out? If you normally drive kids to or from school, try putting them on the bus!
Teleworking: If everyone teleworked one day per week, we could save 2.3 million barrels of oil per year!
Thanks to Clean Air Partners for sharing information about Car Free Day!
Also keep in mind that Wednesday, October 5 is Bike and Walk to School Day. This special day is a great opportunity to get kids excited about using their bodies as transportation and just might inspire a new family habit!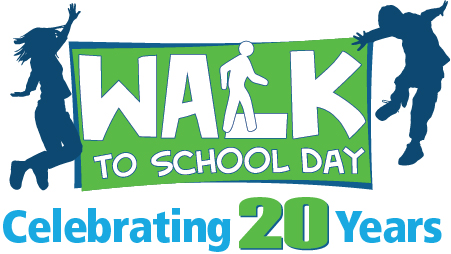 In Arlington, the Environmental Health and Asthma Subcommittee (EHAS) of the APS School Health Advisory Board (SHAB) is hoping to work this year on an anti-idling campaign. Attend the SHAB meeting on October 19 to learn more about how you can get involved.

Jessica Claire Haney is the founder, publisher and editor of Mindful Healthy Life. She is a writer, editor, emerging novelist, and the founder of the Arlington/Alexandria chapter of Holistic Moms Network. Her personal blog is Crunchy-Chewy Mama and her writer's site is JessicaClaireHaney.com. See the Contributors page and Jessica's Mindful Healthy Life Q&A for more on Jessica.